Diamond Club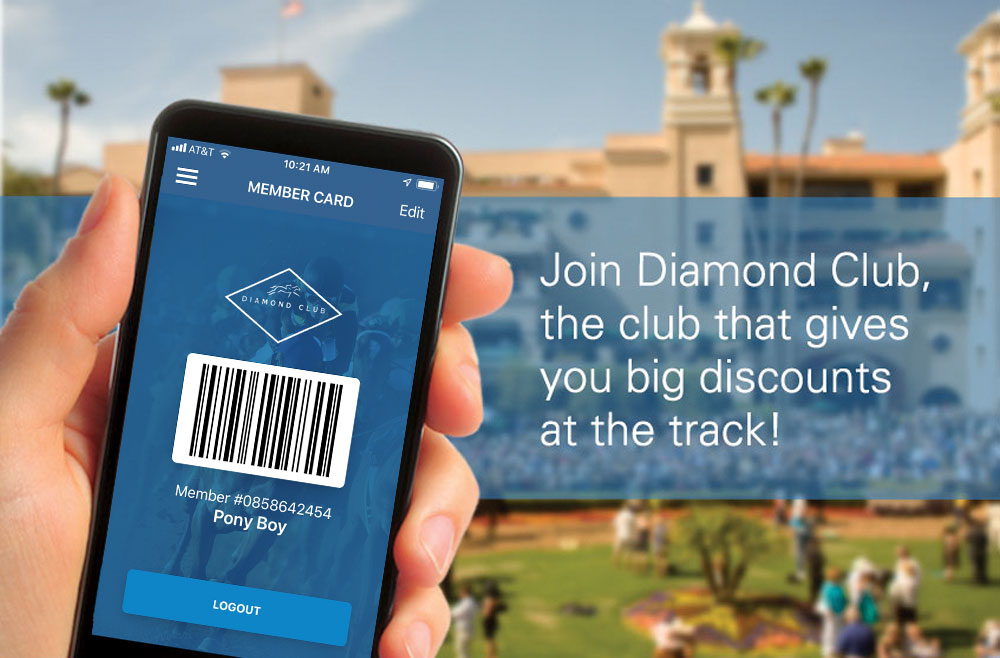 Membership Perks

From admission discounts, ticket offers to dining deals. Diamond Club members can take advantage of all Del Mar has to offer.

Diamond Club Members receive 50% off all Stretch Run Grandstand Seating for the 2021 Summer Season when tickets go on sale Friday, June 18 at 10 a.m.

Stretch Run Grandstand Seat
Regular Price
Diamond Club

Opening Day

$40

$20

Pacific Classic Day

$20

$10

Saturdays & Sundays

$16

$8

Thursdays, Fridays & Labor Day
$10
$5

Note: Diamond Club email must be valid and match the email used to purchase tickets through the Del Mar Ticket Office. Excludes Ticket Office Pre-Sale. Limit two seats per Diamond Club member per raceday.


Unlock everyday discounts on food and beverage on your third visit this year. Get 50% more every day by purchasing $30 worth of food vouchers for $20 from Customer Service booths.

Good for food and beverage from any Del Mar vendor, any day of the 2021 Del Mar Racing Season. Only one per day per Diamond Club member patron. Must be a Diamond Club member and scan card at designated customer service booth to validate each visit.

How to Sign Up

Download the Del Mar Mobile App and sign up with a valid email address to unlock membership perks.

Account Wagering & Player Rewards

Turn your Diamond Club membership into a wagering account to use at any self-service machine or from your smartphone. After your account is activated, simply load funds on your account and avoid the hassle of losing tickets or waiting in line! More Info.

Diamond Club Membership Rules

Please review the Diamond Club Membership Rules for program terms and conditions.

---

Diamond Club membership is subject to the terms and conditions established periodically by the Del Mar Thoroughbred Club. The Diamond Club card is the property of the Del Mar Thoroughbred Club and must be surrendered upon request. Photo identification may be required upon use of this card. The Diamond Club card is non-transferable and may be used only by the person who signed up for the card. Limit one membership per person. Use of the Diamond Club card by those other than the owner may result in immediate confiscation and cancellation. Diamond Club offers are subject to change without notice. The Del Mar Thoroughbred Club reserves the right to charge a replacement fee for lost, stolen or mutilated cards. All DMTC, SSRP and any of their affiliates are not eligible for membership nor any special offers associated with the Diamond Club. Complete rules available on request.