How to Wager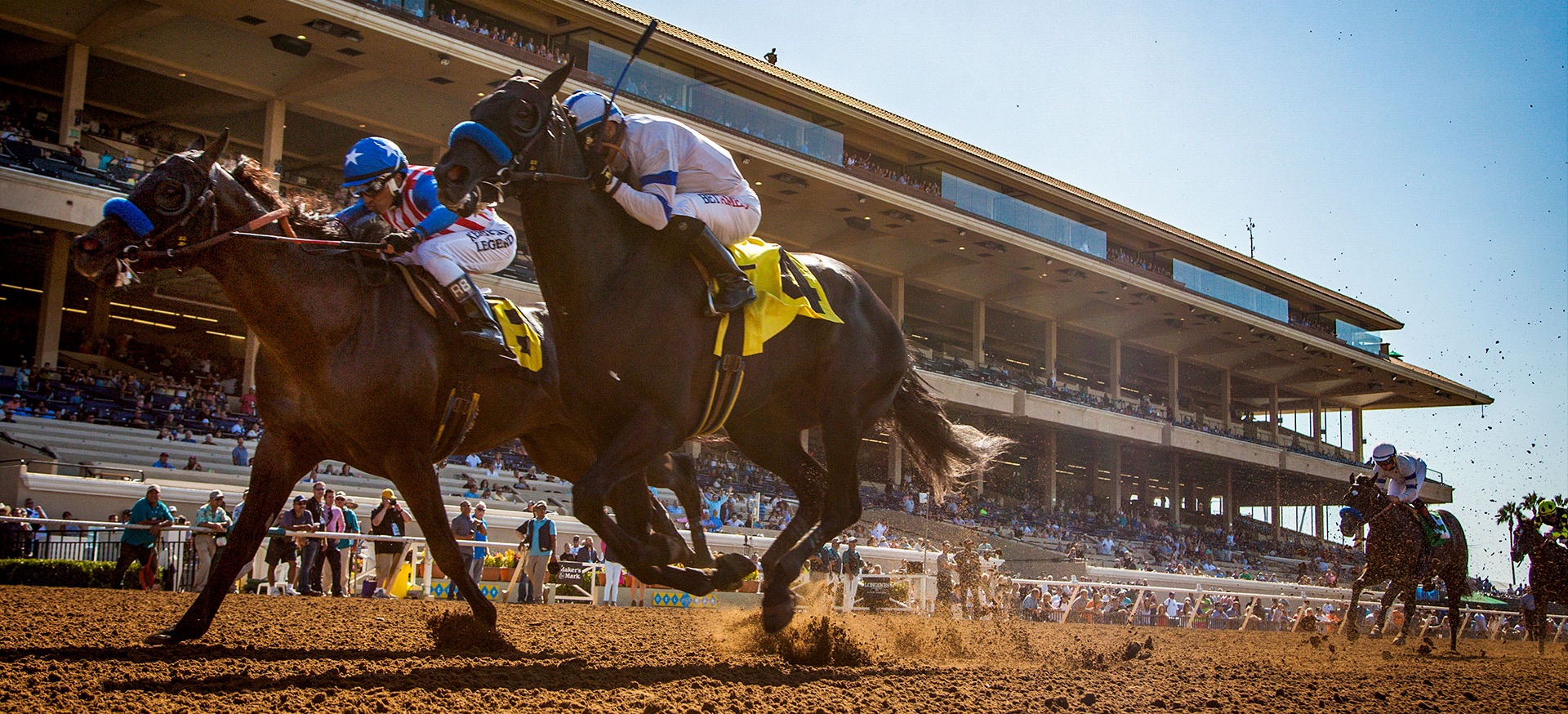 Before you Bet

So you've decided on the pretty gray filly, but walk up to the teller and ask to place a bet on the pretty gray filly to win and nothing good will come out of it. So here are a few things to take note of before you decide to place a bet!

Programs: We hand them out for free, grab one when you get to the track or find them online the day before.

What Race is it? There are video boards & tv's throughout the grounds that will tell you how many Minutes To Post (MTP) there are before the next race. You'll want to turn to that page in the program.

Post Position: That number on the saddle towel the gray is wearing - it'll tell you which horse it is in the program (and where it will be lined up in the gate). You'll want to take note of the horses you like in the program. Did we mention the veterans all bring pens?

How Confident are you? There are a lot of different bets you can place depending on how well you think the horse will do. Let's keep it simple for now.

Win - You'll cash in on the bet if the horse comes in FIRST.

Place - You'll cash in if the horse comes in FIRST or SECOND.

Show - You'll cash the bet if your horse comes in FIRST, SECOND or THIRD.

Ok, I think you're ready to place a wager!

How to Bet

With the TVG app you can handicap, bet & watch live racing from just about anywhere.

Sign up today with promo code DELMAR, place your first win bet, and if you lose, TVG will put up to $200 right back into your account as a wagering credit.

Restrictions apply, visit TVG for more information.

Placing a bet is easy, fund your account and follow these steps:


Racetrack name and race number

Dollar amount and type of wager

The number of the horse(s) you pick

For example that pretty gray filly might have been: Del Mar, Race 4, $2 to win on #5. Be sure to double check your bet before you confirm, then it's time to watch the race.

Where to Watch

Watch Del Mar Live on TVG each race day. Available through your cable or streaming provider.

Stream to your TV, Mobile or Roku with a subscription to RTN. Every race, every screen, every day.

What to Bet

You've got the Win♦Place♦Show thing down - PS you can hedge and bet a horse Across the Board to place all these bets at once - it's time to step up the wagering game. These wagers are a bit more risky but the payouts are significantly bigger.

Exacta - Pick the first two horses to finish in exact order in a single race.

Trifecta - Pick the first three horses to finish in exact order in a single race.

Superfecta - Pick the first four horses to finish in exact order in a single race.

Got your horses but not the order? You can box the bet so that they can finish in any order - but beware it does up the cost of the wager!

Cash In

You won! Now what? First things first let's figure out how much.

The Final Odds will tell you the return on your wager. If you bet a $2 to win on horse #5 and the final odds were 3-1 (3*$2 + $2 base bet = $8) then your return would be $8. If you bet $10 instead of the minimum $2 - or to put it another way you placed the $2 wager five times - you made back the payout of $8 five times ($10/$2 base bet *$8) for $40 total.

| | |
| --- | --- |
| Odds | $2 Payoff |
| 1/2 | $3.00 |
| 1/1 | $4.00 |
| 3/2 | $5.00 |
| 2/1 | $6.00 |
| 6/1 | $14.00 |
| 10/1 | $22.00 |

Taking that ticket to a self-service machine will give you a voucher that can be used to keep betting! And don't worry, if you forget to cash the ticket they can be cashed up till May 15! (unchased tickets). Vouchers and winning tickets alike can be taken back to the teller to cash out and enjoy the winnings!

Up the Ante

There are many more wagers to test your newly found wagering skills that are more Exotic.

Rolling Double - Pick the winners of two consecutive races.

Rolling Pick Three - Pick the winners of three consecutive races.

Pick Four - Pick the winner of four consecutive races. The last four races of the card.

Pick Five - Pick the winner of five consecutive races. The first five races of the card.

Pick Six - Pick the winner of six consecutive races. The last six races of the card.

Super High Five - Pick the first five horses in exact order of finish. The last race of the card.

Want to know more about these wagers? Check the wagering menu each season for the most up to date information.

Ready for More

Now you know the playing field, but you *might* still need a hand with picking the winners. We've got lots of resources to help with that! Check out our free handicapping tips updated daily, attend daily seminars at the track, play our free handicapping contest to test your newly found skills or get all that Past Performance (PPs) stats to make your own evaluations.

Sound the Part

There are a few other terms worth learning to sound like you know what you're doing.

Pari-mutuel - Pari-mutuel wagering means 'betting amongst ourselves' vs a casino where you bet against the house. That means the horse odds are dynamic and change based upon how the public places their wagers. So no matter which horse wins - the track makes a commission off each wager and the remainder of the pool is distributed to the winning wagers.

Morning Line - The odds printed in the program, based on a prediction from the racetrack on how the public will wager. Check videoboards and other sources for actual odds leading up to the race.

Past Performance - A history of each horse's recent racing performance, including placing, distance, track, time and more.

Post Time - The time the horses are expected to start the race.

Scratch - When a horse is withdrawn from a race it is scheduled to run in.

Voucher - A printed receipt used for wagering based on a cash deposit.