Thursday, July 31st, 2014 ( 4 years ago )
Gary Jones Set To Join Idols As He Enters Hall of Fame
By Gene Williams
It didn't take retired trainer Gary Jones long to verbalize his response to being named to the Museum of Racing Hall of Fame.
"I was flabbergasted when they told me," said the enthusiastic Jones, who has traded his blondish hair for a thinner, whiter mane. "I had been passed over a few times already, and I had decided I probably wouldn't be making it."
But now, he and his wife Joan, and sons Marty, who has followed him into racing, and David, a lawyer, will journey to picturesque Saratoga Race Course for his induction on Friday, Aug. 8. He'll be joined there by Hall of Fame rider and longtime friend, Chris McCarron, who will introduce the son of the legendary Farrell Jones, who dominated Southern California training circles for years before his retirement in 1975.
That's when Gary took over the barn and maintained its high level of success throughout a 22-year career that ended when he chose to retire in 1996 and pass the family training torch to son Marty. When Gary took over, the cupboard was anything but bare. "The barn was loaded with runners," he recalls. "All I had to do was follow my dad's charts. Really, it was a slam dunk."
If there's one word that identifies Jones' training temperament it's intensity. And that intensity took its toll over the years with Jones hearing the same admonishing words that his father heard: "If you don't get out of this you're going to die." Tough as he was – and still is – he also was smart enough to follow instructions and seek a lifestyle that more closely suited those instructions.
Welcome to this fiery crucible, Marty.
"I never wanted him to follow me into training," the father said of his son's journey. "But he wouldn't have anything else. I didn't want to put him into that fire. I decided to talk him into going to college, but he wouldn't go to class. I was paying the tuition but he never was there. I finally told him if you're not going to school you get your ass out of college and get back to the barn and go to work."
Never minced words did Gary. Still doesn't. And he still smokes those skinny brown cigarettes. So he hasn't given up everything. Of his son's takeover, Gary says: "Marty's a good horseman and I'm proud of him. He has a personality that serves him well in this stressful business. He's pretty laid back."
Jones' resume is plastered with the names of some great horses and victories in great races, including the initial Pacific Classic in 1991 with the great and future Hall of Famer Best Pal. It meant a lot to him to win the million-dollar Pacific Classic at Del Mar, his home and a place he says you couldn't get him out of without a stick of dynamite. And winning it for Del Mar Thoroughbred Club president John Mabee sweetened the pot even more.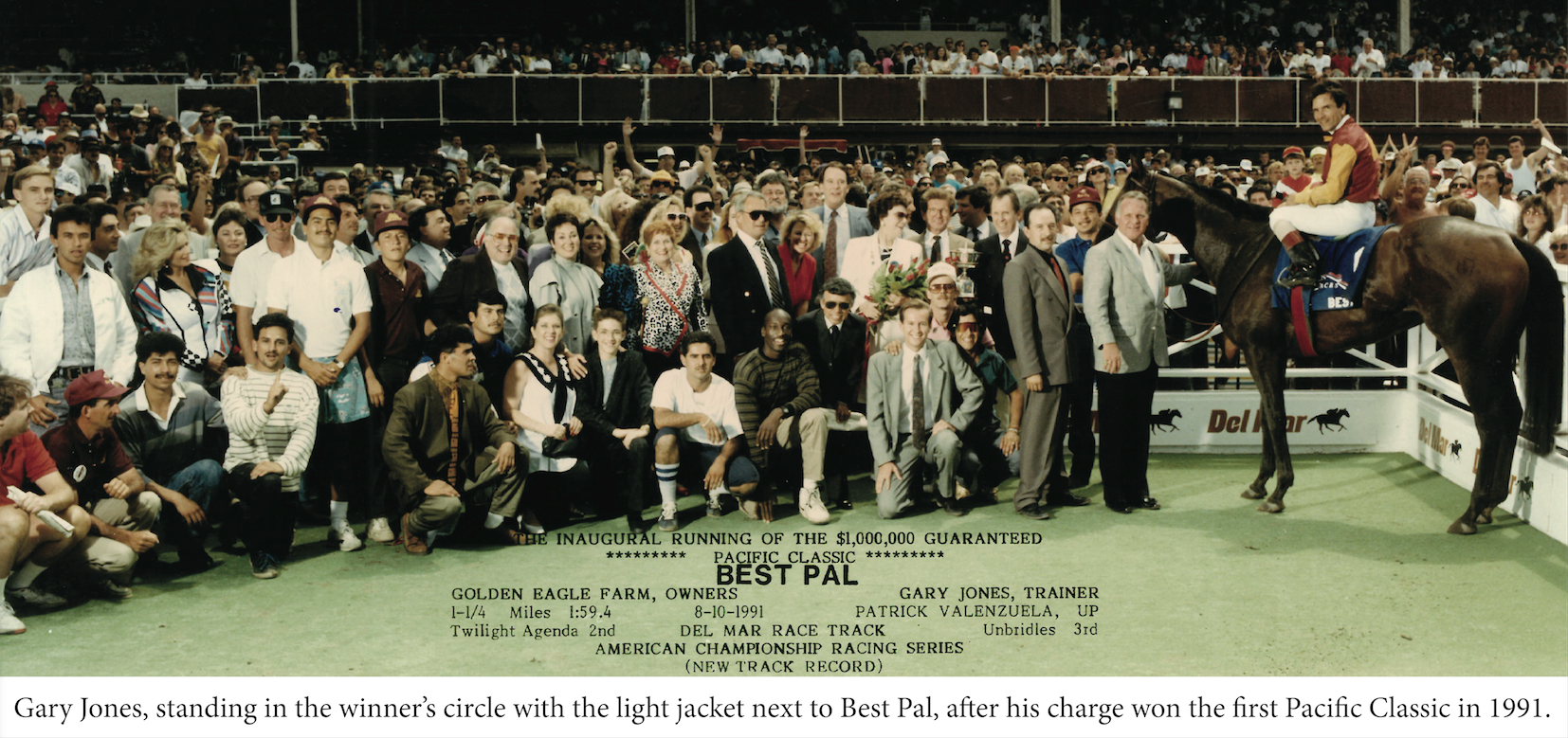 "It was a big deal at the time," Jones says. "The race was Mr. Mabee's dream. There was quite a bit of pressure." Adding to that pressure was something of a runaway workout for Best Pal 10 days out from the race when a stirrup broke and the jockey was nearly unseated and had little control over what the horse did – to run much faster than intended. "If it had been anybody but Pat [jockey Patrick Valenzuela], the jockey would have fallen off."
One can't remember Best Pal without remembering his attitude, Jones says. "Best Pal had a limited amount of ability, but he was all desire. He never wanted to lose – a classy son of a gun. And he was a character," Jones added.
"He was meaner than a junkyard dog, so you had to be careful with him," Jones said. "I gave him to Martel Castaneda to groom because Martel was fearless. But I gave him a little help by telling him to take a broomstick into the stall with him. That horse would never mess with Martel [who now serves as Marty Jones' assistant trainer] as long as he had that stick.
"I'm convinced that if he hadn't been gelded he'd never have made a racehorse." There were many times, he said, people would go into his stall and come scrambling under the webbing to get out of there. "It's like he was saying, 'This is my world; you're just living in it.' If there ever was a horse that deserved to be in the Hall of Fame it was Best Pal."
In addition to winning the Pacific Classic, Best Pal captured the Santa Anita Handicap, Oaklawn Handicap, Hollywood Gold Cup, Swaps Stakes and Strub Stakes. Jones won a second Santa Anita Handicap with Stuka.
As much as the Pacific Classic meant to the trainer, he's quick to acknowledge that Turkoman gave him his biggest thrills, and winning the old Marlboro Cup in 1986 was at the top of the list. "The Breeders' Cup had begun to take over the [late-year] racing picture, but the Marlboro Cup was still the top race for older horses in this country and to win the race that had been won by Secretariat and Forego was big." Turkoman was voted the Eclipse Award as the country's outstanding older male that year.
Turkoman, Jones says, "was a horse who never cared about running, not at all. The only way I could get him to go was to breeze him the morning of the day he was to run. I would breeze him an eighth of a mile and pull him up quick. That would get his endorphins going and he'd start thinking, 'I'm gonna run this afternoon.' That's what it took and it worked. He had a lot of ability; he just didn't have the desire.
"The other really great horse I had was Kostroma. She had more raw ability than the other two horses put together. She had several classic duels with another brilliant filly, Flawlessly, perhaps the greatest of Affirmed's progeny." Though Flawlessly got the best of Kostroma on most occasions, Jones proudly recalls "Kostroma beat her in the 1991 Yellow Ribbon at Oak Tree [at Santa Anita]. Beat her easy."
Kostroma never won an Eclipse Award as the top older female grass runner. That went to Flawlessly and Jones explained: "Flawlessly won because she was so tractable. If she wound up on the lead, that was OK and if she didn't that was OK too. She could still win."
Among other outstanding Jones trainees: Lakeway, By Land by Sea, Quiet American, Wishing Well (dam of Sunday Silence), Radar Ahead and Fali Time. Best Pal, Kostroma and Quiet American are among 17 stakes winners for Jones at Del Mar.
The choice of McCarron to introduce Jones was a natural, since he rode untold numbers of winners for the trainer. "I lured McCarron out to California with the promise that he could ride first call for me," Jones said. "It started after he rode for me during a jockey challenge at Hollywood Park. "Marj [Hollywood Park president Marjorie Everett] was famous for those jockey challenges.
"I had a horse in there that made his mother a solemn promise that he'd never win a race," Jones joked. "I wound up with Chris after the draw and he came back after the race and said if he had ridden the horse one time before that day he would have won with him. I said, 'That's enough for me, jock. Any time you want to come this way, you can ride for me. If you are gonna get that mad over not winning a race, you're my kind of rider.
"To this day, he's as good a friend as I have in this world. And he's as good a friend to racing as there is."
Of going into the Hall of Fame, Jones said, "It's a special fraternity; not easy to get into. I idolize some of those guys: Charlie [Whittingham], Bobby Frankel, Billy Mott, Shug McGaughey and, of course, Buster [Millerick]. I wasn't sure I was ever going to make it, but it was well worth the wait."
Del Mar fans and officials will have another to cheer at the Hall of Fame ceremony as longtime Southern California rider Alex Solis joins Jones at induction. Solis, who now rides in the east, ranks fourth among the all-time stakes winners "where the turf meets the surf." None of his 95 added-money wins was any bigger than his 1996 Pacific Classic aboard Dare And Go in which he ended Cigar's skein of 16 consecutive victories.
McCarron, who was half of a one-two jockey punch with Solis for agent Scott McClellan over several years, will introduce his compatriot as well.
7/31/14 ###