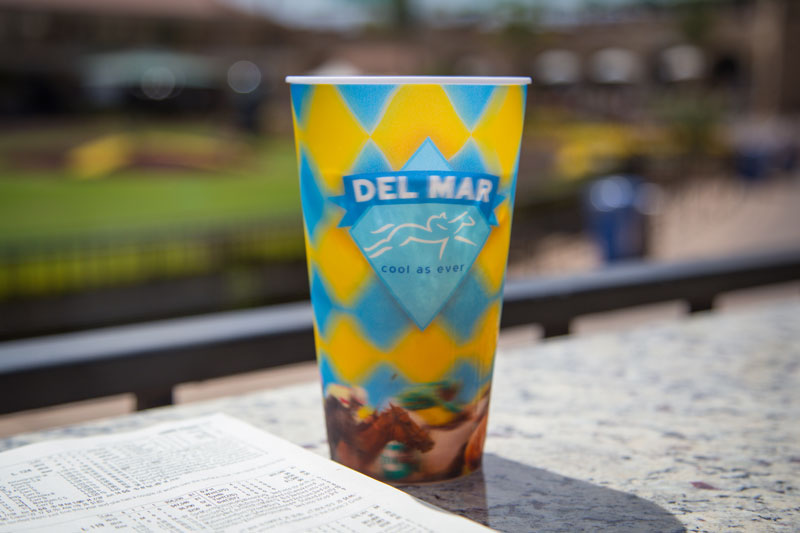 For more than 75 years, fans have told the folks running Del Mar that the unique sporting and entertainment mix that is at the heart of the iconic racing headquarters is a winner. It's all good, they say, with a gorgeous facility on a 350-acre spread alongside the beach, with the sea breezes a daily dance partner, with some of the most competitive horse racing action in the nation on tap, topped off by a music and party environment that makes everyone feel like a kid again.
Conversely, those same fans have said that – though we love you, for sure – we'd love you even more if you'd cut us some slack when it comes to paying the tab for a day's fun. We are oh-so-glad to come play, but please let us go home with a few more bucks in our pockets.
And so "
Del Mar Discounts
" have been saddled up and will be sent postward for a strong gallop in the summer of 2016. Around most every corner at the track there will be a discount waiting to give fans a good feeling, especially when it comes to food and beverage. It is expected that the word soon will be out that people and their wallets now will find the place "where the turf meets the surf" a kinder, friendlier spot to be.
"We surveyed our fans, we did focus groups and we had personal contacts and they primarily pointed us toward wanting lower prices during a day at the races," said Craig Dado, Del Mar's chief marketing officer. "So we're doing it. We're offering discounts on all fronts – food and beverage especially, along with other price values for all."
Topping the list of discounts is the "50% Bonus" program that allows fans to purchase $30 worth of script for $20 each day they come to the races. The script, which is distributed in $10 chits, is good for both food and beverage anywhere at the track. One script purchase per visit is allowed, but it can be stockpiled and used collectively at any point during the season. To take advantage of the program, you need to be a Diamond Club member (which is free and only requires an easy two-minute signup – at the track or through
Del Mar's Mobile App
) and be on your third visit to the track.
Another notable discount is the track's "
Happy Hour(s) Fridays
," good on all Fridays other than Opening Day (July 15). From 2 to 6 p.m. on Fridays, Del Mar's signature cocktails, including its very popular Del Margaritas, will be on sale at half price. The discount applies to all bars on Levels 1 through 5 at the track.
Also available is a discounted "Bucket of Beer" at any of the track's restaurants. A favorite way to buy a round for your group or table is to order a "bucket," where six bottles of suds are presented on ice in a silver bucket. With the new setup, a bucket of either Coors Light or Dos Equis is for sale any day of the meet at the cost of only five beers. Think of it as a "Pick 6, Pay 5."
Other discounts on drinks will be offered throughout the season at the track's bars. One of those comes when you buy two cans of either Coors Light or Tecate. You get the beers at the discounted price of $14, plus you automatically get a commemorative "koozie" to go along with them.
Further, the track will add a weekly pre-concert party each Friday at its popular Cabana tent just outside the concert area on the western end of the facility. Radio station 91X will be broadcasting live from the tent and a warm-up band will provide live, rocking entertainment. All signature drinks will be half price and two cans of Coors Light or Tecate will sell from a further-reduced price of $12 (along with a "koozie"). The beer special prices will hold in effect all evening at the Cabana right up through the main concert.
Additionally, the track will continue with its most popular promotion ever – "
Free & Easy Wednesdays
" – throughout the meet. On all Wednesdays, Diamond Club members receive free admission to the track, a free program and a free seat. Also on those days fans can avail themselves of hot dogs, sodas and 12-oz. Coors Light beers at half price.
Likewise, Del Mar will provide all fans a series of discounts on its admissions and parking.
Standard admission prices are $6 for Stretch Run and $10 for Clubhouse. But those prices are automatically halved to $3 and $5 by joining the track's Diamond Club (a free and easy process, in person or on-line) and showing your Diamond Club card at the admission gates. On top of that, fans can purchase in advance any of several admission booklets or passes that can cut prices even more.
A Clubhouse Season Pass – good for all 39 days of the meet – is available through the Ticket Office (858-792-4242, or in person) up to Friday, July 8. The cost is only $50, a savings of a hearty $340 off the regular full price. Another admission bonus is available through the purchase of a Clubhouse Advance Sale Discount Book of 10 daily tickets for $70. Those books are on sale all season long. Over on the Stretch Run side, a full season pass is offered (until July 8) for only $25, a savings of a full $209 off the regular full price. Also available for season-long purchase are Stretch Run Advance Sale Discount Books with 10 daily admissions for $40.
Regular parking at the track is $10 per day, but a book of 10 parking tickets can be purchased in advance for half the full price at $50. This offer is good throughout the summer and the books can be obtained through the Ticket Office.
Finally – but hardly least of all – the track provides its seniors (aged 62 and up) free Stretch Run admission to the track every Thursday simply by showing their Diamond Club card.
Besides the simple Diamond Club signups for all at any of several locations at the track, they also are available by using the
Del Mar Mobile App
. A Diamond Club card guarantees access to all of the many discount perks available throughout the season, as well as several exclusive special offers that will be presented as the summer rolls along.