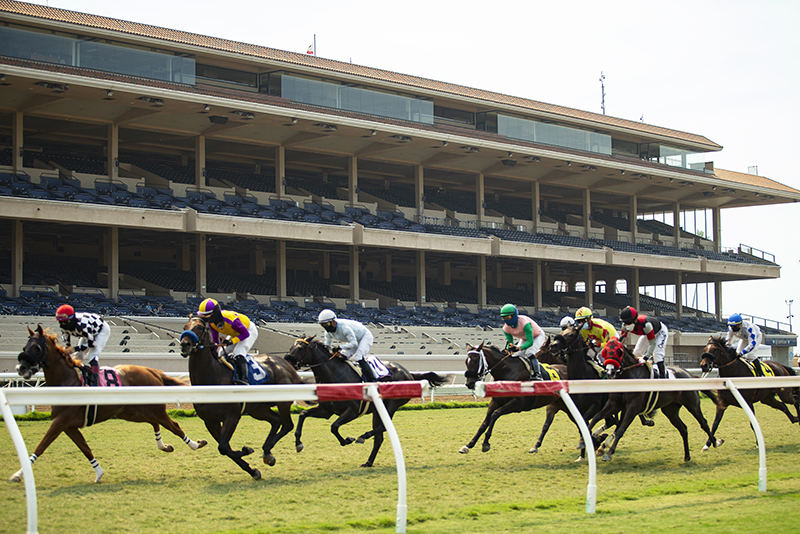 Building on the positive news it announced last week concerning a 30% increase to overnight purses and major enhancements to its popular "Ship & Win" program, the Del Mar Thoroughbred Club today released this year's summer stakes schedule showing a similar healthy increase of 30% to its major stakes compared to its 2020 racing season.
In 2020, the track presented 32 major stakes worth $5,175,000. For this year there will be two additional stakes and total purses will be $6,750,000, a value increase of 30%.
Twenty-one of this season's major stakes show increases from 2020 beginning at $25,000 and rising to $250,000. Notable in those escalations are an additional quarter-million dollars added to the Grade I TVG Pacific Classic, raising it to $750,000; $150,000 to the Grade II Del Mar Mile making it worth $300,000, and $100,000 each to the Grade II Del Mar Handicap (up to $300,000) and the Grade II San Diego Handicap (now worth $250,000).
"This is one of the strongest stakes schedules in Del Mar's history," said David Jerkens, Del Mar's racing secretary. "We have increased purses virtually across the board. I am really excited to see the level of quality our stakes program will attract, especially being the home of the Breeders' Cup this year."
Del Mar again will host the Breeders' Cup this fall, presenting the World Championships on Friday and Saturday, November 5 and 6. It held it previously in 2017.
Two stakes that took a hiatus in 2020 will return in 2021, the Grade III Cougar II Stakes and the Del Mar Juvenile Fillies Turf, both carrying $100,000 purses.
Del Mar once again will present a power-packed program around its signature event, the TVG Pacific Classic, scheduled for Saturday, August 21. As it has done for the past several years, the track will offer four additional stakes that afternoon: the Grade I, $300,000 Del Mar Oaks; the Grade II Del Mar Handicap; the Grade II Del Mar Mile, and the Grade III, $100,000 Torrey Pines Stakes.
It also will feature a stakes tripleheader on its opening day, Saturday, July 17. The traditional opening day headliner – the $100,000 Runhappy Oceanside Stakes – will be on the bill, joined by the Grade II, $250,000 San Diego Handicap and the Osunitas Stakes, an overnight offering that carries an $80,000 purse.
There will be six Grade I events over the course of the summer – the $300,000 Bing Crosby Stakes on Saturday, July 31; the $300,000 Clement L. Hirsch Stakes on Sunday, August 1; the Del Mar Oaks and the TVG Pacific Classic, both on Saturday, August 21; the $300,000 Del Mar Debutante on Sunday, September 5, and the $300,000 Runhappy Del Mar Futurity on Monday, September 6, which is closing day.
As it has in all recent seasons, Del Mar will present five Breeders' Cup "Win and You're In" races all of which give their winners automatic admittance and entry fees to parallel Breeders' Cup races. They are:
Bing Crosby Stakes (guaranteeing admission and entry fees to the $2 million BC Sprint); Clement L. Hirsch Stakes ($2 million BC Distaff); the Del Mar Handicap ($4 million BC Turf); TVG Pacific Classic ($6 million BC Classic), and the $200,000, Grade II Pat O'Brien Stakes ($2 million BC Dirt Mile).
Further, the track once more will tender its usual complement of eight California-bred stakes, part of the Golden State Stakes Series that consists of 36 stakes worth more than $4.4 million. Those stakes are the $175,000 Fleet Treat Stakes, the $150,000 California Dreamin' Stakes, the $175,000 Real Good Deal Stakes, the $100,000 CTBA Stakes, the $100,000 Graduation Stakes, the $150,000 Solana Beach Stakes, the $100,000 Generous Portion Stakes and the $100,000 I'm Smokin Stakes.
Del Mar will open with Saturday and Sunday (July 17, 18) cards, then go into a Thursday through Sunday format for the balance of the meet leading up to the closing card on Labor Day Monday, September 6. First post daily will be 2 p.m.
The list of stakes follows:
DATE
RACE / CONDITIONS
PURSE / DISTANCE
Sat. Jul 17
RUNHAPPY OCEANSIDE STAKES
Three-year-olds, N/W S/S of $50,000 at 1 M o/o in 2021
$100,000 Guaranteed
1 Mile (T)
Sat. Jul 17
SAN DIEGO HANDICAP (Gr. II)
Three-year-olds & up
$250,000 Guaranteed
1 1/16 Miles
Sat. Jul 17
Osunitas Stakes*
Fillies & Mares, Three-year-olds & up, N/W S/S $50,000 at 1 M o/o since September 1
$80,000 Added
1 Mile (T)
Sun. Jul 18
COUGAR II STAKES (Gr. III)
Three-year-olds & up
$100,000 Guaranteed
1 1/2 Miles
Sun. Jul 18
Wickerr Stakes*
Three-year-olds & up, N/W S/S of $50,000 at 1 M o/o in 2021
$80,000 Added
1 Mile (T)
Thu. Jul 22
Daisycutter Handicap*
Fillies & Mares, Three-year-olds & up
$80,000 Added
5 Furlongs (T)
Fri. Jul 23
FLEET TREAT STAKES
Fillies, Three-year-olds, Cal-Bred
$175,000 Guaranteed
7 Furlongs
Sat. Jul 24
EDDIE READ STAKES (Gr. II)
Three-year-olds & up
$250,000 Guaranteed
1 1/8 Miles (T)
Sat. Jul 24
SAN CLEMENTE STAKES (Gr. II)
Fillies, Three-year-olds
$200,000 Guaranteed
1 Mile (T)
Sun. Jul 25
CALIFORNIA DREAMIN' STAKES
Three-year-olds & up, Cal-Bred
$150,000 Guaranteed
1 1/16 Miles (T)
Fri. Jul 30
REAL GOOD DEAL STAKES
Three-year-olds, Cal-Bred
$175,000 Guaranteed
7 Furlongs
Sat. Jul 31
BING CROSBY STAKES (Gr. I)
Three-year-olds & up
$300,000 Guaranteed
6 Furlongs
Sun. Aug 01
CLEMENT L. HIRSCH STAKES (Gr. I)
Fillies & Mares, Three-year-olds & up
$300,000 Guaranteed
1 1/16 Miles
Thu. Aug 05
CTBA STAKES
Fillies, Two-year-olds, Cal-Bred
$100,000 Guaranteed
5 1/2 Furlongs
Fri. Aug 06
SORRENTO STAKES (Gr. II)
Fillies, Two-year-olds
$200,000 Guaranteed
6 Furlongs
Sat. Aug 07
YELLOW RIBBON HANDICAP (Gr. II)
Fillies & Mares, Three-year-olds & up
$200,000 Guaranteed
1 1/16 Miles (T)
Sat. Aug 07
BEST PAL STAKES (Gr. II)
Two-year-olds
$200,000 Guaranteed
6 Furlongs
Sun. Aug 08
LA JOLLA STAKES (Gr. III)
Three-year-olds
$150,000 Guaranteed
1 1/16 Miles (T)
Sun. Aug 08
GRADUATION STAKES
Two-year-olds, Cal-Bred
$100,000 Guaranteed
5 1/2 Furlongs
Sat. Aug 14
CTT & TOC Stakes*
Fillies & Mares, Three-year-olds & up
$80,000 Added
1 3/8 Miles (T)
Sun. Aug 15
SOLANA BEACH STAKES
Fillies & Mares, Three-year-olds & up, Cal-Bred
$150,000 Guaranteed
1 Mile (T)
Fri. Aug 20
RANCHO BERNARDO HANDICAP (Gr. III)
Fillies & Mares, Three-year-olds & up
$100,000 Added
6 1/2 Furlongs
Sat. Aug 21
TVG PACIFIC CLASSIC (Gr. I)
Three-year-olds & up
$750,000 Guaranteed
1 1/4 Miles
Sat. Aug 21
DEL MAR OAKS (Gr. I)
Fillies, Three-year-olds
$300,000 Guaranteed
1 1/8 Miles (T)
Sat. Aug 21
DEL MAR MILE (Gr. II)
Three-year-olds & up
$300,000 Guaranteed
1 Mile (T)
Sat. Aug 21
DEL MAR HANDICAP (Gr. II)
Three-year-olds & up
$300,000 Guaranteed
1 3/8 Miles (T)
Sat. Aug 21
TORREY PINES STAKES (Gr. III)
Fillies, Three-year-olds
$100,000 Guaranteed
1 Mile
Sun. Aug 22
GREEN FLASH HANDICAP (Gr. III)
Three-year-olds & up
$100,000 Guaranteed
5 Furlongs (T)
Fri. Aug 27
Tranquility Lake Stakes*
Fillies & Mares, Three-year-olds & up, N/W S/S $50,000 at 1 M o/o since February 1
$80,000 Added
1 Mile
Sat. Aug 28
PAT O'BRIEN STAKES (Gr. II)
Three-year-olds & up
$200,000 Guaranteed
7 Furlongs
Sun. Aug 29
SHARED BELIEF STAKES
Three-year-olds
$100,000 Guaranteed
1 Mile
Fri. Sep 03
GENEROUS PORTION STAKES
Fillies, Two-year-olds, Cal-Bred
$100,000 Guaranteed
6 Furlongs
Sat. Sep 04
DEL MAR DERBY (Gr. II)
Three-year-olds
$200,000 Guaranteed
1 1/8 Miles (T)
Sat. Sep 04
JOHN C. MABEE STAKES (Gr. II)
Fillies & Mares, Three-year-olds & up
$200,000 Guaranteed
1 1/8 Miles (T)
Sat. Sep 04
I'M SMOKIN' STAKES
Two-year-olds, Cal-Bred
$100,000 Guaranteed
6 Furlongs
Sun. Sep 05
DEL MAR DEBUTANTE (Gr. I)
Fillies, Two-year-olds
$300,000 Guaranteed
7 Furlongs
Sun. Sep 05
DEL MAR JUVENILE FILLIES TURF
Fillies, Two-year-olds
$100,000 Guaranteed
1 Mile (T)
Mon. Sep 06
DEL MAR JUVENILE TURF
Two-year-olds
$100,000 Guaranteed
1 Mile (T)
Mon. Sep 06
RUNHAPPY DEL MAR FUTURITY (Gr. I)
Two-year-olds
$300,000 Guaranteed
7 Furlongs
* Indicates Overnight Stakes