Purses to Exceed $700,000 Per Day;
"Ship and Win" Incentives Double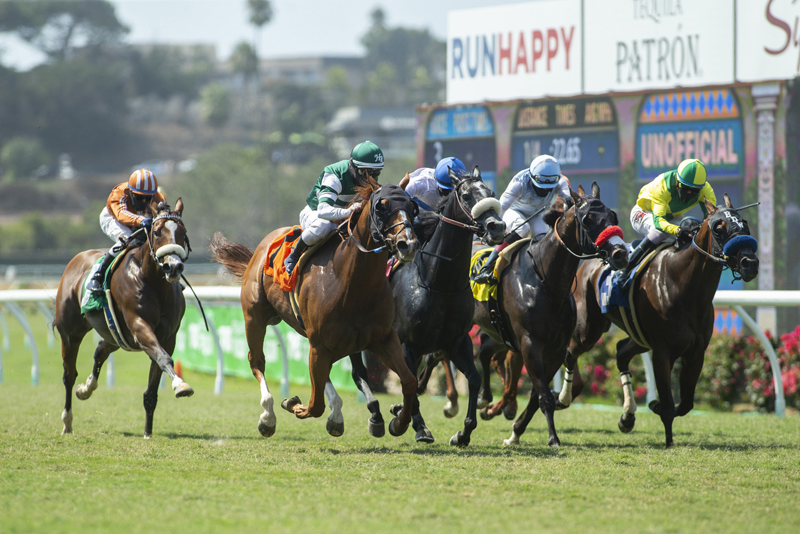 The Del Mar Thoroughbred Club will implement a major purse increase for its upcoming summer race meeting opening on Saturday, July 17, including substantial increases in all overnight purses and record incentives for owners and trainers that ship out-of-state horses to race at Del Mar through its popular "Ship and Win" program, track officials announced today.
Average daily overnight purses for the 2021 season will be increased by over 30% as compared to 2020* levels. With the increases announced today, Del Mar expects to average more than $700,000 a day in purses this summer.
The "Ship and Win" program for horses entering from outside California is doubling both its participation fee for owners (from $2,000 to $4,000) and its purse bonus from 20% to 40% for all eligible races. The purse bonus will be upped to 50% for dirt races in the "Ship and Win" program.
"We've got some real momentum in California as we prepare for the 2021 season and, based on the inquiries we're receiving, owners and trainers are taking notice," said Del Mar's executive vice president for racing, Tom Robbins. "Our partnership with the Thoroughbred Owners of California, TVG and The Stronach Group has us on track for one of the most lucrative seasons in Del Mar history, which will be a boost for California racing and help set the stage for us to host the Breeders' Cup here again in November."
The 2021 purse enhancements are due in part to a partnership with the Thoroughbred Owners of California, FanDuel Group's TVG horse racing television network and advanced-deposit wagering platform and The Stronach Group's 1/ST Racing. The multi-party agreement, announced earlier this year, is expected to inject up to $15 million into California Thoroughbred purses and programs over the next two years.
In addition, Del Mar's total handle for its 2020 racing seasons was well above initial projections – despite fans not being allowed onsite – adding funding to the purse increases for the upcoming live racing season.
Among the increases for overnights, maiden special weight races will jump from $55,000 during the 2020 summer meet to $70,000 this summer, maiden-claiming $20,000 races rise from $19,000 last year to $25,000 and open $40,000 claiming races purses will increase from $37,000 to $47,000.
As an example of how these increases affect the "Ship and Win" program, a maiden special weight race on the main track this summer will carry a purse of $105,000 ($70,000 plus a 50% bonus) plus a $4,000 starter bonus for out of state horses that qualify for the program.
"Anticipation for Del Mar's race meetings is always high among horsemen but it will be even more so this year with the increased purse structure announced today," said Gary Fenton, chairman of the TOC. "We look forward to continuing our work with the state's key racing stakeholders to further strengthen California's year-round racing program."
Track officials also noted that Del Mar's 2021 stakes schedule will be released in the coming weeks and that purses levels will be raised for several of its summer stakes races.
Del Mar will offer a 31-day summer racing season this year after racing 27 days in 2020. It will open with Saturday and Sunday cards (July 17, 18), then switch to a Thursday through Sunday schedule for the balance of the meet. The summer season will close, as usual, on Labor Day, Monday, September 6.
*Updated