Thursday, November 8th, 2018 ( 4 months ago )
Stable Notes
November 8, 2018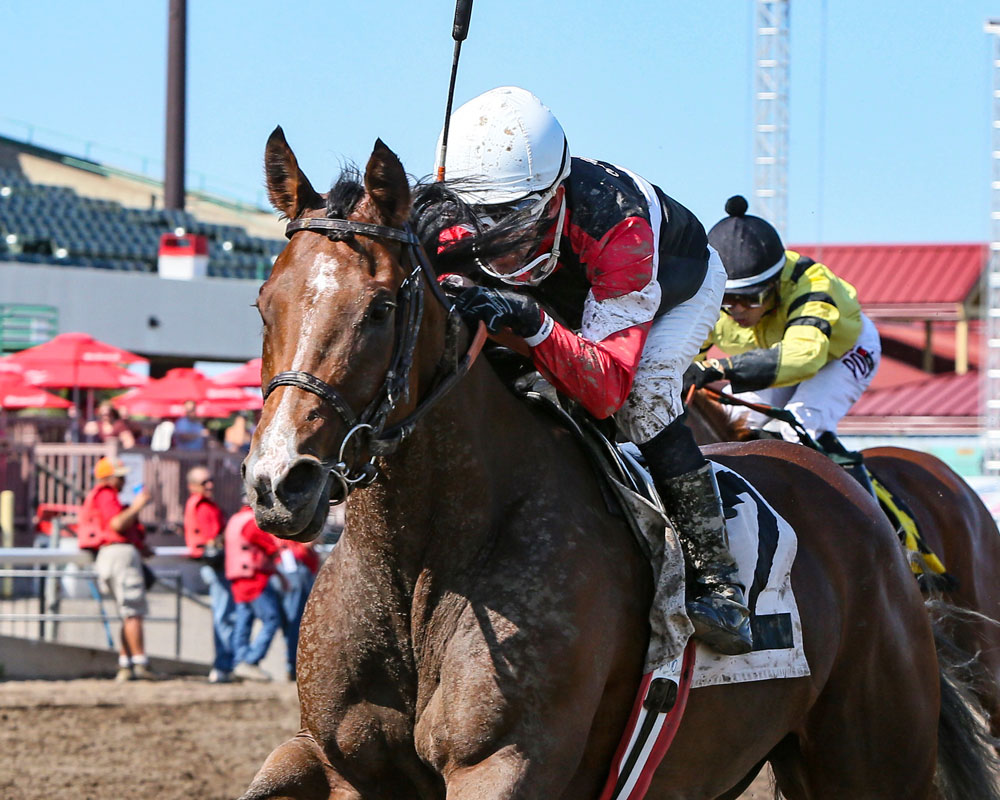 Escape Clause © Coady Photography
CANADIAN FILLY PUTS EIGHT-WIN STREAK ON LINE IN KATHRYN CROSBY
The eight straight wins on the past performance sheet for Escape Clause would catch the eye of any handicapper.
The abbreviations for the tracks of the 4-year-old Canadian-bred filly's success, however, might tax the acumen of even veteran Southern California Daily Racing Form students.
AsD – Assiniboia Downs, Winnipeg, Manitoba, venue for victories in June, July, August and September by a combined margin of 19 lengths and wins Nos. 1, 3, 4 and 6 in the streak.
Cby – Canterbury Park, Shakopee, Minnesota, site of Win No. 2, by 2 ¾ lengths.
NP – Northlands Park, Edmonton, Alberta, where win No. 5 was notched on August 25 in monetarily the biggest race of the string, a $75,000 stakes.
CtD – Century Downs, Calgary, Alberta, where Escape Clause ran off to 10 ¾ and nine-length wins last month before migrating south to the winter quarters in Phoenix of her owner/trainer Don Schnell.
Schnell, who has been training thoroughbreds for 40 of his 66 years, hasn't seen the likes of what the filly, purchased for $3,791 at a sale in Manitoba (her sire, Going Commando stood for $990) has done.
"I believe I've won six in a row with a few horses but never eight in a row," Schnell said earlier this week by phone from Arizona. "She seems to be getting better with age. She was a really good 2-year-old and 3-year-old, but she seems to have even gotten better as a 4-year-old."
Escape Clause enters the $75,000 Kathryn Crosby Stakes, feature of Friday's opening program of fall racing at Del Mar, with a career record of 17 wins from 24 starts and earnings of $296,840. Despite the winning streak, she's 20-1 on the morning line in a field of 12 for the mile run that will be her turf racing debut.
"Some of them (streak wins) have been against not exactly quality horses," Schnell conceded. "One time they refused to run against her and so I put in another of my horses to run against her and took first and second money." That was a $20,000 race at Assiniboia in August.
"She seems to be getting better and better. She won her last race by 9 ½ lengths and set a track record, so we were looking at a couple of places for her," Schnell said. "I thought this race might be a good spot. But it did turn out to be quite a bit tougher than I expected.
"She's been racing horses that are not near the caliber of horses she'll be facing on Friday. It's going to be a really big test for her."
The field from the rail out: : Gliding By (Evin Roman, 8-1), Pyscho Sister (Edwin Maldonado (20-1), Miss Southern Miss (Assael Espinoza, 20-1), Excellent Sunset (Mario Gutierrez, 8-1), Shehastheritestuff (Geovanni Franco, 20-1), Quebec (Rafael Bejarano, 9-2), Way to Versailles (Flavien Prat, 7-2), Tonahutu (Gary Stevens, 6-1), Escape Clause (Ruben Fuentes, 20-1), Sweet Charity (Mike Smith, 6-1), Last Promise Kept (Drayden Van Dyke, 5-1), Pantsonfire (Kent Desormeaux, 12-1). Also eligible: Birdie Gold (Mike Smith, 10-1).
---
FAMILIARITY WITH DEL MAR LEADS NINE TO ENTER SUNDAY'S BETTY GRABLE
The first three finishers from the $150,000 Fleet Treat Stakes last July 29 make up a third of the field for Sunday's featured $100,000 Betty Grable Stakes for older fillies and mares at seven furlongs on the main track.
Under identical conditions in the Fleet Treat, Just Grazed Me, a 3-year-old Grazen filly owned by Nick Alexander and trained by Phil D'Amato, prevailed by 3 ½ lengths over Show It N Moe It with One Fast Broad another 3 ¼ lengths back in third.
Post positions were drawn later Thursday afternoon. The field, in alphabetical order: Gorgeous Ginny (Geovanni Franco), Just Grazed Me (Tyler Baze), Love A Honeybadger (Tiago Pereira), Meet and Greet (Drayden Van Dyke), Mo See Cal (Flavien Prat), One Fast Broad (Ruben Fuentes), Show It N Moe It (Rafael Bejarano), Spiced Perfection (Flavien Prat) and S Y Sky (Joe Talamo).
---
MORNING LINE SAYS SATURDAY'S LET IT RIDE WILL BE A CLOSE ONE
Prince Earl, gelded son of Paddy O'Prado with two wins in as many career starts, was made the 5-2 favorite in a field of seven for Saturday's featured $75,000 Let It Ride Stakes at a mile for 3-year-olds over the Jimmy Durante Turf Course.
However, oddsmaker Russ Hudak listed Afleet Ascent, 3-1, and Calexman, 7-2), close to the favorite in the seven-horse field. Those two, with 11 career starts, will have a considerable edge in experience.
The field from the rail out: Afleet Ascent (Kent Desormeaux, 3-1), Prince Earl (Drayden Van Dyke, 5-2), Choo Choo (Flavien Prat, 5-1), Risky Proposition (JoeTalamo, 10-1), Extraordinary Jerry (Mike Smith, 8-1), Fight On (Rafael Bejarano, 6-1) and Calexman (Geovanni Franco, 7-2).
---
COMING IN HOT; THE CHAMPIONS FROM SANTA ANITA'S FALL MEET
Flavien Prat enters defense of his 2017 riding championship at Del Mar with yet another Southern California title under his belt, that of the Santa Anita Autumn meeting which ended Sunday.
Prat, bested by Drayden Van Dyke for the Del Mar summer championship, scored a stakes double in the Grade II Goldikova Stakes and the Twilight Derby on closing day at the Arcadia track to finish with 20 wins, two better than a resurgent Rafael Bejarano.
In the trainers' race at Santa Anita, Hall of Famer Jerry Hollendorfer and Peter Miller tied for the title with 15 wins each, one more than Doug O'Neill.
Miller has three wins and a tie for second in the four years of fall racing at Del Mar and was a runaway winner of the 2018 summer meeting, his third title at that session. Miller shared the 2014 summer crown with Hollendorfer.
---
CLOSERS – Bolt d'Oro, the 2017 Del Mar Futurity winner, has been retired to stand stud at Spendthrift Farm in Kentucky for an advertised fee of $25,000. Owned and originally trained by San Diego native Mick Ruis and his wife Wendy, the 3-year-old son of Medaglia d'Oro is retired with a career record of four wins from eight starts and earnings of $1,016,000 …Best workouts of nine officially timed Thursday morning –Acadia Fleet (3f, :36.0), Giddy Meister (4f, :49.20) and Solid Wager (5f, 1:01.60).