Sunday, November 12th, 2017 ( 1 year ago )
Stable Notes
Nov 12, 2017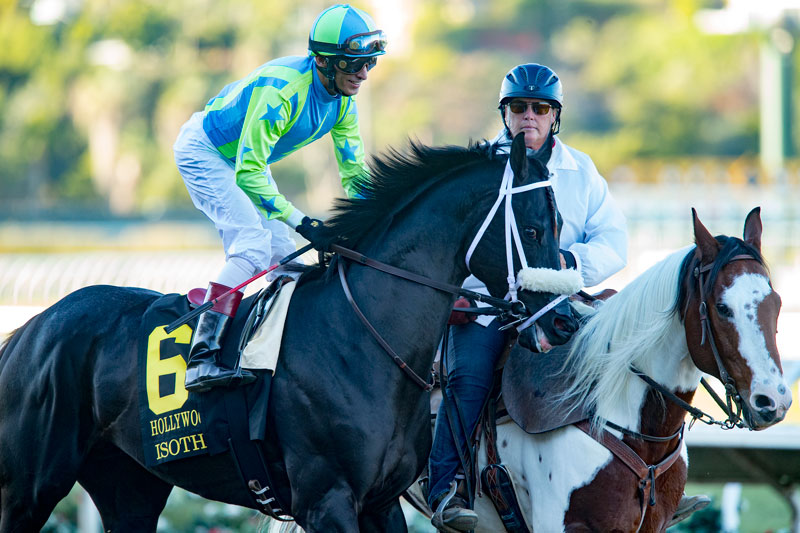 Isotherm © Benoit
TRITES' HANDS MIGHT BE THE RIGHT HANDS FOR EASTERN IMPORTS
Austin Trites had been to Del Mar "only as a patron" before getting the assignment from New York-based trainer George Weaver to accompany Isotherm out for the Hollywood Derby last year.
Trites returned for the opening week of the 2017 Bing Crosby Fall season, aka Breeders' Cup week, with Weaver-trained horses owned by Jim and Susan Hill and remained to be in charge of 13 – several of which could be factors in upcoming stakes – for the duration of the meeting.
And the possibility exists that Trites, 30, a native of upstate New York and graduate of Wheaton College outside of Boston, might remain on the Southern California circuit after Del Mar's racing season for 2017 wraps up on November 26.
"It's still up in the air, but I'm hoping to go on to Santa Anita with a handful," Trites said Saturday morning at Barn X, where his horses are stabled hard by those of Hall of Fame trainer Richard Mandella.
"It's exciting. We've definitely got a variety of horses that could compete if they stay, and a couple that could get involved in travelling.," Trites said. "It all depends on what the big boss (Weaver) wants to do."
The list of stakes horses Trites will be preparing is impressive.
"We've got Thundering Sky for the Matriarch and (trainer) Bill Mott has entrusted me with his horse for the Hollywood Derby, Channel Maker," Trites said for starters.
Two-year-old filly Daddy Is A Legend is being pointed for the Jimmy Durante. Holiday Stone, a 3-year-old son of Harlan's Holiday who ran in the opening day Let It Ride Stakes, is targeted to come back in an allowance at the end of the meeting.
"Malibu Stacy (fourth in the Goldikova Stakes on November 4), is probably not going to run again until Santa Anita," Trites said.
Beyond that, Trites said his charges are a "nice assortment" of 2-year-old and older maidens, among them a half-sister to It Tiz Well, winner of the Grade I Cotillion at Parx in Philadelphia in September, named End Of Now.
The next action for Trites will be the sixth race on Thursday when he sends out first-time starter Sensible Myth, a 2-year-old daughter of Street Sense, for the Hills.
Trites was involved in racing growing up, stepped away during high school and college but couldn't stay away. He's been an aide to Weaver for two years after previously serving as the traveling assistant to Christophe Clement.
His Del Mar experience as a patron came during a two-year period in California post-college but before returning full time to horse racing.
"I went to Santa Anita every weekend and came to Del Mar a few times. I'm a big fan of Del Mar. I love it," Trites said.
---
A LOOK AHEAD AT MARQUEE POSSIBILITIES FOR TURF FESTIVAL STAKES
Between the close of nominations, midnight last night, and running of the eight graded stakes over the last week of the season, November 23-26, comes the time to ponder the possibilities for those events.
A look at some of the possible marquee runners on the nomination lists just issued.
Red Carpet Stakes (Grade III, $100,000) Thursday, November 23 – Arles, nominated by Graham Motion, was second to Japanese import Nuevo Record in last year's running and would come in fresh off a victory in the Long Island Handicap on November 4 at Aqueduct.
Hollywood Turf Cup (Grade II, $200,000) Friday, November 24 – Hall of Fame trainer Bill Mott has Channel Maker (also nominated to the Hollywood Derby), winner of the Breeders' Stakes at Woodbine in August and, most recently, fourth to Sharp Samurai in the Twilight Derby on October 28 at Santa Anita.
Jimmy Durante Stakes (Grade III, $100,000) Saturday, November 25 – Hall of Fame Trainer Richard Mandella's Metro didn't make the $1 million Breeders' Cup Juvenile Fillies Turf after being on the also-eligible list. This would be some consolation and it's over the same course and distance.
Hollywood Derby (Grade I, $300,000) Saturday, November 25 – Sharp Samurai, the top 3-year-old of the summer meeting here via victories in the La Jolla Handicap and Del Mar Derby, could be gunning for a fifth straight stakes victory, this of the rare Grade I variety.
Native Diver Stakes (Grade III, $100,000) Saturday, November 25 -- It didn't work in the Breeders' Cup Classic, but Hall of Fame trainer Bob Baffert could use the multi-horse approach since he has four of the eight early nominees – Cat Burglar, Hoppertunity, Irish Freedom and Mubtaahij.
Cecil B. DeMille Stakes (Grade III $100,000 Sunday, November 26 – The switch from turf to dirt for the $2 million Breeders' Cup Juvenile didn't pan out for Golden Dragon (11th at 57-1 odds), although it did give apprentice Evin Roman his first Cup experience. Golden Dragon had won two previous starts, at Arlington Park and Churchill Downs, both one mile on turf, before the Breeders' Cup Juvenile shot.
Seabiscuit Handicap (Grade II, $200,000) Sunday, November 26 – He Will, Tequila Joe and A Red Tie Day, 1-2-3 in the Lure Stakes on the second day of the meeting, are all nominated for an event that's only a sixteenth of a mile longer.
Matriarch Stakes (Grade I, $300,000) Sunday, November 26 – Cambodia, winner of the Yellow Ribbon Stakes and John C. Mabee Handicap during the summer meeting, would come in off a creditable third in the $2 million Breeders' Cup Filly & Mare Turf on November 4.
---
PRAT ADDS ONE TO JOCKEY LEAD; MILLER DEAD-HEATS TO THE FRONT
Jockey Flavien Prat won Saturday's first race aboard Rolling Shadow ($7.80) to increase his meet-leading win total to nine. That's four more than co-runners-up, John Velazquez and apprentice Evin Roman. Velazquez is back at his New York base. Roman notched two wins Saturday to forge the tie for second.
Del Mar regulars Rafael Bejarano and Kent Desormeaux, both blanked on Saturday and remain tied at four wins each.
Defending training champion Peter Miller jumped, shouted and then agonized watching the third race in the walkway to the track just east of the winner's circle. Looking at the finish live, Miller thought his even-money favorite Ishi had been nosed at the wire by 54-1 Minoso.
However, watching the slow-motion replay on the big infield screen, Miller wasn't so sure. And, after around a 10-minute wait, Miller and the rest of the Del Mar crowd were informed that stewards had deemed it a dead heat.
The win enabled Miller to break a tie with Jerry Hollendorfer in the trainer standings and move ahead 7-6.
---
CLOSERS --- Norberto Arroyo had to take off a single mount on the Friday program to attend to his 11-year-old son Norberto Ioan Arroyo III, who broke his right arm in two places. "Doing a front flip, I think to impress a girl," father Norberto said Sunday morning. "He's very athletic and had done it a lot of times. He just landed wrong this time." Dad said that bad as the break was, and it still might require surgery, the lad never cried… Selected workouts from 56 on dirt and 26 on turf officially timed Sunday. Dirt – Could Be Magic (3f, :37 flat), Smiling Tigress (3f, :37 flat), Billy Big (4f, :48.20), Cuyathy (4f, :46.80), Moneigh Moproblems (4f, :49.20), Statesman (5f, 1:00.40) and Red Lightning (6f, 1:15.20); Turf – Bowies Hero (4f, :51.40), Channel Maker (4f, :52 flat), Lull (4f, :49.20), Van Cortlandt (4f, :50.40), Flamboyant (5f, 1:01.40), Infobedad (6f, 1:16.40) and Responsibleforlove (7f, 1:28.20).
---
DEL MAR STATISTICS
Jockey Standings
(Current Through Saturday, November 11, 2017 Inclusive)
| | | | | | | | |
| --- | --- | --- | --- | --- | --- | --- | --- |
| Jockey | Mts | 1st | 2nd | 3rd | Win% | In-money% | Money Won |
| Flavien Prat | 40 | 9 | 3 | 3 | 23% | 38% | $1,710,325 |
| Evin Roman | 33 | 5 | 2 | 5 | 15% | 36% | $196,205 |
| John Velazquez | 14 | 5 | 0 | 1 | 36% | 43% | $2,612,535 |
| Kent Desormeaux | 24 | 4 | 3 | 3 | 17% | 42% | $1,293,850 |
| Rafael Bejarano | 19 | 4 | 0 | 2 | 21% | 32% | $217,438 |
| Joel Rosario | 16 | 3 | 4 | 3 | 19% | 63% | $1,717,565 |
| Tiago Pereira | 17 | 3 | 1 | 3 | 18% | 41% | $158,235 |
| Tyler Baze | 34 | 2 | 7 | 4 | 6% | 38% | $229,230 |
| Joseph Talamo | 27 | 2 | 5 | 2 | 7% | 33% | $453,917 |
| Martin Pedroza | 9 | 2 | 4 | 1 | 22% | 78% | $60,045 |
Trainer Standings
(Current Through Saturday, November 11, 2017 Inclusive)
| | | | | | | | |
| --- | --- | --- | --- | --- | --- | --- | --- |
| Trainer | Sts | 1st | 2nd | 3rd | Win% | In-money% | Money Won |
| Peter Miller | 19 | 7 | 3 | 1 | 37% | 58% | $1,783,290 |
| Jerry Hollendorfer | 22 | 6 | 0 | 3 | 27% | 41% | $778,690 |
| Philip D'Amato | 19 | 4 | 2 | 2 | 21% | 42% | $193,470 |
| Vladimir Cerin | 9 | 2 | 3 | 0 | 22% | 56% | $50,154 |
| Richard Baltas | 17 | 2 | 2 | 3 | 12% | 41% | $94,434 |
| Aidan P. O'Brien | 14 | 2 | 2 | 2 | 14% | 43% | $2,030,000 |
| Simon Callaghan | 14 | 2 | 2 | 1 | 14% | 36% | $198,075 |
| Chad C. Brown | 13 | 2 | 1 | 2 | 15% | 38% | $2,840,000 |
| Dan Blacker | 6 | 2 | 1 | 0 | 33% | 50% | $64,035 |
| Bob Baffert | 17 | 1 | 5 | 1 | 6% | 41% | $2,851,380 |
Winning Favorites Report
(Current Through Saturday, November 11, 2017 Inclusive)
Winning favorites -- 24 out of 65 -- 36.92%
Winning favorites on dirt -- 12 out of 37 -- 32.43%
Winning favorites on turf -- 12 out of 28 -- 42.86%
Winning odds-on favorites -- 0 out of 3 -- 0.00%
In-the-Money favorites -- 43 out of 65 -- 66.15%
In-the-Money odds-on favorites -- 2 out of 3 -- 66.67%