Saturday, November 11th, 2017 ( 1 year ago )
Stable notes
Nov 11, 2017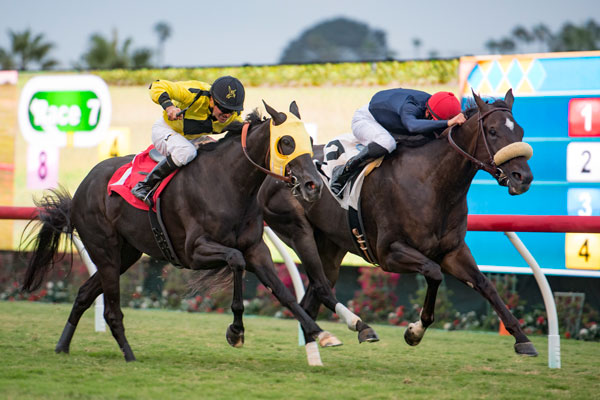 Majestic Heat
BETTY GRABLE WILL BE SOMETHING DIFFERENT FOR MAJESTIC HEAT
Bringing back Majestic Heat on short notice would not have been a surprising move from the 5-year-old daughter of Unusual Heat's former trainer Barry Abrams.
Abrams, who was forced by health problems to step away from training in 2016, was known for rapid turnarounds and, in fact, raced Majestic Heat four times over a 41-day period at the 2015 Del Mar summer meeting, once on only six days rest.
Hall of Fame trainer Richard Mandella, who took over with Majestic Heat in the fall of 2015, has spaced her races out to a much greater degree. That is, until Sunday when Majestic Heat will battle seven rivals in the $100,000 Betty Grable Stakes eight days removed from finishing sixth of 14 in the Grade II $200,000 Goldikova Stakes which kicked off the Breeders' Cup Saturday extravaganza here.
The Betty Grable, a seven-furlong sprint for California-bred older fillies and mares, will also be the first dirt try for Majestic Heat, who has a career record of five wins from 14 starts and earnings of $353,329 for Madeline Auerbach and partners.
Like virtually all moves by Mandella, there's considerable thought behind this one.
"I've always wanted to try her on dirt and I don't think she got much out of her last race," Mandella said Saturday morning by phone from Santa Anita. "She came out of (the Goldikova) bucking and kicking and full of energy. She just didn't run much, with no extenuating circumstances whatsoever.
"She's a big, strong mare and she's always trained on the dirt like she likes it. I wish the race was a couple weeks later, but we're going to give it a try."
The field from the rail: Run For Retts (Rafael Bejarano, 12-1), Late N Left (Stewart Elliott, 8-1), Bad Ju Ju (Drayden Van Dyke, 4-1), How About Zero (Mario Gutierrez, 3-1, Cuddle Alert (Edwin Maldonado, 5-1), Time For Ebby (Joe Talamo, 20-1), Majestic Heat (Flavien Prat, 7-2) and Barbara Beatrice (Tiago Pereira, 4-1).
---
MIDNIGHT DEADLINE FOR NOMS TO MEETING'S FINAL 8 GRADED STAKES
Racing officials will have a clearer picture of what to expect in the eight graded stakes races in the Turf Festival from Thursday, November 23 to the meet's finale on Sunday, November 26 after the close of entries for nominations at midnight tonight.
The events, with the number of early nominations in parentheses are:
Grade III $100,000 Red Carpet Stakes, Thursday, November 23 (20); Grade II $200,000 Hollywood Turf Cup, Friday, November 24 (20); Grade III $100,000 Jimmy Durante Stakes (20), Grade I $300,000 Hollywood Derby (15) and Grade III $100,000 Native Diver Stakes (9), Saturday, November 25; Grade III $100,000 Cecil B. DeMille Stakes (18), Grade II $200,000 Seabiscuit Handicap (13) and Grade I $300,000 Matriarch Stakes (17) on Sunday, November 26.
Last Thursday, nominations closed for next weekend's $100,000 Desi Arnaz and Cary Grant Stakes.
The Desi Arnaz, seven furlongs on Saturday, November 18, has 11 nominations, among them two runners from the Golden State Juvenile Fillies on the Breeders' Cup opening day undercard -- One Fast Broad (1st) and Show It N Moe It (3rd).
The Cary Grant, seven furlongs on the main track for California-breds, attracted 14 nominations, among them He Will, winner of the Lure Stakes on the second day of the meeting.
---
BEJARANO MOVES UP ON JOCKEY LIST; TRAINER STANDINGS STATIC
With two wins on Friday, Rafael Bejarano moved from outside the top 10 into a tie for third with Kent Desormeaux, with four wins each, in the jockey standings.
Bejarano scored with Afleet Ascent (3rd, $7.40) and Ms Wakaya (7th, $10.60) to cut into the lead of Flavien Prat, who went 0-for-4 Friday but has counted eight wins the first six days of the 16-day meeting.
Defending champion Peter Miller and Hall of Fame trainer Jerry Hollendorfer remained tied atop the trainer standings. Each saddled one winner on Friday to make it six for the meeting.
---
DEL MAR TOYS FOR TOTS DRIVE UNDERWAY
Toy boxes are located at both the Stretch Run and Clubhouse gates for the Marine Corps Toys For Tots campaign now underway.
Patrons who bring an unwrapped toy will receive a free entry ticket from one of our Customer Service gate greeters. The Chargers were the official drop off for the Toys For Tots program in the past, but the Del Mar Thoroughbred Club has assumed the mantel.
All toys must be unwrapped. There are some toy items in the gift shops suitable for purchase and donation.
The primary goal of the Foundation is the same as that of the overall Toys for Tots Program: i.e. – to deliver, through a new toy at Christmas, a message of hope to less fortunate youngsters that will assist them into becoming responsible, productive, patriotic citizens
Next Sunday, November 19, Del Mar will present donated toys to the Marines.
---
DEL MAR STATISTICS
Jockey Standings
(Current Through Friday, November 10, 2017 Inclusive)
| | | | | | | | |
| --- | --- | --- | --- | --- | --- | --- | --- |
| Jockey | Mts | 1st | 2nd | 3rd | Win% | In-money% | Money Won |
| Flavien Prat | 35 | 8 | 2 | 3 | 23% | 37% | $1,665,225 |
| John Velazquez | 14 | 5 | 0 | 1 | 36% | 43% | $2,612,535 |
| Kent Desormeaux | 21 | 4 | 3 | 2 | 19% | 43% | $1,281,160 |
| Rafael Bejarano | 17 | 4 | 0 | 2 | 24% | 35% | $215,758 |
| Joel Rosario | 16 | 3 | 4 | 3 | 19% | 63% | $1,717,565 |
| Evin Roman | 26 | 3 | 2 | 4 | 12% | 35% | $156,735 |
| Tyler Baze | 28 | 2 | 5 | 3 | 7% | 36% | $203,900 |
| Joseph Talamo | 24 | 2 | 5 | 2 | 8% | 38% | $452,882 |
| Corey Nakatani | 16 | 2 | 2 | 2 | 13% | 38% | $437,029 |
| Mike Smith | 13 | 2 | 2 | 0 | 15% | 31% | $1,666,810 |
Trainer Standings
(Current Through Friday, November 10, 2017 Inclusive)
| | | | | | | | |
| --- | --- | --- | --- | --- | --- | --- | --- |
| Trainer | Sts | 1st | 2nd | 3rd | Win% | In-money% | Money Won |
| Peter Miller | 16 | 6 | 3 | 1 | 38% | 63% | $1,758,750 |
| Jerry Hollendorfer | 19 | 6 | 0 | 3 | 32% | 47% | $771,305 |
| Philip D'Amato | 18 | 4 | 2 | 1 | 22% | 39% | $189,630 |
| Aidan P. O'Brien | 14 | 2 | 2 | 2 | 14% | 43% | $2,030,000 |
| Simon Callaghan | 12 | 2 | 2 | 0 | 17% | 33% | $189,835 |
| Chad C. Brown | 13 | 2 | 1 | 2 | 15% | 38% | $2,840,000 |
| Dan Blacker | 5 | 2 | 0 | 0 | 40% | 40% | $60,435 |
| Bob Baffert | 15 | 1 | 4 | 1 | 7% | 40% | $2,831,035 |
| James M. Cassidy | 10 | 1 | 2 | 4 | 10% | 70% | $75,328 |
| Brian J. Koriner | 6 | 1 | 2 | 1 | 17% | 67% | $70,420 |
Winning Favorites Report
(Current Through Friday, November 10, 2017 Inclusive)
Winning favorites -- 21 out of 56 -- 37.50%
Winning favorites on dirt -- 9 out of 32 -- 28.13%
Winning favorites on turf -- 12 out of 24 -- 50.00%
Winning odds-on favorites -- 0 out of 2 -- 0.00%
In-the-Money favorites -- 36 out of 56 -- 64.29%
In-the-Money odds-on favorites -- 1 out of 2 -- 50.00%