Sunday, December 2nd, 2018 ( 8 months ago )
Stable Notes
December 2, 2018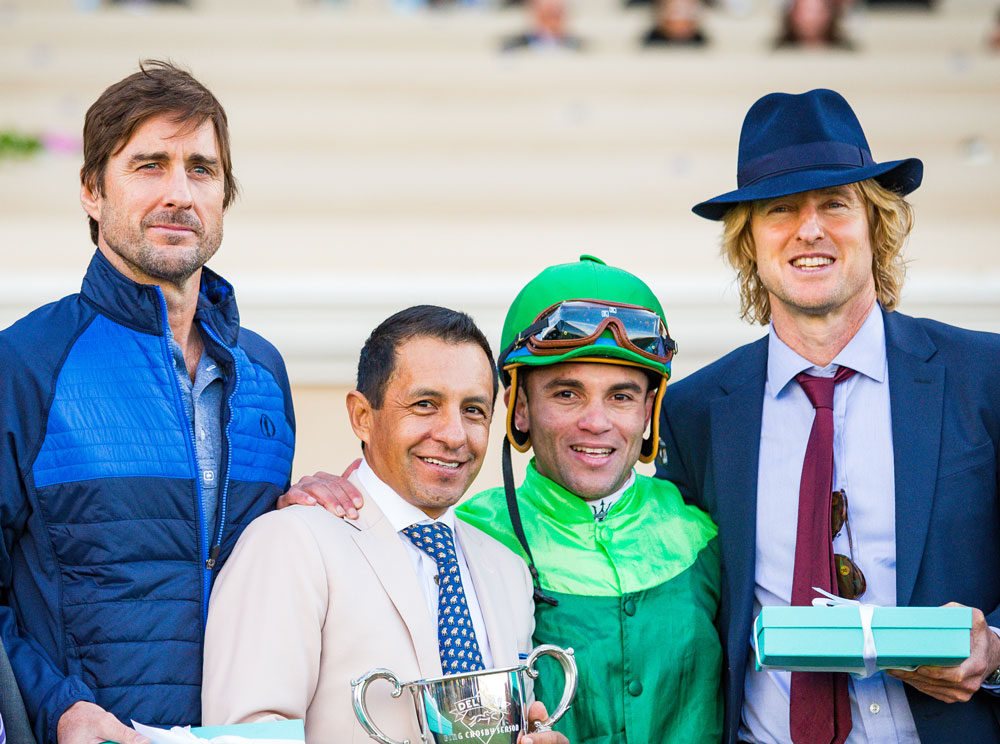 Luke Wilson, Victor Espinoza, Joel Rosario, Owen Wilson (Left to Right) © Del Mar Thoroughbred Club
VICTOR ESPINOZA BACK AT DEL MAR WITH OPTIMISTIC REPORT
Hall of Fame jockey Victor Espinoza was back at Del Mar Saturday for the first time since incurring a fractured vertebra and spinal cord trauma in a training accident here on July 22.
The official duties for Espinoza were to present the trophy to the winner of the Grade I $300,000 Hollywood Derby – which he did to owner Peter Brant and jockey Joel Rosario of Raging Bull with A-list acting brothers Luke and Owen Wilson alongside. Before and after the ceremony, however, Espinoza used the occasion to provide some good news to fans, horsemen and followers.
"My body is getting stronger day by day," said Espinoza, whose initial treatment was done at Scripps La Jolla and who has been recuperating at his Del Mar residence. "Last week I saw my doctor and they checked the MRI and it came out perfect. I was surprised but really happy. Everything is coming along well and I don't need surgery, which is great. My spinal cord has healed perfectly fine, which was my main concern.
"I think by sometime in January at Santa Anita I'll be ready to ride again."
---
LATE DOUBLE SATURDAY VAULTS VAN DYKE TO JOCKEY LEAD
Victories aboard Kingly ($10.20) in Saturday's eighth race and Super Patriot ($16.00) in the nightcap, both for Hall of Fame trainer Bob Baffert, moved Drayden Van Dyke one in front of Flavien Prat, 17-16 atop the jockey standings entering today's final day of racing.
Prat, who won the 2017 Summer and Fall meeting riding championships, and Van Dyke, who supplanted Prat this summer, entered Saturday's program tied with 15 wins each. Prat moved ahead with a first-race win aboard Swamp Souffle for trainer George Papaprodromou before Van Dyke's closing flurry.
The closing day schedules, each with five mounts, for the two contenders are as follows:
Van Dyke: Powder (2nd, 9-5), Adorably Sweet (6th, 3-1), Insta Erma (7th, 12-1), Red Lightning (8th, 7-2), Felix Leiter (9th, 8-1).
Prat: Arch Anthem (3rd, 3-1), Blitzkrieg (5th, 3-1), Dr Wysong (6th, 12-1), Vasilika (7th, 7-2), Captain Scotty (8th, 2-1).
---
MILLER COMPLETES SWEEP OF DEL MAR TRAINING TITLES
The fall training title which Peter Miller essentially secured with a four-win day halfway through the meeting – and shortly after he appropriately recorded his 1,000th career win at the track near his Encinitas home – gave him a sweep of the Del Mar seasons.
Miller took the summer crown by a 10-win margin (31-21) over Doug O'Neill and holds an unreachable 14-9 advantage over Jerry Hollendorfer entering the closing day program today for the fall meeting.
Miller becomes a Man For Both Seasons for the second time. In 2014 he shared the summer title with Hollendorfer and won the inaugural fall meeting outright. Miller tied for second, two wins behind in the fall of 2015, but has now won three straight by comfortable margins. Miller, who averaged 15.7 wins for the first four fall meetings, has three entered on the final card.
---
STATS DON'T LIE: BAFFERT'S AWESOME YEAR WITH DEBUT 2-YEAR-OLDS
Every year Bob Baffert unveils a bounty of 2-year-old winners at any track where he's got a stable, but especially at Del Mar. And if you thought 2018 might have been an exceptional year for Baffert, research by venerable racing podcaster and columnist Ron Flatter has proved you royally right.
Flatter compiled a list of Baffert first-time starting 2-year-olds this year – down to Kingly winning Saturday's eighth race, and the numbers are impressive. His overall 2-year-old record: 51 starters, 29-4-5.
Through Saturday, Baffert's debuting babies have a record of 19 wins from 29 starters with one second and two thirds. That's nearly a 66 percent win rate and 76 percent in the money.
At Del Mar during the summer meeting Baffert harvested 11 wins from 13 debut starters. One of those victories came at the expense of another Baffert trainee in the same race. Game Winner, who would go on to win the Del Mar Futurity and Breeders' Cup Juvenile, was one of the babes of summer. So were Roadster and Mother Moher.
During fall racing at Del Mar, Baffert sent out seven first-time starters and won three times – with Coliseum on November 17, Quahira on November 25 and Kingly on Saturday.
BOB BAFFERT first-time starting 2-year-olds in 2018
Record
Top win
1-Dec
DMR-8
Kingly
MSW
1st
1–1-0-0
MSW
1-Dec
DMR-8
Green Fleet
MSW
10th
1–0-0-0
25-Nov
DMR-7
Qahira (f)
MSW
1st
1–1-0-0
MSW
24-Nov
DMR-2
Highlight Reel
MSW
6th
1–0-0-0
17-Nov
DMR-2
Figure Eight
MSW
2nd
1–0-1-0
17-Nov
DMR-1
Coliseum
MSW
1st
1–1-0-0
MSW
9-Nov
DMR-4
Trojan Magic
Mdn Clmg
6th
1–0-0-0
3-Nov
SA-7
Count Di Luna
MSW
1st
1–1-0-0
MSW
13-Oct
SA-4
Cruel Intention
MSW
1st
2–2-0-0
Golden St Juv
8-Oct
SA-2
Metropol
MSW
1st
1–1-0-0
MSW
29-Sep
SA-4
Power Player
MSW (t)
3rd
1–0-0-1
29-Sep
SA-1
Improbable
MSW
1st
2–2-0-0
Street Sense
20-Sep
LRC-3
Mucho Gusto
MSW
1st
2–2-0-0
G3 Bob Hope
8-Sep
LRC-7
Raneem (f)
MSW
8th
1–0-0-0
7-Sep
LRC-4
Midnight Mystery
MSW
3rd
2–0-0-1
3-Sep
DMR-8
Rayana (f)
MSW (t)
1st
1–1-0-0
MSW (t)
2-Sep
DMR-5
Message (f)
MSW
5th
1–0-0-0
1-Sep
DMR-9
Magic On Tap
MSW
1st
1–1-0-0
MSW
1-Sep
DMR-9
Admiral Brown
MSW
7th
1–0-0-0
1-Sep
DMR-5
Much Better
MSW
1st
3–1-1-0
MSW
26-Aug
DMR-4
Tale Of The Union
MSW
1st
1–1-0-0
MSW
25-Aug
DMR-1
Fighting Mad (f)
MSW
1st
1–1-0-0
MSW
18-Aug
DMR-9
Game Winner
MSW
1st
4–4-0-0
BC Juv (3 G1s)
11-Aug
DMR-6
The Aurelia Factor (f)
MSW
1st
1–1-0-0
MSW
5-Aug
DMR-2
Der Lu (f)
MSW
1st
2–1-0-0
MSW
29-Jul
DMR-6
Roadster
MSW
1st
2–1-0-1
MSW
28-Jul
DMR-1
Chasing Yesterday (f)
MSW
1st
4–3-0-0
Desi Arnaz
*7/28
DMR-1
Honeyfromthesouth (f)
MSW
*
*2–0-1-1
22-Jul
DMR-7
Mother Mother (f)
MSW
1st
3–2-1-0
Rags To Riches
29-Jun
LRC-3
Dark Prince
MSW
5th
5–1-0-1
MSW (t)
Baffert 2-year-olds on debut: 29–19-1-2
Baffert 2-year-olds in 2018: 51–29-4-5
Source: Equibase
*Honeyfromthesouth was trained to a 2nd-place finish in her debut for David Hofmans before her transfer to Bob Baffert. Her overall record is 3–0-2-1. Her record shown on the list is for Baffert.
---
RAINS SHRINK FIELD SIZE NUMBERS … BUT WHO'S COMPLAINING?
Entering the final week of the meeting, the racing office could anticipate average field size numbers for the fall meeting to be close to the outstanding 8.5 of 2017.
Then rains hit Thursday and carried over into Friday. Seven races were taken off the Jimmy Durante Turf Course and switched to the main track. Twenty-four horses were scratched rather than make the switch.
Racing Secretary David Jerkens now projects an average field size of 7.7 in the final analysis after the finale today.
Fair to say that the meeting was to use a phrase of announcer Trevor Denman, "Moving like a winner," until Mother Nature intervened?
"I think that's a fair assessment," Jerkens said.
In many ways, rain is always a blessing in arid Southern California. And betting opportunities may be considered a small price to pay by those who remember the tinder-dry conditions of North San Diego County one year ago next week, which fueled fires that devastated San Luis Rey Downs.
"We're pleased with the meeting from a quality standpoint," Jerkens said. "We're finishing especially strong this weekend with the Hollywood Derby and Matriarch fields and I thought the Thanksgiving Week cards were also very good.
"Thanks to the local horsemen, and those who shipped in from out of state, for their support. We knew going in that the bar had been set high last year and there were some issues, not unique to Del Mar, that we'd have to be dealing with.
"When it's all over, we'll take a look at what went right and wrong and evaluate what to do looking forward to next year."
---
CLOSERS – Selected workouts from 193 at Santa Anita and 64 at Del Mar officially timed Sunday: Santa Anita – Bellafina (4f, :49.40), Catapult (4f, :50.00), City of Light (4f, :48.80), Fatale Bere (4f, :50.40), He Will (4f, :51.20), Heck Yeah (4f, :48.00), Liam the Charmer (4f, :48.40), Selcourt (4f, :48.60), St. Joe Bay (4f, :48.60), Dueling (5f, 1:01.40), Shivermetimbers (5f, 1:01.40), Californiagoldrush (4f, turf, :49.40); Del Mar – Paradise Woods (3f, :39.80), Richard's Boy (4f, :48.60), Solid Wager (4f, :48.40) …Thanks to all Stable Notes readers. Happy Holidays and Happy New Year… The Southern California Thoroughbred racing circuit continues with the Los Alamitos meeting starting Thursday, December 26. Racing will be conducted on a Thursday-Sunday basis through December 16 with a first post of 1 p.m. on weekdays and 12:30 on weekends. Two Grade I events, the Futurity and Starlet for 2-year-olds, will be contested on December 8…Santa Anita's winter/spring meeting begins, as is traditional, on the day after Christmas, December 6 … Live racing returns to Del Mar on Wednesday, July 17, 2019 and goes through September 2.
---
DEL MAR STATISTICS
Jockey Standings
(Current Through Saturday, December 1, 2018 Inclusive)
| | | | | | | | |
| --- | --- | --- | --- | --- | --- | --- | --- |
| Jockey | Mts | 1st | 2nd | 3rd | Win% | In-money% | Money Won |
| Drayden Van Dyke | 61 | 17 | 8 | 8 | 28% | 54% | $752,028 |
| Flavien Prat | 81 | 16 | 19 | 9 | 20% | 54% | $873,636 |
| Geovanni Franco | 61 | 12 | 7 | 7 | 20% | 43% | $474,211 |
| Heriberto Figueroa | 66 | 9 | 9 | 10 | 14% | 42% | $296,040 |
| Rafael Bejarano | 59 | 9 | 8 | 11 | 15% | 47% | $435,950 |
| Joseph Talamo | 48 | 9 | 4 | 8 | 19% | 44% | $513,235 |
| Tyler Baze | 81 | 7 | 11 | 12 | 9% | 37% | $428,344 |
| Tiago Pereira | 68 | 5 | 6 | 10 | 7% | 31% | $235,730 |
| Kent Desormeaux | 36 | 5 | 6 | 6 | 14% | 47% | $261,720 |
| Mike Smith | 25 | 4 | 8 | 2 | 16% | 56% | $263,499 |
Trainer Standings
(Current Through Saturday, December 1, 2018 Inclusive)
| | | | | | | | |
| --- | --- | --- | --- | --- | --- | --- | --- |
| Trainer | Sts | 1st | 2nd | 3rd | Win% | In-money% | Money Won |
| Peter Miller | 43 | 14 | 5 | 5 | 33% | 56% | $520,890 |
| Jerry Hollendorfer | 36 | 9 | 6 | 4 | 25% | 53% | $426,945 |
| Bob Baffert | 14 | 7 | 2 | 0 | 50% | 64% | $315,420 |
| Doug F. O'Neill | 62 | 6 | 7 | 7 | 10% | 32% | $296,886 |
| Philip D'Amato | 35 | 6 | 4 | 3 | 17% | 37% | $307,628 |
| Brian J. Koriner | 16 | 6 | 0 | 1 | 38% | 44% | $191,205 |
| George Papaprodromou | 17 | 5 | 4 | 1 | 29% | 59% | $101,900 |
| Richard Baltas | 34 | 4 | 6 | 2 | 12% | 35% | $260,872 |
| J. Keith Desormeaux | 22 | 3 | 4 | 1 | 14% | 36% | $118,450 |
| Richard E. Mandella | 22 | 3 | 4 | 1 | 14% | 36% | $174,265 |
Winning Favorites Report
(Current Through Saturday, December 1, 2018 Inclusive)
Winning favorites -- 53 out of 127 -- 41.73%
Winning favorites on dirt -- 36 out of 79 -- 45.57%
Winning favorites on turf -- 17 out of 48 -- 35.42%
Winning odds-on favorites -- 14 out of 26 -- 53.85%
In-the-Money favorites -- 92 out of 127 -- 72.44%
In-the-Money odds-on favorites -- 23 out of 26 -- 88.46%