Sunday, December 1st, 2019 ( 1 year ago )
Stable Notes
December 1, 2019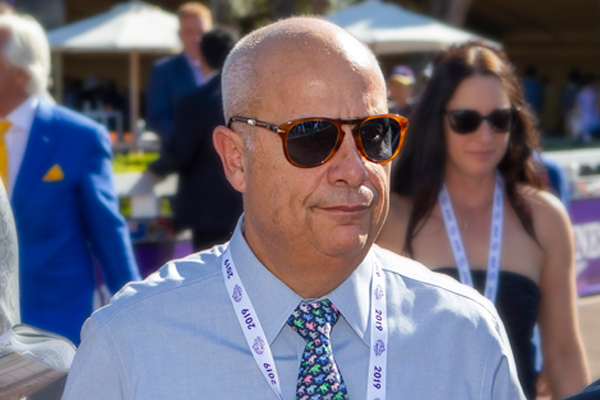 Mark Casse © Benoit Photo
GOT STORMY LATEST IN LINE OF EXCEPTIONAL CASSE-TRAINED FEMALES
Got Stormy had her head out over the stall webbing Sunday morning, a braid in her forelock dangling down one side of her chestnut face.
Trainer Mark Casse smiled, stepped up to make a small adjustment, brushing the braid to the side, then addressed the question posed to him. What were the similarities and differences of the the 4-year-old filly, the 5-2 morning line favorite for Sunday's Grade I $300,000 Matriarch Stakes, to recent standouts like Tepin, Lexie Lou and Wonder Gadot that he had conditioned?
"I think Got Stormy has proven herself to be pretty exceptional," Casse said. "I think she did that at Saratoga this summer when she came back off seven days rest and won the Fourstar Dave against the boys and broke the track record by almost a second.
"That made her a Grade I winner and that puts her in a special category in my book."
Being placed in the company of Tepin, female turf champion of 2015-16 and Wonder Gadot, the Canadian champion 2-year-old filly of 2017 who went on to win the first two legs of that country's Triple Crown at 3, is high praise. But Casse sees some similarities.
"She's probably a little more like Tepin than Wonder Gadot," Casse said. "Tepin was able to make her own racing luck a lot of times because of her tactical speed. She didn't do that when she was younger, but as she got older she did. And so has (Got Stormy).
"I think one of the keys to Got Stormy getting better is her mind. When she was a 2 and 3-year-old she was a little on the nervous side and things bothered her. She's gotten to be an old pro now."
Got Stormy, owned by Gary Barber, followed the Fourstar Dave victory with runner-up finishes in the Woodbine Mile and Breeders' Cup Mile, the latter on November 2 at Santa Anita. The Matriarch had long been under consideration and Casse said the long-range forecasts of rain at Del Mar, realized when three inches came down over a two-day period at midweek, weren't a deterrent to Got Stormy making her first Del Mar appearance.
"It was a concern," Casse said. "But if it (turf course) was a bog, we would have scratched and sent her back (east). Gary never puts pressure on us about things like that, he always wants to do what's right. I thought the turf was pretty darn good (Saturday). I think she'll be fine on it."
Casse is always glad to come to Del Mar, a place he's likened to heaven on earth for trainers based on experiences when he brought a string out for the entire 2014 season and ship-ins for major races since. Casse saddled four stakes winners in 2014, won the Del Mar Oaks (Dream Dancing) and Breeders' Cup Mile (World Approval) in 2017 and took the Del Mar Derby with Ride a Comet in 2018.
His 2014 venture was to avail his stable of the final synthetic surface season before Del Mar and Santa Anita switched back to dirt surfaces. With a return to synthetics in California being a topic of discussion, Casse will be an interested observer from his bases in the east. He's clear about his personal preference, however.
"I personally think the day of dirt racing should be history," Casse said. "My hope would be that we could get California to go back to synthetics and maybe we can get New York to follow. Kentucky will be the hardest, they call them Kentucky hard boots for a reason."
---
SNAPSHOTS FROM SATURDAY'S FIRST FOUR TURF FESTIVAL STAKES
$100,000 Grade III Jimmy Durante. Paco Lopez, in from Florida, notched the first of his three stakes wins on the day aboard Alms for trainer Michael Stidham. Laura's Light, trained by Peter Miller and ridden by Abel Cedillo, was second.
"I brought him out here and then he beats me in the Durante," said Miller with a laugh later. "I love Paco. He's a great rider and great person."
Questions about how the turf course held up through days of rain were answered.
"The course was good," Lopez said. "I'd heard about all the rain here, but the course was very good. Not soft; just right."
$100,000 Grade III Red Carpet. Zuzanna, a 5-year-old mare claimed for $8,000 and nurtured through a throat problem that required surgery, got an ideal trip under Lopez and pulled off a $48 upset. Trainer Bob Hess, Jr. did the claiming for his longtime friend, TVG host Kurt Hoover, and other pals. Hess planned to send Zuzanna to Florida to race next week but opted for the Red Carpet at Hoover's suggestion.
"It's not about necessarily winning a stakes race, it's about doing it with your friends and family," Hess said. "And Zuzanna is part of our family.
"It's wonderful that in our game the way it is right now, with all the issues we've had … This filly is getting up there in age, and she is pristine healthy from every possible aspect."
$200,000 Grade II Seabiscuit. Next Shares, a 6-year-old Archarcharch gelding who had lost six straight since his 2019 debut in January at Santa Anita, pulled off a $56.40 upset under Jose Validivia, Jr., for trainer Richard Baltas.
It was the 12th stakes win at Del Mar overall but the first in seven years for Valdivia, who turns 45 on December 8.
Baltas said the rain-softened turf was definitely a factor in Next Shares' favor – "For him it's always good to have a little cut in the ground" – as was a good trip.
"I never gave up on him," Baltas said. "He just had a couple of bad trips."
$300,000 Grade I Hollywood Derby – Lopez capped his big day, this time to Miller's benefit, guiding Mo Forza to a three-quarter length victory.
Said Lopez: "Here I am. Del Mar. Big horses. Good jockeys. And I get to win three stakes. You've got to be lucky. I was today."
---
JOCKEY TITLE DOWN TO THE WIRE; BALTAS REIGNS AMONG TRAINERS
Drayden Van Dyke and Abel Cedillo notched one win each on the Saturday program to remain tied for the lead atop the jockey standings. Van Dyke has 12 wins from 50 mounts, Cedillo 12 from 61.
Flavien Prat and Rafael Bejarano, winless from a combined 13 mounts Saturday, are tied for third with eight wins and will need a daily win total approaching the track record to get a share or win outright.
Cedillo and Prat are scheduled to ride seven of the 10 races on the closing day card, Van Dyke and Bejarano six each.
Richard Baltas and Peter Miller saddled one winner each on Saturday, allowing Baltas to maintain a four-win advantage, 10-6 over Miller, and all-but-mathematically wrap up his second Del Mar training title. Baltas' first was shared with Phil D'Amato in the summer of 2017. Barring a comeback, Miller will have a streak of three straight Bing Crosby training titles ended.
Baltas has three representatives on the final card, Miller five.
---
CLOSERS – Racing returns to Del Mar for the 81st summer season July 18 to September 7, 2020 and the seventh Bing Crosby season October 31 - November 29 … Thanks to all Stable Notes readers. Happy Holidays and good luck to all.