Saturday, December 1st, 2018 ( 8 months ago )
Stable Notes
December 1, 2018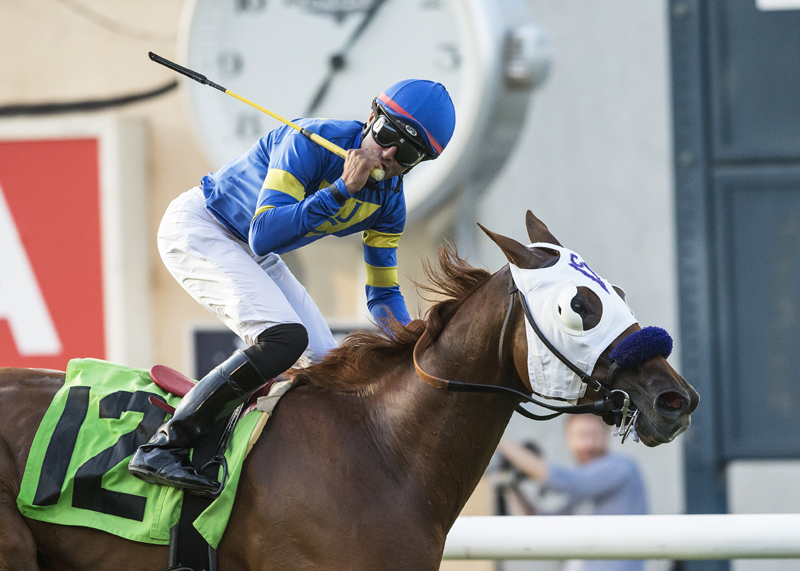 Fahan Mura © Benoit Photo
'HORSE FOR THE COURSE' COULD BE KEY TO SUNDAY'S MATRIARCH
The rains that doused the Jimmy Durante Turf Course Thursday and Friday have added questions and intrigue to the mix for Sunday's Grade I $300,000 Matriarch Stakes.
As if the closing-day, signature event of fall racing at Del Mar needed more of those things.
There were already points to ponder regarding how the locally-based horses would do against a bunch of well-credentialed shippers and how those invaders would handle the travel and expected firm footing. Now trainers in both categories have to wonder how suitable the ground, protected Thursday and Friday with scheduled races moved to the main track, will be for their representatives.
Some indication will be given today when the course, initially labeled "good," reopens for five turf races, chief among them the Grade I, $300,000 Hollywood Derby. Even so, there'll be cause to wonder left over to Sunday.
"It all depends on how soggy the turf course is," trainer Vladimir Cerin said Saturday morning in assessing the chances of Fahan Mura (12-1). "If it's firm and speed holds, it will be good for her. If it's deeper, then it will be good for closers."
Fahan Mura, ridden by Edwin Maldonado, has gone wire-to-wire in four of her six victories in 2018 and she led most of the way in two graded stakes on-the-board finishes. The 4-year-old daughter of English Channel was third in Grade II John C. Mabee stakes here in September and second in last month's Goldikova at Santa Anita, both times beaten by Matriarch morning line favorite Vasilika.
Six of her nine races this year, and eight of the last 11 for Fahan Mura, a career earner of $341,470, have been over the one mile turf conditions of the Matriarch. But Cerin doesn't encourage the 'miler' label and points to a 1 ¼-mile try in the New York Handicap at Belmont Park in June, an event switched to the main track. Fahan Mura opened up an eight-length lead after a half-mile, but was passed by five horses in the last quarter-mile.
"I actually think she's better at a mile and a quarter," Cerin said. "The race at New York she went really, really fast early."
Fahan Mura has posted Beyer Sped Figures in the 90s in her last seven races, a consistency that is a reflection of a no-nonsense personality.
"She's not a toy, she's her own woman," Cerin said. "She likes attention, but she doesn't want you to play with her. And she's probably the fastest jogger I've ever had in my barn. She jogs like she's a machine.
"On the track, she's all business. Just a real nice, professional racehorse."
Stabled next to Fahan Mura in Barn D is Valadorna, who shipped in from New Orleans for trainer Mark Casse. The 4-year-old Kentucky-bred daughter of Curlin was switched to turf racing in September and finished second in the Grade III Ladies Turf at Kentucky Downs, beaten a neck by Matriarch rival Insta Erma, and fifth in the Grade I First Lady at Keeneland in October. Both were on turf courses labeled "good."
"It (Matriarch) is a tough race, that's for sure, looks like the toughest race of the meet," said Allen Hardy, a Casse assistant who'll give Mike Smith a leg up into the saddle Sunday. "But she shipped in well and she's had a couple gallops over the track and handled it well.
"With the rain, the turf might be a little bit soft and that would be to her advantage."
The field from the rail: Excellent Sunset (Rafael Bejarano, 30-1), Valadorna (Mike Smith, 15-1), Fahan Mura (Edwin Maldonado, 12-1), Mopotism (Geovanni Franco, 20-1), Quidura (Jose Ortiz, 8-1), Ms Bad Behavior (Tyler Baze, 20-1), Daddy Is a Legend (Manny Franco, 20-1), Insta Erma (Drayden Van Dyke, 12-1), Vasilika (Flavien Prat, 7-2), Mission Impassable (Florent Geroux, 5-1), Luminoso (Evin Roman, 30-1), Dona Bruja (Declan Cannon, 8-1), Uni (Joel Rosario, 9-2) and Rymska (Irad Ortiz, Jr., 5-1).
---
DOUBLE WIN PULLS PRAT EVEN; JOCKEY RACE HEADS DOWN TO THE WIRE
With wins aboard Pitino (3rd, $5.00) and The Big Train (8th, $5.40) Friday, defending Fall champion Flavien Prat pulled even with Drayden Van Dyke entering the final two days of the meeting. Prat has 15 wins, as many seconds and nine third-place finishes from 74 mounts. Van Dyke's numbers from 57 mounts: 15 wins, eight seconds and eight thirds.
Prat is booked on seven mounts on today's nine-race program. The lineup is: Swamp Souffle (1st, 3-1 morning line), Gracious Me (2nd, 2-1), Calculator (3rd, 7-2), My Sweet Baboo (5th, 5-2), River Boyne (7th, 5-2), Stretford End (8th, 5-2) and Thalia (9th, 9-2).
Van Dyke has four riding assignments. His lineup: Queen Ryker (5th, 8-1), Platinum Warrior (7th, 12-1), Kingly (8th, 3-1) and Super Patriot (9th, 6-1).
---
TOP RIDERS FROM THE EAST DESCEND ON DEL MAR FOR FINAL WEEKEND
The riding skills and talents of five of the top eight riders by 2018 money earnings in Equbase listings – all of them based on the East Coast -- will be on display during the closing meeting of fall racing at Del Mar.
Florent Geroux (No. 4, $21.06 million in earnings, 171 wins through Friday) is in the vanguard with three mounts on today's program and two more tomorrow. Joel Rosario (No. 5, $20.4 million, 148 wins) rides seven today and five tomorrow.
In the jockey's room on Sunday will be the Ortiz brothers, Irad, Jr., and Jose, Manny Franco (No. 8, $15.8 million, 231 wins) in addition to Geroux and Rosario. Irad Ortiz, Jr., (No. 1, $26.4 million, 321 wins) is booked to ride four races. Jose Ortiz (No. 2, $25.7 million, 253 wins) will ride two. Franco also has two mounts on closing day.
Del Mar-based jockeys are Nos. 11-13 on the Equibase list. They are Flavien Prat (No. 11, $11.9 million, 169 wins), Mike Smith ($11.3 million, 51 wins) and Drayden Van Dyke ($10.4 million, 142 wins).
---
RECABAREN, 98, WAS THERE AT THE BEGINNING OF DEL MAR
In a winner's circle ceremony following Friday's first race, Del Mar honored Lennie Recabaren on the occasion of his 98th birthday.
Recabaran was 17, and on site, when Del Mar opened on July 3, 1937. "I was working as a laborer at Paramount, pulling nails and things like that when they opened the track, so I came on down here," Recabaran recalled.
He was a Navy flyer in World War II and Viet Nam, married to his late wife, Joanne for 38 years and his current wife, Valerie, who grew up on a horse farm in San Diego for 31 years.
A successful career as a commercial real estate executive, whose projects included development of the River Valley (formerly Stardust) Golf Course in San Diego, led to a longtime venture into Thoroughbred racing and breeding. His ranch in Julian once was home to 31 horses and he was an associate of Del Mar Thoroughbred Club founder John C. Mabee in that regard.
His trainers included three generations in the Jones family – Farrell, Gary and Marty, and Jeannine Sahadi, who helped arrange and oversee the ceremony.
Recabaren has been a member of the Del Mar Turf Club for 57 years.
"We've enjoyed it over the years and we still do," Valerie said. "We come as often as we can during the summer meet and the fall meet as well."
---
CLOSERS – The wins Friday aboard Easy Shot (5th, $4.20) and Magic Musketier (6th, $13.00) were Nos. 5,992 and 5,993 for Kent Desormeaux as the Hall of Fame rider zeroes in on the 6,000 milestone … Selected workouts from 95 officially timed Saturday at Santa Anita: Dancing Belle (4f, :48.60), Getaloadofthis (4f, :46.60), Sparky Ville (4f, :50.00) and King of Speed (5f, 1:01.00).
---
DEL MAR STATISTICS
Jockey Standings
(Current Through Friday, November 30, 2018 Inclusive)
| | | | | | | | |
| --- | --- | --- | --- | --- | --- | --- | --- |
| Jockey | Mts | 1st | 2nd | 3rd | Win% | In-money% | Money Won |
| Flavien Prat | 74 | 15 | 15 | 9 | 20% | 53% | $759,831 |
| Drayden Van Dyke | 57 | 15 | 8 | 8 | 26% | 54% | $687,138 |
| Geovanni Franco | 61 | 12 | 7 | 7 | 20% | 43% | $474,211 |
| Heriberto Figueroa | 62 | 9 | 9 | 10 | 15% | 45% | $291,825 |
| Rafael Bejarano | 54 | 9 | 8 | 11 | 17% | 52% | $424,270 |
| Joseph Talamo | 44 | 9 | 4 | 8 | 20% | 48% | $511,855 |
| Tyler Baze | 74 | 7 | 11 | 11 | 9% | 39% | $414,604 |
| Kent Desormeaux | 33 | 5 | 6 | 6 | 15% | 52% | $255,030 |
| Mike Smith | 25 | 4 | 8 | 2 | 16% | 56% | $263,499 |
| Tiago Pereira | 61 | 4 | 6 | 8 | 7% | 30% | $173,125 |
Trainer Standings
(Current Through Friday, November 30, 2018 Inclusive)
| | | | | | | | |
| --- | --- | --- | --- | --- | --- | --- | --- |
| Trainer | Sts | 1st | 2nd | 3rd | Win% | In-money% | Money Won |
| Peter Miller | 40 | 13 | 4 | 5 | 33% | 55% | $488,630 |
| Jerry Hollendorfer | 36 | 9 | 6 | 4 | 25% | 53% | $426,945 |
| Doug F. O'Neill | 58 | 6 | 7 | 7 | 10% | 34% | $288,701 |
| Philip D'Amato | 29 | 6 | 3 | 3 | 21% | 41% | $279,013 |
| Bob Baffert | 11 | 5 | 2 | 0 | 45% | 64% | $250,875 |
| Brian J. Koriner | 14 | 5 | 0 | 1 | 36% | 43% | $159,060 |
| Richard Baltas | 32 | 4 | 6 | 2 | 13% | 38% | $260,182 |
| George Papaprodromou | 16 | 4 | 4 | 1 | 25% | 56% | $82,700 |
| J. Keith Desormeaux | 21 | 3 | 4 | 1 | 14% | 38% | $118,105 |
| Richard E. Mandella | 21 | 3 | 4 | 1 | 14% | 38% | $173,920 |
Winning Favorites Report
(Current Through Friday, November 30, 2018 Inclusive)
Winning favorites -- 51 out of 118 -- 43.22%
Winning favorites on dirt -- 35 out of 75 -- 46.67%
Winning favorites on turf -- 16 out of 43 -- 37.21%
Winning odds-on favorites -- 13 out of 24 -- 54.17%
In-the-Money favorites -- 87 out of 118 -- 73.73%
In-the-Money odds-on favorites -- 21 out of 24 -- 87.50%