Sunday, August 17th, 2014 ( 3 years ago )
Judy The Beauty Wins
Rancho Bernardo 'Cap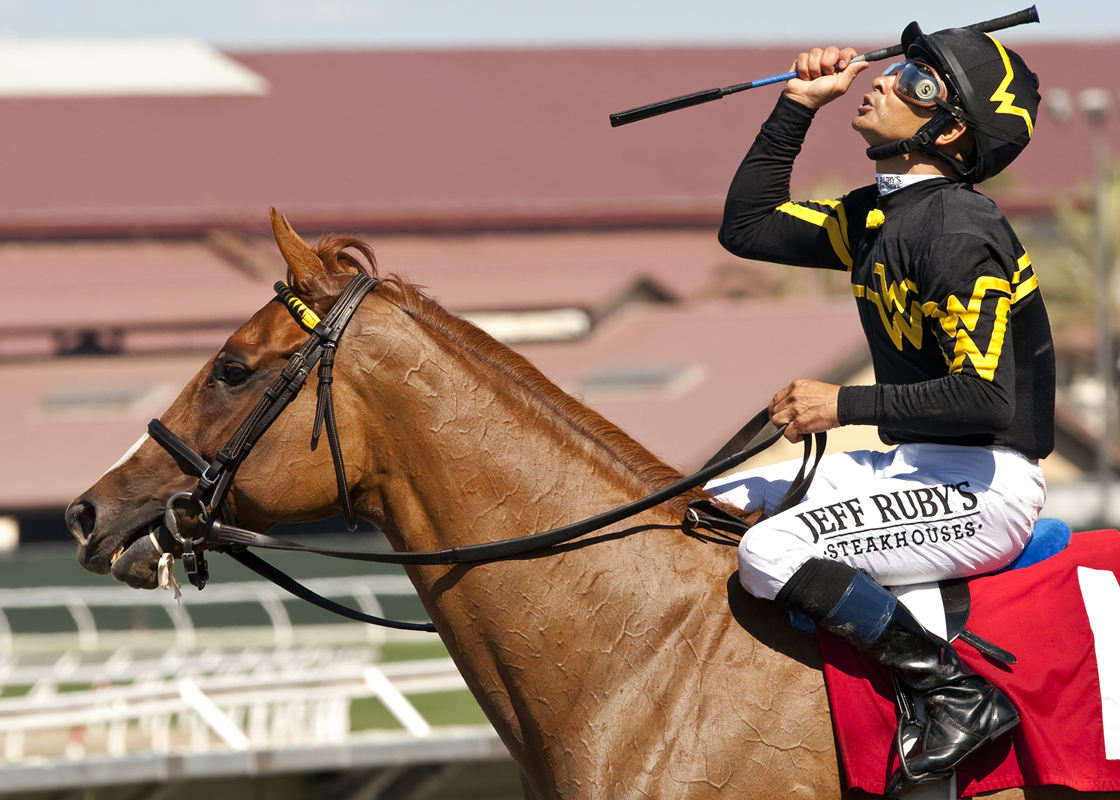 Ultra consistent Judy the Beauty, considered by many observors the best female sprinter in the country, lived up to her reputation Sunday with a dominating victory in the featured Grade III $150,000 Rancho Bernardo Handicap.
Sent postward the 6-5 second choice to the 4-5 favored defending champion, Reneesgotzip, Judy the Beauty and jockey Mike Smith bided their time until the stretch where they rallied to win by 1 ¼ lengths in 1:15.63 for the 6 ½ furlongs over Del Mar's main track while carrying topweight of 125 pounds.
Worse than third only once in her previous 16 race career when she fourth in the Humana Distaff on Kentucky Derby Day May 3, her most recent outing, Judy the Beauty recorded her eighth career triumph. She also has seven seconds and one third. First money of $90,000 increased her earnings to $1,112,122.
Reneesgotzip, packing 124 pounds and piloted by Corey Nakatani, was expected to go to the front from the gate. However, her performance was compromised when she bobbled at the break, conceding the early lead to the 12-1 longshot, Amaranth.
Reneesgotzip, who hadn't run since finishing in a deadheat for second behind champion Mizdirection in the Breeders' Cup Turf Sprint last November at Santa Anita, rallied to contend for the lead in the upper stretch but faltered and wound up third, 2 ¾ lengths behind runner-up Madame Cactus. Amaranth was fourth and last.
Withdrawn from the original line-up were Fashion Plate and Sagebrush Queen.
Judy the Beauty, a Canadian-bred five-year-old mare by Ghostzapper, is owned and trained by Wesley Ward. She returned $4.60 and $2.60, while Madame Cactus paid $3.60 to show. With only four runners, there was no show wagering.
In the day's supporting headliner, the $150,000 Solana Beach Handicap for older California-bred fillies and mares, 9-1 outsider Heat Du Jour and jockey Kent Desormeaux charged from off the pace to win by three lengths in 1:34.73 for the mile on the infield grass course.
Qiaona nosed out 8-5 favored Kathleen Rose for second, with Star Field another half-length back in fourth.
Heat Du Jour, owned by the partnership of trainer Jerry Hollendorfer, Mark Schlaich and George Todaro, was claimed for $32,000 in late May and earned $85,500 Sunday. The four-year-old Unusual Heat filly paid $21.40, $8 and $5.20. Qiaona returned $7.60 and $4, while Kathleen Rose paid $2.80 to show.
In the Pick Six, there were nine perfect tickets and each paid $62,287. .
With a carryover of $106,844 from Saturday and $828,344 in "new" money bet Sunday, the total Pick Six pool was $935,188.
Sunday's attendance was 14,713.
---
Rancho Bernardo Handicap
(Grade III)
MIKE SMITH (Judy the Beauty, winner) – "Impressive; extremely impressive. I've been wanting to ride this mare for a long time. I finally got to and it sure looks like I picked the right day. She's something. She can run with any of them. Boys, too. Look out!
JOSEPH TALAMO (Madame Cactus, second) – "Perfect trip. Good race for her. We just got outrun."
COREY NAKATANI (Reneesgotzip, third) – "She stumbled (away from the gate), but picked herself back up and got in the race. I'd say she ran dynamite. It was a good start for her."
DENNIS CARR (Amaranth, fourth) – "She's a good filly; honest. She runs her race everytime. This was a salty bunch. You're looking at a Breeders' Cup type race here. She doesn't have anything to be ashamed of."
BLAKE HEAP, assistant to Wesley Ward (Judy the Beauty, winner) – "That (come from behind) was kind of the game plan. She's a little older now and she doesn't like to be rushed. The last race at Churchill Downs (Humana Distaff, May 3), John Velazquez was kind of worried about the lead horse getting away and pushed her a little. This race (Mike Smith) let them go, just let her settle and that's what she wants to do now. I thought she ran perfect. Wesley did a good job. I didn't do much. "
FRACTIONS: :21.96 :44.78 1:09.19 1:15.63
The stakes win was the fifth of the meet for Smith, the most by any rider. It was his third in the Rancho Bernardo. He now has 44 stakes wins overall at Del Mar.
The stakes win was the second of the meet for Ward, but his first in the Rancho Bernardo. He now has five stakes wins at Del Mar.
The trainer owns the winner, a Canadian-bred by Horse of the Year Ghostzapper.
---
Solana Beach Handicap
KENT DESORMEAUX (Heat Du Jour, winner) – "I had a delightful trip. Around the three-sixteenths (pole), I found somewhere to go and she took me there. I rode this filly once before and she had some punch. That day, I think she would have beaten any horse on the grounds. So I expected her to fire late today. And she did."
RAFAEL BEJARANO (Qiaona, second) -- "I had a good trip and was in a good position down inside. When I set her down in the drive she fired, but that other filly (Heat Du Jour) just went right on by. She was too good today."
EDWIN MALDONADO (Kathleen Rose, third) -- "Fast pace today for the distance. A little too fast."
MIKE SMITH (Doinghardtimeagain, pulled up) – "She just felt a little funny. I knew she had a foot issue before and I didn't want to take any chances. I thought it was best if I got out of the race."
JERRY HOLLENDORFER (Heat Du Jour, winner) – "She was training very well coming into the race and we had been targeting this race for quite some time. There was enough speed in there to set it up for her and Kent (Desormeaux) to come from behind. When riders are riding like Kent(who had ridden Heat Du Jour before), they work their way into your stable and that's what happened with him."
(Concerning Doinghardtimeagain, who was pulled up): "The most important thing to me was making sure she was OK and Mike (Smith) said she was fine, but that her feet were stinging her so he didn't want to risk anything."
FRACTIONS: :22.70 :46.05 1:10.09 1:34.73
The stakes win was the fifth of the meet for Desormeaux, tying Mike Smith for most by a rider at the session. It is Desormeaux's third victory in the Solana Beach and his 67 th at Del Mar, 10th best all time.
The stakes win was the first of the meet for Hollendorfer, but his fifth in the Solana Beach (and his fifth in the last six runnings; three of them coming with the now retired Halo Dolly in '11, '12 and '13). He now has 21 stakes wins at Del Mar.
Heat Du Jour is owned by Hollendorfer and two of his Bay Area owners, George Todaro and Mark Schlaich.