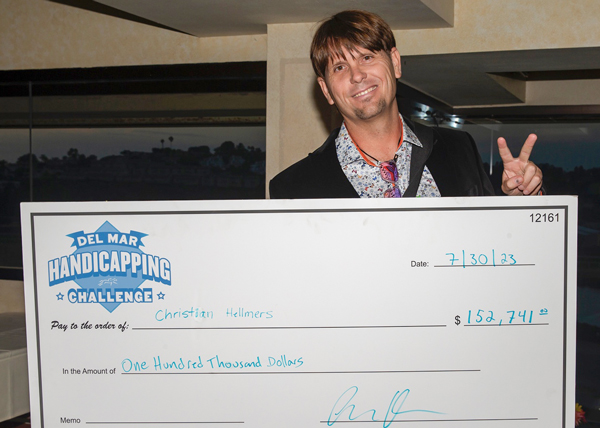 Christian Hellmers © Benoit Photo
Hellmers, a Del Mar native, claimed the victory over 128 total entries with two massive exacta wagers in the two-day Challenge. His $32,000 score on day one and another $23,000 exacta on day two sealed the victory. Second place finisher Frank Mustari, of Des Plaines, Illinois, briefly passed Hellmers on day two but it was short lived. The winner turned the $4,000 starting bankroll into $49,241.
Hellmers wins $89,500 cash, a $10,000 Breeders' Cup Betting Challenge (BCBC) 2023 entry and a $4,000 entry to the September 2 Pacific Classic Betting Challenge (PCBC) at Del Mar or online through TVG.com. All in all, he netted $152,741 in cash and prizes.
Mustari, participating with two entries, finished second and sixth for $37,400 in cash plus two BCBC entries and a PCBC spot.
Participants started with a $4,000 live money bankroll in the two-day Challenge offering more than $250,000 in total prizes. The top 12 finishers receive a combination of prizes including cash, six $10,000 Breeders Cup Betting Challenge entries, National Horseplayers Championship spots and entries to the Pacific Classic Betting Challenge.
Del Mar's signature handicapping contest is presented by Yammava' Resort and Casino at San Manuel.
| PLACE | NAME | FINAL BANKROLL |
| --- | --- | --- |
| 1 | Christian Hellmers | $49,241.00 |
| 2 | Frank Mustari (2) | $27,980.00 |
| 3 | Brett Wiener | $27,314.00 |
| 4 | Todd Faro | $19,977.40 |
| 5 | Chuck Grubbs | $16,800.10 |
| 6 | Frank Mustari | $15,020.00 |
| 7 | Chris Podratz | $13,985.00 |
| 8 | Linda Rodriguez | $12,290.00 |
| 9 | Matthew Paige | $11,367.00 |
| 10 | Lisa Ramirez | $11,290.00 |
| 11 | Michael Somich | $11,200.00 |
| 12 | Jim Tipps (2) | $10,040.00 |