Friday, November 8th, 2019 ( 9 months ago )
Wicked Old Fashion Surprises in Kathryn Crosby Stakes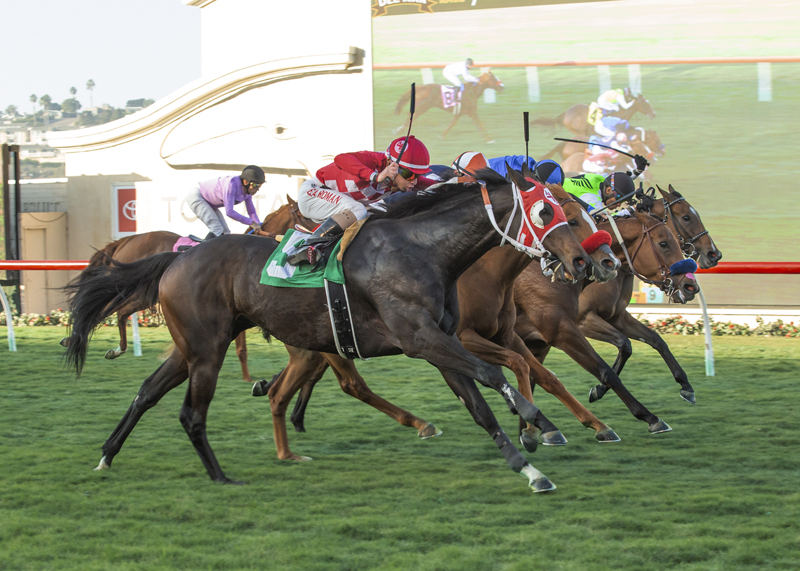 Wicked Old Fashion (Outside) © Benoit Photo
Wicked Old Fashion, a lightly-regarded invader from Northern California piloted by Evin Roman, outran her 30-1 odds and then some in rallying from dead least to win the featured $84,954 Kathryn Crosby Stakes in a blanket finish Friday on opening day of Del Mar's fall racing season.
Last early and with only one horse beaten in upper stretch, Wicked Old Fashion closed powerfully to get up in the final stride and nose out runner-up Super Patriot, with 6-5 favored Excellent Sunset another nose away in third place. Fourth was 40-1 longshot Curlin's Journey in the field of nine older fillies and mares. Time for the distance was 1:35.12.
Wicked Old Fashion, owned by Frank Aufdermauer and Wayne Swisher and trained by Victor Trujillo, was making her Del Mar debut in the Kathryn Crosby at one mile over the infield grass course. She returned $67.80, $21.40 and $7.60 while scoring her eleventh victory in 22 races. First money of $47,160 increased the five-year-old Colonel John mare's earnings to $196,365.
The victory marked the first stakes win ever for Trujillo who was celebrating his 55th birthday Friday.
Second-place Super Patriot, who was piloted by Geovanni Franco, paid $5.40 and $3.20, while Excellent Sunset returned $2.60 to show.
Trainer Bill Spawr and jockey Tiago Pereira combined to win two races on the eight-race program, taking the third with Impression at $15.60 and the fifth with Storm the Bastille for a $41.20 payoff.
With no perfect tickets in the Pick Six Friday, Saturday's Pick Six will feature a carryover of $27,416. Post time for the first of nine races will be 12:30 p.m.
---
EVIN ROMAN (Wicked Old Fashion, winner) – "The trainer (Victor Trujillo) told me to try for a good break and get a good position. She broke OK and she relaxed for me. I could see the two up front were going too fast, so I was happy with where I was. When I asked her, she responded very well. I could tell I was the winner at the end. I knew it was close, but I knew I won."
GEOVANNI FRANCO (Super Patriot, second) – "I knew the horse outside me (Wicked Old Fashion) got me right at the end. I had no problems and my horse tried hard and ran great."
FLAVIEN PRAT (Excellent Sunset, third) – "My horse ran very well. For a bit there, I thought I was going to be the winner."
VICTOR TRUJILLO (Wicked Old Fashion, winner) – "This is my first stakes win. Yes, it's pretty exciting. At Golden Gate we didn't have a lot of choices (of races) so I brought her down to Southern California for the first time. It was very tight at the finish, but it worked out. If you don't see your horse in the picture the last sixteenth of a mile, you don't have a lot of horse."
The victory came on Trujillo's 55th birthday.
---
FRACTIONS: :22.88 :45.61 1:09.82 1:22.43 1:35.12
This is rider Roman's third stakes win at Del Mar.
This is trainer Trujillo's first stakes win anywhere.
The owners are Frank Aufdermaur and Wayne Swisher. Swisher is from Brentwood, CA.