Wednesday, August 12th, 2015 ( 6 years ago )
Victor Espinoza to Receive Pincay Award Sunday at Del Mar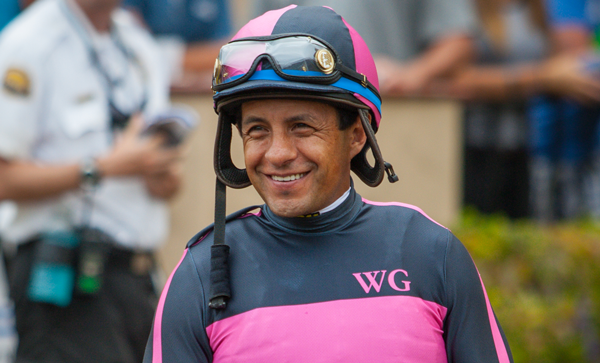 Victor Espinoza, the veteran rider who stirred racing history and glory when he guided the exceptional colt American Pharoah through his Triple Crown triumph this spring, has been named the 2015 recipient of the Laffit Pincay, Jr. Award.
Espinoza will receive the award and its distinctive trophy from Pincay this Sunday at Del Mar in winner's circle ceremonies between races.
The Pincay Award, given annually by the Hall of Fame rider since 2004 to those who have served the sport "with integrity, extraordinary dedication, determination and distinction," originated at the now-closed Hollywood Park, but shifted to Del Mar in 2014.
Espinoza, 43 and a native Mexico City, has ridden more than 3,200 winners in his sparkling career, but may always be remembered for his trio of scores in the Kentucky Derby, Preakness and Belmont Stakes on the smooth-striding American Pharoah, making him only the 12th American Triple Crown winner and the first to accomplish it in 37 years. The rider first handled American Pharoah in a winning effort in last year's Del Mar Futurity and in seven starts since then they've never been beaten.
Espinoza's Triple Crown feat this year came on the heels of winning two of the three Triple Crown legs in 2014 with the mercurial colt California Chrome for trainer Art Sherman, winner of last year's Pincay Award. Additionally, the rider had won two legs of the Triple Crown in 2002 with the speedy War Emblem, meaning he is the only jockey to have had three chances to capture the Triple Crown.
"Anytime I win an award of any kind I am honored and humbled," Espinoza said. "And an award like this is very special. I rode against Laffit for many seasons and he was not my friend on the racetrack; he was a tough customer out there. But we are friends now and for him to select me for this award is a true honor."
Pincay, who rode for 39 years and won a then world's record 9,530 races, earned five Eclipse Awards as America's top rider and led the nation in earnings on seven occasions. The now 68-year-old competed for 27 summers at Del Mar and is the track's winningest rider with 1,011 victories prior to his retirement in 2003.
"I am delighted to give this award to Victor Espinoza," Pincay said. "Victor has been a solid member of the racing community in California for more than two decades. He has been an exceptional rider whose Triple Crown victories of late have underscored just how good he is. And he also has shown himself to be a man of good heart who cares about others, especially those less fortunate. He is well deserving of this award as a person who has been a fine representative of horse racing."
Espinoza has struck up a special relationship with the City of Hope hospital in Duarte, which specializes in the treatment of young cancer patients. He donated all of his rider shares – a sum estimated near six figures – from his Triple Crown triumphs this year to the hospital. He has made other notable contributions to the hospital over the past 10 years, but has never sought recognition for them.
Among his other riding accomplishments are winning 17 races with purses of at least $1 million, capturing a dozen riding titles at meets in Southern California, including three at Del Mar, and setting a Del Mar record in 2006 when he rode seven winners on the track's Labor Day card.
The complete list of Laffit Pincay, Jr. Award winners follows:
2014
Art Sherman
2013
Eddie Delahoussaye
2012
John Harris
2011
Jerry and Ann Moss
2010
Oak Tree Racing Association
2009
Merlin Volzke
2008
Pete Pedersen
2007
Elwood W. "Bud" Johnston
2006
Mel and Warren Stute
2005
Noble Threewitt
2004
Bob Benoit