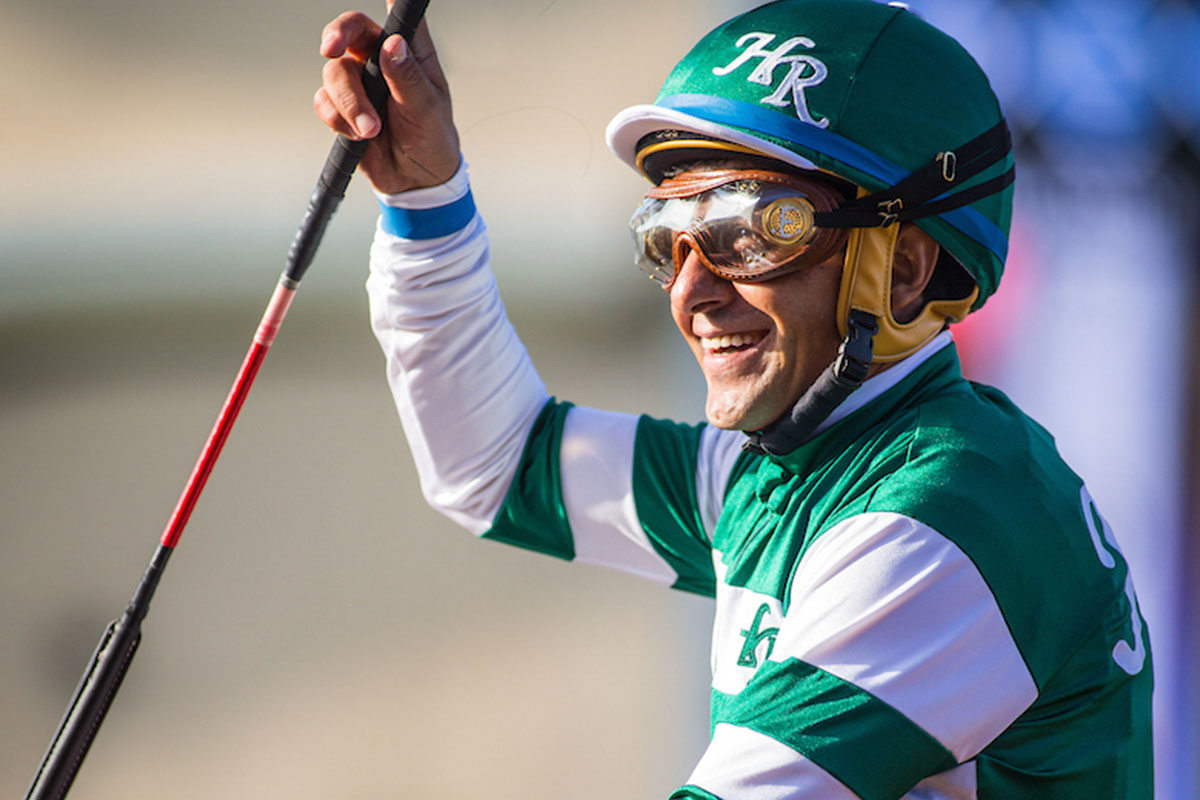 By Gene Williams
Over the past 15 years, there's quite a case to be made for Victor Espinoza being the nation's hottest professional jockey.
After all, he has won seven Triple Crown races, numerous other Grade 1 races both in the United States and abroad, and the grandest of all accomplishments – being the winning jockey of America's Triple Crown – the Kentucky Derby, Preakness Stakes and Belmont Stakes. That feat was accomplished aboard 2015 Horse of the Year American Pharoah as horse and rider became the first to sweep the three races since Affirmed and jockey Steve Cauthen in 1978.
Add to that riding California Chrome to two (!) Horse of the Year titles and to the top of the North American all-time money-earning list for a time with more than $14.7 million in purses, which included capturing the Dubai World Cup in 2016 after finishing second in that race in 2015. California Chrome, now at stud, is still second leading earner behind Arrogate.
And now comes induction to the National Museum of Racing Hall of Fame on August 4 at Saratoga, N.Y. With his credentials and accomplishments, there's little doubt that he belongs there.
Even so, the 44-year-old native of a rural town outside of Mexico City remains as low-key as he is high-riding about his impending mantle of pre-eminence among American jockeys. "It's (the Hall of Fame) what we work for during our careers," he said. "It requires success over a lot of years. Obviously, it doesn't come easy.
"I never thought a guy like me would get there, but after winning my first Kentucky Derby (2002 aboard War Emblem), I set my sights on it. I've worked very hard for it." War Emblem also won the Preakness to set the stage for a Triple Crown bid, but stumbled badly at the break in the Belmont, dooming his chance.
Espinoza says he sharpened his focus completely about 2008, beginning with shedding a number of business ventures. "I wanted to give all my attention to doing my best as a rider," he says. The only business interests he can claim now are a couple of pieces of rental property in Arcadia, close by Santa Anita.
The diminutive athlete, who keeps himself fit with regular workouts and frequent jaunts into the foothills near Santa Anita, returned to the Derby and Preakness Stakes winner's circle in 2014 with fan favorite California Chrome, who was third, beaten a neck, in the Breeders' Cup Classic later that year.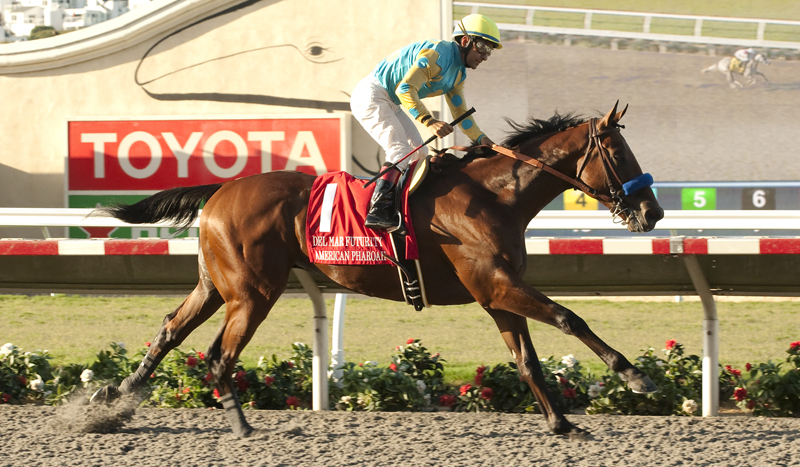 Victor aboard American Pharoah © Benoit Photo
So after twice being on the threshold of history, the third time was the charm as American Pharoah collected the ultimate prize as Triple Crown champion.
Though characterizing his lifestyle as "simple," he did give the high life a little ride for a while as his success mounted steadily in the early part of the century. But that ride is over. Gone are a big home he once owned in Arcadia and the bright yellow Maserati that used to grace his garage, both trappings of the early good life days. As his life in riding became more focused, those trappings disappeared. "I didn't see any reason to keep a big house," he said. "There's just me and I don't need that. So now I have a cozy little home in Del Mar as my main residence.
"I still have a place in Arcadia where I stay during Santa Anita's racing days. Now, since we race only four days a week, I normally come in for the races on Thursday and head back to Del Mar on Sunday after the races."
As for the Maserati, he says, "That was just one of those things. It was good for a little spin once in awhile, but it was mostly just to look at. That's why it's gone."
Expanding on his "simple life," he says, "There's nothing complicated about it. I just work out, run and sort of stay close to nature. When I'm at Santa Anita, I sometimes run in the hills and that puts me out there with the birds and the animals." Being close to animals and nature goes back to his formative years growing up on a farm outside Mexico City. "I grew up with all kinds of animals, including horses," he says.
The early presence of horses, though, didn't trigger any thoughts of being a race rider at that time. In fact, he left the farm for a time as a teen-ager and worked as a bus driver in teeming, busy Mexico City, the second largest city, to Sao Paulo, Brazil, in the western hemisphere.
"That was fun for awhile," he says, "But the long hours of work and little sleep began to register with me as not healthy. I know I was young, but I began to think that working like that could make me old in a hurry."
Though racing had not been on his mind, the feeling for the need to find his life's pursuit turned him that way. Though he had an elemental knowledge of horses from his work on the farm, he said, "I didn't know anything about racing. But I decided to give it a try because I needed to find some kind of job I could work at for a long time."
His career in racing began with Quarter Horses in the coastal city of Cancun but he soon moved to Mexico City to work at the city's premier racetrack. Before long, he found himself at the Mexico City's jockey school and graduated after completing a long and rigorous program. Graduation was a requirement for jockeys to ride in Mexico, which he did for awhile before heading north to the United States.
He chose Kentucky's Churchill Downs first, but stayed just a short time. "I didn't last long there," he says. "I couldn't stand the cold. It was early spring but it was very cold. So my agent, Vince DeGregory, and I headed for California."
While riding on the Northern California circuit, he was top apprentice at both Bay Meadows and Golden Gate Fields in 1993-94 and soon became a top rival of perennial leading rider Russell Baze, who was already on his way to becoming a Hall of Famer and the country's all-time winning rider. He headed south in 2000 to become a popular and sought-after fixture at the circuit's three tracks, Santa Anita Park, Del Mar and the now torn down Hollywood Park.
It's not altogether surprising that Espinoza would choose to make Del Mar his home territory. After all, it has been one of his most successful venues. He was leading rider three times beginning in 2000 and repeating in 2005 and '06. Along the way, he has compiled 596 victories for 10th all-time among riders and 90 stakes wins, good for eighth place. On September 4, 2006, He won a Del Mar record seven races on the program.
Included on his sterling Del Mar record are victories in these major stakes: Pat O'Brien six times; San Diego five times; Debutante and Futurity four times; San Clemente, Bing Crosby, Best Pal and Del Mar Mile three times; Eddie Read, Rancho Bernardo, Del Mar Oaks, Del Mar Handicap and Clement L. Hirsch twice, as well as a Pacific Classic.
On his long journey from the bus line to the finish line, Espinoza has always steered a winning course, even eliciting a "he's going to be the next big thing in racing" from one astute student of the sport as early as Espinoza's apprentice days. Over the years, he has turned that into a prophecy in good standing.
So now that Espinoza is headed to racing's Hall of Fame, has he earned the time to take stock and actually feel as if he has earned that high perch? "Never," he says emphatically. "I always think I can do better; that I always can improve."
It's that kind of personal critique that should be a lesson to all young riders. Focus and hard work go to make up the breakfast – lunch and dinner - of champions.