Thursday, July 12th, 2018 ( 7 months ago )
Upgraded Del Mar App Faster, Easier, More Extensive for Users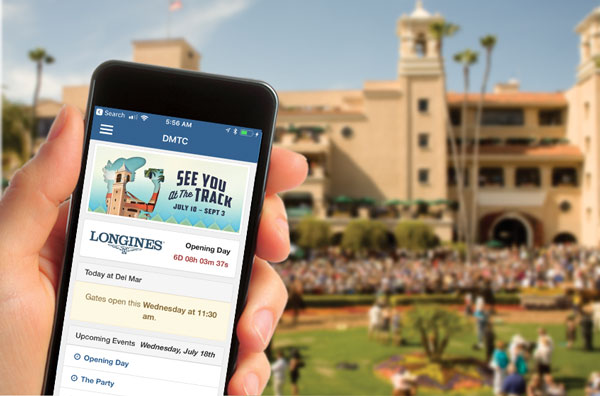 Del Mar's Mobile App, a trend-setter in the industry when it was first introduced in 2011, has undergone its latest set of upgrades and enhancements and will offer even more advantages to its users with the start of racing at the shore oval on Wednesday, July 18.
Working with an award-winning crew from the San Diego-based custom development firm Treeline Interactive (recognized for their work with the X Games, Viacom and MGM Grand, among others), Del Mar has made a good thing even better with a series of enrichments to its popular App that includes:
All new application design and simplified user navigation
New streamlined Diamond Club membership access and registration
Simplified mobile wagering
Upgraded "Day of Racing" information
New "Visual Calendar" view with event listing detail page
New "My List" event functionality to favorite calendar items
Optimized application load time
Increased security of application data and user membership information
"Our tech savvy horsemen and fans have loved the Del Mar App since Day One," said Claire Crawford, Del Mar's director of digital media. "This latest version of the App makes a good thing much better in so many ways – streamlining, simplifying and enhancing a powerful tool."
As before, the App allows for easy on-track wagering through Amtote, which has updated their wagering pages from last year. Additionally, important betting information, including live odds, have been embellished and expanded.
On the general fan front, the App features a newly organized calendar events section and map which allows for customization. It also enables the purchasing and saving of digital tickets as well as a quick and easy sign up for Diamond Club membership.
The Del Mar App is available in the App Store and on Google Play, or by going to www.dmtc.com/app