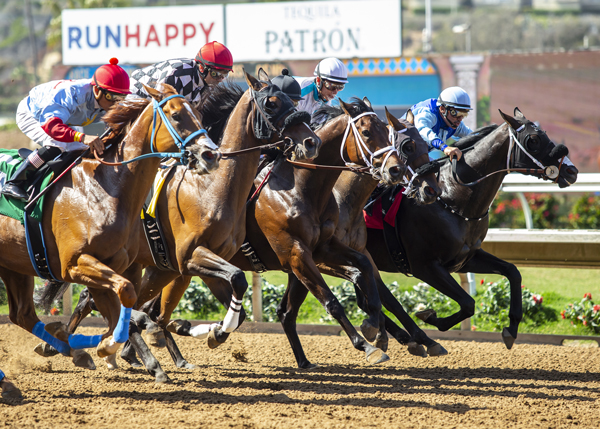 With the national spotlight on equine safety and welfare, the Del Mar Thoroughbred Club concluded its 80th summer meeting today as the safest major racetrack in the United States for the second consecutive year.
After introducing a comprehensive series of safety programs in 2017 and 2018, Del Mar expanded its safety measures this summer, including additional pre-race veterinary observation protocols and an independent panel of veterinarians and racing officials to review all horses scheduled to race. There was not a single serious injury during racing this summer, an unprecedented feat. Last year, The Jockey Club's Equine Injury Database ranked Del Mar as the safest major racetrack in the U.S.
"Without a doubt, this is the most gratifying meet I have ever been part of," said DMTC CEO Joe Harper. "Given the current climate, especially after the first-half of the year in Southern California, we had three goals this summer: continuation of our exemplary safety record; provide stability and a dependability to racing in California, and to offer a consistent, five-day-a-week schedule that would reward fans and horsemen alike. With a wonderful display of teamwork from our owners, trainers, jockeys, vets, track personnel and the CHRB, we accomplished these goals in exceptional fashion."
"We are very proud of what we achieved this summer," said Tom Robbins, Del Mar's executive vice president of racing. "To average eight runners per race, in less than optimal circumstances, was remarkable. Credit goes to racing secretary David Jerkens, our track crews - led by Dennis Moore and Leif Dickinson – and, of course, the horsemen. We dedicated significant time and resources to safety and welfare and we set a very high bar for ourselves. The results of this summer prove that when we all work together we can uphold our responsibility to our equine and human athletes while staging on-track competition at the very highest level."
Faced with fewer horses than last year but determined to race five days per week, the only meet in California to do so, Del Mar carded 21, or 6.6%, fewer races than its 2018 summer meet. All sources handle on the 36-day session fell by 10.9% after growth of 6.8% in 2018 and 5.1% in 2017. The lower all-sources handle, which was expected after the tumultuous winter and spring at Santa Anita, was due primarily to declines from off-track betting and simulcasting outlets.
"Based on the first-half of the year, we knew maintaining the handle trends of the last two years was going to be challenging this meet, especially running fewer races," said Josh Rubinstein, DMTC's president. "However, the bettors continued to support us, especially the last three weeks, when our field size rallied. At the end of the day we had extremely safe racing, handled over $432 million and paid out over $21.0 million in purses. We are very pleased."
The 36-day summer meet provided some memorable performances on the track such as a smashing performances by Bast in the Del Mar Debutante; a thrilling, last jump, photo finish tally by Vasilika in the John C. Mabee Stakes; a second straight victory in the TVG Pacific Classic by the Hronis Racing/trainer John Sadler connection with Higher Power's powerhouse triumph; and a string of remarkable individual efforts from the Hronis Racing's ownership with record summer purse earnings of $1,441,077 and an unmatched seven stakes victories, Sadler's nine stakes scores, and 10 stakes – as well as 42 total victories -- for leading rider Flavien Prat. Del Mar ended its meet having run 297 races (21 fewer than in 2018) with a total of 2,372 starters, an average field size of eight horses per race.
"On behalf of the California Thoroughbred owners, we want to both thank and congratulate the Del Mar Thoroughbred Club and their management team," said Thoroughbred Owners of California chairman Nick Alexander. "The 2019 Del Mar summer meet delivered exactly what the California horse racing industry needed at a critical time: safe racing, full fields and large crowds. It was an outstanding season on all levels and we very much look forward to returning for the Bing Crosby meet in November."
In 2020, summer racing at Del Mar will receive an additional weekend, as the meet will be held over eight weeks from Saturday, July 18 through Labor Day, September 7. Racing resumes at Del Mar this fall, November 8 through December 1.