By Hank Wesch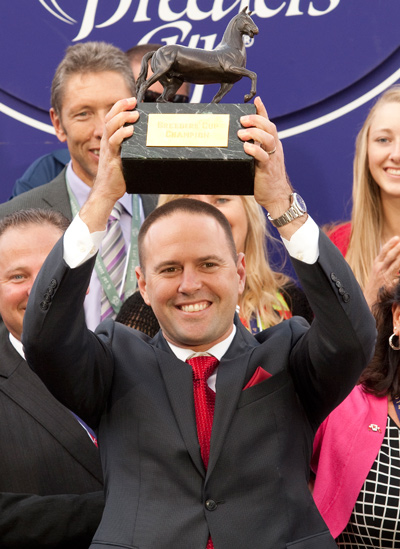 Chad Brown, © Benoit Photo
In what already has been a banner year for him, trainer Chad Brown is boldly going where he's never gone before – to Del Mar.
Not physically. Brown, who has never been to the shore oval, opted to stay at his New York training base for the Thanksgiving holidays. But he dispatched assistant Jose Hernandez, two grooms, an exercise rider and five horses for two of the five graded stakes over the final two days, November 28-29, of Del Mar's Bing Crosby Season.
He'll have four representatives in a 14-horse field for the Grade I $300,000 Hollywood Derby on Saturday and one in the Grade I $300,000 Matriarch on Sunday.
And if Brown succeeds in either one, it'll have value beyond $180,000 in first place money for each race as he nears the $20 million mark in purse earnings for 2015. The Hollywood Derby and Matriarch are the two Grade I events Del Mar inherited with the demise of Hollywood Park, where Brown's revered mentor, Hall of Fame trainer Robert Frankel held dominion for decades.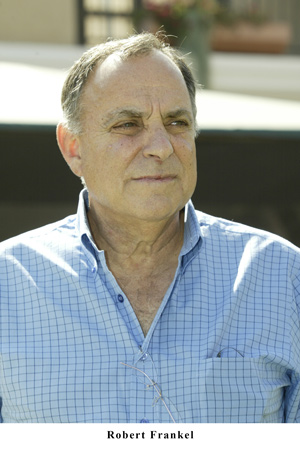 Among his nearly 1,000 victories at Hollywood Park, Frankel won the Hollywood Derby three times – Eternity Star (1991), Super Quercus (1999) and Denon (2001) – and the Matriarch eight times. His last Matriarch victory came with Precious Kitten in 2007, the year that Brown went out on his own after working more than 5 ½ years for New York native Frankel in the Empire State branch of Frankel's bi-coastal operation.
Frankel, who died on November 16, 2009, holds the Del Mar record for Pacific Classic victories with six and is fourth on the list for stakes wins with 70. From the late 1990s through the early 2000s he divided his time in the summers between Del Mar, with assistant Humberto Ascanio, and Saratoga, where Brown is a native son.
Brown, 37, has been unfailing in acknowledging his debt to Frankel, and the depth of his feelings may have been revealed in a 2010 interview with the Albany, N.Y. Times-Union, less than a year after Frankel's passing.
"I wish he was here," Brown said. "I always trained my horses when I went on my own thinking if I ever got in a switch I could always call this guy up and he would tell me what I should be doing. I always trained my barn as if I was still his assistant. I operate the same way, like he is looking over me. It's like 'I can't miss this, because he's going to see.' He keeps me driven. This is the first time, this summer, where I have come to realize I am my own boss now."
At the start of this week, Brown was second in North America for 2015 earnings with $19,299,417. He's behind only Todd Pletcher and ahead of Bob Baffert. The three previous years, Brown's success, measured by earnings, has climbed from $11,060,710 in 2012 to $13,395,419 in 2013 and $15,383,930 last year.
He won his first Breeders' Cup race with Maram in the inaugural Juvenile Fillies Turf in 2008 at Santa Anita and has added six more Breeders' Cup victories, five of them in the past two years. Brown saddled Lady Eli to win the 2014 Juvenile Fillies Turf and followed it up with Dayatthespa in the Filly & Mare Turf and Bobby's Kitten in the Turf Sprint.
At the recent Breeders' Cup at Keeneland, Brown made it to the winner's circle with Stephanie's Kitten in the Filly & Mare Turf and Wavell Avenue in the Filly & Mare Sprint.
Training grass runners has proven to be Brown's forte, and the ones he has sent to Del Mar would seem to be well suited for the 1 1/8-mile turf test of the Hollywood Derby and the one-mile grass challenge of the Matriarch.
Brown's Hollywood Derby foursome is comprised of Fundamentally, March, Money Multiplier and Offering Plan. Three-year-old filly Olorda is the Matriarch starter.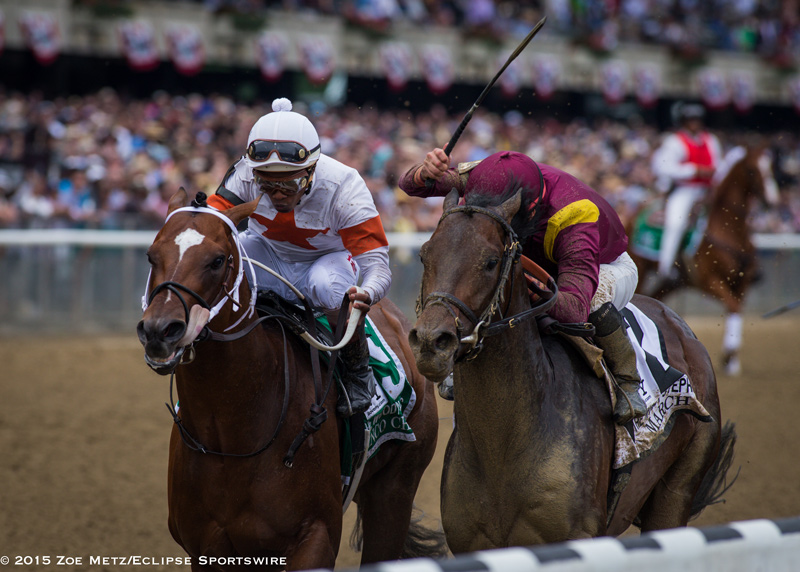 March (inside) winning the Woody Stephens at Belmont
Offering Plan, a New York-bred son of Spring At Last, comes into the Hollywood Derby off a victory in the $100,000 English Channel, a mile event on October 25 at Belmont Park in which stablemate March was fourth. March, a Kentucky-bred son of Blame, has over $500,000 in earnings for 2015, the bulk coming from victories in the Grade III Bay Shore in April at Aqueduct and Grade II Woody Stephens in June at Belmont Park.
Fundamental, a Florida-bred son of Arch, has two wins at 1 1/8 miles, the Hollywood Derby distance. Money Multiplier, a Kentucky-bred son of 2009 Del Mar Futurity winner Lookin At Lucky, was the runner-up in two Grade II stakes last summer on turf courses rated "firm," as Del Mar's tends to be.
German-bred Olorda will be running in her third straight Grade I stakes since being imported from Europe. She was fourth, beaten three lengths by Her Emmynency, in the Queen Elizabeth II Stakes at Keeneland on October 10 in her last start.
Bobby Frankel raced at Del Mar over 37 different summers. He won 349 races and was its training champion five times. East coaster Brown will never match those numbers; won't even try. But his runners here this weekend will compete off a training style that has its roots in the west coast track's history.
Frankel was once part of Del Mar, and Del Mar part of him. Now it's Chad Brown's turn.