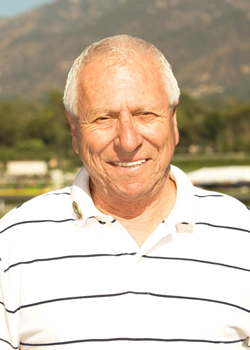 Richard Tedesco © Benoit Photo
Rich Tedesco, one of the nation's top track maintenance men with an extensive job history stretching back more than 50 years, has stepped down from his day-to-day role as Del Mar's track superintendent and now will serve as a consultant for the shore oval.
Steven Wood, Tedesco's track foreman during his Del Mar tour, will assume the role of track superintendent.
Tedesco, 78, has been Del Mar's head maintenance man for the past six years. Over the course of his professional career, the California native has headed up the track crews at all of Southern California's major racetracks -- Santa Anita, Hollywood Park, Los Alamitos and Del Mar.
"Rich has been solid for us since he came on board in 2010," said Del Mar Thoroughbred Club's president Joe Harper. "He helped oversee our Polytrack years, then was instrumental in guiding us through our return to dirt. We are delighted he's agreed to stay on in an advisory role and we know he'll help us maintain our high standards for safe and competitive racing."
As required by the California Horse Racing Board, Del Mar installed the synthetic material Polytrack on its main racing surface in 2007, then raced on it for eight years through 2014. Between its 2014 fall season and its 2015 summer meet, it removed the Polytrack and installed 31,000 tons of dirt – called "El Segundo sand" -- with Tedesco helping to oversee the transition. The new dirt surface met with near universal approval by horsemen during the track's pair of 2015 racing seasons.
Tedesco, who resides in Manhattan Beach, has worked on racetracks literally all over the world. Besides his extensive California experience, he also has maintained and/or installed racetracks and training centers in Canada, Europe, Saudi Arabia and Cyprus.
Wood, 42, is the son of Steve Wood, another veteran track superintendent who has overseen several California racetracks, including Del Mar from 1989 to 2009. Young Steven learned at his father's knee and first was working track equipment at the age of 13. He's been part of maintenance crews on just about every racing surface in California, as well as tracks in Idaho and New Mexico. Additionally, he has worked on or helped build racetracks and training centers around the world, including Canada, Saudi Arabia, India, Australia, New Zealand and Hong Kong.
Wood enhanced his knowledge over the years working as a foreman or assistant under some of the world's top trackmen and surface experts, including Dennis Moore, Michael Young, Jim Pendergast and Mick Peterson. This will be his initial assignment as a track superintendent.
A native Californian born in Corona, Wood currently lives in La Costa with his wife, Anna, and his two children, Stevie and Chantal.
Del Mar's summer race meeting is scheduled for 39 days between Friday, July 15 and Monday, Labor Day, September 5.