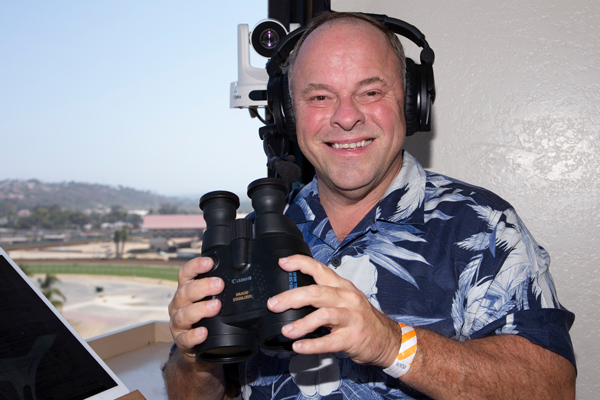 Larry Collmus © Benoit Photo
For the fourth year in a row, top racing announcer Larry Collmus will be back in the booth at Del Mar to call the track's upcoming fall season. The 13-day session, which runs from November 10 to December 3, is dubbed the Bing Crosby Season in honor of the seaside oval's iconic founder.
Collmus, who has called races at virtually every major racetrack in the United States over the past 38 years, also has been NBC's caller for both the Triple Crown and Breeders' Cup races since 2011. The energetic veteran, who turns 57 today, added yet another feather to his cap when he took on the challenge of calling the Dubai World Cup card this past March at Meydan Racecourse in Dubai, tackling a day full of large fields filled with international runners. And as he has wherever he goes, he drew plaudits for his work on the star-filled program that included the $12-million Dubai World Cup.
The native of Baltimore has become quite comfortable with his call to duty at Del Mar. Besides his three earlier fall sojourns, he also was the man in the stand for the limited 2020 summer COVID season at the track.
"We really couldn't ask for anyone better than Larry to be filling our booth in the planned absence of our longstanding caller Trevor Denman," said Josh Rubinstein, Del Mar's president and COO. "He brings terrific energy to his role here, both behind the mic and on the social media scene. To top it all off, he tells us he just loves calling races at Del Mar."
Del Mar will race on a Friday, Saturday and Sunday schedule throughout the 10th Bing Crosby Season, with the exception of an additional day of sport on Thursday, November 23, Thanksgiving Day. First post daily will be at 12:30 p.m. (11 a.m. on Thanksgiving) with eight races planned for weekdays and nine for weekends.