Sunday, August 24th, 2014 ( 7 years ago )
Tom's Tribute Wins Mile;
Favored Obviously 4th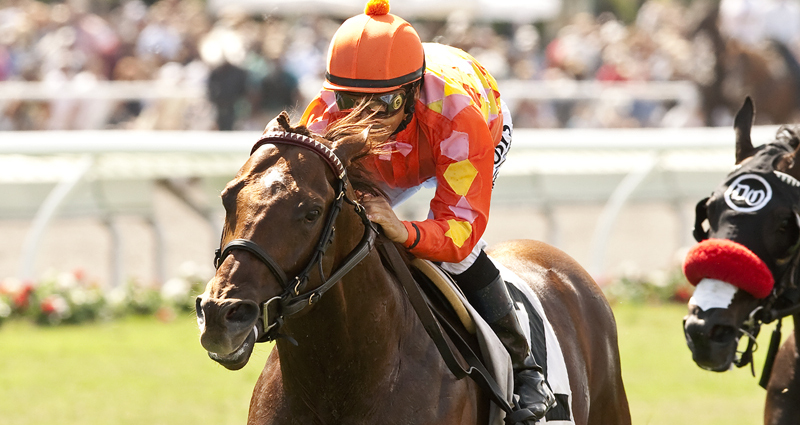 Tom's Tribute, winner of the Grade I Eddie Read Stakes a month ago, took advantage of favored Obviously's disastrous break from the gate to forge an upset victory in the Grade II $250,000 Del Mar Mile Sunday on the day of the $1million TVG Pacific Classic.l
Obviously, sent to the gate at 2-5 in search of his third straight success in the Del Mar Mile, turned his head just as the gate opened, causing him to break awkwardly from his rail post position. Quickly into stride, Obviously moved to the lead under Joe Talamo, carving out fast fractions.
Obviously led into the stretch but the expenditure of energy after his slow start took its toll and the six-year-old faltered in the final furlong.
Meanwhile, Mike Smith aboard 3-1 second choice Tom's Tribute bided his time in fourth place early, moved strongly on the outside into the stretch, took the lead with an eighth to go and drew out slowly to score by a length in 1:33.75.
Rock Me Baby, at 9-1, closed well to be second, a half-length in front of 30-1 outsider Handsome Mike, with Obviously a tiring fourth, another three-quarters of a length back. Lil Bit O'Fun was withdrawn from the field.
Tom's Tribute, a four-year-old son of Lion Heart owned by the Braly
Family Trust and trained by Jim Cassidy, returned $8.20, $4.20 and $6.40 while earning $150,000 with his sixth win in 13 starts. His career bankroll is $592,880
Rock Me Baby paid $7.20 and $13.40, while Handsome Mike returned $29.20.
The Del Mar Mile show pool totaled $239,557 of which $183,149 was bet to show on Obviously, thus causing the large show prices on the first three finishers.
---
MIKE SMITH (Tom's Tribute, winner) – "No special instructions from Jimmy (trainer Jim Cassidy). The key with this horse is to get him to relax. Then it doesn't matter where you are. You can be up close; you can be off it. He'll run for you. I saw the favorite ((Obviously) stumble out of the gate. Then he started to rush up and I got out of his way. That other horse was out there already (Alpha Bullet) and I wasn't going to mind at all if they had a little speed battle. He (Obviously) ran gallant. When you realize all he lost at the beginning and yet he still managed to make the front, that's good. But my horse was plenty good today, too."
COREY NAKATANI (Rock Me Baby, second) -- "That pace was a little quicker than I wanted. But it was what it was. My horse ran good. Good race for him."
MARIO GUTIERREZ (Handsome Mike, third) – "He ran well. We got pushed out a little, but he ran well."
JOE TALAMO (Obviously, fourth) -- "That start cost us five or six lengths. He was ready for it, but he just turned his head at the last second. Just as they popped it he turned his head. I had to rush him then and it cost us."
JIM CASSIDY, (Tom's Tribute, winner) – "I like going back from a mile and an eighth to a mile. I thought that was the one advantage I had. When I saw the first fractions I thought 'Oh, man, this is sweet.' Then it was just leaving it up to Mike (Smith), who is as good as anybody at reading a race. When they left the gate he knew exactly what was happening. I was worried about this race because this horse, Obviously, is no bum. I had the advantage on him that I was dropping back in distance and he hadn't run since the Shoemaker (June 14 at Santa Anita)."
PHIL D'AMATO (Obviously, fourth) – "He broke a little late and made some really fast fractions early and we paid the price for it. Our plan was aiming for the Breeders' Cup and we got beat here in the plan, but that's still our goal."
---
FRACTIONS: :22.20 :45.32 1:09.42 1:21.39 1:33.75
The stakes win was Smith's seventh of the meet, the most by any rider at the session. It is his second victory in the Del Mar Mile (Congaree in 2002) and his 46th Del Mar stakes win overall.
The stakes win was the second of the meet for Cassidy (Tom's Tribute won the Eddie Read), but his first Del Mar Mile. He now has 11 stakes wins at Del Mar.
Tom's Tribute is owned by the Braly Family Trust, represented by Marilyn Braly of Indian Wells, CA.
Obviously drew $183,149 of the $239,557 bet to show in the race. That is 76% of the pool. The show prices: Tom's Tribute ($6.40); Rock Me Baby ($13.40), and Handsome Mike ($29.20).