Friday, November 17th, 2017 ( 1 year ago )
Three Special Guys Have Built - And Left - Their Marks on Del Mar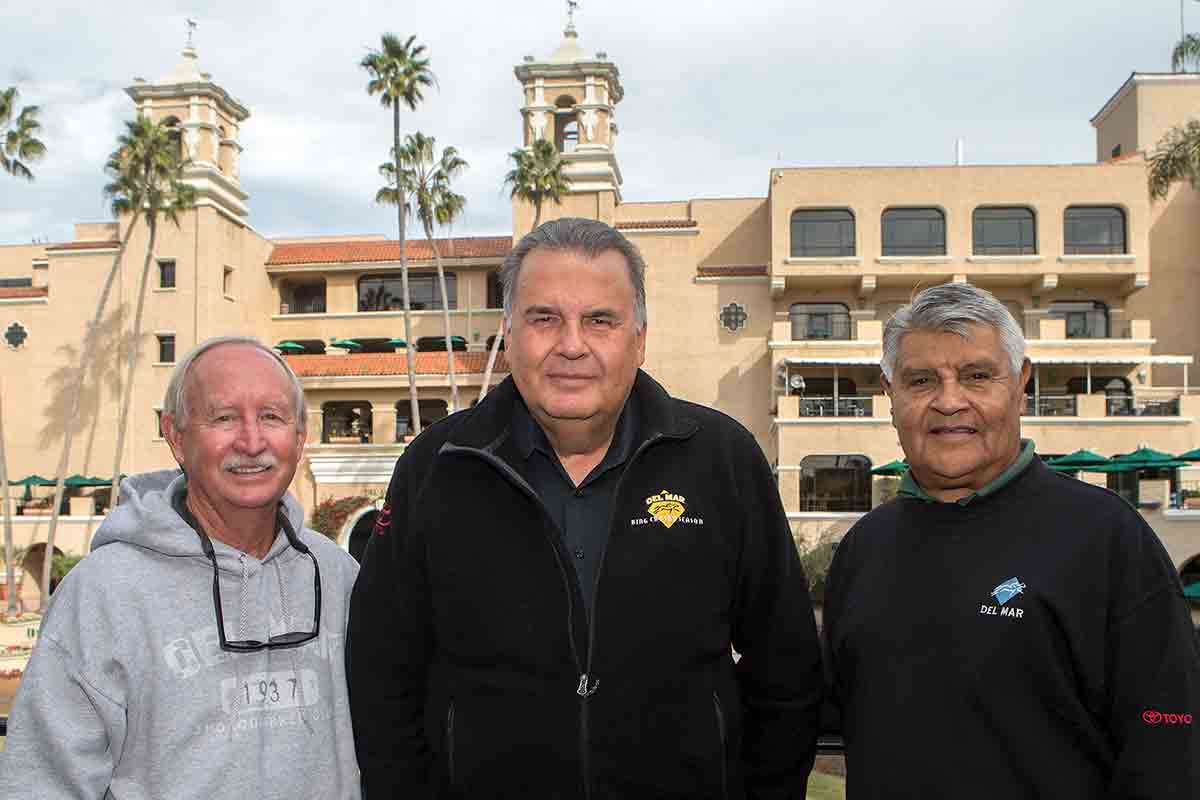 (Left to right): Gerald (Corky) Riner, Robert Sanchez, David Martinez © Benoit Photo
By Mac McBride
Forty-six years ago Del Mar started a Pick 3 that paid dividends over and over again. This year the three men who made that Pick 3 work are cashing in.
Come next month, Robert Sanchez, David Martinez and Gerald (Corky) Riner are hanging up their work boots after giving the Del Mar Thoroughbred Club – and the Del Mar Fairgounds and facilities – a large portion of their lives. Del Mar is a much better place for the stellar work the trio has provided – and you can go to the window on that one.
If you were casting a movie about working men, you'd do well to hire this threesome as your leads. There's Sanchez, the all-knowing Boss Man. He knows how do to every job in the place; he knows how much it's going to cost; he knows who can do it and how long it's going to take. And you won't get any speeches from him; if he gives you more than two words or a nod, you're undoubtedly talking to the wrong guy.
Then there's Martinez, the no-nonsense fella who cracks the whip among the crews who do the heavy lifting. He's there first (those 3 a.m. daily roll-outs allow for that); he's there sweating right alongside them, and he's the last one to leave after he's made sure it's all done right.
And, surely, there's Riner -- kind, friendly, willing and helpful. They've yet to build a more sure, solid, double-checking and do-it-right carpenter's foreman than the hammer-wielding guy that everyone loves, and loves to call Corky.
Del Mar hired the first of its Three Raceketeers in 1971. Robert Sanchez's father, Tony, was the labor foreman at Del Mar for 25 years. He needed an extra body that summer and his 18-year-old son, who was going to start architectural school at Arizona State University in the fall, needed a summer job. As it turned out, it would be the only job young Sanchez ever needed. For the next 46 summers – and then after his Sun Devils schooling the falls, winters and springs, too – he'd drive the five miles south from his boyhood home in Cardiff to Del Mar and get to working. Turned out he was good at it, too, plugging in his school-learned abilities to draw plans for many of the various projects being built on the 350-acre Del Mar fairgrounds over the years. He'd also answer phones, help in the office, deal with vendors and agents, oversee projects. His bosses noticed, and when long-time plant superintendent Paul Saupstad called it quits in 1994, Sanchez stepped into that role, which now has evolved into his title of vice president, plant.
Martinez, the next Raceketeer, signed on in 1976 as a simple laborer, called out of the work hall for what he thought might be a one-shot deal. All these years and all his hard-working ethic later, the former college linebacker parlayed his one shot into a career at a place he grew to love. His very first gig had him working inside the receiving barn dealing right up close with the largest animals he'd ever been around, doing the practical things that needed to be done so that the show could go on. And for the next 40-odd years, Martinez, also a local guy, made his daily Del Mar run about 16 miles or so down the road from Carlsbad as he transitioned from the soldier to the sergeant who barked the orders to the troops who got all those necessary things done.
Finally, there came Riner in 1978, bringing his hammer and skills as a tradesman south 20 miles from Oceanside to ease on in to the steady work that Del Mar provided, and he was happy to have. You name it at Del Mar going back nearly 40 years and he no doubt had a hand in seeing that it got built, or fixed, or made bigger/stronger/safer. He was the guy who sized it up, figured it out, then went about making it right. Quiet, soft-spoken, easy to be around, he was the fellow that folks would share their needs with. His empathetic nature allowed him to take it all in, then be sure that it all came out the way it was supposed to. For years now he's led his crew of merry carpenters around the track and they've never found a wall, a floor, a stall, a rail or a fence they couldn't replace or renew or reinvent, as needed.
The three of them all can recall special projects they worked on over the seasons that felt especially good when they were finished. Both Martinez and Riner recalled the huge infield pavilion that they honchoed and made happen in 1992 and which since has served as a Group Sales special location for up to 2,000 racing fans a day each summer. "Jobs that big usually went to outside firms, but we took that one on ourselves," Riner remembered. Martinez can still see all those cement trucks – "We were pouring 10 of those big things a day" – and recollect the unique structure growing bigger and better bit by bit.
Riner also recalls the months-long, meticulous work he and other carpenters put in on a grand piece of furniture art that has decorated Del Mar's main board room for more than 25 years. The 22-foot-long, four-foot-wide walnut conference table, a stunning piece of majestic woodwork, was so grand it had to be built in several parts in order to get it into the large room where it then was fully assembled.
All three men reflected kindly back on Del Mar's "old" grandstand, the wooden structure that held up from the track's founding in 1937 until it finally was replaced out of necessity between 1991 and 1993. "Our carpenters and work crews used to love it," Sanchez said in reference to the very well-worn facility that through time, tide and the termites had gradually worn all the way down. "Because of it, they had work – lots of work – to do every winter."
All three men reflected, too, on all the fine people they've been associated with over the years at Del Mar. "It's the people, wonderful people, top to bottom," Riner offered. "Once someone comes to work here," Sanchez states, "they never leave." "Good folks," says Martinez, "just really good folks."
In 2014, there was a 7-year-old boy all on his own who learned about "good folks" at Del Mar when he was rescued from a horrible fate thanks to Martinez. Del Mar's guy was out on his rounds at 5:30 a.m. when he saw smoke coming from a trailer in one of the track's parking lots. He called out and heard the cries of fear from the boy trapped inside as fire began to engulf the small home on wheels. Without thinking twice, Martinez rushed into the middle of the smoke and flames and snatched the terrified boy – curled up in the fetal position -- from a certain death. For his heroic actions, he was awarded the California Emergency Medical Service Authority's Civilian Award, an honor given by the 80,000-member association to a single state civilian each year "who provides extraordinary service during the course of an EMS emergency." Yes, good folks, indeed.
All three of our "workmen's workmen" have plans of sorts for their newfound freedom-to-come. Sanchez ("I'm going to get a summer off; never had one of those.") and his wife, Debbie, will do some traveling after he gets to "just do nothing" for a while. Both Martinez and Riner admit they'll be busy with a bit of making up for the standard lament expressed by builders' wives: "You fix eveybody's house but ours!" Martinez and his wife, Elizabeth, have three grandchildren to spoil and a hankering to "see what this big country looks like." Riner and his bride, Sandy, have a meandering river cruise in Europe on the agenda and thoughts of "spending more time down in Texas with the grandkids."
Together, as they ride off into a racing sunset, the trio take 127 years of Del Mar experience with them. During that time they worked often and hard to make the place "where the turf meets the surf" better for their being there. As usual, they did their jobs well.