Thursday, August 4th, 2016 ( 2 years ago )
The Tale of Zenyatta is Worth Hearing Again and Again
By GENE WILLIAMS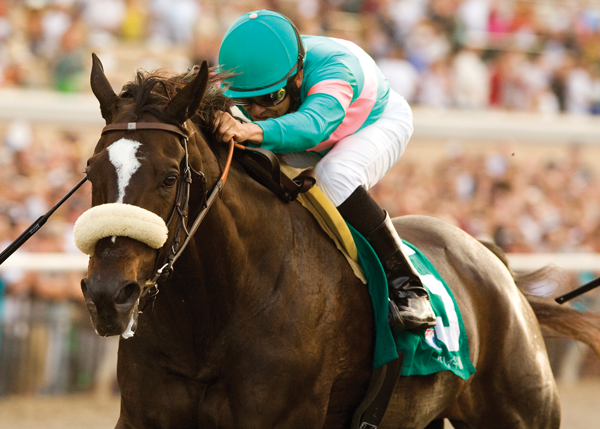 Zenyatta © Benoit
John Shirreffs calls it his Camelot, those days from late 2007 to late 2010 when he was the keeper of a flame that burned so brightly that it set the Thoroughbred racing world aglow with enthusiasm not seen since the sport's Triple Crown heydays of Secretariat, Affirmed and Seattle Slew.
Referencing Camelot always triggers this: "One shining moment." In John's Camelot it was "one shining moment after another shining moment after another …" You know what's coming. Those multiple moments revolved around the great race mare Zenyatta – 20 in all.
Along the way she won three Eclipse Awards as best older female in America, was acclaimed Horse of the Year in 2010, as well, and became the first – and still only - female to win the Breeders' Cup Classic (2009). And during that time, she ran off 19 straight victories. In her final race, her attempt to repeat as Classic champion, she fell a head short after another of her signature dashes from last place. Even the loss, Shirreffs said, could have been one of her best races.
Is it any wonder, then, that she will enter the National Museum of Racing's Hall of Fame at Saratoga Springs, N.Y., on Monday, Aug. 8? That gets a resounding no!
Though her running style bordered on "heart attack city," Shirreffs acknowledged that Team Zenyatta most always thought she would win, not because of any blatant ego on their part but because of a quiet, strong confidence in the horse and how well she always prepared. "So we just enjoyed it," he said, adding, "As she grew as a racehorse, expectations increased as her performances increased. There were times when the competition got tougher and she had to do more. And that's what she did.
"It was a really exciting time for me and the rest of us in the barn."
So was it all a piece of cake for the team? That drew a pause and a trademark chuckle from Shirreffs. "I wouldn't go that far," he said. "Interestingly enough, nobody wanted to gallop her. She'd buck 'em off. She had this uncanny ability, while in a full gallop, to just 'rare up' and dump a rider. Finally, Heather Gonzales volunteered to ride her and very often Zenyatta would come back to the barn alone. Of course, at Hollywood Park, we were close to the training track so it wasn't a long run to the barn for either of them.
"When Zenyatta got too strong for Heather, Steve Willard took over and stayed with her through the rest of her career."
Then there was the matter of trying to get her cleared out of the gate. After numerous tries at the Hollywood Park base, Shirreffs was told by chief starter Gary Brinson, "You know, John, this is as good as it's ever going to get so you don't have to bring her back here anymore."
Her gate problems were created not so much by her temperament but by her size. "She was always reluctant to start running until she cleared the doors of the starting gate," Shirreffs says. "Not only was she very tall, she was very wide. Horses don't like to touch the gate when they're coming out so she just had to clear the doors before she got started [running]. She came out of the gate on the wrong lead, but once she got on the right lead and got into her stride things started going fine from there."
Overall, Shirreffs says, Zenyatta seemed to need a bit more time to develop into a racehorse than it usually takes, so it was late in her 3-year-old season before she was racing. "There was no time line on any of those 2-year-olds in her class," the trainer said. "You always hope to get them to the track [racing] as soon as you can because that's where the opportunities are. But it took a little longer with her; she was one that needed a little more time.
"But she was always a good galloper. At the farm [operated by the family of the late Brian Mayberry in Ocala, Fla.], they said she could out-gallop all the horses that were training there. They thought she was special."
Did Shirreffs, who plans to be at the induction ceremony, ever think her patented late run was going to be too late? "I never thought of her not winning; the only time I felt like 'boy, I hope she wins this race,' was when she was about to break the record [of 16 consecutive victories held by Citation and Cigar; she won No. 17 in Hollywood Park's Vanity Handicap in 2010]. At some point, you have to say, 'boy we're blessed that she's won five races in a row or seven races in a row,' and you know it can't go on forever so you'd never be upset or saddened that she didn't win, because she's done so much."
When that loss came – in the 2010 Breeders' Cup Classic – Shirreffs was witness to just one more Zenyatta-ism. "After the race, in the test barn," he said, "I was looking at the other horses and they're kind of tired and blowing, but Zenyatta has her head up in the air and she's looking over the enclosure to see the people outside. She was looking and watching, just taking it all in stride."
Even with the dominance exhibited over her four-year career, she and her connections were subjects of criticism for not running against males and not running at venues outside of California. Well, she answered that criticism early on by demolishing a star-filled field in Oaklawn Park's 2008 Apple Blossom Stakes and winning the 2009 Breeders' Cup Classic and returning in 2010 at Churchill Downs to defend that title.
Three of Zenyatta's 19 victories came in Del Mar's Clement L. Hirsch Stakes, each time acting as a prime prep for a Breeders' Cup performance – the first being the Ladies Classic in 2008.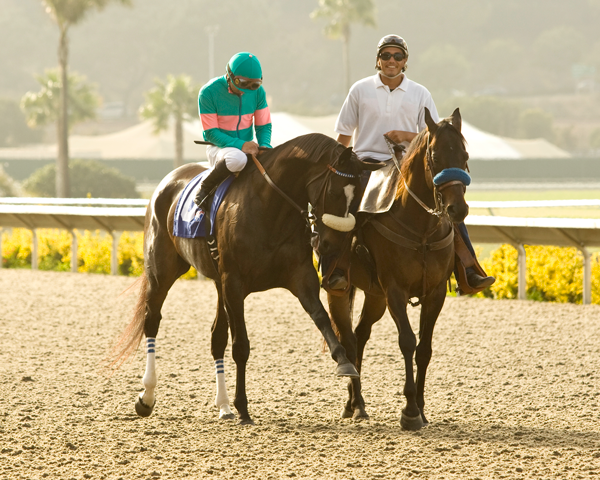 In remembering Zenyatta, jockey Mike Smith, her pilot in her final 17 races, didn't wax theatrical about the spectacular mare. His take was clear and to the point – "She was as close to perfect as perfect can be." Enough said? Well, not exactly. Though Smith said "I wish I had the words to do her justice," a stream of accolades came easily for the Hall of Fame rider.
For example, "She could get an award for Entertainer of the Year for her paddock (and post parade) dance and the fact she was so adored by a multitude of fans.
"On the track, she towered over the other horses. Very intimidating. She would let the others break out of the gate and then come out as if to say, 'I'll give you a little head start but I'll be coming to get you.' And get them she did – with a tremendous long stride that would let her make up a bunch of lengths in just a few jumps.
"All I had to do was move my hands and she'd make that up RIGHT NOW. She'd make up 10 lengths like it was nothing. I've never been on another horse that could do that."
And that breeds immense confidence. "If you're on a good horse, it's easy to have confidence," he says. "But at the same time, if you're not worried at some time, it's not natural. And with her, you'd think you'd be doubly worried because you always had to come from out of it, you always had to come through traffic; you had to worry about pace sometimes. With her, I didn't worry about any of that.
"It was just get her out [of the gate] in good order, get her happy going around the first turn and let her settle into that long stride. I had so much fun riding her; I never felt the pressure I probably should have been feeling. In most races by the half-mile pole it was just a matter of when I wanted to pull the trigger."
Of all the heart-pumping moments in their history, Smith holds Zenyatta's brilliant victory in the 2009 Classic highest of all. "It was almost like an earthquake," he said of the wild exultation emanating from the Santa Anita grandstand. "I've never experienced anything like it."
Shirreffs gives Smith the highest grades for the way he handled Zenyatta. "Mike is a very special horseman. He really enjoys riding horses and he does a good job of getting to know them. Once he understands how they want to run, Mike adapts his style to their style and makes the whole thing work.
"Also, we were very fortunate to have David Flores on her for her first three races. David is a very cool customer and he didn't rush her into her races. He let her get into her stride before he asked her. That was very fortunate because many jockeys if a horse breaks a little slow they tend to try to rush them up into position. He didn't do that. I think David was important in helping with her early racing development.
"Mike was supposed to ride her in her first race but had an out-of-town riding commitment so David rode. After three races, Mike got back on the horse for the rest of her career. David really liked Zenyatta and was very supportive of her throughout her career."
As in the case with most athletes, Zenyatta had at least two sides to her, Shirreffs says. "When she was in her relaxed mode, she was very kind and was easy to deal with. But when she had the tack on, she was the ultimate racing machine. That's when she had her game face on and you had to be very careful not to upset her. We learned early on that we needed to think the way she wanted us to think. You could not force her to do something. She had to want to do it. If you tried to force her she became difficult to control. When a horse gets upset that's when they can hurt themselves."
So for all practical purposes she could be the Frank Sinatra of horse racing: She did it her way. And her way was the winning way.
---