Sunday, November 9th, 2014 ( 6 years ago )
The Saga of Scotty:
Calling The Shots As A Jocks Agent
By Alexis Garske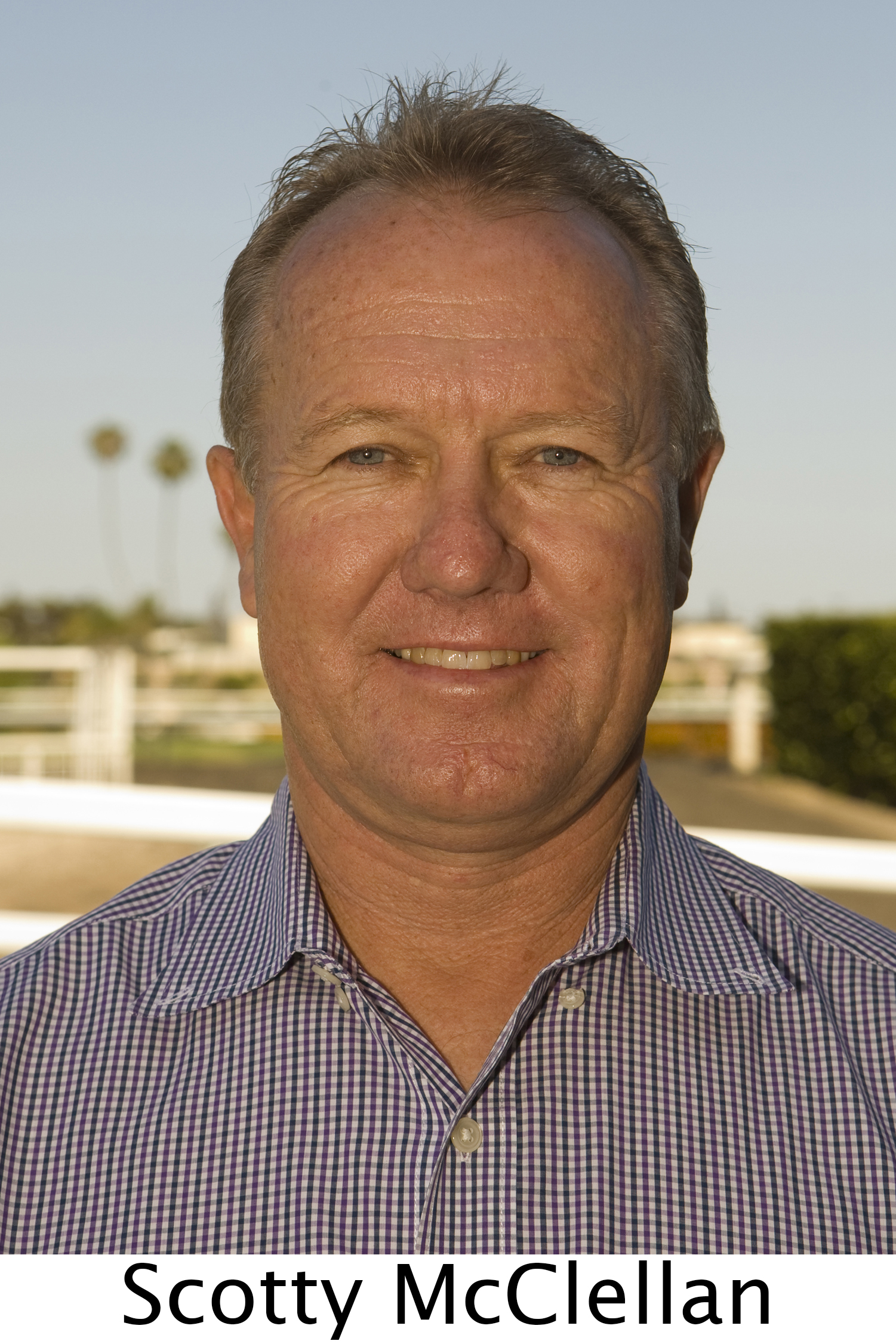 The jury is still out on Babe Ruth's 'called shot' home run in the final game of the 1932 World Series, but there are no lack of believers that say he did. Ruth was a Goliath in his time and is still known round the world today because of the excellence with which he played the game he loved.
Jockey agent Scotty McClellan might not be a Goliath but there is no doubt that he called his shot many years ago. McClellan represents Joe Talamo, one of the nation's top jockeys now competing at Del Mar's newly-minted fall season. Though McClellan is 59 and Talamo 24, the difference in age is overshadowed by an abundance of mutual respect.
"His reputation was basically spotless. He's about as classy as you can get," says Talamo of why he chose to approach McClellan some six years ago. "I'm so blessed and fortunate to have been with him for years. He's like a big brother and when he pulls me aside I know it's time to listen, I respect his opinion.
"I know it's always to make me better and with him by my side I know he's made me a better rider. He makes my job easy and the results speak for themselves. I love his passion for this game. It's been forty years for Scotty (in this business) and people tell me all the time that he'll cheer for me down the stretch, even when I'm on a $10,000 claimer. That's what I love about him."
McClellan has been agent to some of the best jockeys in North America, most notably two Hall of Famers, Chris McCarron and recently Alex Solis. During their 20 years as a dynamic duo, McCarron and McClellan won two Kentucky Derbies, two Preakness Stakes, five Breeders' Cup Classics, multiple Eclipse Awards as a jockey and McCarron is still the sixth leading rider all-time in wins.
The pressures of competition can take its toll on any relationship in any sport or business. McCarron and McClellan were not only business partners, they were more: they were friends, and they still are.
McClellan was McCarron's agent until the day he retired in 2002, but Scotty always knew that would be the case. McClellan had called his shot in 1982. Chris was leading rider in America in 1980 and '81 and Scotty became his agent on March 17, 1982 with a little help from Dr. Edward Giammarino, an owner who would eventually buy a horse that McClellan found and picked out for his trainer, Gary Jones. The horse was bought for $50,250 and The Medic went on to win almost a million dollars for the doctor.
"There were about 10 of us of us standing around, talking, telling jokes, and Dr. Giammarino walks by trying to get my attention," McClellan, the consummate story-teller, says. "He had this look that he'd get that told you it was good for you, whatever he was going to tell you. I said 'Doc, whatever you've got to tell me, the answer is yes.' He looked like he had seen a ghost. He pulled me off to the side and asked if I knew what he was going to ask me. I said 'I have no idea.' He said 'Then why did you say yes!?' I told him I could just tell he had some good information. He asked me 'What would you say if I told you that Chris McCarron is going to call you tonight and ask you to take his book?' I said 'Tell him he'll never need another agent.' And that was true. I had him from March 17, 1982 until June 23, 2002 with Came Home, his last ride." Shot called.
It's not an easy job, being an agent, let alone the agent of a leading rider. Often, the pressure can be so much more due to expectations. "I don't think I got in his way," McClellan says of their partnership. "I didn't burn many bridges. It's just not my demeanor; I don't try to make any waves."
Circumstances are often out of an agent's control so becoming a master of planning and knowing how to roll with the punches is essential. This is even more imperative when you have two leading riders. McClellan was agent for Alex Solis (who has just recently returned to Southern California from the east coast to ride at the age of 50) during 15 of the years he had McCarron as well. He was with Solis 19 years in total.
Born in Pasadena, as Jay 'Scott' to Maxine and Ronald 'Chick' McClellan, Scotty was the last of three children born into the world of racing. His father was a jockey, trainer, mutuel clerk and jockey agent (to Hall of Fame rider Sandy Hawley, among many others) during his time at the track. His oldest sibling, Ronna, is married to Ron McAnally's assistant trainer, Dan Landers. His older brother, Ronnie, became a jock's agent before Scotty but grew tired of it so he maneuvered into mutuels. After some time up in the bay area when Scotty was a young boy, the family moved back to Arcadia and Santa Anita into the same house his mother still lives in.
Scotty watched his father, then his brother as agents and made the leap himself when he was still just a teenager. "It's a job that you have to learn as you go," Scotty says of the decision. "It's not something you can necessarily teach; you have to learn by making your own mistakes." His father was always there to help but Scotty knew it was something he needed to do on his own. He had thought about being a jockey but his father warned him he would grow and, even though he wasn't right until after Scotty was out of high school, he was still right.
The game has changed since he first started. Like McClellan says, trainers come and go and that's a whole new group of potential employers. An agent has to keep up with the new faces while still showing loyalty to the ones who have helped him over the years.
Back before cell phones, tablets and texting, you got the information you needed, then you went to whomever you needed to see. McClellan is known for his work ethic and, even now, walks the barn area more than his own jock. "It's just the way I learned," McClellan says.
"When a horse came up without a rider at the draw you either hoped to get to a pay phone and catch the trainer at home or you had to run to their barn and hope they were there," he remembered. One of the times Scotty learned from his own 'mistake' was when he trusted his own flesh and blood.
"My dad and I were at the draw at Santa Anita, a horse came up without a rider and we both thought we had a good shot to get on the horse. I think he had Fernando Toro at the time and I must have had (Frank) Olivares. We both ran out of the office and we stopped when we got to the main road by the barns. He looked at me and tells me that he has to go see a guy at the end of the road so would I mind going on ahead to the barn where our trainer was and tell him about his jock too. I told him 'Yes.'
"He said 'You promise?' I told him I promised that I would tell the trainer his jock was available, too. So I start walking and when I get to the corner I see my dad running down the other road! As soon as he left my sight, he had started running! He was headed the same place I was, only now he was a barn ahead of me. I was fast though, so I caught up to him. That just shows you, you can't trust anyone in this game."
Scotty and Talamo trust each other implicitly and are as loyal as they come. "I've never lost faith in him and he's never given up on me. I think that's why we're so strong," says Talamo. "I trust his judgment and I leave the decisions up to him."
Talamo was 18 years old when he signed on with McClellan and they have won 1,100 races in the six years they've been a team. Talamo is currently one win away from 1,500. Scotty remembers thinking Talamo was a good rider and seemed like a very 'down to earth kid.' "He was personable, he rode a good race, he didn't burn bridges…he was everything you'd want in a rider. He had what I look for when I go to work for a guy."
Though he grew up near Santa Anita , Scotty has spent every summer of his life at Del Mar. He loved the beach town so much that he bought a house right in the heart of old Del Mar through another stroke of luck 30 years ago. Friends were remodeling their beach-front home so they were staying in another two bedroom house nearby. They ended up offering that house to Scotty at a deal once they moved out and the rest is history. Now, every week, Scotty and his girlfriend of many years, Debbie Olsen, accompanied by their two dogs, Hank and Lola, drive down from Los Angeles on dark days to spend the short day and-a-half at their Del Mar sanctuary.
McClellan still loves being outside and wouldn't want to be doing any other job. "I love being outdoors; it's an exciting life. It's not sitting at a desk all the time with the same people every day. I meet all kinds of people. Every time we change tracks, I meet new people. It keeps it fresh."
One of those people through the years was trainer Ron Ellis, father of the girl Talamo was dating six years ago. Ellis remembers a conversation he had with Joe right before he teamed with McClellan. "When Joe told me he was thinking of switching agents, he asked me who I thought he should get so I told him Scotty McClellan. He's honorable, he's loyal and he's always on top of everything. I told him he would never need another agent."
Here's hoping Ellis can call shots as well as Scotty McClellan.