Saturday, September 2nd, 2017 ( 8 months ago )
The Master of Glen Hill Loved His Time at Del Mar Best of All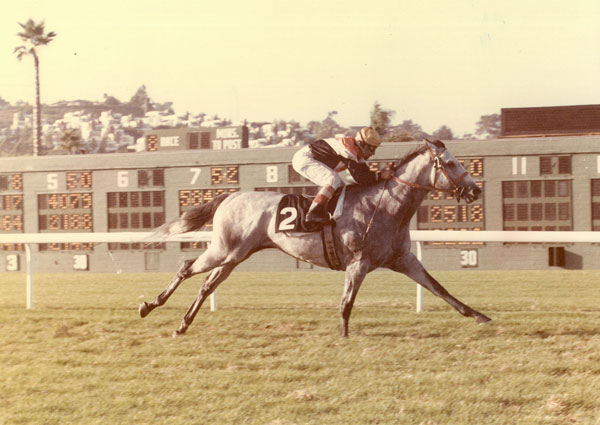 Relaunch, with Laffit Pincay, Jr. up, wins the 1979 Del Mar Derby for Glen Hill Farm.
By Mac McBride
They're running the 73rd edition of the Del Mar Derby Sunday. Leonard Lavin would have enjoyed that.
In fact, the only thing the late business titan and master of one of the sport's most successful and enduring single owner/operator racing and breeding outfits would have enjoyed more was if he had a horse in action for it.
Lavin, who died at his home in Chicago early last month at the age of 97, had spent a lifetime of knowing what it was like to be in action. He also knew about winning the Del Mar Derby. He'd done it in 1973 (Right Honorable), 1979 (Relaunch) and 2011 (Banned). Relaunch, the gray rocket by the classic sire In Reality, went on to be a foundation stallion for his 400-acre Glen Hill Farm in Ocala, Florida. Lavin had established the farm in the late 1960s; it carries on today, thanks primarily to his savvy, passion and absolute love of horse racing.
"My grandfather loved racing, loved everything about it – the horses, the people," said Craig Bernick, Lavin's first grandchild and the one who brought an extra shine to his eyes because – early on – he saw a young man who loved many of the things he did.
"I remember when my folks would go out of town, I'd often stay with my grandparents," recalled Bernick. "So it's Friday and I'm six or seven or eight now and I'd do the usual things – run around in the back yard, play cards with them, play Scrabble -- but then when Saturday would come, my grandfather and I would head off to Arlington Park, or Sportsman's (Park) or Hawthorne, whatever was open.
"And even when I wasn't staying with them, he'd drive an extra 45 minutes out to our house on Saturdays, then turn around and drive 45 minutes back to the track so we could go to the races together. We'd handicap the horses, have some ice cream and spend the day together. That became a fairly regular happening."
Bernick noted that as he got older, he got further into the game with his grandfather. He remembers trips in the summer to Del Mar. He remembers other trips on school holidays to the farm in Florida. Even more than in his own children, Lavin saw a fire and a feel for the game in his grandson.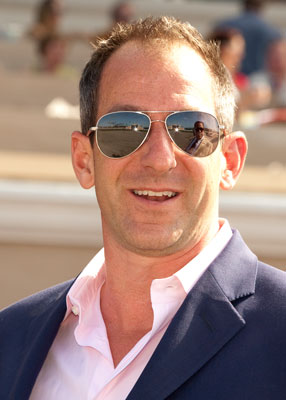 Craig Bernick
Bernick went through school (Tulane in New Orleans, which allowed for trips to Fair Grounds), he did a stint as an executive at his grandparents' Alberto-Culver business, then even raced some horses on his own. All the while, Lavin mentored his grandson, allowed him to try, to succeed and sometimes to fail.
"He allowed me the room to do things on my own," Bernick said. "He was a good teacher; he encouraged. Then when it came time, he had me take over Glen Hill. I was 30 when that happened and I had some ideas about it. The farm wasn't doing well and the pipeline was not filled with good things to come. We made some changes in how we did business. He fought me sometimes; on occasion it felt like he was back being 75 and I was 13 again. But to his great credit, he let me make the changes I felt we needed and it allowed things to lift up.
"For a fair while my grandfather hadn't been winning big races. It gave me great satisfaction to change that and allow us to be involved at the top level again. It was so gratifying to have success once more and have him at my side. I was able to share that with him."
After Lavin lost his wife (and business partner) of 60 years, Bernice, in 2007, Bernick said he turned even more to the place he enjoyed most in his life – Del Mar.
"Del Mar was his favorite place," he stated. "He loved being there in the summer. He'd be out at the barn early in the morning, mixing with the trainers and the jockey agents and other owners. He felt they were his real friends. He'd come home and do some business, then go out in the afternoon to the races. Then at night he'd go out with my grandmother and friends for dinner. He just loved it all.
"After my grandmother passed, he spent even more time there. He'd go out there from Christmas to Easter, come back to Chicago for a while, then go back out for the racing season. He got to know a lot of people and enjoyed getting involved in the community."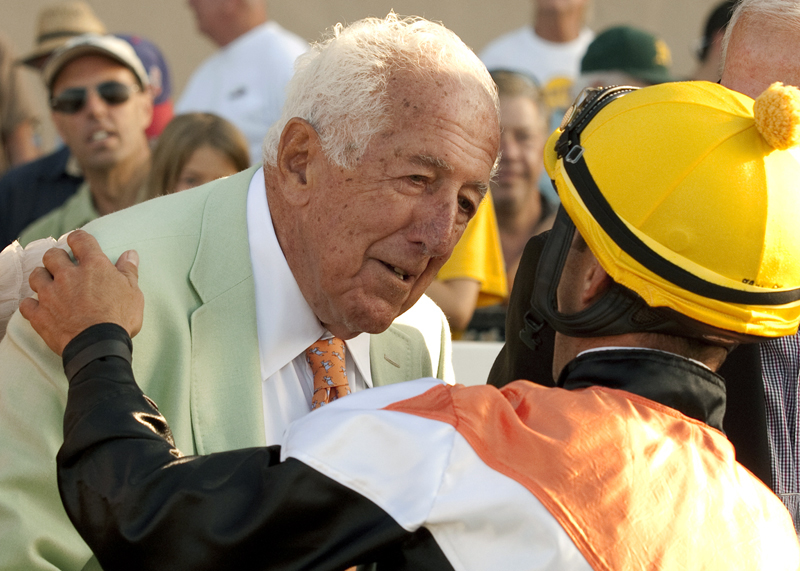 Leonard Lavin with Jocky Garrett Gomez
Lavin made a connection with several professors at San Diego State University's business school and established the Lavin Entrepreneurship Center and program there. He became directly involved in lecturing the MBA students, working with them on their business plans and mentoring them along the way. The program, which was generously endowed by its founder, has flourished on the SDSU campus, providing a nurturing environment for those students with entrepreneurial souls and the thought of making their passions into careers.
Among other things, Bernick says he also inherited his grandfather's love of racing at Del Mar.
"Love it," he says. "I haven't missed a meet since 1995; want to continue racing there for sure."
Part of Lavin's day at the races at Del Mar would include a trip to the Press Box, where a freezer in the lounge always had a selection of ice cream. Young Bernick remembers making the Press Box stops with his grandfather and – once again – sharing an ice cream at the racetrack.
Lavin's favorite was vanilla. Bernick's?
"I like vanilla, too," he said. "But I'd have to say my favorite is mint chocolate chip."
And that would be just fine with his grandfather.