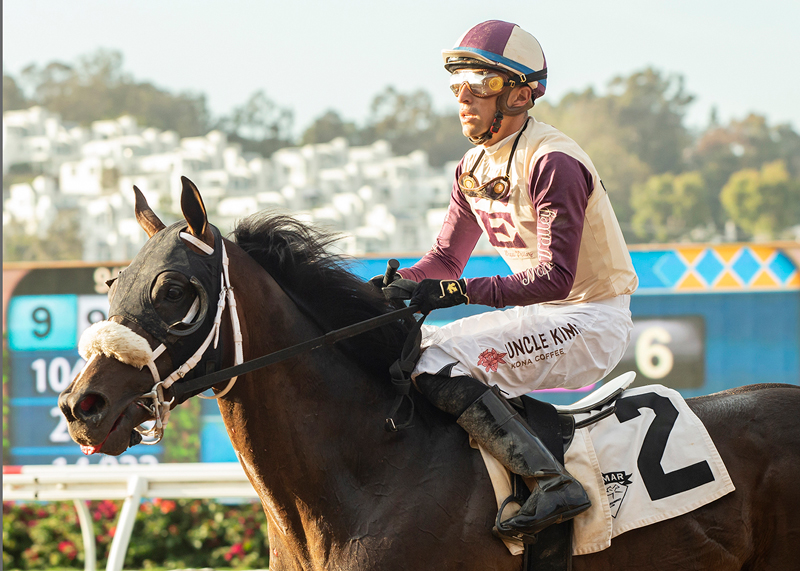 The Big Wam © Benoit Photo
The 7-10 favorite The Big Wam had to overcome difficulties at the start, but leading rider Juan Hernandez handled him patiently, then put him to the task through the lane and the son of Mr. Big was up in time for a one-length victory in the $126,000 Graduation Stakes Friday at Del Mar.
The bay colt was foaled in Washington State, but was eligible for the California-bred or sired race because his daddy stands in California, covered five and one-half furlongs in 1:04.59 to pick up a first prize of $71,250 and increase his bankroll to $161,160. He's owned by a couple of Californians, Michael Bello and Charles Bartlett.
Finishing second was KMN Racing's Straighten Up, who cut out all the fractions (:21.90, :44.82 and :57.63), but just couldn't stave off the favorite late. Five and a quarter lengths farther back came Hares Racing and Terry Lovingier's Good N Thirsty.
The Big Wam paid $3.40, $2.10 and $2.10 across the board. Straighten Up returned $2.60 and $2.40, while Good N Thirsty returned $5.60. The winner is trained by Luis Mendez, who was capturing the Graduation for the third time.
The track's Pick Six Single Ticket Jackpot wager once again couldn't be solved, so it carryover grew to $157,130. That will be up for grabs when racing resumes Saturday afternoon starting at 2 p.m.
---
JUAN HERNANDEZ (The Big Wam, winner) – "He broke a little slow, then he wanted to get out, so I just had to go with him. On the turn, though, he started moving. Then we got outside – he likes it there – and he got going. He wouldn't change leads for me, but it didn't matter. He was really running at the end and he got it done."
LUIS MENDEZ (The Big Wam, winner) – "Like always I can say all the time that number two (post) that's a tough decision when we got so much speed in the race. But thank God he likes to come from behind. He's shown that on every single race."
---
FRACTIONS: :21.90 :44.82 :57.63 1:04.59
The stakes win was the sixth of the meet for rider Hernandez (no other rider has more than two), but his first in the Graduation. He now has 21 stakes wins at Del Mar.
The stakes win was the first of the meet for trainer Mendez, but his third in the Graduation. He now has four stakes wins at Del Mar.
The winning owners are Michael Bello of Newport Coast, CA and Charles Bartlett of Napa, CA.