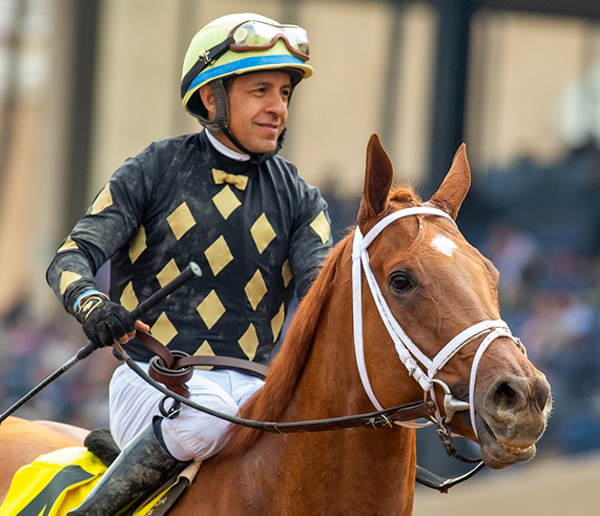 Victor Espinoza aboard Ce Ce © Benoit Photo
By Hank Wesch
Not long after 2021 got started, Victor Espinoza chose to take a hiatus from his Hall of Fame riding career to be with his ailing mother in Mexico.
He returned, about two months later, to the realization that "I had no business, basically."
Six years after guiding American Pharoah to a Triple Crown sweep that ended a 37-year span without such a champion, Espinoza found himself sitting out the entire series, watching from Santa Anita or his homes in Arcadia and Del Mar, while riding "two or three horses a week."
He managed six wins from only 33 mounts at Del Mar's summer meeting – a far cry from the 51, 53 and 64 in winning riding titles here in 2000, 2006 and 2007. Half the number of victories he recorded in winning the title for the track's inaugural Bing Crosby Season in 2014.
Summer turned to fall and his mother, Gloria, who had suffered back fractures in a fall in late 2020, passed away.
"She was 92 and had a good, long life, but you're never ready for something like that," Espinoza said. "Mentally, I thought I was ready, but I was not. It was very hard for me, like it is for anyone who loses a parent.
"But life has to go on. So I focused on my job, knowing the Breeders' Cup was coming up."
And the 38th Breeders' Cup World Championships, the second to be hosted by Del Mar, would provide Espinoza an opportunity to roar in what had, to that point, the look of a "Lion In Winter," year for him.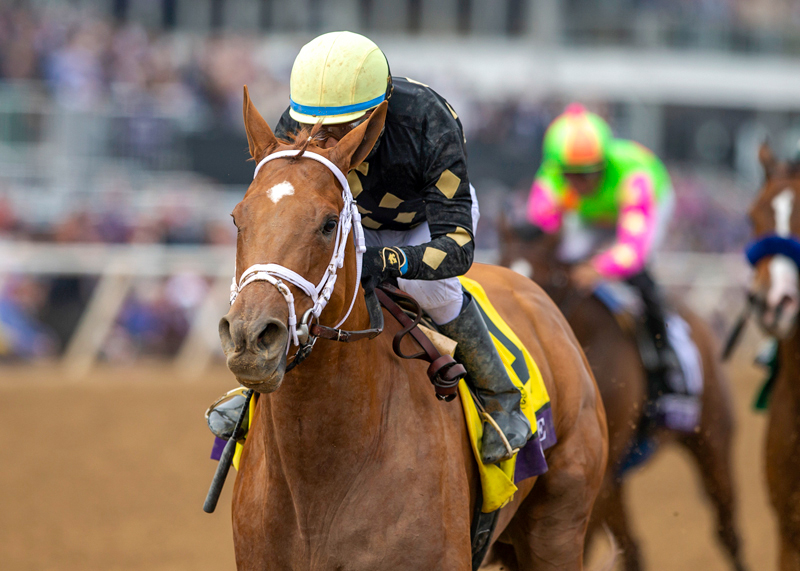 Espinoza, 49, guided Ce Ce, a 5-year-old Bo Hirsch homebred daughter of Elusive Quality trained by Michael McCarthy, to a 2 ½-length victory in the $1 million Breeders' Cup Filly & Mare Sprint, upsetting 2/5 favorite Gamine. It was the fourth Breeders' Cup win for Espinoza, his first since completing American Pharoah's 2015 tour de force in the Breeders' Cup Classic.
Espinoza said he woke up the morning of the race feeling prepared, just like he has many times before on big race days in his 30-year-career. "(Ready to) show what I've learned over the years …that I can still ride and that I'm still one of the best at what I do."
He's not one to study past performances hard and long, but said he looked at the other four entrants in the paddock and considered Ce Ce to be a standout. And at the end of the seven-furlong run she had proven him correct.
"The first quarter it's kind of hard to judge how fast the horses were going," Espinoza said. "I thought the pace was decent, but not what I wanted. So, I wanted to be a little closer to the front and I moved my hands just a little, not much, to encourage Ce Ce forward.
"I figured if I hit the three-eighths within two or three lengths, Ce Ce was going to have plenty of energy coming home. From watching races earlier I figured the track was a little better in the middle than on the rail and went there (five paths wide) turning into the stretch.
"Ce Ce was so quick and full of energy that in no time we were in front and I was like, 'Wow, keep going, this is fun.' "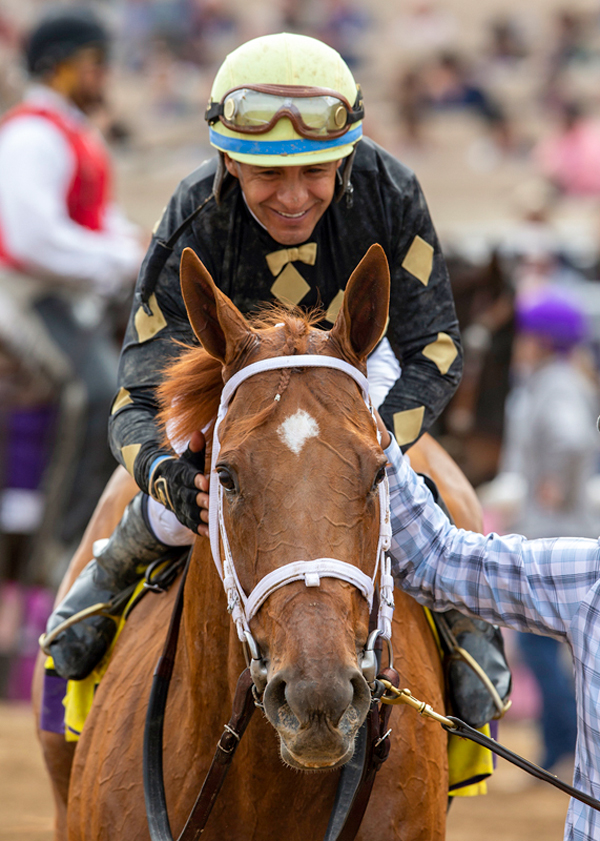 Espinoza had been aboard the mare for 10 of her last 12 starts before the Filly & Mare Sprint, five on each side of trips to Kentucky in September and November of 2020, where John Velazquez took over fourth and fifth-place finishes in Grade I events, the latter to champion Monomoy Girl in the Breeders' Cup Distaff at Keeneland.
"We got sidetracked last year at the end of the summer and Victor missed a couple rides on her," McCarthy said. "She still ran reputably, she still ran well. But Victor gets along with her the best of any and it was a fantastic ride in the Breeders' Cup."
Espinoza reflects on his eventful 2021 with a perspective forged from three decades at his chosen profession and – through last Sunday according to Equibase statistics – 22,647 mounts, 3,458 wins and purse earnings of more than $206 million.
"(Being) down at the first of the year was not a big deal because I've been there before," he said. "There are a lot of ups and downs being a jockey. When things are going right, it's easy to motivate yourself. When they're not, you still have to think big – then if you accomplish even half of your goal, you're doing well.
"I knew (coming back) I have a group of trainers and owners who have always supported me, who continue to support me and I'll always be there for them."
All with good reason. Espinoza has been on the backs of many, many good horses. He won a Kentucky Derby and Preakness on War Emblem in 2002. He did it again a dozen years later on the mercurial California Chrome, who he partnered with through two Horse of the Year campaigns. Then he was on top of the world in the wake of American Pharoah in 2015. He was a guest on major network daytime and late night shows and did a mercifully brief stint on "Dancing With The Stars" among many appearances.
Did he enjoy his time as a celebrity outside racing?
"Yes and no," Espinoza said. "Being in the public eye and getting the attention is fun. But it's hard because it's not really much of a life. Your schedule is completely broken there's so much to do. For a while, I didn't have a full day to be at home and relax. I barely had time to get home and take a nap. Sometimes it's nice to have a life and do whatever you want."
Would he do it all again?
"It would be a challenge, but if I found the right horse, absolutely. I know it would only last for a short time, not years and years in my case."
Three years after American Pharoah, Espinoza came perilously close to a paralyzing injury in a workout spill at Del Mar. He made a remarkable comeback and within seven months was winning races again. Stakes victories aboard Astronaut for John Shirreffs in the Del Mar Handicap during the summer meeting and Ce Ce in the Breeders' Cup were Nos. 106 and 107 for Espinoza, third on the track's all-time list, and only one behind second-place Corey Nakatani. Ten of the stakes victories have been achieved since returning from injury in 2019.
He once was the youngster in a Del Mar jockey colony that featured veterans Laffit Pincay, Jr., Chris McCarron and Eddie Delahoussaye. Hall of Famers all, who retired from racing at ages 57, 47 and 52, respectively. Only McCarron did so of his own volition, not upon doctors' advice after an injury.
Next summer at Del Mar, Espinoza will be 50 and sharing a room with Hall of Famers Mike Smith, 57, Kent Desormeaux, 52, and a bunch of riders who are, more or less, half their age.
"For sure they (young riders) remind me of myself when I first came up here with the big goals and trying to be the best and beat the best I could," Espinoza said. "Nobody knows what's in the future, so I don't know how long I'm going to ride. When I was doing the (TV circuit) I talked to some retired baseball players about (ending) careers and they said the time comes and there's a feeling you get inside.
"But right now, I feel great, I'm excited and I'm still looking forward to riding horses that have a chance to win. That's what I'm here for."