Wednesday, August 6th, 2014 ( 6 years ago )
Sunset Glow Triumphs In Sorrento Stakes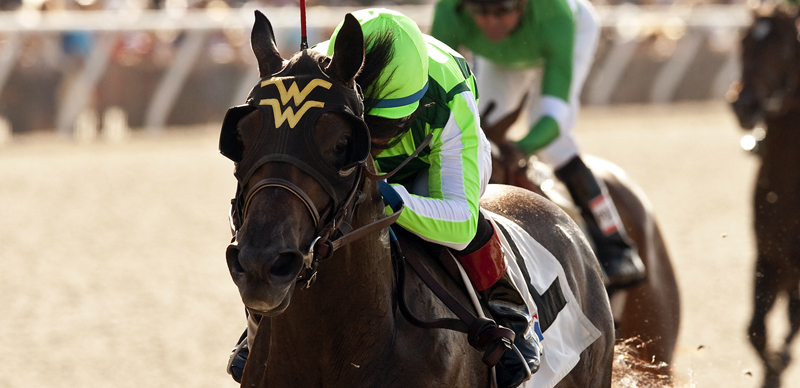 Ten Broeck Farm's Sunset Glow and Jockey Victor Espinoza win the Grade II, $200,000 Sorrento Stakes, Wednesday, August 6, 2014 at Del Mar Thoroughbred Club, Del Mar CA.
---
Ten Broeck Farm's Sunset Glow, runner-up in a 21-horse field in the Albany Stakes at Royal Ascot in England June 20, had only four two-year-old filly rivals to beat in the Grade II $200,000 Sorrento Stakes Wednesday at Del Mar and she did it in style, cruising to a wire-to-wire triumph under jockey Victor Espinoza.
The Kentucky-bred daughter of Exchange Rate, a $140,000 Keeneland yearling, sped to the lead shortly after the start of the 6 ½ furlong dash and never was seriously threatened, winning by 3 ¼ lengths in 1:16.61 to earn first money of $120,000.
La Grange closed steadily to be second, 5 ¼ lengths in front of Heart of Paradise, with Sharla Rae fourth. Caval, the even-money favorite, was prominent early but tired badly and was eased in the stretch. Scratched from the original field were Conquest Eclipse and Windy Forecast.
Sunset Glow, scoring her second victory in four starts, paid $8.60, $4.40 and $2.80 as the third betting choice while increasing her earnings to $197,645. La Grange, sent to the gate at 5-2 under Kent Desormeaux, returned $3.40 and $2.60, while Heart of Paradise paid $2.80 to show.
The Sorrento Stakes is the prelude for juvenile fillies to the Grade I $300,000 Del Mar Debutante at seven furlongs Saturday, August 30.
Wednesday's Pick Six pool totaled $1,322,042 counting a $195,205 carryover from last Sunday and $1,126,837 in "new" money. There were four perfect tickets, each paying $199,296.
Attendance Wednesday was 10,962.
---
VICTOR ESPINOZA (Sunset Glow, winner) – "No, I don't get instructions with this filly. The first time I got on her (at Belmont Park on Belmont Day this year when she broke her maiden), Wesley (trainer Wesley Ward) just said 'Ride her.' It's been that way since. That last race in England (the Albany Stakes at Ascot June 20), she caught a very soft course and the last part of that race was uphill. They said she ran six furlongs, but it was more like seven. When she came back here the first time I worked her (July 18), it was only so-so. The next time we worked (July 24) it was better and this last time (July 30 – a bullet :59 3/5) she really went well. She's a big filly – heavy. Like a colt. I knew she'd run good today and she did."
KENT DESORMEAUX (La Grange, second) – "She dove on her nose out of the gate. Then it took me about 40 yards to get her back under me. What a shame. I thought she was much the best."
JOE TALAMO (Heart of Paradise, third) – "Perfect trip. We just got outrun."
BLAKE HEAP, assistant to Wesley Ward (Sunset Glow, winner) – "We (Heap and Ward) talked about her works and the last one was kind of important. We had her in behind a horse, had her finish (bullet five furlongs July 30) and she got a lot out of it. She's kind of a big heavy filly and he (Ward) said to train her a little bit, so we kind of did and looks like it worked out pretty well. It's up to Wesley (next start) but I would have to think that with the Debutante right here he wouldn't have to go too far."
---
FRACTIONS: :22.30 :45.30 1:10.18 1:16.61
The stakes win was the first of the meet for Espinoza, but his second in the Sorrento (Untouchable Talent, 2006). He now has 78 stakes wins at Del Mar, eighth most all time.
The stakes win was the first of the meet for Ward and his first in the Sorrento. He now has four stakes wins at Del Mar and this is his first graded one.
The winning owner, Ten Broeck Farm, is the nom du course of David Mowat of Woodinville, WA.