by Hank Wesch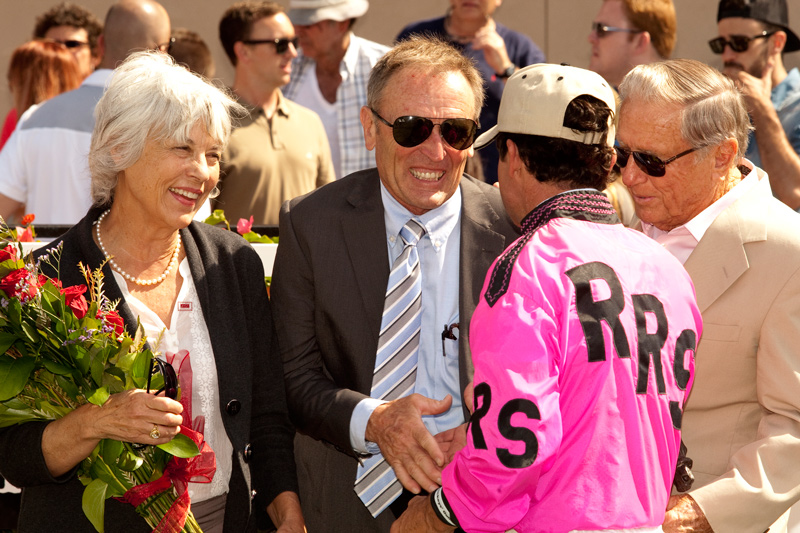 Trainer Eddie Truman (center) shares a victory handshake with rider Kent Desormeaux following Go West Marie's tally in the 2014 Fleet Treat Stakes. Flanking Truman are his wife Elizabeth and the late owner/breeder Buddy Johnston. © Benoit Photo
Trainer Eddie Truman is not in Kansas anymore.
But when he thinks back to his home state, growing up on a farm with older brothers Dale and Jerry, he smiles at the memories of the place and times that started him on a career in horse racing.
"My dad's best friend was a bookie," Truman, 68, recalled. "He won a horse on a bet – a Quarter Horse or ropin' horse. They used to match race it on the country roads, 50 yards without a rider or 100 yards with a rider. My oldest brother, who was about 14 at the time, rode sometimes. I think my dad rode, too."
It was a logical progression to bush tracks and fairs for the budding horsemen. Middle brother Jerry took up riding and was good enough at it that, through the connections of family friend and neighbor Hank Triplett, he went on to bigger tracks in St. Louis and Chicago.
"I just followed in his footsteps," Eddie said. "I started galloping horses at nine, won my first race at 11 and, like we all did in those days, dropped out of school and started riding full time at 16." He rode in St. Louis and Chicago – he was the leading rider at Sportsman's Park – and had his contract bought up James B. Norris.
"Twenty thousand dollars, which I guess would be about $200,000 today," Truman said. "The thing was though, with that money mom and dad bought the farm where we were living."
Eddie rode five years professionally in the Midwest and Florida. He doesn't look back on his career through rose colored glasses.
"I got a lot of (suspension) days," he said. "My riding style was rough and I really wasn't that good. I had to reduce a lot, too. As a 16-year-old I weighed 116 and a kid rider in those days they usually wanted you to be 102-103."
When his riding career ended, Truman relocated to Northern California and worked in the racing office at Golden Gate Fields. He was called to Detroit Race Course to begin his training career in 1970 but it was short-lived due to misfortune for the patron who brought him there.
Then 25-year-old Truman spent six months in 1972 "bumming around Europe," and came out it concluding that he wanted to make training Thoroughbreds his life's work.
"The smartest thing I did was I decided I wanted to forget everything I already knew about training and learn from the best," Truman said. Which at that time in Southern California meant Charlie Whittingham for stakes horses and Bobby Frankel for claiming level and higher.
By chance, he wound up in Frankel's presence first. Truman asked for a job. Frankel asked him his name. Upon hearing it, Frankel said: "I was walking horses at Tropical Park when you were riding there." In a matter of minutes, Truman said, he was hired and exercising horses for Frankel.
"What a genius. What a horseman," Truman said of the Hall of Famer who died of cancer in 2009. "Bobby's philosophy, which I adopted as my philosophy, is keep the horse happy and then let whatever happens from there take care of itself."
Eddie Truman is no longer in Kansas. He's a regular on the Southern California circuit, among the vanguard of trainers to arrive at Del Mar for both the summer and fall meetings. He has 12 horses in his stable now. He was up as high as 35 in the 1980s and down to two or three in the 1990s.
Equibase statistics show that the victory by Pica ($12.20) in Thursday's third race was career No. 691 from 4,830 starters and the $33,000 winner's share of the purse put him at $13.4 million in career purse earnings. In 2015 it was win No. 20 from 91 starters, boosting his earnings total for the year to $840,554.
The wins are double his best total of recent years, 10 in 2010, and the earnings top his previous best of $817,941 in 1981.
The career numbers aren't dazzling. He's quick to state that among the horses he's trained there aren't any greats. The best, by his estimation: Go West Marie, provided him with his only Del Mar stakes victory in the 2014 Fleet Treat Stakes.
But it's virtually impossible to encounter Truman -- anytime or anywhere, but especially at Del Mar -- without getting a mega dose of positivity and a comment about how "blessed" he feels to have lived his life and been part of Thoroughbred racing.
He ticks off the names of ownership clients – Bud and Ann Parker, Jim and Ilene Roper, Peter Redekop – and says they're all "good, honest, nice people and friends."
He appreciates time spent with his brother Jerry, who recently retired from working the box office at Santa Anita and who galloped horses in the mornings for Eddie until he insisted that 65 was an appropriate age to quit. In 2010, when Eddie was 63 and Jerry 70, they bicycled 1,765 miles from Canada to Mexico in 19 days. Eddie still rides. His log of 150 miles from Monday to Wednesday this week included a circuit from Del Mar to Bonsall to Escondido and back on Tuesday and the return trip from Ramona to Del Mar on Wednesday after a visit to see some yearlings on a farm there.
Truman and his wife Elizabeth, an artist, love to travel and do so. "But for me, three weeks is the maximum," he said. "I need to get back and be at the track and watching the horses. They're such magnificent animals."
Eddie Truman is not in Kansas anymore. He's all over the map. And happily so.