Thursday, November 29th, 2018 ( 5 months ago )
Stables Notes
November 29, 2018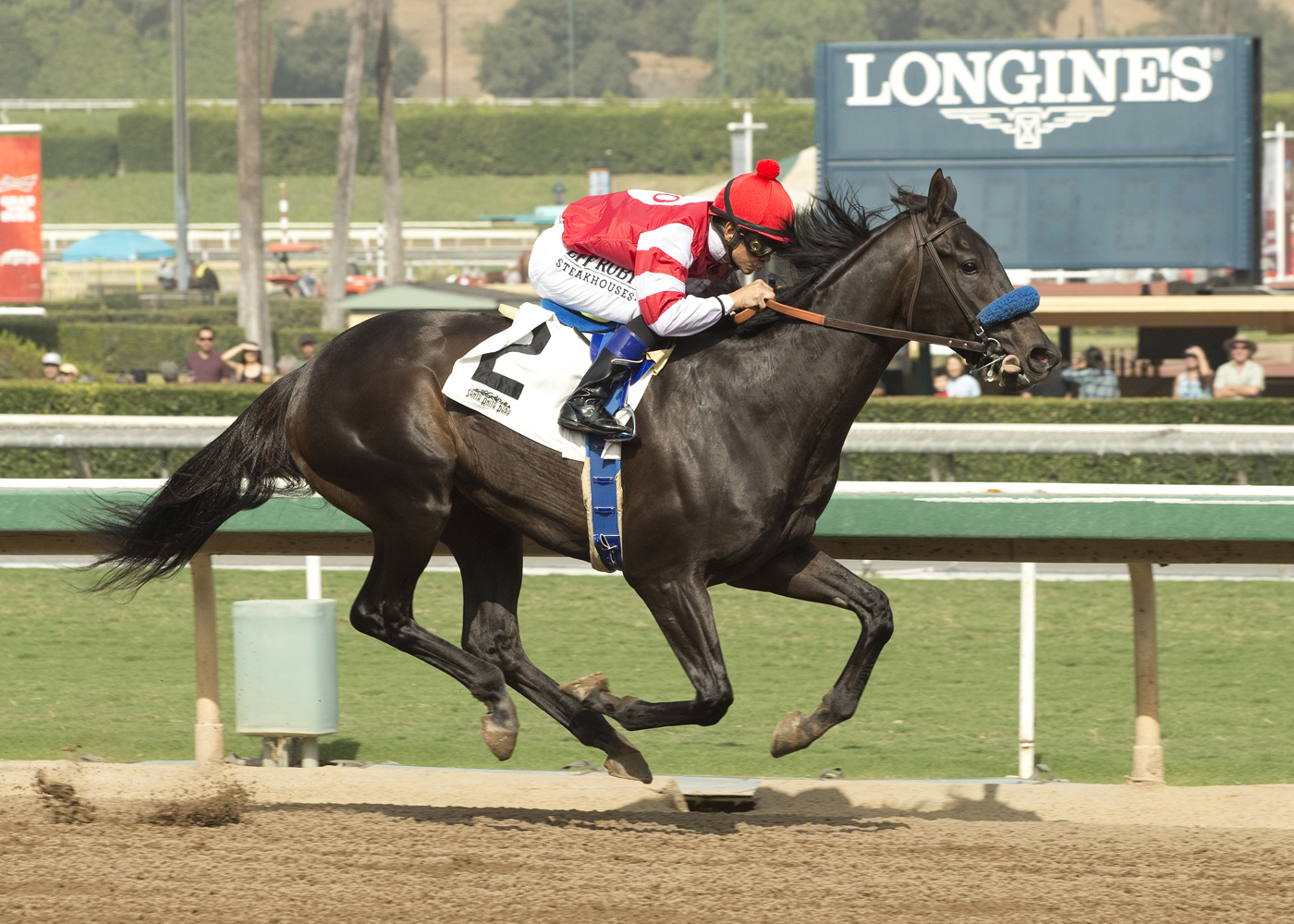 Instilled Regard © Benoit Photo
CHAD BROWN QUINTET SET FOR GRADE I WEEKEND STAKES
Jose Hernandez, assistant to the nation's leading trainer, Chad Brown, was on the end of a lead chain attached to Instilled Regard, who had an exercise rider in full tack on his back, going around and around an improvised walking ring between barns EE and FF Thursday morning.
Del Mar's main track having been closed to training due to wet weather, there was no other option for the five representatives of Brown's powerful stable dispatched from the east for the two Grade I stakes on the closing weekend menu here.
"I don't think (missed day of training) it's going to be a problem," Hernandez said. "They all came in on Tuesday and galloped well over the track Wednesday. So, they'll all just tack walk today and then, when the track opens up, gallop again tomorrow.
"They're all in good shape and we didn't have any major training to do with them here anyway."
Instilled Regard, a 3-year-old son of Arch, who was a $1.05 million purchase at the Ocala Sale in March of 2017 by the OXO stable of Larry Best, finished fourth behind Triple Crown winner Justify in both the Santa Anita and Kentucky Derbies last spring before being transferred from Hall of Fame Trainer Jerry Hollendorfer to Brown.
One start for Brown, the Grade I Pennsylvania Derby at Parx in Philadelphia, produced a dead last of nine result, beaten 25 ¾ lengths by McKinzie. Saturday's Grade I $300,000 Hollywood Derby marks a fresh start on a fresh surface for Instilled Regard. The 1 1/8-mile test will be his first race on turf.
"He's doing really well," Hernandez said. "We'll see how he does on the turf. The race in Pennsylvania, we don't know what happened. But we'll give it a try."
Raging Bull, a French-bred son of the Irish-bred stallion Dark Angel, won four of his first five races, among them the Grade 2 Hall of Fame Stakes on "yielding" turf at Saratoga in August and the Grade III Saranac there on "good" turf in September.
His last start, the Grade II Hill Prince at Belmont in October, was taken off the turf to the main track and Raging Bull finished fifth of seven, beaten 2 ¼ lengths by fellow Hollywood Derby entrant Have At It.
"Like Instilled Regard, we're not sure what happened last time, maybe he just didn't like the track," Hernandez said. "But he's a good horse and he's doing well, so we're here to give it a try."
Raging Bull was given the most respect of the Brown duo for the Derby. He was established as the 7-2 second choice behind 5-2 River Boyne on the morning line of oddsmaker Russ Hudak issued Thursday.
Brown leads North American trainers for money earnings in 2018 with more than $26 million from 795 starts and 216 wins. Steve Asmussen is second with just over $25 million off 1,772 starts and 366 wins.
The strength of Brown's turf division was on display at the Breeders' Cup World Championships at Churchill Downs early last month. On Friday, Nov. 2, Brown saddled Newspaperofrecord to win the $1 million Juvenile Fillies Turf and the following day his Sistercharlie took the $2 million Filly & Mare Turf.
The Hollywood Derby field from the rail: Have At It (David Cohen, 6-1), Kazan (Brice Blanc, 20-1), Risky Proposition (Joe Talamo, 20-1), River Boyne (Flavien Prat, 5-2), Fight On (Alonso Quinonez, 20-1), Raging Bull (Joel Rosario, 7-2), Instilled Regard (Florent Geroux, 12-1), Desert Stone (Tyler Baze, 8-1), Platinum Warrior, 12-1), Way Early, (Angel Cruz, 30-1), Carrick (Kent Desormeaux, 8-1), Pubilius Syrus (Edwin Maldonado, 30-1), Prince Earl (Tiago Pereira, 20-1) and Californiagoldrush (Rafael Bejarano, 12-1).
---
ANOTHER GRADE I STAKES FULL HOUSE: 14 FOR SUNDAY'S MATRIARCH
A capacity field of 14 was entered Thursday for the Grade I $300,000 Matriarch, the signature event of fall racing at Del Mar on closing day, Sunday, December 2.
Nine of the 14 will have shipped in from outside California and represent venerable trainers from the Midwest, East Coast and Internationally such as George Weaver, Ignacio Correas IV, Jean-Claude Rouget, Chad Brown and Mark Casse.
The five California-based horses taking on the invaders are headed by Vasilika, a Jerry Hollendorfer-trained former $40,000 claimer who comes in on an eight-race winning streak. The sixth win in the string was recorded in the Grade II $200,000 John C. Mabee Stakes here on the Jimmy Durante Turf Course.
The post position draw was scheduled Thursday afternoon. The entrants, in alphabetical order with jockeys in parentheses are: Daddy Is a Legend (Manny Franco), Dona Bruja (Declan Cannon), Fahan Mura (Edwin Maldonado), Insta Erma (Drayden Van Dyke), Luminoso (Heriberto Figueroa), Mission Impassible (Florent Geroux), Mopotism (Geovanni Franco), Ms Bad Behavior (Tyler Baze), Quidura (Jose Ortiz), Rymska (Irad Ortiz, Jr.), Uni (Joel Rosario), Valadorna (Mike Smith) and Vasilika (Flavien Prat).
---
RAIN, AND THE THREAT THEREOF, FORCES FOUR RACES OFF THE TURF
A quarter-inch of rain drenched the track early Thursday morning and with forecasts for even stronger storms to hit 90 minutes to an hour before first post, track officials decided to close the main surface to training and move four races on the eight-race card from the turf to the main track.
"We just want to get ahead of this," Racing Secretary David Jerkens said.
As usually happens when races are moved from the turf to the main track, there were several scratches. Four came out of the first and two from the third, both five-furlong sprints; five were withdrawn from the fifth and three from the seventh, both scheduled at one mile.
The last time Del Mar had to deal with weather conditions was Saturday, July 18, 2015, the third day of the summer meeting.
A severe lightning and thunder weather pattern that hit the track at 6:30 a.m. and came back with heavy rain in time for the 2 p.m. first post caught horsemen and track officials by surprise.
"When I got in here it was total chaos," track superintendent Richard Tedesco said then. "Lightning, thunder and rain pouring down. We had to shut down the main track because of lightning in the area, that's a rule. And we shut down the training track as well.
"We missed about 45 minutes of training. But when they got back out on it the jockeys going past were all giving me a thumbs up. The track held up well . I'm proud of my crew for the job they did."
When rains persisted, growing heavier as race time neared, the track was sealed and a decision was made to take three of the four scheduled grass races – the Grade I Eddie Read being the exception – off the turf and onto the main track.
The main track was listed as "sloppy" on Saturday, July 18, and "good" on Sunday, July 19.
---
VAN DYKE, PRAT RIVALRY, HOT LAST SUMMER, CARRIES TO FALL FINALE
Drayden Van Dyke and Flavien Prat battled to the final days of the Del Mar summer meeting before Van Dyke secured his first major Southern California riding championship by a 42-37 margin over Prat.
They enter the final four days of fall racing at Del Mar positioned similarly, with Van Dyke, who had three wins to Prat's two on Sunday, holding a 15-13 edge entering today's card.
Van Dyke had four scheduled mounts on the eight-race program. Prat was left with five by the scratch off Offshore when the seventh race was taken off the turf and moved to the main track.
Geovanni Franco, third in the standings with 12 wins, lost two mounts to scratches, but had four others booked today and five Friday. He goes to Florida to ride the Claiming Crown program at Gulfstream on Saturday, but will be back for closing day here on Sunday.
In the trainer's race, Hall of Famer Jerry Hollendorfer moved to take leader Peter Miller out of his comfort zone with three wins, including both stakes races – Battle of Midway in the Grade III $100,000 Native Diver and Flying Scotsman in the Grade III $100,000 Cecil B. DeMille – on Sunday. But Miller won once on Sunday and goes into the final week with a 12-8 lead over Hollendorfer, the only close pursuer. Both will saddle one today.
---
CLOSERS – Selected workouts the past three days at Santa Anita and Del Mar: Monday – Calexman (SA, 4f, :48.20), Fahan Mura (SA, 5f, 1:03.40), Marley's Freedom (SA, 5f, 1:03.40), Solomini (SA, 5f, :59.80), Zatter (SA, 5f, :59.60); Tuesday – Kanthaka (SA, 5f, 1:01.40), Chasing Yesterday (SA, 6f, 1:13.80), Mother Mother (SA, 6f, 1:14.20), Improbable (SA, 7f, 1:27.00); Risky Proposition (DM, 4f, :49.40), Wednesday – Roadster (SA, 3f, :36.00), Vexatious (SA, 3f, :38.00), McKinzie (SA, 4f, :49.00), Minoso (SA, 4f, :47.40), Owning (SA, 4f, :49.00), Hunt (SA Dirt training, 4f, :50.20), Belvoir Bay (DM, 3f, :37.40), Roy H (DM, 3f, :36.00), Stormy Liberal (3f, :37.20), Conquest Tsunami (4f, :50.00).
---
DEL MAR STATISTICS
Jockey Standings
(Current Through Sunday, November 25, 2018 Inclusive)
| | | | | | | | |
| --- | --- | --- | --- | --- | --- | --- | --- |
| Jockey | Mts | 1st | 2nd | 3rd | Win% | In-money% | Money Won |
| Drayden Van Dyke | 53 | 15 | 7 | 7 | 28% | 55% | $667,298 |
| Flavien Prat | 65 | 13 | 13 | 8 | 20% | 52% | $685,171 |
| Geovanni Franco | 56 | 12 | 6 | 7 | 21% | 45% | $460,866 |
| Heriberto Figueroa | 53 | 9 | 8 | 10 | 17% | 51% | $278,310 |
| Joseph Talamo | 42 | 8 | 4 | 7 | 19% | 45% | $465,295 |
| Rafael Bejarano | 47 | 7 | 6 | 10 | 15% | 49% | $367,130 |
| Tyler Baze | 62 | 5 | 9 | 9 | 8% | 37% | $346,254 |
| Tiago Pereira | 55 | 4 | 6 | 6 | 7% | 29% | $162,175 |
| Kent Desormeaux | 29 | 3 | 6 | 4 | 10% | 45% | $190,710 |
| Mike Smith | 22 | 3 | 6 | 2 | 14% | 50% | $226,299 |
Trainer Standings
(Current Through Sunday, November 25, 2018 Inclusive)
| | | | | | | | |
| --- | --- | --- | --- | --- | --- | --- | --- |
| Trainer | Sts | 1st | 2nd | 3rd | Win% | In-money% | Money Won |
| Peter Miller | 37 | 12 | 4 | 5 | 32% | 57% | $468,405 |
| Jerry Hollendorfer | 33 | 8 | 6 | 4 | 24% | 55% | $392,280 |
| Doug F. O'Neill | 49 | 5 | 4 | 5 | 10% | 29% | $224,146 |
| Bob Baffert | 11 | 5 | 2 | 0 | 45% | 64% | $250,875 |
| Richard Baltas | 25 | 4 | 5 | 2 | 16% | 44% | $244,302 |
| Philip D'Amato | 25 | 4 | 3 | 2 | 16% | 36% | $208,633 |
| Brian J. Koriner | 11 | 4 | 0 | 1 | 36% | 45% | $144,075 |
| Richard E. Mandella | 21 | 3 | 4 | 1 | 14% | 38% | $173,920 |
| George Papaprodromou | 14 | 2 | 4 | 1 | 14% | 50% | $54,500 |
| J. Keith Desormeaux | 18 | 2 | 4 | 1 | 11% | 39% | $93,265 |
Winning Favorites Report
(Current Through Sunday, November 25, 2018 Inclusive)
Winning favorites -- 43 out of 102 -- 42.16%
Winning favorites on dirt -- 27 out of 59 -- 45.76%
Winning favorites on turf -- 16 out of 43 -- 37.21%
Winning odds-on favorites -- 12 out of 22 -- 54.55%
In-the-Money favorites -- 76 out of 102 -- 74.51%
In-the-Money odds-on favorites -- 19 out of 22 -- 86.36%