Saturday, July 29th, 2017 ( 1 year ago )
Stables Notes
July 29, 2017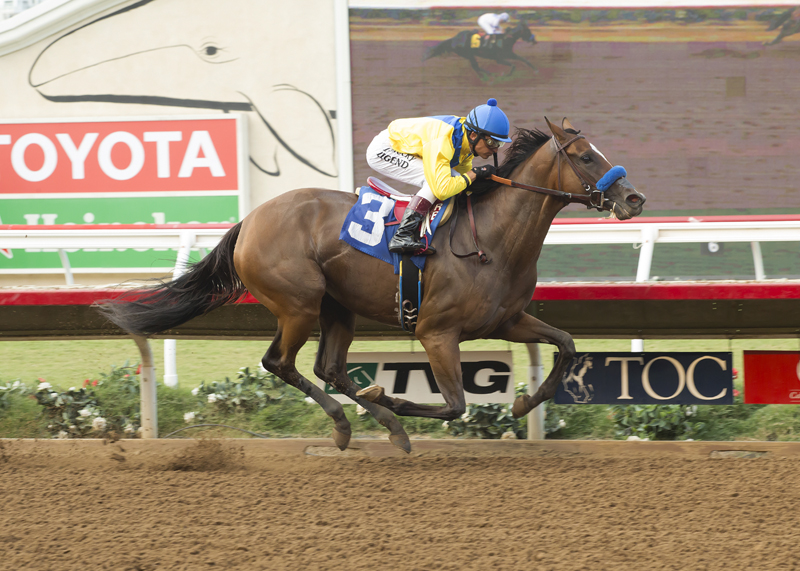 Vale Dori © Benoti Photo
VALE DORI OUT TO BRING AN END TO BAFFERT'S DEARTH IN THE HIRSCH
There are 44 different names of stakes Bob Baffert has won in compiling a Del Mar training record 121 over the past 26 years. Many of them have been discontinued or renamed. Seven of the 44 stakes the Hall of Fame conditioner has won five or more times.
Conspicuous by its absence on the list, however, is Sunday's $300,000 Grade I Clement L. Hirsch Stakes, in which Baffert will send out Vale Dori to take on defending race champion Stellar Wind.
Vale Dori, a five-year-old Argentine-bred mare owned by Sheikh Mohammed bin Khalifa al Maktoum, has already done commendable work in adding previously unconquered stakes to Baffert's collection. Last summer she was a 3 ½-length winner in the Tranquility Lake and came back in the Bing Crosby fall meeting for a three-length score in the Bayakoa Handicap.
The Bayakoa was the second of six straight wins, five in graded stakes, for Vale Dori. The streak was snapped with a neck loss to Stellar Wind in the Grade I Beholder at Santa Anita on June 17.
So, why no Hirsch for Baffert? For one, the older filly and mare division, of which the 1 1/16-mile Hirsch often determines the meet champion, hasn't been a strong suit for him here. At Del Mar, the Baffert organization's emphasis is on developing younger equine talent (12 Futurity and seven Debutante wins), sprinters (10 combined Bing Crosby and Pat O'Brien wins) and regionally prominent handicap runners (four Pacific Classic wins).
"Have I run anybody in that before?" Baffert asked Saturday morning before scanning the Hirsch records page to refresh his memory. Eventually, his eye struck upon his only in-the-money finisher, Tough Tiz's Sis, third to Zenyatta in 2008, the first of three straight wins for Zenyatta.
A year later, the Hirsch was elevated to Grade I status, which since then has been maintained by the quality of competition and performances like those of Beholder and Stellar Wind the past two years.
"It wasn't as big a race when I had Silverbulletday and the other good fillies in the 1990s," Baffert said. "So we used to send them back east."
The Hirsch is a "Win and You're In" qualifier for the $2 million Longines Breeders' Cup Distaff at Del Mar on Friday, November 3.
The field from the rail: Motown Lady (Kent Desormeaux, 12-1), Vale Dori (Mike Smith, 7-5), Stellar Wind (Victor Espinoza, 6-5), Autumn Flower (Martin Pedroza, 15-1), Shenandoah Queen (Drayden Van Dyke, 20-1) and Faithfully (Rafael Bejarano, 4-1).
---
ACCELERATE AND ARROGATE UPDATE
Accelerate and Arrogate have advanced from the jogging to galloping phase of training in the week following Accelerate's win and Arrogate's shocking fourth-place finish in the San Diego Handicap.
Both galloped approximately 1 ½ miles Saturday morning and their trainers, John Sadler for Accelerate and Bob Baffert for Arrogate, said initial workouts for the $1 million TVG Pacific Classic on August 19 would be conducted next week – Monday, Tuesday or Wednesday.
Baffert has held firm to Pacific Classic intentions since the San Diego loss. Sadler spoke in those terms for the first time Saturday morning.
"He'll probably have two or three works leading up to the Pacific Classic," Sadler said. "We're not entirely sure, but we're leaning that way. We want to make sure he bounces back well and is recovered from his great race. But everything is trending positive."
---
JOCKEY NEWS: GUTIERREZ, PRAT ARE OUT-OF-TOWNERS
Mario Gutierrez is at Saratoga today to ride Frank Conversation (6-1) in the Grade II $250,000 Bowling Green Stakes and Pavel (6-1) in the $600,000 Grade II Jim Dandy, both for trainer Doug O'Neill. Kentucky Derby winner Always Dreaming and Preakness Stakes victor Cloud Computing are the big names in the Jim Dandy. Gutierrez will return in time for three mounts on the Sunday card here, one in the first race.
Flavien Prat is at Del Mar today, with eight scheduled mounts, and at Monmouth Park in New Jersey on Sunday to ride Battle of Midway for trainer Jerry Hollendorfer in the Haskell Invitational. Undefeated Timeline and Wood Memorial winner Irish War Cry are the likely favorites.
---
MISS SUNSET AIMS TO STAY PERFECT AT DEL MAR IN FLEET TREAT
Jeff Bonde-trained Miss Sunset returns to the track where, a year ago, she won at first asking and then produced a stakes victory as the 8-5 morning line favorite in Sunday's $150,000 Fleet Treat Stakes.
The 3-year-old daughter of Irish Mischief, owned by Bill Lebherz and Alan Klein, went wire-to-wire for 5 ½ furlongs in her racing debut on July 30 of last year and returned four weeks later for a 5 ¼-length score in the six-furlong Generous Portion Stakes to wrap up her campaign as a 2-year-old. She has won two of six starts in 2017 and was a game second to S Y Sky in the Melair at Santa Anita on May 29 in her last start.
"She's a real hard-trying filly, she always gives her best effort," Bonde said. "She's always in the race as quick as they open the doors and hopefully she can fight them off."
The field from the rail: Alpenhorn (Gary Stevens, 6-1), Lady Espionage (Corey Nakatani, 8-1), All of a Sudden (Israel Ocampo, 8-1), Miss Sunset (Mike Smith, 8-5), Please Do (Tiago Pereira, 20-1), Isa Firecracker (Evin Roman, 10-1), Queen Bee to You (Norberto Arroyo, Jr., 5-1) and Dreamy Gal (Tyler Baze, 7-2).
---
CLOSERS -- Selected works from 119 officially timed Saturday morning: Klimt (4f, :48.80), Danzing Candy (5f, 1:00.80).
---
DEL MAR STATISTICS
Jockey Standings
(Current Through Friday, July 28, 2017 Inclusive)
| | | | | | | | |
| --- | --- | --- | --- | --- | --- | --- | --- |
| Jockey | Mts | 1st | 2nd | 3rd | Win% | In-money% | Money Won |
| Evin Roman | 53 | 10 | 10 | 5 | 19% | 47% | $370,512 |
| Flavien Prat | 45 | 9 | 7 | 8 | 20% | 53% | $611,161 |
| Rafael Bejarano | 39 | 7 | 5 | 4 | 18% | 41% | $340,695 |
| Tyler Baze | 46 | 5 | 9 | 5 | 11% | 41% | $302,690 |
| Kent Desormeaux | 26 | 5 | 6 | 2 | 19% | 50% | $271,140 |
| Joseph Talamo | 28 | 4 | 4 | 4 | 14% | 43% | $186,085 |
| Gary Stevens | 16 | 3 | 3 | 2 | 19% | 50% | $200,943 |
| Mario Gutierrez | 24 | 3 | 3 | 2 | 13% | 33% | $213,040 |
| Santiago Gonzalez | 21 | 3 | 2 | 4 | 14% | 43% | $138,873 |
| Corey Nakatani | 10 | 2 | 2 | 0 | 20% | 40% | $90,455 |
Trainer Standings
(Current Through Friday, July 28, 2017 Inclusive)
| | | | | | | | |
| --- | --- | --- | --- | --- | --- | --- | --- |
| Trainer | Sts | 1st | 2nd | 3rd | Win% | In-money% | Money Won |
| Doug F. O'Neill | 27 | 5 | 4 | 3 | 19% | 44% | $326,185 |
| Philip D'Amato | 28 | 4 | 6 | 2 | 14% | 43% | $379,277 |
| Richard Baltas | 23 | 4 | 5 | 2 | 17% | 48% | $301,038 |
| Peter Miller | 34 | 4 | 3 | 6 | 12% | 38% | $205,135 |
| Peter Eurton | 11 | 4 | 3 | 0 | 36% | 64% | $183,955 |
| Vladimir Cerin | 9 | 4 | 0 | 0 | 44% | 44% | $77,325 |
| J. Keith Desormeaux | 11 | 2 | 4 | 1 | 18% | 64% | $122,980 |
| Jerry Hollendorfer | 23 | 2 | 3 | 6 | 9% | 48% | $126,394 |
| Mark Glatt | 14 | 2 | 3 | 2 | 14% | 50% | $110,352 |
| John W. Sadler | 15 | 2 | 2 | 3 | 13% | 47% | $286,980 |
Winning Favorites Report
(Current Through Friday, July 28, 2017 Inclusive)
Winning favorites -- 17 out of 69 -- 24.64%
Winning favorites on dirt -- 10 out of 43 -- 23.26%
Winning favorites on turf -- 7 out of 26 -- 26.92%
Winning odds-on favorites -- 0 out of 7 -- 0.00%
In-the-Money favorites -- 46 out of 69 -- 66.67%
In-the-Money odds-on favorites -- 6 out of 7 -- 85.71%