Sunday, August 6th, 2017 ( 1 year ago )
Stables Notes
Aug 6, 2017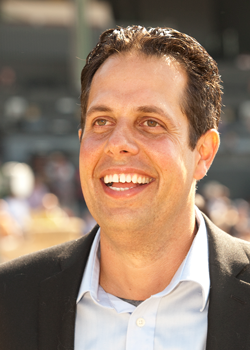 D'Amato © Benoit Photo
D'AMATO ON PACE TO THREATEN SEASON STAKES WIN RECORD
In 2000, the 60th summer season at Del Mar and the first of a new century, Bob Baffert was in the winner's circle following stakes races 13 of a possible 28 times.
A track record for a trainer that figured to stand for a long time. And so it has, to this the 78th season and into the second decade of the 21st century.
But as the third week of the seven-week meeting draws to a close today, trainer Phil D'Amato is on pace to make a run at Baffert's incredible mark.
The victory by Spectator in Saturday's Sorrento Stakes was the fifth of the season for D'Amato from 16 added-money events with 21 more racing days and 25 stakes still ahead. D'Amato has a chance to throw another stake on the pile when he saddles Family Business (8-1) in Sunday's Grade III $150,000 La Jolla Handicap.
"Hat's off to all my owners and all my team," D'Amato said after Spectator's victory in the Sorrento on Saturday. "I'm just so happy with my team now. We've won graded stakes with 2-year-olds, older males on the dirt and grass horses. It shows the diversity in our barn and firing on all these different levels.
"It's just very rewarding."
The stakes victories this season have come in the Oceanside (Bowies Hero), Eddie Read (Hunt), Bing Crosby (Ransom the Moon), Daisycutter (Long Hot Summer) and Sorrento (Spectator). Spectator came out of the race in good order, D'Amato said, and is headed for the Grade I $300,000 Del Mar Debutante on September 2.
D'Amato captured his first Del Mar training title in 2016 with 23 wins to 21 for Peter Miller. In addition to his leading stakes totals this summer, he is also tied for the overall training lead with Doug O'Neill.
D'Amato, 41, the protégé of and successor to the late Mike Mitchell, Del Mar's all-time leading trainer for wins with 476, has eight wins from 42 starters. O'Neill is eight-for-43.
D'Amato will give Joe Talamo a leg up on Fashion Business in the La Jolla Handicap. Fashion Business, an import from England by Little Red Feather Racing and Marsha Naify, was second in a 1 1/8-mile optional claimer with a $75,000 purse here on July 22, his best result in four U.S. starts.
"He's definitely a longshot chance (to add to the stakes total)," D'Amato said Sunday morning. "We're looking to get some graded stakes earnings and hopefully get a berth in the Del Mar Derby ($250,000 Grade II on September 3)."
---
ACCELERATE, ARROGATE UPDATE
San Diego Handicap winner Accelerate is scheduled to work at 6:30 Monday morning, the second serious exercise in preparation for the $1 million TVG Pacific Classic on August 19.
Arrogate, the No. 1 horse in the world, is also slated, Monday or Tuesday, for a second work toward the Classic in the wake of his fourth-place finish in the San Diego.
"We're not sure whether it will be Monday or Tuesday," Hall of Fame trainer Bob Baffert said Sunday morning. "We're going to stand him in the gate and go from there. If he works Monday it will be at 7:45."
---
MAJESTIC HEAT TO DEFEND TITLE IN FRIDAY'S SOLANA BEACH
Majestic Heat, a 5-year-old daughter of Unusual Heat, was among eight older fillies and mares entered Sunday for Friday's 24th running of the Solana Beach Stakes. The $150,000 test for California bred or sired runners is at 1 1/16 miles on the Jimmy Durante Turf Course.
Owned by Madeline Auerbach and partners and trained by Hall of Famer Richard Mandella and ridden by Flavien Prat, Majestic Heat hung on to beat Tiz a Kiss by a nose in last year's Solana Beach. Prat will be aboard again for Majestic Heat's first start since November 6 of last year, a fifth-place finish in the Grade II Goldikova Stakes.
"We gave her some time off to rest and deal with some physical issues," Auerbach said. "She's gotten ready amazingly quickly so we thought we'd give her a chance to defend in the race. The timing is never perfect, but she's doing really well.
The field from the rail: Moonless Sky (Kent Desormeaux), Majestic Heat (Flavien Prat), Qiaona (Evin Roman), Starlite Style (Joe Talamo), Lynne's Legacy (Victor Espinoza), How Unusual (Norberto Arroyo, Jr.,), Dressed to a T (Mario Gutierrez) and Shehastheritestuff (Rafael Bejarano).
---
DEL MAR-BASED HORSEMEN HAVE A GOOD SATURDAY IN SARATOGA
It was a successful sojourn to Saratoga for Del Mar-based trainers on Saturday.
Simon Callaghan saddled American Gal for San Diegan Kaleem Shah to win the Grade I $500,000 Test Stakes. Bob Baffert's Faypien was second and Peter Miller's Chalon fourth in the seven-furlong sprint for three-year-old fillies.
Earlier on the program, Mike Puype-trained Argentine-bred Estrechada took the Grade III $200,000 Fasig-Tipton Waya stakes, a 1 ½-mile turf marathon.
Callaghan has Placido (6-1) in the La Jolla Handicap here today. Puype's representatives are Exotic Ghost (15-1) in the sixth and Vow's Son (15-1) in the ninth.
---
NOMS PORTEND INTERESTING MATCHUPS IN STAKES NEXT WEEKEND
A dozen 2-year-old colts have been nominated for the Grade II $200,000 Best Pal Stakes next Saturday looking to reinforce favorable impressions from one or two career starts. Eight older fillies and mares have been nominated for the Grade III $100,000 Rancho Bernardo Handicap the following day to conclude the fourth week of the racing season.
Run Away, 2-for-2 and coming in off a victory in the Santa Anita Juvenile Championship on July 3, is the likely favorite. Trained by Simon Callaghan for Kaleem Shah, the Kentucky-bred son of Run Away and Hide, has withstood pace duels and pulled away late in both races to date.
Hall of Fame trainer Bob Baffert has won the Best Pal seven times, among them last year with Shah-owned Klimt. Baffert has nominated Serengeti, an Oklahoma-bred son of Algorithms who was an 11-length winner on June 25 at Santa Anita in very fast time in his second career start.
Bill Spawr-trained Skye Diamonds, fresh off victory in the Grade II Great Lady M Stakes at Los Alamitos on July 8, will merit strong consideration in the 6 ½-furlong Rancho Bernardo. The 4-year-old daughter of First Dude has career earnings of nearly a half-million dollars from 15 lifetime starts.
Entries will close and post positions will be drawn Wednesday for the Best Pal and Thursday for the Rancho Bernardo.
---
CLOSERS – Happy Birthday to trainer Ben Cecil, 49 … Trainer Vladimir Cerin is giving Follow Me Crev, runner-up in the Gold Cup at Santa Anita in May and third in the Suburban at Belmont Park last month, some time off … Trainer Jerry Hollendorfer, enumerating options for Songbird to the Daily Racing Form, gave three: the Pacific Classic on August 19 here, the Personal Ensign at Saratoga a week later or the Zenyatta at Santa Anita on September 30 … Selected works from 210 on dirt and 26 on turf officially timed Sunday morning: Dirt – Ashleyluvssugar (4f, :48.80), Ocho Ocho Ocho (4f, :53.80), Bendable (5f, :59.00), Big Score (5f, 1:01.00), Giant Expectations (5f, :58.40), Gormley (5f, :59.40) and Abbey Vale (6f, 1:15.20); Turf – Big John B (4f, :51.20), Goodyearforroses (4f, :49.60), Bowies Hero (5f, 1:04.80), Hunt (5f, 1:03.60) and Itsinthepost (7f, 1:29.00).
---
DEL MAR STATISTICS
Jockey Standings
(Current Through Saturday, August 5, 2017 Inclusive)
| | | | | | | | |
| --- | --- | --- | --- | --- | --- | --- | --- |
| Jockey | Mts | 1st | 2nd | 3rd | Win% | In-money% | Money Won |
| Evin Roman | 93 | 18 | 18 | 7 | 19% | 46% | $649,882 |
| Flavien Prat | 72 | 13 | 13 | 11 | 18% | 51% | $968,831 |
| Rafael Bejarano | 62 | 11 | 9 | 9 | 18% | 47% | $546,460 |
| Joseph Talamo | 49 | 9 | 4 | 5 | 18% | 37% | $387,545 |
| Tyler Baze | 72 | 7 | 12 | 9 | 10% | 39% | $448,795 |
| Corey Nakatani | 26 | 6 | 7 | 0 | 23% | 50% | $367,685 |
| Gary Stevens | 29 | 6 | 3 | 5 | 21% | 48% | $341,178 |
| Santiago Gonzalez | 32 | 6 | 2 | 8 | 19% | 50% | $238,603 |
| Drayden Van Dyke | 40 | 6 | 1 | 7 | 15% | 35% | $408,295 |
| Kent Desormeaux | 36 | 5 | 8 | 4 | 14% | 47% | $370,895 |
Trainer Standings
(Current Through Saturday, August 5, 2017 Inclusive)
| | | | | | | | |
| --- | --- | --- | --- | --- | --- | --- | --- |
| Trainer | Sts | 1st | 2nd | 3rd | Win% | In-money% | Money Won |
| Philip D'Amato | 42 | 8 | 9 | 3 | 19% | 48% | $812,162 |
| Doug F. O'Neill | 43 | 8 | 6 | 5 | 19% | 44% | $446,995 |
| Richard Baltas | 36 | 6 | 8 | 3 | 17% | 47% | $497,383 |
| Peter Miller | 61 | 5 | 8 | 8 | 8% | 34% | $347,292 |
| Mark Glatt | 25 | 5 | 4 | 5 | 20% | 56% | $202,492 |
| Peter Eurton | 19 | 4 | 4 | 1 | 21% | 47% | $223,720 |
| John W. Sadler | 27 | 4 | 3 | 5 | 15% | 44% | $567,070 |
| Ronald W. Ellis | 12 | 4 | 1 | 2 | 33% | 58% | $109,605 |
| Thomas F. Proctor | 9 | 4 | 0 | 2 | 44% | 67% | $238,038 |
| Vladimir Cerin | 15 | 4 | 0 | 2 | 27% | 40% | $88,190 |
Winning Favorites Report
(Current Through Saturday, August 5, 2017 Inclusive)
Winning favorites -- 31 out of 122 -- 25.41%
Winning favorites on dirt -- 21 out of 75 -- 28.00%
Winning favorites on turf -- 10 out of 47 -- 21.28%
Winning odds-on favorites -- 6 out of 17 -- 35.29%
In-the-Money favorites -- 81 out of 122 -- 66.39%
In-the-Money odds-on favorites -- 14 out of 17 -- 82.35%