By Jim Charvat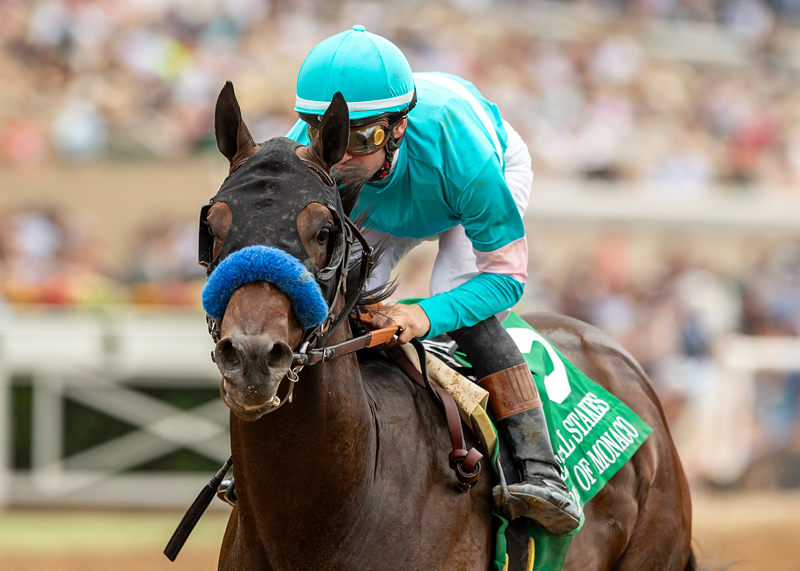 Prince of Monaco © Benoit Photo
PRINCE OF MONACO RETURNS AS HEAVY FAVORITE IN G1 FUTURITY
Trainer Bob Baffert knows 2-year-olds. He's made a good living out of molding the youngsters into professional racehorses, many of whom have gone on to win some of the biggest horse races in the country.
Owners know this and are constantly pitching the Hall of Fame trainer in hopes that he'll take their horses and work his magic. The sheer numbers speak for themselves. Of the 146 nominations to Del Mar's premier 2-year-old race of the season, the G1 Runhappy Del Mar Futurity on Sunday, 36 were nominated by Baffert. The next closest was trainer Michael McCarthy with 11.
Eventually, Baffert decided on two, one of which will be the heavy favorite when they pop the gates tomorrow. Prince of Monaco romped in the G3 Best Pal at Del Mar last month.
"I wasn't happy with my post," Baffert says. "We're in the one hole. But he's doing fine."
The son of Speightstown has grown and improved since arriving at Del Mar in July.
"They're all maturing," Baffert says. "They're young and they're developing. Just keeping them healthy is the big challenge."
Flavien Prat rode Prince of Monaco in his 4 ¼ -length victory over stablemate Muth in the Best Pal and he'll be back to ride him again.
Another four lengths behind Muth came the third-place finisher in the Best Pal, Raging Torrent, who is back for the Futurity.
"From the rail it was a great effort," trainer Doug O'Neill says. "He continues to mature mentally and physically on a daily basis. He put in a great work in his last with Antonio Fresu up. Antonio's been a big part of this horse's maturity."
That work was last Sunday. The son of Maximus Mischief went 5-furlongs in 1:00.40, ninth best of 55 at the distance that day.
"I like his post (#4) getting off the rail," O'Neill continues. "Getting a little better post this time around. I'm optimistic he's going to put in a strong effort."
Tim Yakteen has a good looking son of Uncle Mo entered in the Futurity. Rothschild broke his maiden by five lengths last month in just his second career outing.
"He's doing good and he drew a good post (#5)," Yakteen says. "I think it's a logical spot."
The horse that posted the biggest payout of the meet is back in the Futurity. Mary's Boy Bolt surprised everyone when he scored a maiden win at 50-1. Everyone but his trainer Mick Ruis.
"No, because he's bred to go long," Ruis says. "We paid $825,000 for his mama out of his family who we knew was going to Bolt (d'Oro, his sire). So we were hoping for this. It's the second one out of the mare and the first one has won."
Ruis likes his chances in the Futurity.
"We're the only one in the race that has gone a mile," Ruis says. "We're going to be a longshot again. Going against three Bafferts, two trained by him and one trained by the other guy (Tim Yakteen). So we know we've got some blockers out there to get through."
The other Baffert horse is Mirahmadi, who turned some heads in his debut, a runner-up finish to Tranche in the Fasig-Tipton Futurity at Santa Anita in June. But he has finished fourth and third in subsequent starts in maiden special weights.
The G1 Runhappy Del Mar Futurity is the 10th race on the 11-race closing day card. Approximate post time is 6 p.m.
Here's the field from the rail with the jockeys and the morning line odds: Prince of Monaco (2/5); Valiant Knight (Scratched); Mirahmadi (Juan Hernandez, 8-1); Raging Torrent (Antonio Fresu, 5-1); Rothschild (Ramon Vasquez, 5-1); Next Level (Kent Desormeaux, 12-1), and Mary's Boy Bolt (Ricky Gonzalez, 15-1).
---
MALDONADO POISED FOR ANOTHER TOP TEN FINISH AT DEL MAR
Chances are these days if a horse bursts out of the gate and seizes the lead early, jockey Edwin Maldonado is riding him. The veteran rider has built a reputation of being a terrific gate rider and his talents have been on display all summer.
Maldonado is about to complete his 13th year at Del Mar and he has once again put together a nice meet. Going into the final weekend Maldonado has won 19 races and compiled $1,304,910 in earnings. His biggest win of the meet came on Pacific Classic Day when he rode Ceiling Crusher to a six-length victory in the G3 Torrey Pines.
Maldonado, who turns 41 in December, has already exceeded last summer's totals in wins, mounts and earnings at Del Mar. He's tied for fifth in wins this summer, ranks fifth in mounts with 148 and sixth in earnings. He attributes his success to being confident in himself.
"I think it's within you," Maldonado says. "It's inside you. Believe in yourself, be confident. You create your own destiny, I believe. So for me I've been paying attention more, working harder, being more focused on my job."
Maldonado finished sixth in the Del Mar jockey standings last fall and ninth in the summer of 2022. He also posted Top Ten finishes at Santa Anita's two meets earlier this year. He came into this meet with that self-confidence buoyed by an increased number of calls from various trainers.
"This meet was great because I ended up riding for everybody," Maldonado says. "That's what it's all about. If you can ride two or three for everybody, you're set. I think that was the key to this year, to try to diversify."
He calls the victory aboard Ceiling Crusher the highlight of his summer as well as his victory on Bus Buzz in the Real Good Deal Stakes last month. Both were wire-to-wire. Maldonado says he learned how to get a horse to accelerate quickly out of the gate from Patrick Valenzuela and his approach is just the opposite of what you might think it would take to get a horse on the lead. No niggling, no chirping, no hustling.
"I just try to stay quiet," Maldonado says. "Let the horse do the running. The less you're in the way the better. If you tend to move around too much they tend to pay attention to you instead of focusing down the middle of the racetrack."
Maldonado has become a fixture in the Del Mar jockey colony and plans to be back this fall.
"It's more relaxed," Maldonado says about Del Mar. "The people here are so kind. It's just like a mini-vacation for me, like a getaway."
---
2-YEAR OLDS CLASH IN FINAL GRASS STAKES OF THE MEET
The first of two graded stakes races on Del Mar's closing day card features nine 2-year-old grass horses going one mile in the G3 Del Mar Juvenile Turf. It's the 12th running of the race. Past winners have included Bowies Hero, MacKinnon and Packs a Wahlop from last year's edition.
A third of the field comes over from trainer Michael McCarthy's barn.
Sea Singer will be making his U.S. debut after beginning his career in Ireland. He'll be stretching out from seven furlongs to the mile.
"European horses coming over here usually don't have a problem with the stretch out," McCarthy says. "We'll lead him over there with confidence and see how we go."
McCarthy also runs Endlessly, a son of Oscar Performance, who won at first asking last out at Del Mar in July.
"Happy to have a win over the course," McCarthy notes. "The horse is staying in form like he was earlier this summer. Very professional the way he was able to split horses and finish it off, open up and gallop out strong."
McCarthy would rather not run his horses against each other but he has no choice if he wants to get a race into them.
"This is the only time of the year you're running maidens against winners in stakes," McCarthy says. "Races don't split, that makes it difficult. You're down here, you train all summer long. You're leaving here to go to Los Alamitos where you don't have any turf for another month so you got to do what you got to do."
McCarthy's third horse is Lord Bullington, runner-up to G1 Futurity favorite Prince of Monaco in a maiden special weight at Los Alamitos in July.
Richard Mandella has entered Boltage in the grass stakes, a winner at the one mile distance on the turf last out. The son of Bolt d'Oro won by five lengths in the maiden special weight last month at Del Mar. It was his second career start, but first on the grass.
The G3 Del Mar Juvenile Turf is Race 7 on the 11-race card. Approximate post time is 4:30 p.m.
Here's the field from the rail with the jockeys and the morning line odds: Andreadytorumble (Umberto Rispoli, 12-1); Osage Creek (Mike Smith, 15-1); Boltage (Ramon Vasquez, 2-1); Lord Bullington (Flavien Prat, 8-1); Sea Singer (Antonio Fresu, 4-1); Des Doigts (Edwin Maldonado, 15-1); Glandford (Hector Berrios, 6-1); Endlessly (Juan Hernandez, 5/2), and Bear River (Kent Desormeaux, 30-1).
---
HANDICAPPING SEMINARS AT DEL MAR THIS WEEKEND
Del Mar's series of handicapping seminars continues this weekend. Every Saturday and Sunday during the summer meet top handicappers have offered their insights prior to the races. The sessions are free and held at the Plaza de Mexico, next to the large fountain, starting at 12:30.
On Saturday, host Frank Scatoni will have handicapper Rob Talstra as his guest. Then on Sunday, Dan Smith will have John Bucalo as his guest. The seminars last 30-to-40 minutes.
---
COOLING OUT: Dreamfyre, the morning line favorite, has been scratched from today's G1 Fanduel Racing Del Mar Debutante. Trainer O.J. Jauregui says the G3 Sorrento winner didn't finish her feed Friday and "she was little quiet on the track."…Trainer Brian Koriner says Dr. No No came back good from his win in the $125,000 I'm Smokin Friday. He'll be pointed to the $175,000 Golden State Juvenile at Santa Anita on the Breeders' Cup undercard November 3…Owner and trainer Mick Ruis says he is selling his farm in Kentucky to Tommy Town Thoroughbreds. The deal closes October 1. Ruis has returned to training at Del Mar. "Since Shelbe (his daughter and trainer) had her baby and I live in Coronado I decided to train everyday here." That will change when things shift back up to Santa Anita. "I'm not driving up every morning," Ruis says…Multiple-stakes winner Country Grammar has been retired from racing and will stand for the 2024 breeding season at WinStar Farm in Kentucky. The runner-up to Flightline in last year's Pacific Classic finishes with earnings exceeding $14 million, third most ever behind only Arrogate and Gun Runner…Notable works on Saturday: Dirt – Big City Lights (2f, :24.00); Anisette (4f, :49.80); Eda (:50.60); Spirit of Makena (4f, :47.00); Fort Bragg (5f,:59.80); Muth (5f, :59.60), and Speed Boat Beach (5f, :59.20). A total of 139 horses put in official works.
---
Del Mar Statistics
Jockey Standings
(Current through September 8, 2023 Inclusive)
| | | | | | | | |
| --- | --- | --- | --- | --- | --- | --- | --- |
| Jockey | Mts | 1st | 2nd | 3rd | Win% | In-money% | Money Won |
| Juan Hernandez | 159 | 35 | 23 | 22 | 22% | 50% | $2,994,766 |
| Antonio Fresu | 169 | 31 | 24 | 22 | 18% | 46% | $1,939,532 |
| Hector Berrios | 159 | 22 | 26 | 10 | 14% | 36% | $2,115,500 |
| Umberto Rispoli | 106 | 22 | 24 | 17 | 21% | 59% | $1,990,398 |
| Ramon Vazquez | 186 | 19 | 19 | 24 | 10% | 33% | $1,573,000 |
| Edwin Maldonado | 148 | 19 | 15 | 15 | 13% | 33% | $1,304,910 |
| Tiago Pereira | 136 | 14 | 12 | 17 | 10% | 32% | $1,060,256 |
| Kent Desormeaux | 97 | 13 | 12 | 12 | 13% | 38% | $946,010 |
| Geovanni Franco | 92 | 11 | 7 | 11 | 12% | 32% | $935,644 |
| Mike Smith | 64 | 11 | 3 | 9 | 17% | 36% | $929,430 |
Trainer Standings
(Current through September 8, 2023 Inclusive)
| | | | | | | | |
| --- | --- | --- | --- | --- | --- | --- | --- |
| Trainer | Sts | 1st | 2nd | 3rd | Win% | In-money% | Money Won |
| Philip D'Amato | 125 | 20 | 14 | 23 | 16% | 46% | $2,131,064 |
| Bob Baffert | 56 | 19 | 6 | 4 | 34% | 52% | $2,153,720 |
| Doug F. O'Neill | 131 | 18 | 13 | 14 | 14% | 34% | $1,475,474 |
| Peter Miller | 107 | 14 | 17 | 16 | 13% | 44% | $1,073,564 |
| Peter Eurton | 55 | 14 | 14 | 6 | 25% | 62% | $920,890 |
| Mark Glatt | 80 | 14 | 7 | 16 | 18% | 46% | $880,220 |
| Michael W. McCarthy | 57 | 9 | 7 | 5 | 16% | 37% | $600,370 |
| Leonard Powell | 45 | 9 | 6 | 2 | 20% | 38% | $839,120 |
| Steve R. Knapp | 81 | 8 | 12 | 10 | 10% | 37% | $624,962 |
| Richard E. Mandella | 34 | 8 | 2 | 3 | 24% | 38% | $704,900 |
Winning Favorites Report
(Current Through September 8, 2023 Inclusive)
Winning favorites -- 97 out of 264 -- 36.74%
Winning favorites on dirt -- 58 out of 148 -- 39.19%
Winning favorites on turf -- 39 out of 116 -- 33.62%
Winning odds-on favorites -- 21 out of 38 -- 55.26%
In-the-Money favorites -- 172 out of 264 -- 65.15%
In-the-Money odds-on favorites -- 30 out of 38 -- 78.95%