Monday, September 7th, 2020 ( 1 year ago )
Stable Notes
September 7, 2020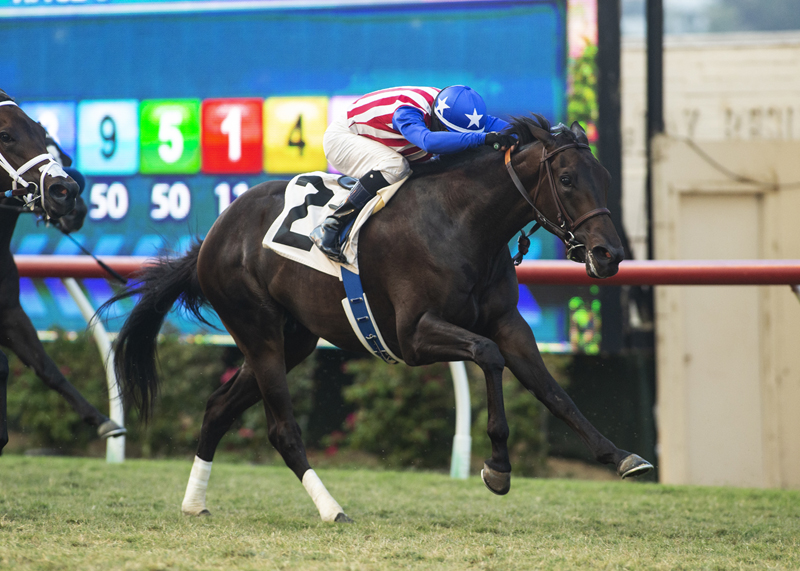 Flavien Prat aboard Madone © Benoit Photo
PRAT SECURES STAKES RECORD, BUT TITLE RACE IS DOWN TO THE WIRE
The victory aboard Madone in Sunday's $75,000 Juvenile Fillies Turf was the 14th in a stakes this season for jockey Flavien Prat.
So the 28-year-old Frenchman now stands alone as the record holder for stakes victories in a meeting. Sunday's win broke a tie with Rafael Bejarano, who won 13 in 2012 to go one better than five predecessors, three of whom – Laffit Pincay, Jr., Chris McCarron and Gary Stevens – are in the Hall of Fame.
"It's great," Prat said in the immediate aftermath of the win. "If you would have told me before the meet that I was going to win 14 stakes racing three days a week it would have been hard to believe. But we did it, so it's great."
Before the season started Prat's agent, Derek Lawson, mentioned breaking the stakes record as a goal for Prat, who has won or shared the summer riding title in three of the last four years.
"I think it was more of a goal for Derek than it was for me," Prat said with a grin. "But once we got really close to it, I really tried to get it, yeah."
Prat had to work for the full 1:39.09 of the one mile race over the Jimmy Durante Turf Course for the record-setter. Madone stumbled and broke inwardly leaving the gate and settled at the back of the eight-horse field in the early going. Prat guided the Kentucky-bred granddaughter of Medaglia d'Oro, owned by Kaleem Shah and trained by Simon Callaghan, four wide into the stretch before finding a spot inside 20-1 Nimbostratus, who had taken the lead late under Ricardo Gonzalez.
Prat got his filly under the wire a half-length in front, to the delight of those who had made her the 5-2 betting favorite.
The stakes record secured, Prat's mission to claim another riding title shifts to today's season finale. And it, too, won't be easy.
Prat enters the 11-race final program trailing first-year Del Mar sensation Umberto Rispoli 49-48. Rispoli, a 32-year-old native of Italy, had four wins to Prat's two in Sunday's penultimate program. Enough to reclaim a lead in the standings that has changed hands between France and Italy, so to speak, several times during the course of the meeting.
Two of Rispoli's wins were in turf races, where he has 35 wins in 109 starts, a phenomenal 32 percent win rate. In Sunday's sixth race, a 5-furlong turf sprint, Rispoli won aboard Blue Sky Baby at odds of 13-1. The $28.80 payoff had to have a lot of bettors asking themselves "How did I miss that one!" given Rispoli's oft-proven turf mastery through the summer.
Rispoli capped his day with a victory on favored Pixelate, a Midwest invader from the barn of Michael Stidham, in the $200,000 Del Mar Derby at (naturally), 1 1/8 miles on turf.
The stakes win was the eighth of the meet for Rispoli and, he said, had some special significance.
"I've waited 16 years (his riding career) to wear these," the rider said, pointing to royal blue silks of Godolphin, the racing arm of Sheikh Mohammed bin Rashid al Maktoum of Dubai.
Both are booked for 10 mounts on today's 11-race card. Rispoli sits out only the fourth race, Prat rides all but the eighth. If it comes down to the final race, Rispoli has the call on 3-1 favorite Shadow Sphinx, Prat on 9-2 third choice Klondike Creek.
---
MILLER SAVORS A SUMMER TITLE THAT PROVIDES PERFECT BALANCE
If there was a trophy for the summer training title, Peter Miller's name could already be etched upon it. In fact, hyper engravers could have done so a week or two ago.
Miller, a resident of nearby Encinitas, enters the closing day program with 27 wins from 110 starters, an eight-win advantage over Phil D'Amato. Bob Baffert has saddled 14 winners and Doug O'Neill 13.
It's the fourth summer title at Del Mar, which matches the number of fall Bing Crosby Meeting championships he has accomplished since that session was inaugurated in 2014.
"I'm thrilled and feel blessed to have such a great team to work with and this is a reflection of them all as well," Miller said this morning. "From the hot walkers to the assistant trainers, they all give a 100 percent effort every day. And I have owners that allow me to run their horses where I think they should be and where they have a chance to win."
When asked before the meeting to assess his title chances, Miller was not wildly enthusiastic. "I've got half as many horses as (Richard) Baltas, (Bob) Baffert or Doug (O'Neill) and for me to win everything has to go close to perfect," Miller said on the eve of the July 10 opener.
In retrospect, Miller said the projection may have been conservative.
"I tend to be a sandbagger," Miller said with a laugh. "I set my expectations a little low and hope to exceed them. It's really a numbers game and if you can win a good enough percentage things (like titles) happen for you."
The 25 percent win rate, from the second-highest number of starters at the meeting going into the last day, was sufficient to win the title by a comfortable margin.
"In my mind, 20 percent is a good win percentage," Miller said. "Anything over that exceeds my expectations. Our horses ran well throughout the meeting. We didn't really have any bad slumps and that makes a big difference.
"I'd just like to thank the Del Mar Thoroughbred Club for putting on a pretty darn good show under the circumstances."
---
DEL MAR NUMBERS & PEOPLE RECEIVE KUDOS FROM RACING SECRETARY
The average field size figure will not be certified until Tuesday at the earliest.
But Del Mar Thoroughbred Club racing secretary David Jerkens projects it will be 8.3. Meaning a slight bump over the 8.0 of 2019 while running only 15 fewer races overall. Which, considering the circumstances of a COVID-19 affected meeting, is more than acceptable.
"My goal is always 8.5, but given the circumstances, we're pretty happy with that," Jerkens said. "I think 8.3 is a number that many tracks would like to have."
The job of Jerkens, and DMTC executive vice president of racing Tom Robbins, got complicated when the scheduled second weekend of racing was cancelled due to a rash of positive COVID-19 tests in the jockey colony.
"The approach, which we needed more than ever this year, is to take things one day at a time," Jerkens said. "The pause (three-day shutdown) created a conflict for me as far as rescheduling races and redoing cards and was frustrating for horsemen. We all had to adjust and adapt.
"I say it every year, but especially this year under difficult times. Del Mar continues to get enormous support from horsemen. We were thrilled that owners were able to attend the races after we got into the meet. That was something that was very important to us, knowing how important owners are to this game.
"At the end of the day, I think most people would say it went as well as we could expect. It has been relatively safe, I've been thrilled with the racing surfaces.
"My goal is to present opportunities for the horsemen and a product for our customers that is worth wagering on. I think we satisfied that goal. If you look around the country, you can see that our meet is just as good as anyone's this summer. My thanks to my staff, the horsemen and our customers."
---
CLOSERS – Thanks to all Stable Notes readers. We'll be back for the Bing Crosby meeting, October 31-November 29.
---
Del Mar Statistics
Presented by Torrey Hollistics
Jockey Standings
(Current Through September 6, 2020 Inclusive)
| | | | | | | | |
| --- | --- | --- | --- | --- | --- | --- | --- |
| Jockey | Mts | 1st | 2nd | 3rd | Win% | In-money% | Money Won |
| Umberto Rispoli | 193 | 49 | 27 | 29 | 25% | 54% | $2,296,722 |
| Flavien Prat | 206 | 48 | 44 | 23 | 23% | 56% | $2,796,058 |
| Abel Cedillo | 236 | 29 | 33 | 42 | 12% | 44% | $2,135,667 |
| Juan Hernandez | 205 | 27 | 30 | 28 | 13% | 41% | $1,429,934 |
| Tiago Pereira | 133 | 20 | 8 | 10 | 15% | 29% | $816,522 |
| Drayden Van Dyke | 124 | 16 | 20 | 13 | 13% | 40% | $1,162,642 |
| Ricardo Gonzalez | 122 | 14 | 14 | 15 | 11% | 35% | $758,840 |
| Mario Gutierrez | 98 | 13 | 12 | 12 | 13% | 38% | $735,150 |
| Mike Smith | 59 | 7 | 9 | 11 | 12% | 46% | $506,012 |
| Ruben Fuentes | 82 | 6 | 10 | 10 | 7% | 32% | $309,702 |
Trainer Standings
(Current through September 6, 2020 Inclusive)
| | | | | | | | |
| --- | --- | --- | --- | --- | --- | --- | --- |
| Trainer | Sts | 1st | 2nd | 3rd | Win% | In-money% | Money Won |
| Peter Miller | 110 | 27 | 24 | 6 | 25% | 52% | $1,438,472 |
| Philip D'Amato | 78 | 19 | 13 | 10 | 24% | 54% | $997,690 |
| Bob Baffert | 58 | 14 | 14 | 9 | 24% | 64% | $1,336,462 |
| Doug F. O'Neill | 113 | 13 | 20 | 17 | 12% | 44% | $822,845 |
| Richard Baltas | 91 | 12 | 12 | 14 | 13% | 42% | $723,530 |
| John W. Sadler | 72 | 12 | 11 | 7 | 17% | 42% | $709,370 |
| Simon Callaghan | 32 | 11 | 3 | 2 | 34% | 50% | $461,240 |
| Peter Eurton | 48 | 8 | 6 | 6 | 17% | 42% | $316,040 |
| William Spawr | 28 | 8 | 2 | 2 | 29% | 43% | $147,620 |
| Mark Glatt | 70 | 7 | 13 | 12 | 10% | 46% | $682,932 |
Winning Favorites Report
(Current through September 6, 2020 Inclusive)
Winning favorites -- 93 out of 271 -- 34.32%
Winning favorites on dirt -- 54 out of 149 -- 36.24%
Winning favorites on turf -- 39 out of 122 -- 31.97%
Winning odds-on favorites -- 27 out of 48 -- 56.25%
In-the-Money favorites -- 178 out of 271 -- 65.68%
In-the-Money odds-on favorites -- 45 out of 48 -- 93.75%