Monday, September 6th, 2021 ( 2 weeks ago )
Stable Notes
September 6, 2021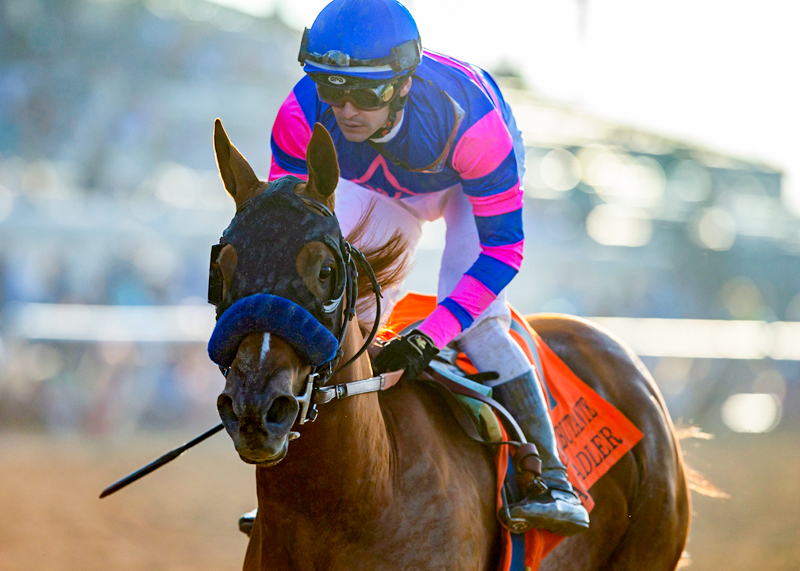 Grace Adler © Benoit Photo
WHAT OR WHO'S IN A NAME? THE STORY BEHIND GRACE ADLER
Our final "Jeopardy" answer, in the category of sports/entertainment, is "Grace Adler." Contestants, please remember to formulate your responses in the form of a question, and good luck.
Dee dee dee dee dee dee dee dee (Jeopardy theme song).
Pens down, let's see what we have.
Mary McBride, wife of Del Mar Thoroughbred Club Director of Media Mac McBride: "What was the full name of one of the title characters in the television sitcom 'Will & Grace?' "
Mac: "What was the name of the winner of Sunday's 71st running of the Grade I, $300,000 TVG Del Mar Debutante?"
Judge: "Yeah, they're both right and it's all a moot point because the prize money is going to wind up with Mary one way or another."
Grace Adler, a daughter of Curlin with only a debut maiden special victory at Del Mar July 31 on her record, rated behind a blistering early pace, then made a swooping move turning into the stretch and proceeded to a romping 11 ¼-length victory in 1:23.76 for seven furlongs in the race that determines the 2-year-old filly champion of the meeting.
The name likely rang a bell instantly with followers of the TV series that ran from 1998-2006 on NBC. Not so much with racing fans who considered Grace Adler to be the "other" half of a Bob Baffert duo in the Debutante and sent the filly with meet-leading rider Flavien Prat aboard off at odds of better than 4-1. Baffert-trained Eda, beaten just a nose by Elm Drive in the Debutante-prep Sorrento Stakes, was the 6/5 favorite.
The link between Grace Adler, the character played by Debra Messing, and the filly of the same name is James Burrows, whose nom de racing is Willow Grace Farm.
"He knows everything about racing, he's followed it for a long time and been around at Santa Anita and even back to Hollywood Park," Baffert said this morning.
Horse ownership wasn't on the resume of Burrows, whose directing credits span a variety sitcoms and every episode of Will & Grace through its eight-season initial run. But Burrows and his wife were good friends with Baffert major client Michael Lund Peterson and his wife.
The filly that would come to be named Grace Adler was a $700,000 purchase -- "a little higher than we expected," Baffert said -- at last year's Fasig-Tipton Select sale. It was done in partnership with Petersen and, Baffert said, was intended by Burrows' wife as a surprise birthday present for him. (Longtime Del Mar followers will remember Jenny Craig making a $2.5 million purchase of Dr Devious as a surprise 60th birthday gift for her husband, Sid).
The word got out long before Burrows' late-December birthday and the surprises have been nothing but pleasant in Grace Adler's two starts. He witnessed in person a three-quarter length victory at five furlongs on July 31 and was back in the winner's circle following the TVG Del Mar Debutante to happily remind Baffert and all around "I'm undefeated (as an owner)."
---
10th DEBUTANTE, PLUS 15TH FUTURITY WOULD EQUAL 6TH BAFFERT DOUBLE
His 10th TVG Del Mar Debutante victory secured Sunday by Grace Adler, Hall of Fame trainer Bob Baffert will saddle Pinehurst and Murray in today's 74th running of the Grade I, $300,000 Runhappy Del Mar Futurity.
If either of those colts provides Baffert with his 15th Futurity victory, it would be the sixth time the track's all-time leader in stakes and all other wins has completed the Debutante-Futurity double.
The others: 1997 – Vivid Angel, Debutante/Souvenir Copy, Futurity; 1998 – Excellent Meeting/Worldly Manner; 1999 – Chilukki/Forest Camp; 2001 – Habibti/Officer, and 2012 – Executive Privilege/Rolling Fog.
By tradition, the Del Mar Thoroughbred Club has the silks colors of the winners of the Pacific Classic, Debutante and Futurity painted on the three lawn jockeys in the paddock.
"Every year when I come down here, a goal is to get at least one of those," Baffert said.
The Debutante/Futurity double has been accomplished six times by trainers other than Baffert. Hall of Famer Richard Mandella succeeded with Halfbridled/Siphonizer in 2003; Hall of Famer Ron McAnally with Call Now/On Target in 1994; Hall of Famer D. Wayne Lukas needed only two horses to do it twice, the fillies Lost Kitty (1987) and Althea (193) coming off Debutante wins to beat the boys in the Futurity when the races were not scheduled one day apart; Willard Proctor pulled it off with Table Hands and The Carpenter in 1979 and McAnally's uncle, Reggie Cornell, was the pioneer in the feat with Blue Vic and Swirling Abbey in 1956.
---
ONE DAY LATER, BUZZ CREATED BY FLIGHTLINE REMAINS VERY LOUD
Flightline's 12 ¾-length victory in Sunday's eighth race in a time of 1:08.50 under no pressure from jockey Flavien Prat – less than a second off the 47-year-old track record 1:07.60 by King of Cricket – was given a stellar 114 Beyer speed figure.
Beyer speed figure originator Andy Beyer, writing on the Daily Racing Form website, pointed out that the number – which equaled one given 3-year-old gelding Baby Yoda on Saturday at Saratoga – was "the fastest in the U.S. since Shancelot's 121 at Saratoga" in July of 2019.
Numerical reason to appreciate a performance so visibly impressive it sent visions of the $1 million auction purchase son of Tapit returning for the $2 million Breeders' Cup Sprint on November 6 dancing through some observers' heads. Albeit, apparently not those of trainer John Sadler and the Hronis Racing ownership.
"Everybody was just full of joy," Sadler assistant Juan Leyva said this morning. "As much as we were expecting after his first start (13 ¼-length win in April) he went out and pretty much surpassed them."
"He's a rare, gifted horse," Sadler said, while showing no signs of Breeders' Cup fever.
"He's so fast, but I think he'll stretch out to two turns," Leyva said. "It's way too early to make any real plans. But the realistic goal is the Malibu Stakes (December 26, for 3-year-olds) at Santa Anita."
---
PRAT, MILLER LOCK UP REPEAT TITLES WITH SUCCESSFUL SUNDAYS
Flavien Prat rode four winners, Peter Miller saddled two and the defending champions of the summer meeting wrapped up repeat titles Sunday.
What had been a foregone conclusion from all but a mathematical standpoint was confirmed in the first race when Miller gave a leg up to Prat on So Cal Memory ($8.80) for what would be Prat's 41st win of the meeting, 10 more than closest pursuer Juan Hernandez.
Prat would add wins on Flightline (8th race, $2.40), Grace Adler (10th, TVG Del Mar Debutante, $11.20) and Big Coupe (11th, $4.20) while Hernandez was blanked and enters today's season finale trailing Prat 44-30.
The Del Mar Debutante win was the 12th stakes score of the meeting for Prat, who set a single season stakes record of 15 in 2020.
Following the opener, Miller pulled off a $71.80 upset with Liam's Dove in the $100,000 Del Mar Juvenile Fillies Turf. Jockey Kyle Frey recorded his second season/career Del Mar stakes score aboard the daughter of Liam's Map.
Miller enters closing day with 25 wins from 137 starters and a seven-win advantage over Bob Baffert (18 for 62). Miller has seven entered for the finale, Baffert two.
The riding title is the third straight in the summer season for Prat and the fifth, solo or shared, in the last six seasons. For Miller it's the second straight, the fifth during the summer meeting since 2012 and his ninth overall.
---
CLOSERS – Racing Secretary David Jerkens reports that, barring any late scratches, the key numbers for the meeting will be: 293 races, 2,480 starts for an average field size of 8.46 … Looking back historically on the Runhappy Del Mar Futurity: 70 years ago (1951), big band leader Harry James' Big Noise, named for his famous trumpet, wins with Ralph Neves in the irons; 50 years ago (1971) is the only time it is run in divisions with McArthur Park (Bill Shoemaker up) and D.B. Carm (Fernando Toro) winning as favorites; 40 years ago (1981) Gato Del Sol wins and eight months later is victorious in the Kentucky Derby; 25 years ago (1996) Silver Charm provides the first for Bob Baffert with 13 more to follow … Thanks to all Stable Notes readers. We'll be back for the Bing Crosby/Breeders' Cup meeting which starts on November 3.
---
Del Mar Statistics
Jockey Standings
(Current Through Sunday, September 5, 2021 Inclusive)
| | | | | | | | |
| --- | --- | --- | --- | --- | --- | --- | --- |
| Jockey | Mts | 1st | 2nd | 3rd | Win% | In-money% | Money Won |
| Flavien Prat | 167 | 44 | 37 | 21 | 26% | 61% | $3,551,518 |
| Juan Hernandez | 186 | 30 | 20 | 33 | 16% | 45% | $2,160,334 |
| Abel Cedillo | 202 | 29 | 34 | 28 | 14% | 45% | $1,769,354 |
| Umberto Rispoli | 178 | 26 | 43 | 22 | 15% | 51% | $2,051,326 |
| Joe Bravo | 119 | 21 | 9 | 23 | 18% | 45% | $1,397,352 |
| Kyle Frey | 141 | 14 | 11 | 12 | 10% | 26% | $967,700 |
| Edwin Maldonado | 106 | 14 | 6 | 7 | 13% | 25% | $642,480 |
| Kent Desormeaux | 87 | 13 | 15 | 15 | 15% | 49% | $893,300 |
| Geovanni Franco | 98 | 12 | 5 | 4 | 12% | 21% | $591,780 |
| Jessica Pyfer | 117 | 10 | 5 | 9 | 9% | 21% | $478,132 |
Trainer Standings
(Current Through Sunday, September 5, 2021 Inclusive)
| | | | | | | | |
| --- | --- | --- | --- | --- | --- | --- | --- |
| Trainer | Sts | 1st | 2nd | 3rd | Win% | In-money% | Money Won |
| Peter Miller | 137 | 25 | 23 | 22 | 18% | 51% | $1,848,754 |
| Bob Baffert | 62 | 18 | 13 | 8 | 29% | 63% | $1,287,600 |
| John W. Sadler | 84 | 17 | 12 | 9 | 20% | 45% | $1,506,416 |
| Philip D'Amato | 105 | 15 | 13 | 11 | 14% | 37% | $1,367,076 |
| Mark Glatt | 80 | 13 | 12 | 12 | 16% | 46% | $919,422 |
| Richard Baltas | 94 | 13 | 10 | 14 | 14% | 39% | $1,087,020 |
| Doug F. O'Neill | 141 | 12 | 23 | 20 | 9% | 39% | $934,680 |
| Robert B. Hess, Jr. | 79 | 10 | 8 | 10 | 13% | 35% | $454,660 |
| Peter Eurton | 38 | 8 | 4 | 1 | 21% | 34% | $296,760 |
| Steven Miyadi | 24 | 7 | 3 | 3 | 29% | 54% | $296,380 |
Winning Favorites Report
(Current Through Sunday, September 5, 2021 Inclusive)
Winning favorites -- 95 out of 282 -- 33.69%
Winning favorites on dirt -- 56 out of 157 -- 35.67%
Winning favorites on turf -- 39 out of 125 -- 31.20%
Winning odds-on favorites -- 27 out of 46 -- 58.70%
In-the-Money favorites -- 201 out of 282 -- 71.28%
In-the-Money odds-on favorites -- 41 out of 46 -- 89.13%