Sunday, September 6th, 2020 ( 1 year ago )
Stable Notes
September 6, 2020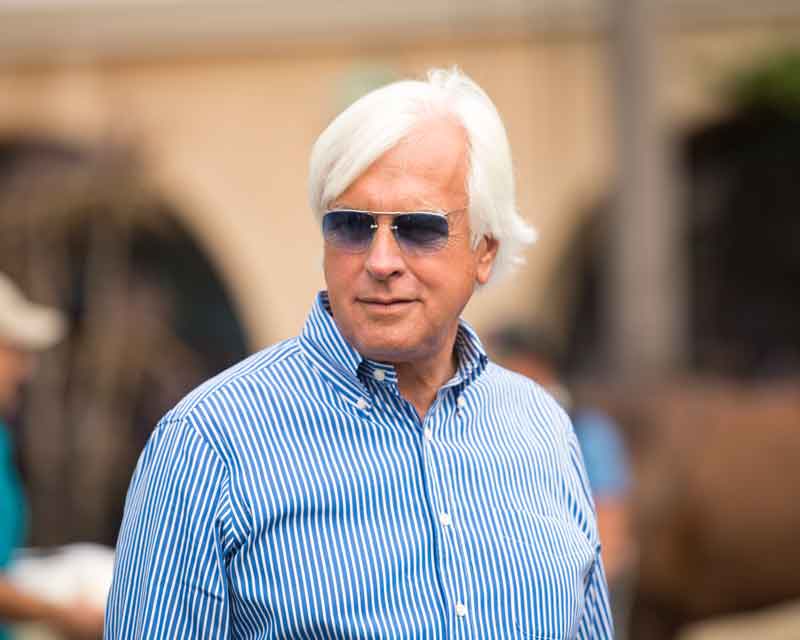 Bob Baffert 2017
AUTHENTIC POSITIONS BAFFERT FOR ANOTHER DERBY/FUTURITY DOUBLE
The Kentucky Derby victory Saturday by Authentic, who was conditioned at Del Mar for America's most famous race, was a record-tying sixth for Hall of Fame trainer Bob Baffert.
And in four of the five previous years when Baffert has saddled a Kentucky Derby winner there has been an unrelated, but for our purposes interesting, follow-up victory in the Runhappy Del Mar Futurity.
Silver Charm in the 1997 Derby was followed by Souvenir Copy in the Futurity. Then it was Real Quiet/Worldly Manner in 1998; War Emblem/Icecoldbeeratreds in 2002 and Justify/Game Winner in 2018. The only severance of a Baffert Derby/Futurity connection came in 2015 when American Pharoah won the Triple Crown but Baffert, in an extreme rarity, didn't have a starter in the traditional closing day, marquee event for 2-year-olds.
In Baffert's absence, Doug O'Neill saddled Nyquist to win the Futurity and completed the follow-up eight months later in the 2016 Kentucky Derby.
Of course, in all the others Baffert had an entire summer to savor the success of a 3-year-old while focusing on the development of a 2-year-old or two, or 12, for the juvenile Grade Is – today's Del Mar Debutante and Monday's Runhappy Del Mar Futurity – that end the summer season.
In the topsy-turvy world of 2020, the Kentucky Derby was run just two days before the Futurity. Meaning Baffert will have to direct Spielberg, his lone representative in a field of six, remotely.
"I won't be back," Baffert said by text from Louisville on Sunday morning. "Spielberg's post (No. 1) might be demanding, but expect a big effort."
A son of Union Rags who was a $1 million purchase at the Keeneland sale a year ago, Spielberg – namesake of the Academy Award-winning director of films "Jaws," "E.T.," "Saving Private Ryan" and many others – has worked six times and raced once here this summer.
The first three workouts, two of them bullets, preceded a runner-up placing, beaten 5 ¾ lengths by Futurity 8-5 favorite Dr. Schivel, in his racing debut on August 8. Three subsequent works weren't of the best-at-the-distance variety, but could set the colt up to do what American Pharoah did in 2014 – lose his first start and win the Futurity in the second.
At the traditional morning-after session in Louisville this morning, Baffert brought both Authentic and Thousand Words out to show the press, declared them fit and likely to head on to the Preakness next month.
Thousand Words, who earned a Derby spot with a victory in the Shared Belief Stakes at Del Mar on August 1, flipped in the paddock before the race and was an automatic scratch. Baffert's top assistant, Jim Barnes, suffered a broken wrist when he fell trying to gain control of Thousand Words and was on his way to the hospital during Authentic's victorious run.
Barnes' wife Dana posted a picture of the X-ray of the injury on facebook and noted that surgery will be required after they return to California.
The field from the rail with riders and morning line odds: Spielberg (Abel Cedillo, 2-1); Dyn O Mite (Victor Espinoza, 12-1); Weston (Drayden Van Dyke, 6-1); Scooby (Umberto Rispoli, 12-1); Dixie's Two Stents (Mario Gutierrez, 3-1), and Dr. Schivel (Flavien Prat).
---
MABEE WIN IS DOUBLEY REWARDING FOR JOCKEY FLAVIEN PRAT
The victory on Raymundos Secret in Saturday's Grade II, $150,000 John C. Mabee was No. 13 in a stakes here this summer for jockey Flavien Prat, tying him with Rafael Bejarano for the record for one season. It was Prat's fourth win of the day and No. 46 of the summer, enabling him to come from three behind Umberto Rispoli and retake the lead by one in the race to defend his riding title.
Prat and Rispoli have traded multi-win days often, with the rider in second place making up ground and keeping the drama high right up to today's penultimate card of the 81st summer meeting.
"Are we putting on a good enough show for everybody?" Prat's agent, Derek Lawson, asked rhetorically on Sunday morning. "I'd compare it to match play in golf and yesterday we made four birdies."
In addition to a masterful front-running guidance of Raymundos Secret ($4.80), Prat won with Queengol (1st, $20.40), Jamming Eddy (6th, $6.20) and Stormin Ranger ($7th, $7.20).
Barring scratches, Prat and Rispoli will be matched (with company) in eight of the 11 races on today's program. Prat has mounts scheduled in every race but the second, Rispoli in every one but the featured ninth race, the Grade I, $250,000 Del Mar Debutante.
---
DEL MAR CONNECTIONS IMPACT CHURCHILL ON DERBY DAY
Bob Baffert's victory with Authentic wasn't the only success for Del Mar-connected horses and horsemen Saturday in Louisville.
Trainer Mike McCarthy, who won the La Jolla Handicap with Smooth Like Strait here on August 9, saw that horse finish fourth after being the morning line favorite in the Grade II, $500,000 American Turf. But McCarthy was in the winner's circle one race later after Rushie ($7.80) rushed up late to score in the $500,000 Pat Day Mile.
In the $500,000 Longines Churchill Distaff Turf Mile, Beau Recall – last seen finishing fifth of seven, beaten two lengths as the defending champion in the Yellow Ribbon here on August 8 – upset Newspaperofrecord and paid $18.80 to win.
Trainer Brad Cox thanked Nick Cosato of Slam Dunk Racing, and her other owners, for letting him convince them to ship Beau Recall back to Kentucky for the event. "The California race was a total throw out," Cox said.
Santa Anita Derby winner Honor A.P., prepared for the Derby at Del Mar and ridden by resident Hall of Famer Mike Smith, finished fourth. Storm the Court, raced and trained here by trainer Peter Eurton, was sixth.
---
TURF STAKES FOR JUVENILES INCLUDED ON FINAL DAYS MENU
A pair of one mile turf stakes for 2-year-olds, which have served in the past as stepping stones to counterpart Breeders' Cup events, will be part of the undercard on programs today and closing day Monday.
Following "ladies first" etiquette, the $75,000 Del Mar Juvenile Fillies Turf will be run as the eighth race on today's program. Madone, a Kentucky-bred granddaughter of Medaglia d'Oro trained by Simon Callaghan for Kaleem Shah is the 3-1 morning line favorite.
Madone was a one-length winner in her racing debut on July 31 over the same course.
The field from the rail with jockeys and morning line odds: Tetragonal (Drayden Van Dyke, 8-1); Madone (Flavien Prat); Inner Beauty (Abel Cedillo, 5-1); Super Game (Tiago Pereira, 15-1); Frazzled (Jose Valdivia, Jr., 15-1); Canoodling (Juan Hernandez, 8-1); Nimbostratus (Ricardo Gonzalez, 6-1); Basilia (Heriberto Figueroa, 15-1); My Princess Ellie (Geovanni Franco, 20-1); Sweetest Angel (Mario Gutierrez, 20-1), and Ivy League (Umberto Rispoli, 4-1).
On Monday, the $100,000 Del Mar Juvenile Turf will be contested as the ninth race, directly ahead of the Runhappy Del Mar Futurity.
A full field of 13 has been entered with Richard Mandella-trained Caisson the 7-2 morning line choice. The son of War Front has had two races over the course, recording a narrow victory in his second career start.
The field from the rail with jockeys and morning line odds: Ambivalent (Mario Gutierrez, 10-1); Got Her Number (Abel Cedillo, 6-1); Inner Beauty (J.C. Diaz, Jr., 12-1); C'Mon Jenna (Juan Valdivia, Jr., 30-1); Big Fish (Victor Espinoza, 10-1); Herd Immunity (Geovanni Franco, 12-1); Caisson (Flavien Prat, 7-2); None Above the Law (Eswan Flores, 30-1); Sonic Brees (Umberto Rispoli, 5-1); Rombauer (Juan Hernandez, 9-2); Cotopaxi (Jorge Velez, 15-1); Inner Ghost (Drayden Van Dyke, 15-1), and Ebeko (Ricardo Gonzalez, 15-1).
---
CLOSERS -- Del Mar & TVG are offering a TVG Pacific Classic saddle towel from this year's race signed by the connections of all the participants in the race in an online auction with 100% of the proceeds going to the Permanently Disabled Jockeys Fund. Among others, the towel contains the autographs of Hall of Famers Victor Espinoza and Bob Baffert. It comes framed with a certificate of authentication (Authenticated by TVG's Britney Eurton).The auction link can be found on PDJF.org or directly at https://www.starquine.com/category/237/Framed-TVG-Pacific-Classic-Saddle-Towel-Benefitting-PDJF/listings/10596/Framed-TVG-Pacific-Classic-Saddle-Towel-Signed-by-All-Participants.html
---
Del Mar Statistics
Presented by Torrey Hollistics
Jockey Standings
(Current Through September 5, 2020 Inclusive)
| | | | | | | | |
| --- | --- | --- | --- | --- | --- | --- | --- |
| Jockey | Mts | 1st | 2nd | 3rd | Win% | In-money% | Money Won |
| Flavien Prat | 196 | 46 | 42 | 22 | 23% | 56% | $2,674,318 |
| Umberto Rispoli | 183 | 45 | 25 | 27 | 25% | 53% | $2,077,342 |
| Abel Cedillo | 225 | 28 | 33 | 40 | 12% | 45% | $2,056,227 |
| Juan Hernandez | 196 | 26 | 29 | 27 | 13% | 42% | $1,383,874 |
| Tiago Pereira | 127 | 20 | 7 | 10 | 16% | 29% | $774,022 |
| Drayden Van Dyke | 117 | 15 | 19 | 13 | 13% | 40% | $1,108,022 |
| Ricardo Gonzalez | 112 | 14 | 12 | 14 | 13% | 36% | $681,120 |
| Mario Gutierrez | 93 | 12 | 12 | 11 | 13% | 38% | $672,580 |
| Mike Smith | 59 | 7 | 9 | 11 | 12% | 46% | $506,012 |
| Ruben Fuentes | 82 | 6 | 10 | 10 | 7% | 32% | $309,702 |
Trainer Standings
(Current through September 5, 2020 Inclusive)
| | | | | | | | |
| --- | --- | --- | --- | --- | --- | --- | --- |
| Trainer | Sts | 1st | 2nd | 3rd | Win% | In-money% | Money Won |
| Peter Miller | 99 | 26 | 22 | 5 | 26% | 54% | $1,316,092 |
| Philip D'Amato | 76 | 18 | 12 | 10 | 24% | 53% | $952,090 |
| Bob Baffert | 53 | 13 | 14 | 8 | 25% | 66% | $1,149,122 |
| Doug F. O'Neill | 111 | 12 | 20 | 17 | 11% | 44% | $772,445 |
| Richard Baltas | 88 | 12 | 12 | 13 | 14% | 42% | $715,050 |
| John W. Sadler | 69 | 12 | 11 | 7 | 17% | 43% | $706,510 |
| Simon Callaghan | 30 | 10 | 3 | 2 | 33% | 50% | $412,440 |
| Peter Eurton | 45 | 8 | 6 | 6 | 18% | 44% | $314,540 |
| Mark Glatt | 67 | 7 | 12 | 11 | 10% | 45% | $664,832 |
| William Spawr | 27 | 7 | 2 | 2 | 26% | 41% | $131,420 |
Winning Favorites Report
(Current through September 5, 2020 Inclusive)
Winning favorites -- 86 out of 260 -- 33.08%
Winning favorites on dirt -- 49 out of 143 -- 34.27%
Winning favorites on turf -- 37 out of 117 -- 31.62%
Winning odds-on favorites -- 25 out of 46 -- 54.35%
In-the-Money favorites -- 170 out of 260 -- 65.38%
In-the-Money odds-on favorites -- 43 out of 46 -- 93.48%