Sunday, September 5th, 2021 ( 3 weeks ago )
Stable Notes
September 5, 2021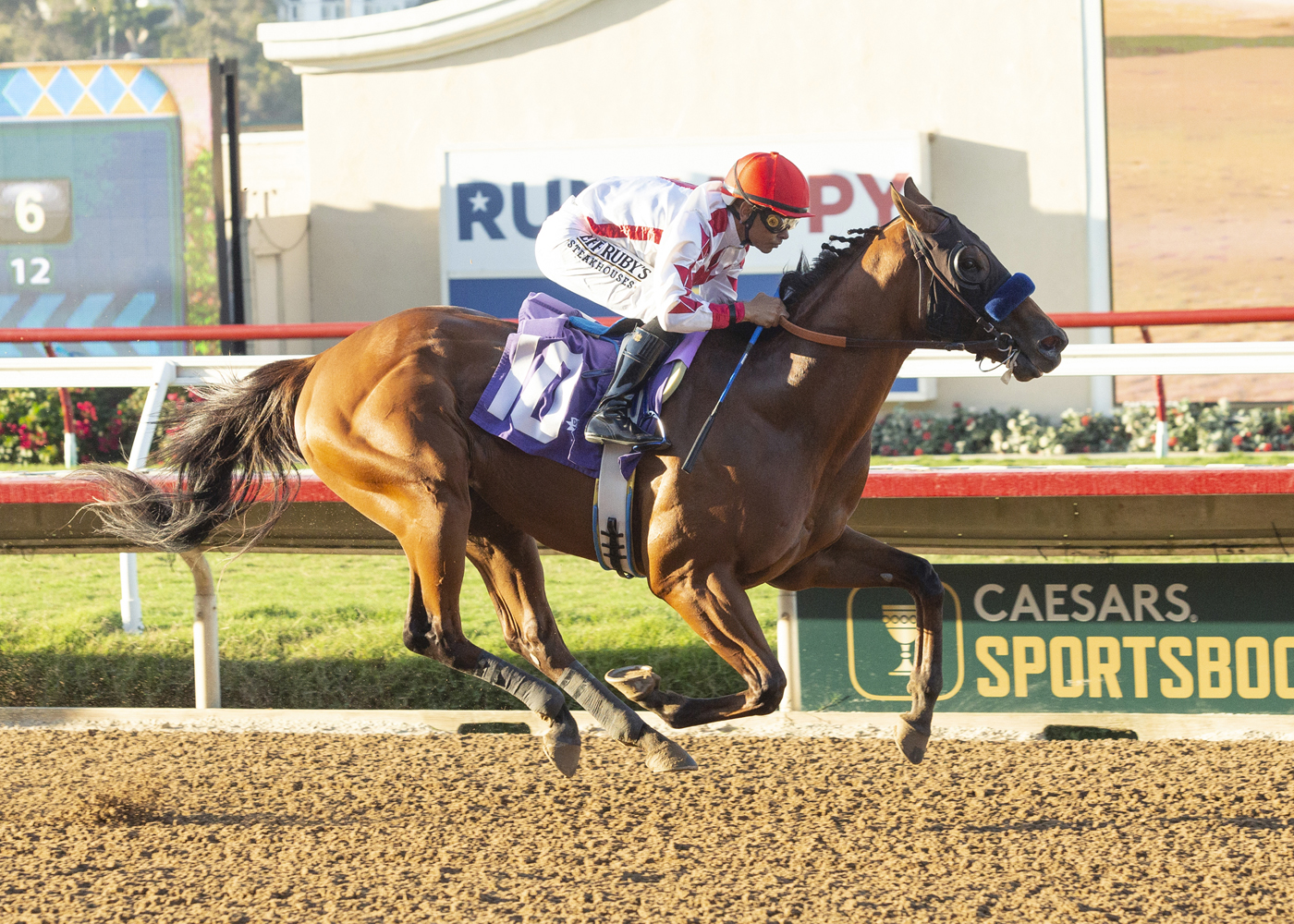 Corniche © Benoit Photo
CORNICHE SHINES SPOTLIGHT ON JUVENILE DEPTH IN BAFFERT BARN
Smack in the middle of the two Grade II races on Saturday's program was a 5 ½-furlong maiden special weight sprint for 2-year-olds. And if racing fans were looking for a bridge of interest between the $200,000 John C. Mabee Stakes and the $250,000 Caesars Sportsbook Del Mar Derby they got it.
Corniche, a $1.5 million purchase by Speedway Stables at the Ocala sale in April, trained by Hall of Famer Bob Baffert, drew clear shortly after the break from the gate; led by two lengths at the top of the stretch; extended the advantage via what the charts described as "an energetic hand ride" from jockey Mike Smith, and won by 4 ¼ lengths geared down in a time of 1:03.01
Speedway Stables is the nom du course of Peter Fluor of Houston, TX. His horse, Collected, won the 2017 TVG Pacific Classic.
Corniche was one of 33 2-year-olds Baffert nominated to Monday's Grade I, $300,000 Runhappy Del Mar Futurity. But Saturday's race represented an impressive debut for the Quality Road colt. And Baffert will have two others who also were impressive debut winners earlier in the meeting as representatives, Pinehurst and Murray, when he seeks a 15th Futurity victory in the penultimate race of the summer meeting.
The nomination deadline for both the Runhappy Del Mar Futurity and today's Grade I, $300,000 Del Mar Debutante was June 25 this year. And Baffert, always with an abundance of talented babies, takes a shotgun approach when the paperwork is due.
"We have to do it early, so I nominate a lot of them and see which ones are ready when the time comes," Baffert said this morning.
Murray, a son of Street Sense who commanded $300,000 at last year's Keeneland September sale, debuted with a 10 ¼-length victory at 5 ½ furlongs in 1:04.20 on July 25. Pinehurst, a $385,000 purchase at the same sale and for the same ownership group – SF Racing, Starlight Racing and partners – won his career opener by a half-length, covering five furlongs in 58 seconds flat.
Baffert said Corniche came out of his race in fine fettle and future assignments will be determined in a few days.
"I wasn't surprised, I expected it," Baffert said of the Corniche effort. "He was flying early and he kept flying late. The Futurity was coming up a little too quick for him, but we're excited about him like we are about several others. This is a really good group of 2-year-olds."
The field for the Runhappy Del Mar Futurity from the rail with jockeys and morning line odds in parentheses: Pappacap (Joe Bravo, 3-1); Olympic Legend (Jose Valdivia, Jr., 12-1); Finneus (Tiago Pereira, 12-1); Pinehurst (Mike Smith, 5/2); Murray (Flavien Prat, 2-1), and American Xperiment (Umberto Rispoli, 5/2).
---
GOING TO VEGAS COULD BE A BONANZA FOR ABBONDANZA, LOTS MORE
Soon after Going to Vegas crossed under the finish line 2 ¼-lengths in front to win the Grade II, $200,000 John C. Mabee Stakes on Saturday, what seemed like a tsunami of humanity descended from the grandstand to engulf the winner's circle for the picture and trophy ceremonies.
It was estimated that around 250 people – owners or friends of owners of the three partnership groups involved with the 4-year-old daughter of Goldencents -- whooped, hollered and smiled for the camera.
Bing Bush, founder and manager of Abbondanza Racing, figured that his 14-member group accounted for about 50 of the crowd, Medallion Racing about four and the rest from MyRacehorse, the micro-shares organization that has had a large impact on racing in a short time.
There was plenty of joy to go around and Bush, a Del Mar resident, was still savoring it this morning when he checked in at trainer Richard Baltas' barn to get the good news that Going to Vegas had come out of the race fine.
The Mabee victory, her sixth in 21 career starts, fueled thoughts of a Breeders' Cup start at Del Mar, where Going to Vegas has two wins and has only been out of the money once in seven starts on the Jimmy Durante Turf Course.
"We can always dream and this made that dream seem a step closer to reality," Bush said. "We're going to be aiming her for the Rodeo Drive Stakes at Santa Anita. I think she'll like the distance."
The Rodeo Drive, on October 2, is 1 ¼ miles, an eighth of a mile longer than the John C. Mabee but a distance at which the 4-year-old daughter of Goldencents won the Santa Ana there in March and was second in the Santa Anita Oaks last December.
A victory in the Grade I Rodeo Drive carries with it a berth in the 1 3/8-mile, $2 million Breeders' Cup Filly & Mare Turf at Del Mar on November 6. Otherwise, a six-figure supplemental entry fee would be necessary for Going to Vegas, who was not made Breeders' Cup eligible as a foal.
"To win here is so wonderful and to win the John Mabee Stakes, a man who was such an iconic figure here and such a major figure in the racing industry, is just great," Bush said.
---
'CUP OR A CROSBY STAKES, NONE ABOVE THE LAW WILL BE BACK SOON
Peter Miller looked down the shedrow and smiled approvingly as one of his young sons was petted None Above the Law, the versatile 3-year-old California-bred who had pulled off a 10-1 upset in Saturday's Grade II, $250,000 Del Mar Derby.
"He looks great, he's happy, he feels good, he's a cool head," Miller said, referring to the horse.
None Above the Law raced three times at the meeting, finishing ninth, beaten only three lengths in the opening day Oceanside Stakes at a mile on turf on July 16, winning the Real Good Deal Stakes at seven furlongs on dirt on July 30 and then prevailing by three-quarters of a length in the 1 1/8-mile Derby when guided along the rail in the stretch by jockey Joe Bravo.
None Above the Law was the second Miller trainee to win two stakes at a summer meeting. He saddled Red Outlaw to win the Real Good Deal and El Cajon in 2014.
"I do remember Red Outlaw," Miller said. "A real nice horse that ran for Blinkers On Stable. To win the Real Good Deal and the Del Mar Derby (as None Above the Law did) – I don't think that double has been done before."
The win boosted None Above the Law's career earnings to $454,060, a number that Miller would like to enhance during the fall meeting here. Via an undercard stakes during the Breeders' Cup days of November 5-6 or one of the Bing Crosby season stakes that follow.
"I don't know what they have on the undercard, I haven't checked but I know the Hollywood Derby in the fall would be a possibility. We'd like to keep him with 3-year-olds. I just don't think he's quite up to Breeders' Cup capabilities at this point."
---
GOLDEN STATE JUVENILE STAKES IS TARGET FOR JOKER BOY
Trainer Brian Koriner reported that Joker Boy, winner of Saturday's I'm Smokin' Stakes for California-breds came out of the race in good shape and will be aimed for the Golden State Juvenile Stakes on the Breeders' Cup undercard here Friday, November 5.
Billed as "Future Stars Friday," the five $1-$2 million Breeders' Cup races will be preceded by four stakes with purses of either $175,000 or $200,000. The $175,000 Golden State Juvenile Stakes at seven furlongs is an eighth of a mile longer than the $100,000 I'm Smokin' which Joker Boy negotiated wire-to-wire in winning by 3 ½ lengths.
"We may run him once at Santa Anita before that," Koriner said. "We're just going to go day by day and let the horse tell us what to do."
---
CLOSERS – Molly J. Pearson, who won more than 900 races in a nearly 40-year career as a trainer, died Wednesday. She was 56. Pearson was based in Arizona and raced at tracks there and California and was a regular summer presence at Del Mar. She was 0-for-8 at the current meeting and had one stakes runner, 2-year-old filly First Promise, in the Sorrento Stakes on August 6 … Selected workouts from 158 officially timed this morning, courtesy of clocker/handicapper Toby Turrell: Beer Can Man (4f, :49.80); United (4f, :49.60); Magic On Tap (4f, :46.80), and Rideforthecause (5f, 1:03.40).
---
Del Mar Statistics
Jockey Standings
(Current Through Sunday, September 4, 2021 Inclusive)
| | | | | | | | |
| --- | --- | --- | --- | --- | --- | --- | --- |
| Jockey | Mts | 1st | 2nd | 3rd | Win% | In-money% | Money Won |
| Flavien Prat | 157 | 40 | 36 | 20 | 25% | 61% | $3,233,078 |
| Juan Hernandez | 180 | 30 | 18 | 32 | 17% | 44% | $2,123,714 |
| Abel Cedillo | 194 | 29 | 33 | 28 | 15% | 46% | $1,700,738 |
| Umberto Rispoli | 170 | 26 | 42 | 21 | 15% | 52% | $2,013,910 |
| Joe Bravo | 112 | 21 | 8 | 23 | 19% | 46% | $1,385,052 |
| Kyle Frey | 134 | 13 | 10 | 11 | 10% | 25% | $886,280 |
| Edwin Maldonado | 100 | 13 | 6 | 6 | 13% | 25% | $617,460 |
| Geovanni Franco | 93 | 12 | 5 | 4 | 13% | 23% | $588,380 |
| Kent Desormeaux | 80 | 11 | 12 | 14 | 14% | 46% | $770,100 |
| Jessica Pyfer | 111 | 10 | 5 | 9 | 9% | 22% | $475,132 |
Trainer Standings
(Current Through Sunday, September 4, 2021 Inclusive)
| | | | | | | | |
| --- | --- | --- | --- | --- | --- | --- | --- |
| Trainer | Sts | 1st | 2nd | 3rd | Win% | In-money% | Money Won |
| Peter Miller | 133 | 23 | 23 | 22 | 17% | 51% | $1,764,974 |
| Bob Baffert | 59 | 16 | 13 | 8 | 27% | 63% | $1,059,600 |
| John W. Sadler | 81 | 16 | 12 | 8 | 20% | 44% | $1,449,216 |
| Philip D'Amato | 100 | 15 | 11 | 11 | 15% | 37% | $1,331,176 |
| Richard Baltas | 88 | 13 | 10 | 13 | 15% | 41% | $1,046,680 |
| Mark Glatt | 75 | 13 | 10 | 11 | 17% | 45% | $834,722 |
| Doug F. O'Neill | 131 | 11 | 22 | 20 | 8% | 40% | $883,864 |
| Robert B. Hess, Jr. | 74 | 8 | 6 | 10 | 11% | 32% | $371,060 |
| Peter Eurton | 37 | 8 | 4 | 1 | 22% | 35% | $295,360 |
| Steven Miyadi | 24 | 7 | 3 | 3 | 29% | 54% | $296,380 |
Winning Favorites Report
(Current Through Sunday, September 4, 2021 Inclusive)
Winning favorites -- 93 out of 271 -- 34.32%
Winning favorites on dirt -- 55 out of 151 -- 36.42%
Winning favorites on turf -- 38 out of 120 -- 31.67%
Winning odds-on favorites -- 26 out of 44 -- 59.09%
In-the-Money favorites -- 195 out of 271 -- 71.96%
In-the-Money odds-on favorites -- 39 out of 44 -- 88.64%