Saturday, September 5th, 2020 ( 5 months ago )
Stable Notes
September 5, 2020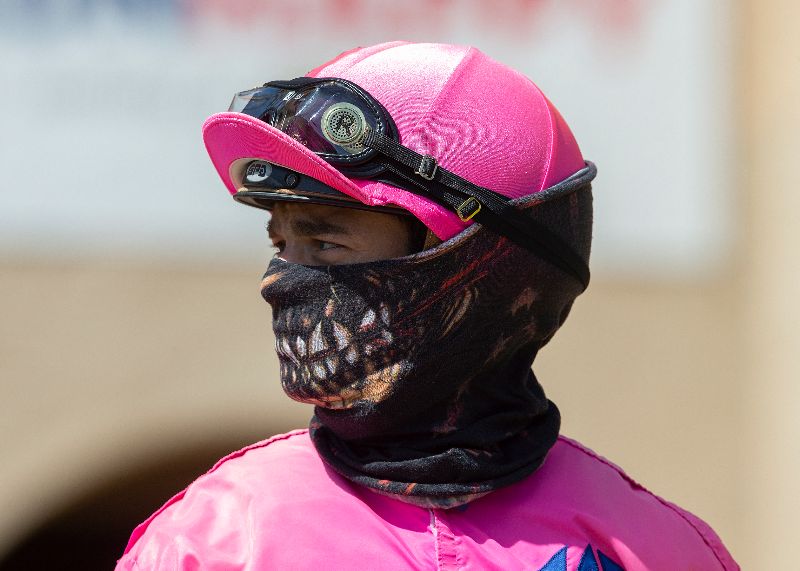 Umberto Rispoli © Benoit Photo
RISPOLI'S ARTFUL LAWN WORK HAS OTHERS GREEN WITH ENVY
Umberto Rispoli did it again. And again, and again, and again.
Defending Del Mar riding champion Flavien Prat won the first race on Friday's program, which kicked off the final four days of the meeting, to pull even with Rispoli atop the standings with 42 wins each. Rispoli responded, as he repeatedly has during the 81st summer meeting, with three wins over the next eight races on the card to head into the final three days of the meeting with a 45-42 lead in what has become the most dramatic game-within-the-game aspect of a season nearing its Monday climax.
Did we mention that all three of Rispoli's wins Friday were on the turf? Did we have to?
Victories aboard Coalinga Road (2nd, $5.80) and Commander Khai (5th, $4.00) in 5-furlong sprints preceded Awesome Drive (7th, $8.40) at one mile on the Jimmy Durante Turf Course. At that point, the 32-year-old Italian veteran of competition virtually worldwide was 33-for-100 in turf races here this summer, an astounding percentage, and 45 for 174 overall. The three straight wins meant he had notched victories in six of his last seven turf assignments.
That he wound up the day with a third-place result in the featured $100,000 I'm Smokin, on the main track, and fourth in the nightcap was of little consequence to those who'd been paying attention to the show he'd put on to that point.
The show goes on today with an 11-race program in which Prat is booked to ride every one and Rispoli takes off only the fifth.
Meanwhile, Prat is one shy of the single-season stakes record of 13 and gets the first of six opportunities before the end of the meeting with favored Raymundos Secret (2-1) in today's Grade II, $150,000 John C. Mabee. It's 1 1/8 miles on turf and Rispoli has the 5-2 second choice in Lady Prancealot.
---
DESORMEAUX HAS TEXAS-SIZED HOPE FOR HIS DEBUTANTE FILLY
Trainer Keith Desormeaux is no stranger to sending out modestly priced and pedigreed horses against Bob Baffert blue bloods that hailed boxcar prices at auctions.
But there figures to be a little more emotion involved for Desormeaux on Sunday when he saddles Sorrento Stakes winner My Girl Red to face Baffert's duo of Princess Noor and Illumination in Sunday's Grade I, $250,000 Del Mar Debutante for 2-year-old fillies.
My Girl Red is bred and owned by Eric G. Brehm. She's a daughter of Texas Red, who took Brehm and Desormeaux to the heights in 2014. Texas Red broke his maiden at Del Mar on August 21 of that year, was third to American Pharoah in the Front Runner at Santa Anita that fall and then, with American Pharoah out with an injury days before the race, won the Breeders' Cup Juvenile.
"Texas Red changed my life," Desormeaux said after the Sorrento. "Texas Red was the culmination of a lifetime of telling myself, and other people, that you don't have to pay boxcar prices (for horses) to win major races.
"I'll always be appreciative of that, and it's icing on the cake to have the same ownership group breed this kind of mare in his first group. Hopefully, it's onwards and upwards for him."
My Girl Red is the only stakes winner in a field of six. Baffert's Princess Noor (1-for-1) was a $1.35 million auction purchase in April. Illumination (runner-up in her lone start) was a $900,000 buy in August of 2019.
The field from the rail with riders and morning line odds: Get On the Bus (Mario Gutierrez, 8-1); Roll Up Mo Money (Drayden Van Dyke, 12-1); My Girl Red (Flavien Prat, 3-1); Princess Noor (Victor Espinoza, 8-5); Illumination (Abel Cedillo, 4-1), and Forest Caraway (Ricardo Gonzalez, 7-2).
---
THIRD TIME THE CHARM FOR KANDEREL OR K P ALL SYSTEMS GO?
A hit-and-miss experience in the first two legs of the summer turf stakes series for 3-year-olds could turn golden in a little over a minute and half for Kanderel and K P All Systems Go in Sunday's Grade II, $200,000 Del Mar Derby.
They're the only two, in a 12-horse field, that will have competed in the one-mile Runhappy Oceanside Stakes on opening day, July 10; the 1 1/16-mile La Jolla Handicap on August 9, and the 1 1/8-mile Derby. And it's the series finale which often determines the honor of top 3-year-old male of the meeting.
Kanderel, trained by Hall of Famer Richard Mandella, had wide trips in both of the series stakes to date. The Candy Ride colt closed well to finish second, beaten 1 ¾ lengths by Hit the Road in the Oceanside, and finished evenly when fifth, beaten 5 lengths by Smooth Like Silk in the La Jolla.
K P All Systems Go, a son of More Than Ready trained by Jeff Mullins, was mid-pack throughout in the Oceanside, but rallied late to finish third, only a head out of second, in the La Jolla.
The field from the rail with riders and morning line odds: American Farmer (Ricardo Gonzalez, 20-1); California Kook (Flavien Prat, 5-1); Guitty (Eswan Flores, 8-1); Pixelate (Umberto Rispoli, 3-1); No Slo Mo (Geovanni Franco, 30-1); Kanderel (Juan Hernandez, 12-1); Warren's Showtime (Jorge Velez, 6-1); Kiss Today Goodbye (Drayden Van Dyke, 8-1); Dominant Soul (Edwin Maldonado, 20-1); Heywoods Beach (Jose Valdivia, Jr., 12-1); Margot's Boy (Tiago Pereira, 12-1), and K P All Systems Go (Abel Cedillo, 6-1).
---
DR. SCHIVEL TABBED FAVORITE FOR CLOSING DAY FUTURITY
Dr. Schivel, who will run under new majority ownership, was accorded 8-5 favoritism today on John Lies' morning line for Monday's Grade I, $250,000 Runhappy Del Mar Futurity.
The Daily Racing Form's Steve Andersen reported in today's editions that a majority share of Dr. Schivel had been sold to Red Baron's Barn and Rancho Temescal by previous owners and breeders Bill Branch and Arnold Hill. Luis Mendez will saddle the Kentucky-bred son of Violence in the Futurity, but the colt will be transferred to Mark Glatt after the race.
Dr. Schivel broke his maiden here August 8, besting runner-up Spielberg, the 2-1 second choice on the morning line, by 5 ½ lengths.
The field from the rail with riders and morning line odds: Spielberg (Abel Cedillo); Dyn O Mite (Victor Espinoza, 12-1); Weston (Drayden Van Dyke, 6-1); Scooby (Umberto Rispoli, 12-1); Dixie's Two Stents (Mario Gutierrez, 3-1), and Dr. Schivel (Flavien Prat).
---
SELECTORS MOSTLY CAN'T FIGHT 'THE LAW' IN KENTUCKY DERBY
Selected responses from media and horsemen who were offered the "once-in-a-lifetime opportunity" to make a Kentucky Derby pick during Del Mar's summer meeting. The Kentucky Derby is scheduled for a 4 p.m. Pacific post time and is being televised on NBC.
Dan Smith, DMTC senior media director emeritus: Tiz the Law – "All he has to do is break clean and find a contending spot."
Jay Privman, Daily Racing Form: Tiz the Law/Honor A.P. – "Two horse race between 'The Law" and the Shirreffs."
Jay Hovdey, Bloodhorse: Honor A.P – "Because, as Jim (Murray) said, 'The West is the best'"
Jeff Nahill, S.D. Union-Tribune: Tiz the Law – "Just don't see this favorite getting beat."
Derek Lawson, agent for jockey Flavien Prat: Tiz the Law – "After last year, we need a favorite to win!"
Scott McClellan, agent for jockey Umberto Rispoli: Attachment Rate _ "Tiz the Law is the best, but if there's an upset I hope it's by (former client) Joe Talamo."
Doug O'Neill, two-time Derby winning trainer: Honor A.P. – "Gonna shock the world."
Peter Miller, Del Mar's leading trainer: Tiz the Law – "If the track's fast, he'll win."
John Lies, track announcer: Tiz the Law -- "I can't not pick him."
Millie Ball, TVG: Tiz the Law – "Pretty obvious, I know."
---
THE MELVIN FILES, PART VI
We lost the terrific trainer and racetracker deluxe Mel Stute on August 12. But the Melvin tales still go on….and on….and on. Here's another:
So it was about a half-dozen years ago and there was a Del Mar feature being put together about the days between 1937 and 1980 when its horsemen used to take their horses down to the beach for a swim or frolic in the surf, or maybe just a roll in the sand to scratch their backs.
Mel was there, along with his brother Warren, right from the earliest days. Others were, too, and they told stories that spoke of a different time when there was a tunnel under Highway 101 just west of the track that led down to the beach. They were fine stories, full of nostalgia and fond remembrances.
Then Mel stepped up to the plate with a tale he swore was true:
Seems around 1940 or so there was a very fast horse named Smokie Saunders, owned by the mayor of National City, the town just south of San Diego. He was trained by a gentleman named Yorkie McLeod. Mel picked it up from there:
"So Yorkie took Smokie Saunders down to the beach one day and the horse is out there and he's swimming. And then he's swimming farther and farther out. Next thing you know he's headed south. They couldn't get him back and he swam away. Found him down in Mexico. Swam all the way to Mexico! And you know I wouldn't make one like that up."
---
ROTONDO IS THE ANCHOR CELEBRITY CHALLENGER IN 'BEACH BOSS'
Peter Rotondo, VP of Content for the Breeders' Cup will be the celebrity challenger to Paulick Report founder Ray Paulick in Sunday's final celebrity edition of the "Beach Boss" handicapping challenge. The show starts at 11 a.m. and is available on Facebook, Twitter and YouTube. For further information the access link is: https://www.dmtc.com/contest.
---
EASY WAY TO ORDER PHOTOS FROM ANY DEL MAR RACE THIS SUMMER
For anyone wanting to order photos from any race run at Del Mar this summer, there's an easy way to go. Track photographer Benoit Photo has it all set up for you at this website: www.benoitphoto.com/store
You can view photos there and order them right on the spot. Race photos are uploaded to the site shortly after each race is run.
Del Mar's meet runs from July 10 to September 7.
---
CLOSERS – Mario Gutierrez, taken off by stretcher after he was unseated from Queen Stormborn and crashed through the inner rail in Friday's ninth race, came out of the spill with some bruises and is "good to go," agent Matt Nakatani reported this morning. Gutierrez is scheduled to ride six races today.
---
Del Mar Statistics
Presented by Torrey Hollistics
Jockey Standings
(Current Through September 4, 2020 Inclusive)
| | | | | | | | |
| --- | --- | --- | --- | --- | --- | --- | --- |
| Jockey | Mts | 1st | 2nd | 3rd | Win% | In-money% | Money Won |
| Umberto Rispoli | 174 | 45 | 22 | 25 | 26% | 53% | $2,015,062 |
| Flavien Prat | 185 | 42 | 41 | 21 | 23% | 56% | $2,480,758 |
| Abel Cedillo | 214 | 25 | 32 | 38 | 12% | 44% | $1,935,257 |
| Juan Hernandez | 185 | 25 | 28 | 26 | 14% | 43% | $1,326,434 |
| Tiago Pereira | 116 | 19 | 7 | 6 | 16% | 28% | $711,472 |
| Drayden Van Dyke | 110 | 14 | 19 | 13 | 13% | 42% | $1,062,722 |
| Ricardo Gonzalez | 107 | 14 | 12 | 14 | 13% | 37% | $678,620 |
| Mario Gutierrez | 87 | 12 | 10 | 11 | 14% | 38% | $643,720 |
| Mike Smith | 59 | 7 | 9 | 11 | 12% | 46% | $506,012 |
| Ruben Fuentes | 82 | 6 | 10 | 10 | 7% | 32% | $309,702 |
Trainer Standings
(Current through September 4, 2020 Inclusive)
| | | | | | | | |
| --- | --- | --- | --- | --- | --- | --- | --- |
| Trainer | Sts | 1st | 2nd | 3rd | Win% | In-money% | Money Won |
| Peter Miller | 96 | 25 | 22 | 5 | 26% | 54% | $1,280,292 |
| Philip D'Amato | 70 | 17 | 12 | 9 | 24% | 54% | $846,460 |
| Bob Baffert | 48 | 13 | 12 | 7 | 27% | 67% | $1,116,722 |
| Doug F. O'Neill | 108 | 11 | 19 | 16 | 10% | 43% | $715,385 |
| Richard Baltas | 81 | 11 | 11 | 12 | 14% | 42% | $643,290 |
| John W. Sadler | 62 | 10 | 9 | 7 | 16% | 42% | $616,210 |
| Simon Callaghan | 30 | 10 | 3 | 2 | 33% | 50% | $412,440 |
| Peter Eurton | 41 | 8 | 6 | 6 | 20% | 49% | $312,540 |
| Mark Glatt | 66 | 7 | 12 | 11 | 11% | 45% | $664,332 |
| William Spawr | 25 | 7 | 2 | 2 | 28% | 44% | $128,960 |
Winning Favorites Report
(Current through September 4, 2020 Inclusive)
Winning favorites -- 82 out of 249 -- 32.93%
Winning favorites on dirt -- 48 out of 137 -- 35.04%
Winning favorites on turf -- 34 out of 112 -- 30.36%
Winning odds-on favorites -- 24 out of 45 -- 53.33%
In-the-Money favorites -- 162 out of 249 -- 65.06%
In-the-Money odds-on favorites -- 42 out of 45 -- 93.33%