Monday, September 2nd, 2019 ( 11 months ago )
Stable Notes
September 2, 2019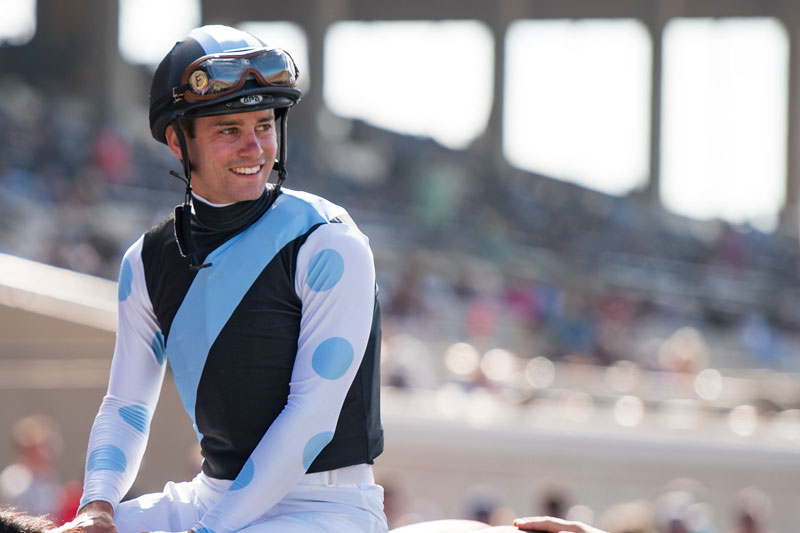 Flavien Prat
TIME TO WRAP UP SUMMER '19 – LIKE PRAT HAS DONE WITH JOCKEY RACE
Closing day of the 80th summer racing season at Del Mar is an occasion to reflect on the past seven weeks for horsemen.
Without doubt the preeminent human figures of the meeting have been jockey Flavien Prat, trainer John Sadler and the Hronis Racing stable of brothers Kosta and Pete Hronis.
With two wins on Saturday, Prat, 26, wrapped up the riding title with a day to spare. Prat has 40 wins from 149 starts and seven mounts scheduled on the final program. Forty wins and a riding title were the goals that Prat and his agent, Derek Lawson, set before the meeting started.
"We set a goal of 40 because we thought that was achievable," Lawson said Monday morning. "It would be more victories than we've had in any of the four years we've been riding here all summer long. The other thing was a goal of $3 million in purses."
Prat's horses have accounted for nearly $2.9 million.
"This keeps Flavien among the top jockeys in the country and hoping that he can be a finalist (top three) for an Eclipse Award as the top jockey. It would be tough to win it but nice to be considered."
Prat clinched his third title in the past four years when Encoder nosed out Billy Batts, with Drayden Van Dyke up, in the $100,000 Del Mar Juvenile Turf Stakes. It came one day after a similarly close finish involving the two riders in the John C. Mabee with Vasilika edging Juliet Foxtrot.
Drayden Van Dyke is second with 29 wins from 142 starts with 27 seconds and 20 thirds – a 20-20-20 season! – and purse earnings of just over $2 million. Van Dyke is booked to ride eight of the 10 closing day races.
Prat tops all jockeys for stakes wins with 10, four of them in combination with Sadler/Hronis, among them Sunday's Juvenile Turf.
Sadler counts nine stakes among his 15 victories from 79 starters. Seven of the stakes wins came with colorbearers of his major client, Hronis Racing. With the $1 million TVG Pacific Classic victory of Higher Power – a Hronis-Sadler-Prat production – as key, Hronis has established a Del Mar summer record $1,441,077 in earnings entering the final day.
"It has been a great summer," Sadler said. "To have the Hronises break the record for most money ever won here is sensational. Who would have thought I'd win more stakes here this year (9) than last year (8). Not that I'm counting."
It is the second-most stakes wins in a season behind Bob Baffert's 13 in 2000.
"So it has been great. I have great help, great owners and we've gotten some great rides."
Driving home Saturday night and starting to feel a little down about Inspiressa's runner-up effort to Bast as the favorite in the Grade I $300,000 Del Mar Debutante, Sadler said he quickly snapped out of it. "Hey, running second in a Grade I … it's been a good summer," Sadler said.
---
O'NEILL SITTING PRETTY FOR A SIXTH TRAINING TITLE
While defending champion Peter Miller (19 wins) and 2017 co-champion Richard Baltas (18) have not been mathematically eliminated, Doug O'Neill – the leader in the clubhouse with 23 wins entering the final day – has reason to be confident going into the final day of the meeting.
If the standings hold, it will be the sixth overall training title for O'Neill. He topped the wins list in the summers of 2004, 2006, 2007 and 2010 and the fall of 2015.
What would another win mean to O'Neill?
"I've got an unbelieveable group of people to work with every day," O'Neill said Monday morning. "It has been an incredible meet thanks to the whole Del Mar crew. After what went on at Santa Anita it has just been a great environment down here and to have the success we've had makes it a very special meet."
The Monday lineups for the training title contenders: O'Neill – Apples Arch (2nd, 12-1), Mo Me Mo My (2nd, 8-1), A Thousand Dreams (6th, 15-1), Acai (6th, 20-1), Text Don't Call (6th, 20-1), Defense Wins (9th, 12-1), Fore Left (9th, 8-1); Miller – Acker (4th, 8-1), Ooh La La Whalah (5th, 6-1), Convoluted (6th, 8-1), Mandy (7th, 2-1), Nucky (9th, 8-1), Wrecking Crew (9th, 7-2) and Lucky Peridot (10th, 20-1); Baltas – Tequila Sunrise (1st, 5-2), The Hunted (4th, 4-1), Applecross (6th, 10-1), Inthemunny (8th, 8-1), Ginobili (9th, 6-1), and Gallovie (10th, 6-1).
---
FOR CEDILLO, HESS A MEETING OF UNDER THE RADAR SUCCESS
While Flavien Prat and Drayden Van Dyke assumed their customary 1-2 spots in the rider standings early and stayed there throughout the meet, Abel Cedillo worked his way up to third in the standings.
Cedillo's 25 wins from 155 mounts were accomplished with minimal fanfare, but didn't go unnoticed.
"He's going to be good competition down the road," said Derek Lawson, agent for Prat. "He rides well and he rides a lot of races."
Cedillo moved his tack from Golden Gate Fields for a first summer at Del Mar, at the urging of agent Tom Knust, and has shown an impressive work ethic.
"He's a good guy who understands the game and will work hard every day," Knust said. "He worked six horses (Sunday) and rode 10 races in the afternoon. He's back out here at 5:30 this morning to work five horses and will ride eight. He says, 'That's what I'm here to do.' He's got the right work ethic and mindset."
Trainer Bob Hess, Jr., who has been winning races at Del Mar for 32 years, will send out Saddle Bar (5-1) in the fifth race to complete a summer meeting which has produced 12 wins from 46 starters. Hess is seventh according to money earnings but in the top two for win percentage (26%) and top five for in-the-money (57%).
"The safety of the horses has been a big bright spot for me and I think if you ask anyone else, they'll tell you the same thing," Hess said Monday. "We'd all been on pins and needles coming in, but not even a hiccup in my barn. No one is going to say that Del Mar isn't special and unique anyway, but this year things have fallen into place."
Hess won training titles in 1991 and '92 when things were very different.
"I was 26 years old, had 30 horses and went something like 18 for 50 in 1991," Hess recalled. "My son, who's 28, was born a few months after the meeting ended. In '92 I had 90 horses."
Hess took the training title that year with 22 wins, many in conjunction with jockey Kent Desormeaux, whose 68 wins is the most in the last 40 years.
---
CONGRATULATIONS TO VICTOR ESPINOZA ON TURNING 100!
The victory on Nolde in Sunday's Del Mar Derby was the 100th stakes triumph at Del Mar for Hall of Fame jockey Victor Espinoza. It ties Espinoza, 47, with Gary Stevens for No. 3 on the track's all-time list for rider stakes wins.
"It's a milestone victory," said Brian Beach, Espinoza's agent. "Del Mar is his favorite track and he has made Del Mar his home. To win for (trainer) John Shirreffs and (owner) Jerry Moss makes it even more special. They've been very supportive of Victor in the later stages of his career."
---
A REMINDER; WE'RE NOT DONE FOR 2019
The Bing Crosby Season at Del Mar opens on November 8 and will continue through December 1 on a four-day per week basis, Thursday through Sunday.
The meeting features nine graded stakes topped by a pair of $300,000 Grade I offerings. The Hollywood Derby, 1 1/8 miles on turf for 3-year-olds, will be presented on Saturday, November 30. The Matriarch, a mile on turf for older fillies and mares, will be held on Sunday, December 1, closing day of the meeting.
---
CLOSERS – The last word on the meeting goes to Hall of Fame trainer Richard Mandella: "It has been a great meet. Del Mar does such a great job of taking care of the racetrack, the horses and the horsemen. They make it fun, that's the most important thing, they make it fun."
---
DEL MAR STATISTICS
Jockey Standings
(Current Through Sunday, September 1, 2019 Inclusive)
| | | | | | | | |
| --- | --- | --- | --- | --- | --- | --- | --- |
| Jockey | Mts | 1st | 2nd | 3rd | Win% | In-money% | Money Won |
| Flavien Prat | 149 | 40 | 15 | 19 | 27% | 50% | $2,895,765 |
| Drayden Van Dyke | 142 | 29 | 27 | 20 | 20% | 54% | $2,051,136 |
| Abel Cedillo | 155 | 25 | 18 | 18 | 16% | 39% | $1,076,991 |
| Joseph Talamo | 116 | 22 | 17 | 17 | 19% | 48% | $1,433,136 |
| Ruben Fuentes | 147 | 21 | 16 | 13 | 14% | 34% | $816,801 |
| Rafael Bejarano | 150 | 19 | 25 | 19 | 13% | 42% | $1,280,874 |
| Victor Espinoza | 94 | 15 | 15 | 14 | 16% | 47% | $1,201,580 |
| Jorge Velez | 108 | 14 | 21 | 12 | 13% | 44% | $589,988 |
| Mike Smith | 53 | 9 | 12 | 9 | 17% | 57% | $817,781 |
| Mario Gutierrez | 90 | 8 | 14 | 18 | 9% | 44% | $708,088 |
Trainer Standings
(Current Through Sunday, September 1, 2019 Inclusive)
| | | | | | | | |
| --- | --- | --- | --- | --- | --- | --- | --- |
| Trainer | Sts | 1st | 2nd | 3rd | Win% | In-money% | Money Won |
| Doug F. O'Neill | 122 | 23 | 23 | 15 | 19% | 50% | $1,330,032 |
| Peter Miller | 80 | 19 | 11 | 14 | 24% | 55% | $982,268 |
| Richard Baltas | 101 | 18 | 14 | 12 | 18% | 44% | $1,146,464 |
| John W. Sadler | 79 | 15 | 11 | 8 | 19% | 43% | $1,966,654 |
| Philip D'Amato | 84 | 13 | 14 | 11 | 15% | 45% | $1,130,803 |
| Bob Baffert | 51 | 13 | 10 | 8 | 25% | 61% | $958,866 |
| Robert B. Hess, Jr. | 46 | 12 | 10 | 4 | 26% | 57% | $376,528 |
| Mark Glatt | 69 | 11 | 10 | 13 | 16% | 49% | $685,582 |
| Jeff Mullins | 38 | 8 | 11 | 2 | 21% | 55% | $478,428 |
| Brian J. Koriner | 39 | 7 | 7 | 5 | 18% | 49% | $373,594 |
Winning Favorites Report
(Current Through Sunday, September 1, 2019 Inclusive)
Winning favorites -- 108 out of 287 -- 37.63%
Winning favorites on dirt -- 69 out of 170 -- 40.59%
Winning favorites on turf -- 39 out of 117 -- 33.33%
Winning odds-on favorites -- 30 out of 58 -- 51.72%
In-the-Money favorites -- 200 out of 287 -- 69.69%
In-the-Money odds-on favorites -- 48 out of 58 -- 82.76%