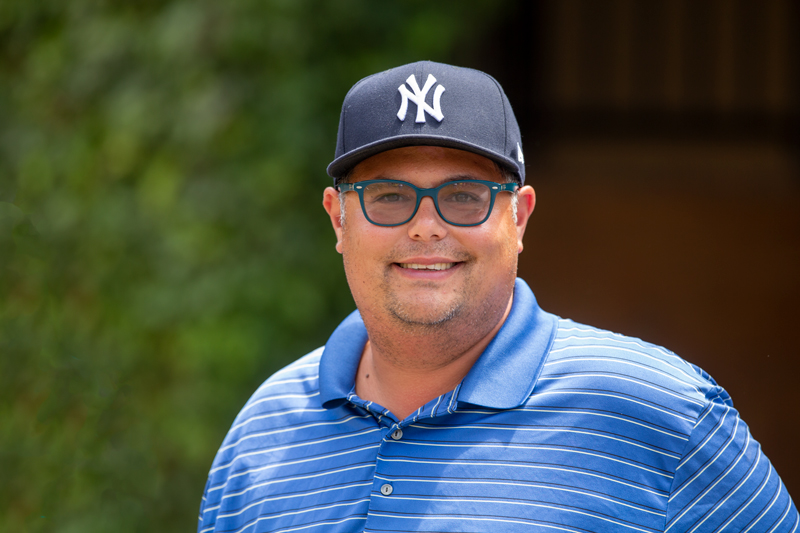 Jonathon Wong © Benoit Photo
NORTHERN CALIFORNIA TRAINERS CLEAN UP AT DEL MAR THIS SUMMER
It has been a meet to remember for several Northern California trainers who like to summer at Del Mar, as well as one trainer who came to Southern California from Northern California and stayed.
Jonathan Wong rattled off seven wins in a week last month at Del Mar, winning 'Trainer of the Week' honors and climbing into the Top 10 in the trainer standings. He never left. Going into the final day of the Del Mar summer meet, Wong has notched 13 victories, good for a tie for sixth best in the trainer standings and only six off the pace set by Philip D'Amato.
"Beyond pleased," Wong says. "It's definitely exceeded expectations. I was hoping we could win six to eight and we've won 13 so far, so we've doubled what we were hoping for. Just amazing.
"We've had great help," Wong continues. "We had owners that let us place horses where they could win, a great group of guys working back here for us, making sure everything was taken care of. Fortunately, we got lucky. Horses were just clicking at the right time, they got into their races and everything worked out perfectly."
Wong still calls Golden Gate Fields his base but he's training fulltime in Southern California. He's currently tied for first in the trainer standings up at Golden Gate.
"I live down here, but a majority of our barn is up in the Bay Area," Wong says, "and we're thinking about taking a string out to Keeneland for the meet and spreading out into the Kentucky area."
Trainer Andy Mathis had his best meet ever at Del Mar this summer, winning 12 races, good enough for seventh in the trainer standings. Unlike Wong, Mathis has already returned to Northern California but he takes lasting memories of the 2022 meet.
"So much better than I would ever have imagined," Mathis says. "It hasn't totally sunk in yet how good it worked out. I thought it would be more likely that I would win zero races than 12.
"It was one of those deals where we won a few races early and I thought if we could win six or seven races that would be really good," Mathis added. "The next thing you know you're at six or seven and you say 'Boy, nine would be a huge number' and then it was 10 and then last week we landed on 12."
Mathis says he appreciates how difficult the summer meet is and how it takes a lot of good luck
"It was a lot of good fortune throughout the whole meet," he states. "Whether it was pace scenarios or horses that got into races and not on the also eligible lists. Del Mar is hard. Training starts early, you have the later post times. You really need everybody on the same page. All the grooms and the riders. It's long days and hard work."
That being said, Mathis says he'll probably be back next year.
"It's like playing blackjack and you're on a big roll," Mathis says. "You can't just get up and leave. Once I recover from it, I'll be wanting to go back."
Two other trainers at Del Mar for the summer are leaving town with victories under their belt. Quinn Howey calls Northern California home, but brought a string of horses to Del Mar and won three races. O.J. Jauregui did the same and pocketed one victory.
---
SUMMER TRAINERS' RACE COMES DOWN TO FINAL DAY
While the jockeys race has been decided for weeks, the trainers race is coming down to the final day of the Del Mar meet. Four trainers all have a shot at taking home the top honors. All four have plenty of chances to win today.
Phil D'Amato currently leads the pack with 19 wins. Bob Baffert is next with 18. Peter Miller and Doug O'Neill come in with 17 victories. All have horses racing today.
For those keeping score, here's a list of their runners and the races they're in:
PHIL D'AMATO has seven chances to pad his lead. They are: Excess English (3rd); Midnight's Girl (4th); Rexford (5th); Gila (6th); In Vronsky Style (7th); Classical Cat in the Futurity (10th), and Flint Stroll (11th).
BOB BAFFERT has seven chances to catch and pass D'Amato but only a possibility of four winners. They are: Reincarnate (3rd); Doinitthehardway (6th); Brocade, Censorship (8th), and Newgate, Cave Rock, and Havnameltdown in the Futurity (10th).
PETER MILLER will run seven horses today. They are: Perfect Flight (2nd); Kid Azteca (3rd); Luka Grazie (5th); Forgiving Spirit, Essential Business (7th); Stone Point (9th), and Tuskegee Cat (11th).
DOUG O'NEILL has seven running: Heartbreak Kid (3rd); Sally Stanford (4th); Keen to Go (5th); Ah Jeez, Syntactic, Tahoma in the G3 Juvenile Turf (9th), and Mixto in the Futurity (10th).
Should D'Amato hang on and win the trainers title, it would be his third summer meet title at Del Mar and his fourth overall. He won the fall meet title last year so a victory this summer would make it back-to-back for D'Amato.
If Baffert comes back and wins the trainers title it would be his first at Del Mar since 2003 when he capped an incredible run of seven consecutive training titles here.
O'Neill snapped Baffert's streak back in 2004. He's seeking his sixth summer meet training title at Del Mar and his first since 2019.
Miller could make it three summer meet titles in a row if he can pull off the comeback. It would be his fifth overall to go with his four fall meet titles.
---
SPEED BOAT BEACH SETS TRACK RECORD IN BOW SATURDAY AT DEL MAR
Pegram, Watson and Weitman's colt Speed Boat Beach sped to a track record in his racing debut Saturday at Del Mar when he covered five and one-half furlongs in 1:01.86. The previous record was 1:02.10.
The son of Bayern out of the mare Sophia Mia, she by Pioneerof the Nile, took the lead out of the gate in the maiden special weight race for 2-year-olds and was never headed under Flavien Prat. He set splits of :21.34, :44.17 and :55.96 en route to his record mark.
The colt is trained by Hall of Fame conditioner Bob Baffert, who also trained his sire and his dam's sire. The dam won the 2016 Kentucky Oaks.
Speed Boat Beach fetched $200,000 at a 2-year-old-in-training sale in Florida in March. Finishing behind him Saturday were two other Baffert trainees – Zedan Racing Stables' Hejazi (a $3.5 million 2-year-old-in-training purchase) and third was SF Racing and partners' Fort Bragg (a $700,000 2-year-old-in-training buy).
Baffert had put 10 works into Speed Boat Beach at Los Alamitos and Del Mar prior to his Saturday start, including a local :58.60 five-furlong drill out of the gate on September 3.
The previous record was set in an overnight stakes called the Pirate's Bounty on September 5, 2016 by the 4-year-old ridgling Power Jam, owned by Kaleem Shah. He also was trained by Baffert.
The trainer's record-setting victory Saturday was his 10th 2-year-old maiden special weight victory of the meet. He also won the 2-year-old Best Pal Stakes with Havnameltdown. Additionally, he runs the favorite – Cave Rock – and two other colts in today's Grade I, $300,000 Del Mar Futurity.
---
FLEDGLING FEMALE TRAINER TOOK A SWING AT DEL MAR
We close out this season of Stable Notes with a story about longshots and an aspiring young trainer taking a shot at the big time. The epitome of a small time conditioner and her fledgling Thoroughbred operation.
Thirty-two-year-old Rachel Keithan is from Maryland. She gave Del Mar a try this summer. While it wasn't all champagne and roses, she didn't leave without some success.
"I'm just trying tracks out right now," Keithan's says. "We're going to Remington next. New Mexico is one I'm never going back to. They're too fast out there for me. Everything wants to sprint and I have a lot of horses that like to go long."
One of those is R Doc, a 3-year-old gelded son of Gio Ponti who gave Keithan her one and only win at the meet at 35-1.
"He's a thousand dollar no bid," Keithan says. "That's the bottom bid in Kentucky for Fasig Tipton. Nobody wanted him. When I got him as a yearling I originally retired him but he wanted to run so I put him back in training. This horse has been against everybody's odds everywhere. He's bred for the turf top and bottom but he doesn't want to run on the turf. First time off turf, he wins."
That was a maiden race at Aqueduct in January. After trips to Sunland Park and Lone Star, he went out August 18 and won a $32,000 claimer locally giving Keithan her first trip to the Del Mar winner's circle. She says the fact she's at Del Mar this year is all coincidence.
"Relentless Racing and myself, we didn't start out with a lot of capital," Keithan says. "I couldn't work for anybody else because I had a broken ankle for a very long time and nobody's going to hire somebody with a broken ankle. So we took a little bit of money and went to the sale. I realized nobody would want to train these no-bid horses, so I put my two cents in and here we are."
Keithan has a string of nine horses, all of which she rides and trains in the morning.
"I can tell you when they're ready," Keithan says. "I can tell you if they feel good."
While being on the back of your own horses can be a certain advantage, there are drawbacks to having such a small operation.
"You have to train for the condition book and if the race comes up before you're ready sometimes you just gotta go," she says. "Cross your fingers because you don't have time to get one more work in. We have to run. We're a barn where they (the horses) have to pay their own bills or we'll go under."
Keithan says the Del Mar meet has been quite an eye opener.
"It was a sharp learning curve," she notes. "This is my first time out west. I'm an east coaster. I assisted people in New York and went from New York to Kentucky to Florida. When we were in New York we ran all the smaller circuits too. If we had something that wouldn't do at Belmont, we'd ship it to Maryland, to Delaware, to Pennsylvania. I've won races for trainers at Monmouth. You're very open when you're in that area. Here, there's California tracks and everything else is a big haul. East coast I've got it down, West Coast, you guys are fast out here."
She says she'll return to Del Mar under one condition.
"I need different stock," Keithan says. "I know when I'm outmatched."
Keithan has taken her horses to Oklahoma City where she's going to give Remington Park a try.
---
COOLING OUT: The racing at Del Mar's summer meet ends today but horses will continue training at the seaside oval until next Friday. Clockers will be on hand to time any official works…Trainer Peter Miller says he'll point And Tell Me Nolies, winner of Saturday's G1 Del Mar Debutante, to the G2 Chandelier at Santa Anita October 8…Avenue de France came out of her win in the G2 John Mabee in good order. Trainer Leonard Powell says they have not decided where to go with her next…Notable works for Sunday: Dirt – Beyond Brilliant (4f, :49.20); Fashionably Fast (4f, :49.00); Azul Coast (5f, 1:01.20); Justique (5f, 1:02.00), and Tripoli (5f, :58.00).
---
Del Mar Statistics
Jockey Standings
(Current Through Saturday, September 10, 2022 Inclusive)
| | | | | | | | |
| --- | --- | --- | --- | --- | --- | --- | --- |
| Jockey | Mts | 1st | 2nd | 3rd | Win% | In-money% | Money Won |
| Juan Hernandez | 189 | 47 | 34 | 26 | 25% | 57% | $3,388,166 |
| Umberto Rispoli | 158 | 27 | 26 | 23 | 17% | 48% | $2,339,428 |
| Ramon Vazquez | 181 | 23 | 28 | 33 | 13% | 46% | $2,070,164 |
| Hector Berrios | 116 | 17 | 16 | 9 | 15% | 36% | $1,233,180 |
| Mike Smith | 77 | 17 | 8 | 11 | 22% | 47% | $1,530,400 |
| Abel Cedillo | 161 | 15 | 19 | 12 | 9% | 29% | $1,281,676 |
| Edwin Maldonado | 139 | 15 | 18 | 16 | 11% | 35% | $943,446 |
| Joe Bravo | 110 | 15 | 14 | 9 | 14% | 35% | $1,257,462 |
| Kyle Frey | 150 | 12 | 15 | 19 | 8% | 31% | $878,362 |
| Mario Gutierrez | 78 | 9 | 6 | 8 | 12% | 29% | $791,214 |
Trainer Standings
(Current Through Saturday, September 10, 2022 Inclusive)
| | | | | | | | |
| --- | --- | --- | --- | --- | --- | --- | --- |
| Trainer | Sts | 1st | 2nd | 3rd | Win% | In-money% | Money Won |
| Philip D'Amato | 131 | 19 | 22 | 27 | 15% | 52% | $2,445,800 |
| Bob Baffert | 69 | 18 | 15 | 15 | 26% | 70% | $1,760,150 |
| Peter Miller | 121 | 17 | 19 | 14 | 14% | 41% | $1,490,932 |
| Doug F. O'Neill | 138 | 17 | 14 | 13 | 12% | 32% | $1,406,164 |
| George Papaprodromou | 99 | 14 | 11 | 10 | 14% | 35% | $1,082,520 |
| Mark Glatt | 78 | 13 | 13 | 14 | 17% | 51% | $952,656 |
| Jonathan Wong | 61 | 13 | 6 | 8 | 21% | 44% | $525,160 |
| John W. Sadler | 87 | 12 | 18 | 15 | 14% | 52% | $1,536,232 |
| Andy Mathis | 41 | 12 | 2 | 4 | 29% | 44% | $518,028 |
| Dean Pederson | 12 | 8 | 1 | 0 | 67% | 75% | $437,880 |
Winning Favorites Report
(Current Through Saturday, September 10, 2022 Inclusive)
Winning favorites -- 103 out of 283 -- 36.40%
Winning favorites on dirt -- 62 out of 163 -- 38.04%
Winning favorites on turf -- 41 out of 120 -- 34.17%
Winning odds-on favorites -- 21 out of 44 -- 47.73%
In-the-Money favorites -- 210 out of 283 -- 74.20%
In-the-Money odds-on favorites -- 39 out of 44 -- 88.64%