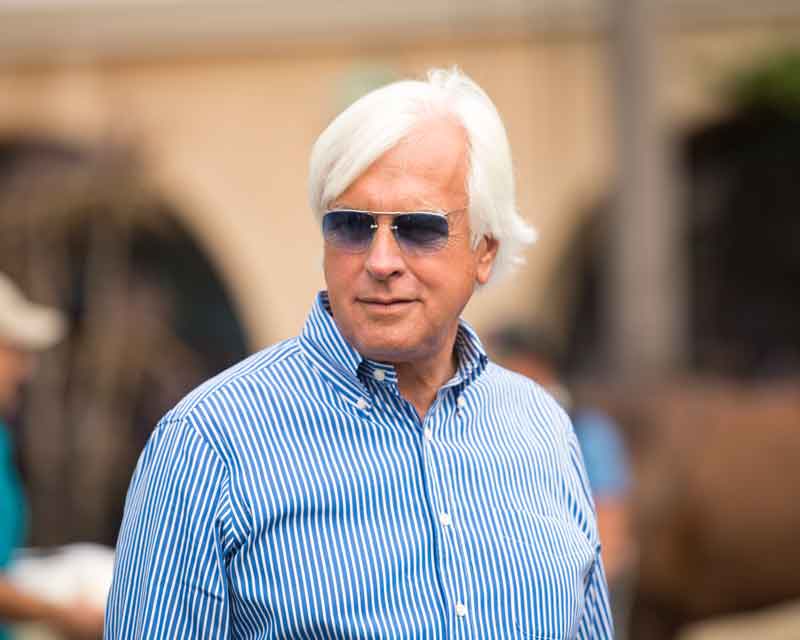 Bob Baffert
BOB BAFFERT: LOCKED AND LOADED FOR ANOTHER DEL MAR FUTURITY
Since 1996, when Bob Baffert won his first Del Mar Futurity with Silver Charm, the Hall of Fame trainer has won the prestigious 2-year-old race 14 more times. That's 15 total out of the last 26 runnings, including last year with Pinehurst.
This year Baffert has a trio of runners set to go in the closing day feature at Del Mar. All have solid chances to keep alive their conditioner's extraordinary run of success in a race that has produced several Kentucky Derby participants and, since 1996, three Derby winners, Silver Charm, American Pharoah and Nyquist.
Baffert's stakes winning 2-year-old Havnameltdown is undefeated after two starts, including last time in the G3 Best Pal.
"A very fast horse," Baffert says. "I think this could be his distance. I always thought he'd be a one turn kind of horse the way he's made."
Cave Rock is the morning line favorite in the Futurity after leaving a favorable impression in his debut. The son of Arrogate won by six lengths.
"His race was just off the charts," Baffert says. "I was surprised he did something like that."
Baffert's third entry, Newgate, also won at first asking here at Del Mar. The son of Into Mischief fired a bullet work last Sunday.
"He hasn't run in a while but he's been working great," Baffert says. "I think distance is not going to be a problem for him. Two turns are going to be better for him.
"All three are fast," Baffert continues, "if they don't get into each other's way. That first quarter is so important. If they go sub :22, none of them are going to be there."
Sound advice from a guy who won the Futurity seven times in a row from the late nineties into the early 2000's. And while it may appear Baffert has the race covered, it is a horse race and they are 2-year-olds.
A horse that spoiled the debut of another Baffert wonder colt named Hejazi is in the Futurity. Classical Cat, who hails from the Phil D'Amato barn, broke his maiden at first asking three weeks ago.
"He's doing very well," D'Amato says. "We did not draw a good post on the rail but this is a very talented horse and hopefully we'll be able to overcome that."
The Big Wam is the most experienced of the bunch. He's raced four times, never finishing worse than second and won the $125,000 Graduation Stakes for Cal-breds at Del Mar last out. He's won both of his races at Del Mar this summer.
"Tomorrow we find out how he does against the big boys," trainer Luis Mendez says. "A lot of people say they run better on different tracks but I think he runs good anywhere. In Kentucky he ran huge and here he's been running pretty good."
Mendez says you won't find The Big Wam engaging in any speed duel.
"His style is not that way," he says. "We tried having him up on the pace but that's not him and this time, going seven furlongs, that's not the way you want them to run. When he won, both times he did the same thing (came from off the pace). Of course, we want him to be close to them, not far away from them."
Agency is worth a look. He was runner-up to Havnameltdown in the Best Pal. The son of Bolt d'Oro is trained by Mark Glatt, who is having a very nice summer meet with 13 victories and 13 seconds.
"Everything's good," Glatt says. "I would have rather drawn an outside post but we'll see what happens. He doesn't like dirt in his face. Hopefully, Flavien (Prat) will be able to negotiate a trip where you minimize the dirt, but when you draw the two hole in a full field, that's going to be hard because he's not fast enough to go with them early.
"But maybe at seven-eighths they might spread apart early on," Glatt continues, "and he'll be able to get out away from the dirt."
The 75th running of the Runhappy G1 Del Mar Futurity goes off as race 10 on the 11-race card.
Here's the field from rail with the jockeys and morning line odds: Classical Cat (Umberto Rispoli, 8-1); Agency (12-1); Mixto (Ramon Vazquez, 20-1); Skinner (Victor Espinoza, 8-1); Pop d'Oro (Abel Cedillo, 50-1); Newgate (John Velazquez, 4-1); Cave Rock (Juan Hernandez, 6/5); Havnameltdown (Mike Smith, 4-1), and The Big Wam (Hector Berrios, 10-1).
---
JOCKEY KYLE FREY IS FINDING HIS NICHE AT DEL MAR
Kyle Frey is now into his second year of riding fulltime at Del Mar and he's already established himself as a Top 10 jockey who can be relied upon to get the best out his horse. Frey has won 12 races this summer, good enough for ninth place in the rider standings.
"It's been productive," Frey says. "The first week was really good. I really felt an upward trajectory. All my horses ran good, they were placed well. It's just that in a lot of the seconds we hooked good horses. That's Del Mar. You can enter aggressively and you're still going to run into some monsters."
Frey enjoyed huge success in Northern California, winning four straight riding titles at Golden Gate Fields before moving his tack down to Southern California last year. This year, he came in with a plan.
"Comin' in I just wanted to be in the Top 10," Frey says. "Then after that first week, I thought I might shoot for the top five. Things went a little slower so I had to rearrange my goals to keep myself a little more level, and I went back to the original goal. That way you don't get overly frustrated. Keep it realistic."
Frey is coming off his best year ever in regards to earnings, compiling over $4.5 million in 2021. He's got a shot to best that mark this year despite all the changes to the Del Mar jockey colony brought about by the departure of Flavien Prat in April. Frey says the impact of Prat's departure went deep.
"When we got here (at Del Mar), multiple people showed up," Frey says, "like Flo (Florent Geroux) and a few other people and it felt like that was more of a curve ball than anything. Not in the sense that they came and took the best horses but they took the second and thirds, horses you could fall into a winning spot with. It definitely softened your momentum because then you have to ride the third and fourth best."
He says you can still win with those horses but it's always nicer to have the top horse in a race.
"If you're 10 lengths the best you can make three or four mistakes and still get the job done," Frey says. "I love the challenge and all it does is make you a better rider."
Taking the time to study the horses you ride and the races you ride in also makes you a better rider and Frey does plenty of that. But he abides by strict guidelines when it comes to his preparations.
"I don't do my homework too far ahead," Frey says. "I feel like the more I look at it, the more I see things that aren't there and I overanalyze the situation. So I just wait for the day of and, in the jocks room, I'll evaluate all my races in the Form. I'll also look at replays if I see something in the comments, or if it's a horse that I don't know, just so I can get an idea as to what got that horse beat and what's helped that horse win in the past."
Frey is already a winner off the track. He and his wife, Miya, are expecting their second child later this year.
---
FULL FIELD EXPECTED FOR G3 DEL MAR JUVENILE TURF SUNDAY
While aspiring Triple Crown hopefuls will be in the spotlight Sunday in the G1 Runhappy Del Mar Futurity, an equally talented group of 2-year-olds, who choose to run on the grass over the dirt, will do battle in the G3 Del Mar Juvenile Turf. A full field of 14 is expected to go to the post for the first of two stakes races on closing day.
Trainer Jeff Mullins brings a pair of talented colts to the race. Dandy Man Shines is an import from England making his U.S. debut. He was keeping Group 2 company before shipping over to the States last month.
"We've only had him for a week," Mullins says. "He came out of quarantine a little dehydrated but he seemed to bounce back good and he's had a nice work over the track."
Mullins says the connections of Red Baron's Barn or Rancho Temescal have always had high hopes for Dandy Man Shines.
"He's still a maiden," Mullins says. "He's never run in a maiden race. They spent the money to nominate him to the Breeders' Cup."
Mullins also has Packs A Wahlop, a winner last out in a maiden special weight turf sprint. This time he'll have to go two turns and get the extra three furlongs, but Mullins says he has no choice.
"We have nowhere else to run him," he says. "Sometimes you're forced into spots because there's no other option."
That's a common theme among many trainers of grass horses as the Del Mar meet comes to an end and the Santa Anita meet doesn't open until September 30.
Doug O'Neill trains Mackinnon, last year's winner of the Juvenile Turf, and this year brings three horses to the dance. Syntactic, a son of Nyquist, broke his maiden two weeks ago at Del Mar.
"He's doing well," O'Neill says. "Some deep waters there but we're optimistic. Having run well on the grass it didn't seem that out-of-line to give it a try."
Syntactic's maiden win came on the turf at the one mile distance of the Juvenile Turf. O'Neill also saddles Tahoma and Ah Jeez.
Don'tthinkjustdoit beat maiden special weight horses by five lengths at first asking last month for trainer Brian Koriner. He also won at the one mile distance on the lawn.
"He's doing well and we just hope he settles the same and can handle more experienced horses," Koriner says. "That first time you don't know what you're beating but you know you did it the right way."
He says it's nice to have jockey Hector Berrios back on his horse.
"At least now, he (Berrios) knows what the horse is capable of doing," Koriner says. "He'll probably ride him with more confidence than he did last time. He loved him when he got off of him last time."
Here' the field from the rail with jockeys and morning line odds: Ah Jeez (Abel Cedillo, 8-1), Wound Up (Mario Gutierrez, 12-1); De la Luna (Armando Ayuso, 12-1); Don'tthinkjustdoit (5-1); Syntactic (Drayden Van Dyke, 20-1); Dandy Man Shines (Umberto Rispoli, 4-1); Stone Point (Ryan Curatolo, 20-1); Ti Sento (Flavien Prat, 6-1); Packs A Wahlop (Mike Smith, 8-1); President Z (Ricardo Gonzalez, 20-1); Park City (John Velazquez, 5-1); Mas Rapido (Edwin Maldonado, 15-1); Tahoma (Juan Hernandez, 8-1), and Valiancer (Kyle Frey, 20-1). Also Eligibles: Buffett and Taltariate.
---
COOLING OUT: When the racing office announced there would be no turf racing Friday it was the first time in over seven years races had been taken off the turf during the summer meet. It happened on July 18 and 19, both days of the opening weekend of the 2015 meet, when the largest storm ever recorded in July in San Diego swept through the region. Even the Padres got rained out…You can never have enough good horses. Trainer Bob Baffert will not be at Del Mar on the final two days of the meet. He's back in Kentucky at the Keeneland September Yearling sale…Notable work on Saturday: Dirt – Kid Corleone (4f, :46.40); Soothsay (5f, 1:05.00). A total of 73 horses put in official works.
---
Del Mar Statistics
Jockey Standings
(Current Through Friday, September 9, 2022 Inclusive)
| | | | | | | | |
| --- | --- | --- | --- | --- | --- | --- | --- |
| Jockey | Mts | 1st | 2nd | 3rd | Win% | In-money% | Money Won |
| Juan Hernandez | 181 | 46 | 34 | 24 | 25% | 57% | $3,210,686 |
| Umberto Rispoli | 151 | 26 | 25 | 21 | 17% | 48% | $2,206,508 |
| Ramon Vazquez | 173 | 22 | 27 | 31 | 13% | 46% | $1,857,464 |
| Mike Smith | 71 | 16 | 6 | 11 | 23% | 46% | $1,433,800 |
| Edwin Maldonado | 133 | 15 | 17 | 16 | 11% | 36% | $926,186 |
| Abel Cedillo | 152 | 15 | 16 | 12 | 10% | 28% | $1,203,456 |
| Joe Bravo | 102 | 15 | 13 | 9 | 15% | 36% | $1,225,806 |
| Hector Berrios | 107 | 14 | 16 | 9 | 13% | 36% | $1,126,000 |
| Kyle Frey | 145 | 12 | 15 | 19 | 8% | 32% | $868,642 |
| Mario Gutierrez | 73 | 9 | 6 | 7 | 12% | 30% | $773,782 |
Trainer Standings
(Current Through Friday, September 9, 2022 Inclusive)
| | | | | | | | |
| --- | --- | --- | --- | --- | --- | --- | --- |
| Trainer | Sts | 1st | 2nd | 3rd | Win% | In-money% | Money Won |
| Doug F. O'Neill | 130 | 17 | 14 | 11 | 13% | 32% | $1,361,072 |
| Bob Baffert | 64 | 17 | 13 | 14 | 27% | 69% | $1,620,550 |
| Philip D'Amato | 119 | 16 | 21 | 24 | 13% | 51% | $2,174,440 |
| Peter Miller | 113 | 15 | 18 | 13 | 13% | 41% | $1,252,372 |
| George Papaprodromou | 93 | 14 | 10 | 10 | 15% | 37% | $1,062,520 |
| Mark Glatt | 73 | 13 | 13 | 14 | 18% | 55% | $950,156 |
| Jonathan Wong | 57 | 13 | 5 | 8 | 23% | 46% | $513,580 |
| John W. Sadler | 84 | 12 | 18 | 15 | 14% | 54% | $1,530,432 |
| Andy Mathis | 41 | 12 | 2 | 4 | 29% | 44% | $518,028 |
| Dean Pederson | 12 | 8 | 1 | 0 | 67% | 75% | $437,880 |
Winning Favorites Report
(Current Through Friday, September 9, 2022 Inclusive)
Winning favorites -- 100 out of 272 -- 36.76%
Winning favorites on dirt -- 60 out of 157 -- 38.22%
Winning favorites on turf -- 40 out of 115 -- 34.78%
Winning odds-on favorites -- 21 out of 42 -- 50.00%
In-the-Money favorites -- 202 out of 272 -- 74.26%
In-the-Money odds-on favorites -- 37 out of 42 -- 88.10%