Monday, September 4th, 2017 ( 11 months ago )
Stable Notes
Sept 4, 2017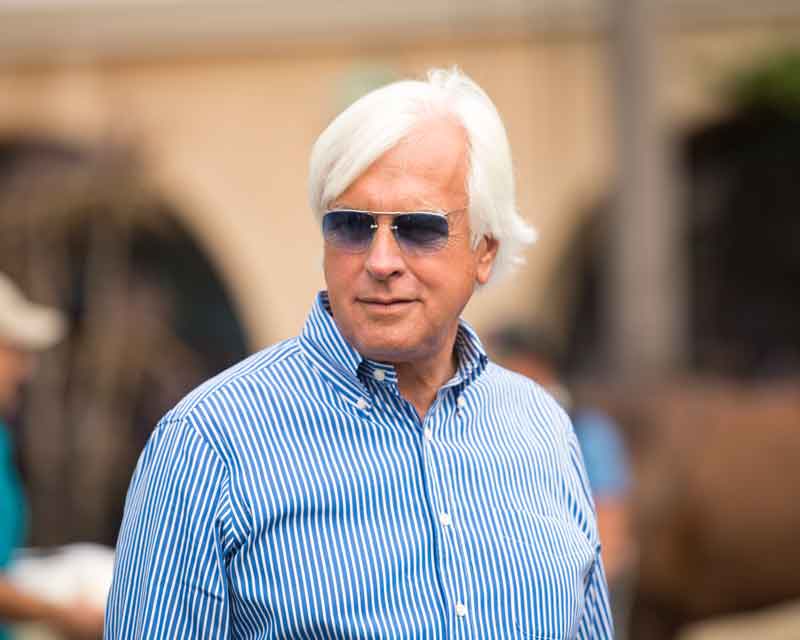 Bob Baffert © Del Mar Thoroughbred Club
ANOTHER SEASON, ANOTHER MAJOR DEL MAR RECORD FOR BAFFERT
With the victory by St Patrick's Day in Saturday's eighth race, Bob Baffert moved ahead of Mike Mitchell to become Del Mar's all-time leading trainer for wins with 477 compiled over 29 years at the track.
Baffert was already the far and away leader for stakes victories with 123, counting two this season, and will be aiming to add to that total today with a (yes, record) 14th triumph in the Grade I $300,000 Del Mar Futurity if either Soul Streit or Zatter get home in front.
"Longevity and good horses will break records," Baffert said Monday morning. "To break the record was an honor. There are some great trainers on the roster."
Baffert became the third to climb atop the trainer wins ladder in the last 19 years and claimed the record in the shortest amount of time of the three.
In 1998, his 38th season at Del Mar, Ron McAnally surpassed Farrell Jones and held the top spot for 13 years. In 2011, his 35th season here, Mitchell climbed past McAnally. Baffert added win No. 478 with Alluring Star in Sunday's sixth race.
"I can't believe it has been that long," Baffert said. "I feel so fortunate. I never would have thought it would be possible when I first came here. I remember filling out my first claim for a horse here. I was completely lost, so nervous, didn't know what I was doing. I forgot to put the horse's name on the claim form.
"So the claim was voided. The horse dwelt in the gate and didn't even run."
A successful quarter horse trainer, Baffert was advised by D. Wayne Lukas to make the transition between breeds complete, as he had done. Baffert took the advice and started making Thoroughbred history. He bought his first thoroughbred at public auction in 1988. That horse, Thirty Slews, went on to win the 1992 Breeders' Cup Sprint.
His unprecedented success at Del Mar started modestly enough. Baffert trained six winners from 20 starters during the 1990 summer season. He cracked the Top 10 on the trainer list the following year, tying for eighth with nine wins from 29 starters.
He soon caught fire and, during a seven-year streak of training titles from 1997-2003, totaled 186 wins, averaging more than 26 a season during the span.
"I couldn't have done it without the clientele," Baffert said. "Mike Pegram and Hal Earnhardt who brought me over here and stuck with me. John Mabee and so many others.
"Del Mar has always been one of my favorite places to come and we've been able to maintain high standards for a long time."
Baffert complimented his predecessors. Ron McAnally: "I've always looked up to him and been a big fan of his." Mike Mitchell: "He was tough. He knew where to place his horses and he was just a competitor to the very end."
For the record: The win that put Baffert over the top was accomplished by 2-year-old St. Patrick's Day, a full brother to American Pharaoh, the horse that Baffert had trained to the ultimate achievement, a Triple Crown championship. In his second career start St Patrick's Day was a game wire-to-wire winner under Flavien Prat, pressured by Instilled Regard and Mike Smith for the entire 6 ½ furlongs.
There figure to be more wins in St Patrick's Day's future. And, of course, many more for Baffert.
---
ON LABOR DAY, CAROLYN CONLEY'S CAREER-CHANGE STORY
Racing fans know the face and voice of Carolyn Conley from her nearly two decades as a commentator and analyst.
As part of Santa Anita's Eclipse Award-winning broadcast team from 1996-2000. And as an on-air personality and Director of Brand Management for HRTV from 2006 until her resignation to pursue other interests in 2014.
Three years later, Conley, 47, has left the on-camera stuff behind and could be found mornings throughout the summer meeting in the decidedly unglamorous Del Mar stable area booking mounts as the agent for 21-year-old apprentice Laura "Midge" Werner.
In her first full meeting as an agent, Conley managed to book 68 mounts for the young Englishwoman and celebrate three wins, tied for 20th in one of the deepest and most competitive jockey colonies in America.
How did this career change happen? It started last April.
"I was really sick for a few years after I left my television career," Conley said. "When I became well again, I was looking for the next chapter, hanging around Clockers' Corner at Santa Anita. My friend Derek Lawson (agent for Flavien Prat) saw Midge and said 'I ought to get somebody to hustle this girl's book. She can really ride.'
"I saw Midge work a horse and I said, 'Derek, what about me?' He said, 'You'd be perfect,' and it has been full speed ahead ever since."
Conley grew up in Spokane, Washington, one of six children, and spent summers in high school working as a groom at the local racetrack, Playfair. She went on to gallop horses at Longacres and then to Southern California where she galloped for trainers Charlie Whittingham, Wayne Lukas, Richard Mandella and Bill Spawr.
She worked other jobs, among them steward's aid and in the racing office before employment as a production assistant for ESPN at Del Mar led to her television years.
While still with HRTV she was working on a documentary in Central Asia when a toxin somehow invaded her body and rendered her extremely ill for about a year.
Shortly after recovering from that, a thoracic tumor, which may have been an offshoot of the previous illness, was discovered. "I had massive thoracic surgery but I'm well again now,"
She's prowling stable areas early mornings with Werner, and newly-acquired veteran Stewart Elliott, negotiating mounts and seeing that commitments are met. Competing against but also receiving advice, and help from fellow agents.
"That's what I love about this business.," Conley said. "In all my years around it, I've continued to perceive it as a big community and these agents have been great to me.
"The veteran agents like Scotty McClellan and Vince DeGregory, Brian Beach, they've all helped me learn the ropes, and I really appreciate that. I feel very blessed to learn from guys like DeGregory, who has had jocks like (Angel) Cordero and (Laffit) Pincay. I feel like an apprentice myself."
Working behind the scenes instead of in front of the camera is fine with her.
"I do miss (TV) but I have to say that this is even more fun," Conley said. "Now I'm not watching the game and commenting on it, I'm playing it. I'm part of it.
"And I feel privileged to work with an athlete like Midge. She's not only physically capable and perfectly made for her job as a jockey, but she's also very sharp mentally. She makes good decisions, trusts her judgement and is very disciplined. So, with all those qualities combined, and being a great person, it's so much fun to be working with and for her.
"Cultivating talent is what these trainers do with these horses, right? It's what gets us up in the morning. I consider it to be a privilege to be a part of that process and I really enjoy using my connections in the industry to help Midge get her career started, because she's got the right stuff. She has the magic."
---
PRAT'S SITTING PRETTY, BUT HIS AGENT'S PRETTY SUPERSTITIOUS
With a four-win margin over his co-defending champion Rafael Bejarano (33-29) and five over apprentice Evin Roman entering the final day, Flavien Prat would seem to be in a comfortable spot to secure the 2017 riding title.
But Derek Lawson, agent for the 25-year-old Frenchman, said comfort can wait.
"I'm real superstitious about stuff like that, even though Bejarano was congratulating me yesterday," Lawson said Monday morning. "If we're still ahead by four after the sixth race (of 10), then I'll start celebrating.
"Coming in, I kind of set a goal of $3 million in earnings and I think we're going to come pretty close to that. I also set 50 wins, but that was way too high. Especially with (Roman) getting so many wins and things getting spread around to so many riders.
"(Kent) Desormeaux had a great meet, (Joe) Talamo had a good meet. There were a lot of riders who came out and performed well. To win the title outright something Flavien wanted to do."
Prat is scheduled to ride nine races, Roman eight and Bejarano seven on the closing day card.
---
TRAINER RACE: ALL TIED UP WITH ONE DAY TO GO
Defending training champion Phil D'Amato saddled Duke's Up to win Sunday's ninth race and forge a tie with Richard Baltas, at 17 wins each, atop the standings entering the final day of the meeting.
Baltas has three horses entered on the 10-race closing-day card, D'Amato four. Their lineups: Baltas – Lunar Express (6th, 5-1), Kathy's Song (7th, 8-1) and Navajo Dreamer (9th, 8-1); D'Amato -- Pocket Jax (1st, 8-1), Nodiac (7th, 7-2), Camino Song (9th, 12-1) and Touching Rainbows (10th, 3-1).
The top three pursuers of the leading pair all have the numbers to catch or surpass the leaders. Peter Miller and Mark Glatt, both two off the lead, have six and five horses, respectively, entered. Doug O'Neill, three behind, has seven representatives scheduled.
---
RACING OFFICE PLEASED WITH RESULTS FROM ONE-DAY-AT-A-TIME PLAN
Depending on late scratches from the final program, the projected average field size number for the summer meeting is 8.6
"Well above the national average and about the same as we did last summer," racing secretary David Jerkens pointed out Monday. "We took the same approach, going day by day and trying to give the bettor the best product we can each day. That was our approach going in and I couldn't be more proud of my staff for making it happen."
There were concerns going into the meeting in light of Santa Anita cancelling two days during its meeting for lack of entries. But entries were steady throughout the course of the meeting and the biggest concern may have been forecasts of rain that could have triggered a significant number of scratches from Sunday's card. The rain was minimal and no factor in field sizes.
"You always worry about something in this job and I needed that to worry about," Jerkens said. "We've set the goals for both the summer and fall meetings of being the highest in California and the highest among the premier tracks in the summer and we've been able to reach those goals."
---
NEXT UP: BING CROSBY MEET FEATURING THE BREEDERS' CUP
At the end of Monday's program, racing on the Southern California circuit moves north up the freeway to Los Alamitos and Santa Anita. But it returns to Del Mar for the fourth edition of the Bing Crosby Fall Meeting in November.
The session, 16 days of racing on a Thursday-to-Sunday basis with the exception of the first week, will begin on November 1 and conclude on November 26. It will be highlighted by Del Mar's first hosting of the Breeders' Cup World Championships on Friday, November 3 and Saturday, November 4.
Besides the 13 Breeders' Cup races, with purses totaling $26.5 million, there will four additional stakes on Friday and three on Saturday and a total of 19 non-BC stakes during the meeting.
First post will be at 11:25 a.m. on Friday, November 3 and 10:15 a.m. on Saturday, November 4 for the Breeders' Cup. First post is 12:30 p.m. for all regular Bing Crosby meet days with the exception of Thanksgiving Day, November 23, when it will be 11 a.m.
---
CLOSERS – Selected workouts from 100 officially timed Monday: Collected (3f, :37.00), Cupid (3f, :35.60), Midnight Storm (3f, :38.60), West Coast (3f, :35.60), Vale Dori (4f, :49.40), Abel Tasman (6f, 1:11.60) and Champagne Room (6f, 1:13.60) … Thanks to all Stable Notes readers. See you in November….
---
DEL MAR STATISTICS
Jockey Standings
(Current Through Sunday, September 3, 2017 Inclusive)
| | | | | | | | |
| --- | --- | --- | --- | --- | --- | --- | --- |
| Jockey | Mts | 1st | 2nd | 3rd | Win% | In-money% | Money Won |
| Flavien Prat | 159 | 33 | 29 | 27 | 21% | 56% | $2,514,991 |
| Rafael Bejarano | 167 | 29 | 25 | 22 | 17% | 46% | $1,458,045 |
| Evin Roman | 230 | 28 | 38 | 24 | 12% | 39% | $1,250,035 |
| Kent Desormeaux | 132 | 24 | 31 | 17 | 18% | 55% | $1,410,808 |
| Joseph Talamo | 138 | 21 | 12 | 15 | 15% | 35% | $996,570 |
| Drayden Van Dyke | 120 | 21 | 9 | 13 | 18% | 36% | $1,170,740 |
| Tyler Baze | 189 | 18 | 28 | 25 | 10% | 38% | $1,129,356 |
| Santiago Gonzalez | 105 | 12 | 10 | 17 | 11% | 37% | $585,841 |
| Gary Stevens | 73 | 12 | 5 | 12 | 16% | 40% | $908,334 |
| Victor Espinoza | 62 | 11 | 6 | 6 | 18% | 37% | $1,037,765 |
Trainer Standings
(Current Through Sunday, September 3, 2017 Inclusive)
| | | | | | | | |
| --- | --- | --- | --- | --- | --- | --- | --- |
| Trainer | Sts | 1st | 2nd | 3rd | Win% | In-money% | Money Won |
| Richard Baltas | 107 | 17 | 20 | 12 | 16% | 46% | $1,192,228 |
| Philip D'Amato | 94 | 17 | 17 | 7 | 18% | 44% | $1,463,072 |
| Peter Miller | 121 | 15 | 22 | 16 | 12% | 44% | $840,252 |
| Mark Glatt | 63 | 15 | 5 | 10 | 24% | 48% | $828,009 |
| Doug F. O'Neill | 112 | 13 | 14 | 10 | 12% | 33% | $877,055 |
| Bob Baffert | 49 | 12 | 10 | 5 | 24% | 55% | $1,474,322 |
| Simon Callaghan | 43 | 11 | 5 | 4 | 26% | 47% | $783,445 |
| Michael W. McCarthy | 36 | 10 | 7 | 3 | 28% | 56% | $332,940 |
| John W. Sadler | 65 | 9 | 10 | 10 | 14% | 45% | $1,033,330 |
| Robert B. Hess, Jr. | 55 | 7 | 7 | 7 | 13% | 38% | $246,600 |
Winning Favorites Report
(Current Through Sunday, September 3, 2017 Inclusive)
Winning favorites -- 82 out of 308 -- 26.62%
Winning favorites on dirt -- 54 out of 192 -- 28.13%
Winning favorites on turf -- 28 out of 116 -- 24.14%
Winning odds-on favorites -- 22 out of 46 -- 47.83%
In-the-Money favorites -- 198 out of 308 -- 64.29%
In-the-Money odds-on favorites -- 37 out of 46 -- 80.43%