Sunday, September 3rd, 2017 ( 1 year ago )
Stable Notes
Sept 3, 2017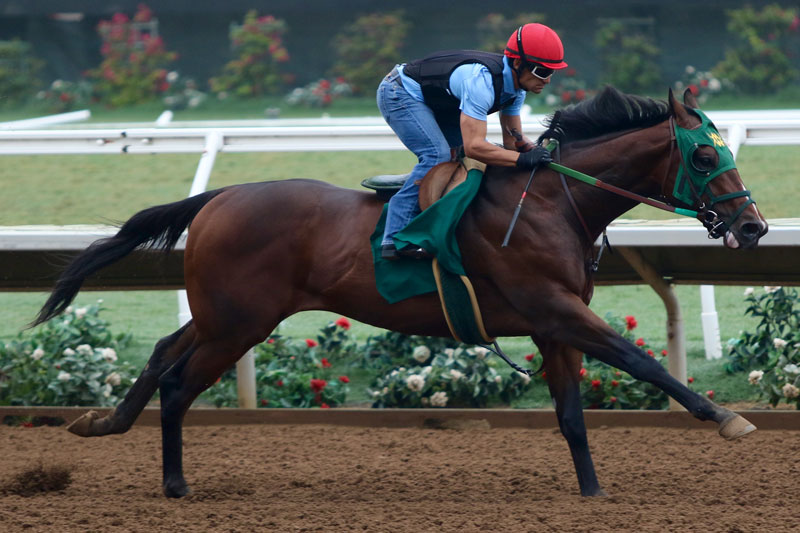 Bolt d'Oro © Del Mar Thoroughbred Club
OWNER/TRAINER MICK RUIS HAS FUTURITY VISIONS FOR BOLT D'ORO
The newly-formed Ruis Racing Stable of owner Mick Ruis, Sr., pulled off a big surprise when its Union Strike, trained by Ruis' daughter Shelbe, won the Grade I Del Mar Debutante last summer.
Mick is back, doing the training himself, and looking forward to taking a shot at another 2-year-old championship when he saddles Bolt d'Oro in Monday's $300,000 Grade I Del Mar Futurity.
Ruis, a longtime local resident who made his fortune off the San Diego-based American Scaffolding Company he owned, returned to the racing business in a big way as an owner early in 2016 and by the end of the year had renewed a training license he held in the early 2000s.
In August of last year, not long before Union Strike beat American Pharoah's full sister American Cleopatra and eventual Eclipse Award Juvenile Filly champion Champagne Room in the Debutante, Ruis purchased Bolt d'Oro for $630,000 at the Fasig Tipton yearling sale.
"We paid a lot for him, but he looks like a horse that can take us where we want to go. We're very excited," Ruis said Friday while watching the son of Medaglia d'Oro out of the A.P. Indy mare Globe gallop.
The Ruis family owns ranches in Descanso, California and Big Fork, Montana, and it was to the Montana farm that Bolt d'Oro was sent for early training by Ike Green, the manager who had picked him out at the sale.
"Ike has been getting on horses for 30 years, and he said he's never been on one like this," Ruis said. "He moves so well you don't realize how fast he's going. He's very mature for a 2-year-old and nothing seems to bother him."
Bolt d'Oro made his racing debut on August 5 here and was a 2 ¼-length winner at 6 ½ furlongs under Corey Nakatani. The Futurity is seven furlongs and to the victor goes, in addition to a $180,000 share of the purse, the role of top West Coast contender for the $2 million Breeders' Cup Juvenile here on Saturday, November 4, and possibly the Kentucky Derby next May.
"I like having Corey Nakatani to ride him. Corey's got a lot of experience in big races and he'll put you in a spot where you can win," Ruis said. "The goal would be the Breeders' Cup Juvenile. Ideally, that would be his third race over this track, which would be an advantage over most of the others."
The field from the rail: Soul Streit (Mike Smith, 4-1), Master Ruler (Evin Roman, 20-1), Run Away (Flavien Prat, 5-2), Tatters to Riches (Tyler Baze, 4-1), Fleetwood (Kent Desormeaux, 20-1), Bolt d'Oro (Corey Nakatani, 6-1), Gracida (Victor Espinoza, 12-1), Dia de Pago (Santiago Gonzalez, 12-1) and Zatter (Rafael Bejarano, 7-2).
---
BREEDERS' CUP IS DEFINITE FOR DEBUTANTE, MAYBE FOR MABEE WINNER
Trainer Simon Callaghan was pondering paths that lead to the $2 million 14 Hands Winery Breeders' Cup Juvenile Fillies soon after Moonshine Memories won Saturday's $300,000 Grade I Del Mar Debutante.
The daughter of Malibu Moon prevailed over 12 rivals just two weeks after a victory in her career debut here.
Callaghan, who recorded his fifth career Del Mar stakes victory, said that a search for a reason not to run in the meeting's premier event for 2-year-old fillies was in vain. Now the decision will be whether to race again, in the Chandelier Stakes at Santa Anita on September 30, or train her up to the Breeders' Cup event.
"She loves the track, that's (Breeders' Cup) the goal and I wouldn't mind just waiting for that," Callaghan said. "Maybe a race in between, but we'll see."
The Breeders' Cup future isn't as cut-and-dried for Cambodia, who followed up an August 5 win in the 1 1/16-mile Grade II Yellow Ribbon Handicap with one in Saturday's 1 1/8-mile John C. Mabee Stakes.
The Mabee was contested over the same course and distance as the $2 million Breeders' Cup Filly & Mare Turf.
"I understand that," said owner/breeder Don Robinson. "She did pass the test.
"We never thought we had a Breeders' Cup filly, but she likes this track a lot and I'll leave it up to (trainer) Tom Proctor. She has been steady running all year (seven starts) and Tom gives her lots of time and kindness and she's thriving.
"If she's happy and sound, the sky's the limit."
---
PRAT GETS A GRIP ON JOCKEY RACE; TRAINER TITLE DOWN TO THE WIRE
Jockey Flavien Prat, riding for the first time during the final week of the meeting, recorded four wins on Saturday's 11-race card to break a tie with Rafael Bejarano and apprentice Evin Roman.
Prat won the fourth (Coils Gold, $8.20), fifth (Solomini, $4.00), Del Mar Debutante seventh (Moonshine Memories, $13.40) and eighth (St Patrick's Day $3.60) to open a four-win advantage over his closest pursuers. Bejarano managed to get one back aboard Ice Cat ($8.40) in the nightcap for trainer Richard Baltas.
Prat's burst, with two days remaining in the meeting, assured that the jockey title wouldn't be won with a total in the 20-win range for the first time since Jimmy Nichols prevailed with 29 wins in a 41-day session in 1948.
Prat has eight mounts on Sunday's 10-race card, Bejarano five and Roman nine.
Prat missed the Wednesday and Thursday cards while serving the final two days of a three-day suspension. He was excused from one mount on Friday when travel problems delayed his return from a family matter in his native France.
Baltas retained a one-win lead (17-16) over Phil D'Amato in the trainer standings by virtue of Ice Cat's 11th-race victory Saturday. D'Amato had drawn even when he saddled Spin Me a Kiss ($9.60) to win the third race.
Baltas has four horses entered Sunday, D'Amato has seven.
---
EMOTIONS RUN HIGH OVER TERRA'S ANGEL IN JUVENILE FILLIES TURF
There's not likely to be a dry eye in the winner's circle if Terra's Angel prevails in Monday's $100,000 Del Mar Juvenile Fillies Turf.
Co-owner Terry Eoff, who is partnered with John Evans, purchased the filly for a bargain $7,500 at the Keeneland sale and named the daughter of Drosselmeyer-Vindicated Angel after his own daughter Terra.
Terra, a mother of three in her late 30s, had battled cancer into remission over a period of years. But it came back and metastasized to the point where circumstances were dire as the racing debut for the Dallas Keen-trained 2-year-old approached in May.
Jockey Sasha Risenhoover was apprised of the situation as she worked Terra's Angel leading up to the May 13 debut at Lone Star Park in Texas.
"I already liked this filly a lot, but when Terry told me that story, it put a fire in me to win," Risenhoover said. "I've got to win this for this girl."
Terra's Angel won at first asking by three lengths. Terra watched the race via video from a hospital bed in San Antonio. Her father showed a video of that to Sasha.
"She was crying the whole time, she was so happy," Risenhoover said. "I couldn't take it. To see how happy that girl was. I just started bawling as I watched it. Sure enough, three days later she passed away."
Risenhoover followed Terra's Angel here from Texas. They finished a creditable third in the Grade Sorrento Stakes at 6 ½ furlongs on dirt August 5. Monday's race will be the first on turf for Terra's Angel. She has had two works on grass and one on dirt since her last start.
The field from the rail: Dawn Traveler (Flavien Prat, 8-1), Medaglia Gold (Edwin Maldonado, 9-2), Scat Home Lady (Martin Garcia, 12-1) Unstablenthemornin (Evin Roman, 12-1), Holy Diver (Modesto Linares, 20-1), Multiplayer (Tyler Baze, 5-1), Camino Song (Kent Desormeaux, 12-1), Klosters (Drayden Van Dyke, 8-1), Thisoleheartofmine (Brice Blanc, 20-1), Bonneville Flats (Joe Talamo, 12-1), Terra's Angel (Sasha Risenhoover, 8-1), Streetwithnoname (Martin Pedroza, 18-1), Navajo Dreamer (Rafael Bejarano, 8-1) and One Fast Broad (Corey Nakatani, 12-1). Lemon Crush (Chantal Sutherland, 30-1) is the also eligible.
---
WERNER RIDES IN APPRENTICE WORLD CHAMPIONSHIPS MONDAY IN NJ
Apprentice Laura Werner will ride Monday at Monmouth Park in New Jersey in the Apprentice World Championship, part of the international HH Sheikh Mansoor Bin Zayed Al Nahyan Global Arabian Horse Flat Racing Festival.
Werner, who has won three races in her first summer at Del Mar, will be one of two U.S. representatives in the Arabian race with others coming from Germany, Ireland, Norway, Puerto Rico, Sweden and the United Kingdom.
The far-reaching Festival has already had stops in such exotic locales as Oman, Morocco, Italy, Germany, Denmark and Poland. Monmouth Park is its only U.S. stop. There will be a second Arabian race on the track's 10-race holiday card.
Carlsbad resident and Hall of Fame rider Julie Krone will be an ambassador for the event and take part in a meet-and-greet and autograph session at the shore oval. She was the leading rider at Monmouth Park in 1987-88-89.
---
CLOSERS – Simon Callaghan-trained Classy Tune, already a two-time winner at the meeting, is the 5-2 morning line favorite in a field of nine for Monday's $75,000-added C.E.R.F. Stakes at six furlongs for older fillies and mares. The 3-year-old daughter of Maclean's Music won a maiden special on the opening day of the meeting, July 19 by one length and came back on August 20 to best nine rivals by 5 ½ lengths in an optional claimer … Word from overseas is that Highland Reel will be pointing for defense of his title in the $4 million Longines Breeders' Cup Turf at Del Mar on November 4 …. Trainer Bob Baffert on St Patrick's Day, the full brother to Triple Crown champion American Pharoah who broke his maiden in Saturday's eighth race, his second career start: "He's different than his brother. He's a little more laid back. But he's a good horse." … Selected works from 138 officially timed Sunday: Ocho Ocho Ocho (3f, :37.40), Battle of Midway (4f, :48.60), Bendable (4f, :47.40), Itsinthepost (4f :48.80), Mr. Roary (4f, :49.00), Catalina Cruiser (5f, :59.00), Jungle Warfare (5f, :59.00), Place des Vosges (5f, 1:00.00) and Roy H (5f, 1:01.60) … Carolyn Conley, agent for apprentice Laura Werner, now also has the book for Kentucky Derby-winning rider Stewart Elliott.
---
DEL MAR STATISTICS
Jockey Standings
(Current Through Saturday, September 2, 2017 Inclusive)
| | | | | | | | |
| --- | --- | --- | --- | --- | --- | --- | --- |
| Jockey | Mts | 1st | 2nd | 3rd | Win% | In-money% | Money Won |
| Flavien Prat | 151 | 32 | 27 | 26 | 21% | 56% | $2,430,976 |
| Rafael Bejarano | 162 | 29 | 25 | 20 | 18% | 46% | $1,427,365 |
| Evin Roman | 222 | 28 | 38 | 24 | 13% | 41% | $1,245,525 |
| Kent Desormeaux | 127 | 23 | 31 | 17 | 18% | 56% | $1,379,763 |
| Drayden Van Dyke | 114 | 20 | 8 | 13 | 18% | 36% | $1,143,560 |
| Joseph Talamo | 131 | 19 | 12 | 14 | 15% | 34% | $911,095 |
| Tyler Baze | 180 | 18 | 28 | 24 | 10% | 39% | $1,119,621 |
| Santiago Gonzalez | 100 | 12 | 10 | 16 | 12% | 38% | $577,021 |
| Gary Stevens | 71 | 11 | 5 | 12 | 15% | 39% | $757,989 |
| Corey Nakatani | 55 | 10 | 15 | 2 | 18% | 49% | $671,710 |
Trainer Standings
(Current Through Saturday, September 2, 2017 Inclusive)
| | | | | | | | |
| --- | --- | --- | --- | --- | --- | --- | --- |
| Trainer | Sts | 1st | 2nd | 3rd | Win% | In-money% | Money Won |
| Richard Baltas | 103 | 17 | 19 | 12 | 17% | 47% | $1,175,938 |
| Philip D'Amato | 88 | 16 | 17 | 6 | 18% | 44% | $1,406,037 |
| Mark Glatt | 61 | 14 | 5 | 10 | 23% | 48% | $677,664 |
| Peter Miller | 115 | 13 | 22 | 15 | 11% | 43% | $774,417 |
| Doug F. O'Neill | 109 | 13 | 13 | 10 | 12% | 33% | $863,110 |
| Bob Baffert | 46 | 11 | 10 | 3 | 24% | 52% | $1,423,682 |
| Simon Callaghan | 41 | 10 | 5 | 3 | 24% | 44% | $711,445 |
| John W. Sadler | 63 | 9 | 10 | 10 | 14% | 46% | $1,029,385 |
| Michael W. McCarthy | 34 | 9 | 7 | 3 | 26% | 56% | $295,395 |
| Robert B. Hess, Jr. | 54 | 7 | 7 | 7 | 13% | 39% | $246,000 |
Winning Favorites Report
(Current Through Saturday, September 2, 2017 Inclusive)
Winning favorites -- 80 out of 298 -- 26.85%
Winning favorites on dirt -- 53 out of 186 -- 28.49%
Winning favorites on turf -- 27 out of 112 -- 24.11%
Winning odds-on favorites -- 22 out of 46 -- 47.83%
In-the-Money favorites -- 195 out of 298 -- 65.44%
In-the-Money odds-on favorites -- 37 out of 46 -- 80.43%