Saturday, September 2nd, 2017 ( 1 year ago )
Stable Notes
Sept 2, 2017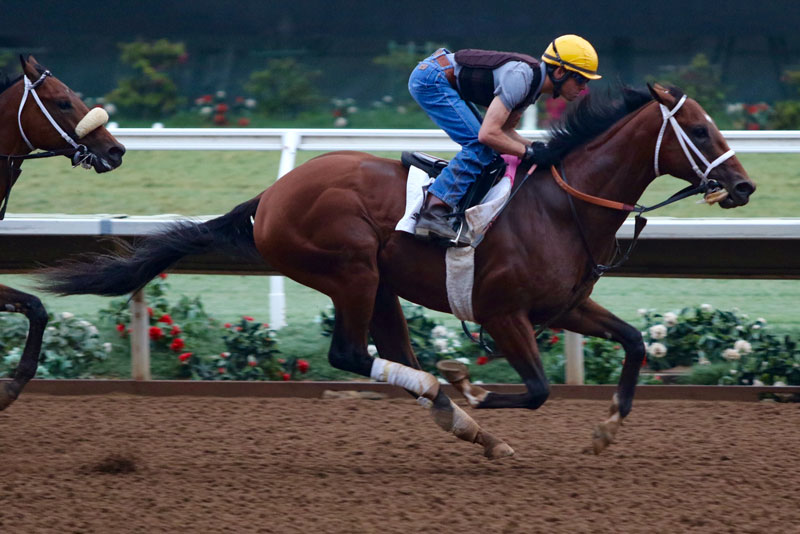 Tatters to Riches © Del Mar Thoroughbred Club
MULLINS HAS HIGH HOPES IN FUTURITY FOR HIS MILLION DOLLAR BABY
The gavel fell at $1 million and the 2-year-old colt was sold at the Ocala Breeders' Sale, just over four months ago, in April.
Jeff Mullins says the purchase price for Tatters to Riches was the highest, by about double, of any horse he has trained.
"He was really a nice looking horse and his pedigree obviously helped," Mullins said Saturday of the bay colt, acquired by Red Baron's Barn LLC and Rancho Temescal. "A lot of other people wanted him, we just had more money. It didn't take long to get to a million."
Monday, the son of Union Rags out of the A.P. Indy mare Poco Mas, faces a crossroads career moment – along with eight other juveniles – in the 70th running of the Grade I $300,000 Del Mar Futurity.
Tatters to Riches was a 1 ¼-length winner in his racing debut at six furlongs here on July 29 under Tyler Baze. Since then, he has recorded a series of four strong works, the first at San Luis Rey Downs and the final three at Del Mar.
But there's more to the million-dollar baby than even the numbers suggest.
"He's a lot more mature than a lot of 2-year-olds are, physically and mentally. You look at him and you wouldn't know he was a 2-year-old. You'd think he was a 3 or 4-year-old."
Success in the Del Mar Futurity has been a harbinger of winning efforts in the Breeders' Cup Juvenile and/or Kentucky Derby. And having any Futurity starter, let alone a seven-figure acquisition can raise the anxiety bar.
"If you don't feel pressure with a horse like this, there's something wrong with you," Mullins said. "This would be huge for him as far as his future and everything."
The field from the rail: Soul Streit (Mike Smith, 4-1), Master Ruler (Evin Roman, 20-1), Run Away (Flavien Prat, 5-2), Tatters to Riches (Tyler Baze, 4-1), Fleetwood (Kent Desormeaux, 20-1), Bolt d'Oro (Corey Nakatani, 6-1), Gracida (Victor Espinoza, 12-1), Dia de Pago (Santiago Gonzalez, 12-1) and Zatter (Rafael Bejarano, 7-2).
---
BLACKER AIMS FOR FIRST DEL MAR STAKES WIN WITH DERBY DUO
Trainer Dan Blacker will saddle Double Touch and Ritzy A.P. in Sunday's $250,000 Grade II Del Mar Derby. And while the morning line odds are long, the 35-year-old native of Oxford, England, has reason to believe his horses could outrun their numbers and possibly provide his first Del Mar stakes victory.
English-bred Double Touch (20-1), a Tattersalls sale in England purchase, has made four U.S. starts since April. After a one-mile victory on turf June 30 at Santa Anita, he ran seventh of eight in the Grade III 1 1/16 mile La Jolla Handicap on August 6.
"We didn't feel like he had a fair shot in the La Jolla because tactically the race didn't go as we had planned," Blacker said Saturday. "On paper it doesn't look like he has much of a shot, but he's been training really well and we wanted to see what he can do when he runs his race tactically where we want him.
"We didn't have to run in the Derby, but I feel really good about taking this chance."
Ritzy A.P. (30-1) has a maiden victory in six career starts and was fifth, beaten 2 ½ lengths, in an allowance here on August 12.
"He doesn't look live numbers-wise, but he's just going to get better with age and distance," Blacker said. "He's going to win a stake. Whether it's (Sunday) or not, I don't know. I'm grateful to Calumet Farm for being able to train him.
"Both horses have to run their best races, but with some pace in the race and a little bit of luck they can be right there."
The field from the rail: Harbour Master (Victor Espinoza, 20-1), Monster Man (Santiago Gonzalez, 20-1), Bowies Hero (Tiago Pereira, 9-2), Marckie's Water (Corey Nakatani, 12-1), Sharp Samurai (Gary Stevens, 7-2), Fashion Business (Joe Talamo, 6-1), Colonist (Rafael Bejarano, 6-1), Double Touch (Tyler Baze, 20-1), Sorry Erik (Kent Desormeaux, 6-1), Big Score (Flavien Prat, 3-1) and Ritzy A.P. (Evin Roman, 30-1).
---
THREES ARE WILD IN JOCKEY RACE, THREE TIED, THREE DAYS TO GO
Apprentice Evin Roman and five-time defending champion Rafael Bejarano each notched a victory on Friday to pull even with Flavien Prat atop the jockey standings with 28 wins each.
Prat and Bejarano tied for the 2016 summer championship. Roman is attempting to be the first apprentice to win a Del Mar title since Steve Valdez in 1973.
Prat, riding for the first time of the closing week, has eight scheduled mounts on Saturday, Bejarano and Roman six each.
---
BALTAS MOVES TO THE LEAD IN TRAINER STANDINGS
A victory by Knk's Dolce Vita in Friday's fifth race enabled Richard Baltas to break a tie with defending champion Phil D'Amato and move atop the trainer standings. Baltas has 16 wins from 93 starters and D'Amato 15 from 83.
Baltas will send out 11 representatives on the Saturday program. D'Amato has eight.
Doug O'Neill, tied with Peter Miller for third with 13 wins, has seven to saddle on Saturday and Miller two.
---
ARMOUR PLATE RETURNS TO GRASS FOR JUVENILE TURF
It's back to the grass, the surface of his one win from three starts, for Armour Plate in Sunday's $100,000 Del Mar Juvenile Turf.
In July at Santa Anita, the 2-year-old son of Into Mischief won a maiden special weight event at a mile on turf – the surface and distance of Monday's race. A change in footing and step up to the Grade II Best Pal here on August 12 didn't work out for trainer Eddie Truman and owner Peter Redekop as the $180,000 purchase in March at the Ocala sale finished seventh of eight, beaten 11 lengths.
"It was an experiment, definitely," Truman said Saturday morning. "We were looking at two months between races (for the Juvenile Turf) and the race he won he was a little green, trying to get out around the turn, and he went he got to the lead he was kind of wandering over the track.
"So I really needed another race, and there just wasn't one. That (Best Pal) was the only one. I was hoping he would get up for a piece because he had worked well on the dirt. But he just doesn't handle it as well as he does the turf."
The field from the rail: Martin Riggs (Tiago Pereira, 20-1), Pubilius Syrus (Kent Desormeaux, 15-1), Bombardeo (Martin Pedroza, 12-1), Big Buzz (Rafael Bejarano, 6-1), Kazan (Martin Garcia, 12-1), Respect The Hustle (Tyler Baze, 15-1), Cono (Flavien Prat, 8-1), My Boy Jack (Corey Nakatani, 8-1), Linburgh's Kitten (Mike Smith, 6-1), Captain Buzzkill (Chantal Sutherland, 20-1), Armour Plate (Gary Stevens, 12-1), Take The One O One (Joe Talamo, 5-1), Encumbered (Mario Gutierrez, 9-2), and Rockaway (Evin Roman, 20-1). Also eligible are For Him (Edwin Maldonado, 30-1) and An Ocala Ten (Drayden Van Dyke, 20-1).
---
MEDAGLIA GOLD TABBED AS FAVORITE FOR JUVENILE FILLIES TURF
Mr. and Mrs. Larry D. Williams' Medaglia Gold, a daughter of Medaglia d'Oro out of the Seeking the Gold mare Lochinvar trained by Cliff Sise, was made the 9-2 favorite in a capacity field of 14 for Monday's $100,000 Del Mar Juvenile Fillies Turf.
The one-mile event for 2-year-old fillies is slated as the ninth on a 10-race Closing Day card and as such will be the last of 41 added-money events during the 78th summer season.
The field from the rail: Dawn Traveler (Flavien Prat, 8-1), Medaglia Gold (Edwin Maldonado, 9-2), Scat Home Lady (Martin Garcia, 12-1) Unstablenthemornin (Evin Roman, 12-1), Holy Diver (Modesto Linares, 20-1), Multiplayer (Tyler Baze, 5-1), Camino Song (Kent Desormeaux, 12-1), Klosters (Drayden Van Dyke, 8-1), Thisoleheartofmine (Brice Blanc, 20-1), Bonneville Flats (Joe Talamo, 12-1), Terra's Angel (Sasha Risenhoover, 8-1), Streetwithnoname (Martin Pedroza, 18-1), Navajo Dreamer (Rafael Bejarano, 8-1) and One Fast Broad (Corey Nakatani, 12-1). Lemon Crush (Chantal Sutherland, 30-1) is the also eligible.
---
MANDATORY PICK SIX PAYOUT FOR MONDAY'S CLOSING DAY CARD
Monday's closing day Pick Six wager will have an extra lure to it in that there is a "mandatory" payout requirement that comes with it, assuring players of getting paid the total pool in the exotic bet.
There will be at least one Pick Six winner that day and that winner – or those winners – not only get the majority of the day's Pick Six pool, but also collect all of the "Pick Six Jackpot" pool that has been building since it was last hit on Sunday, August 27. Going into Saturday's card, the "Jackpot" pool was $54,168 and eligible to carry forward for two more days.
On a "mandatory" day, if nobody hits the Pick Six by selecting all six winners, those next best – with five, four, and so forth – collect the winner's share.
Del Mar will have a 10-race card Monday, meaning the Pick Six will be on races 5 through 10.
---
CLOSERS – Tom Whayne, one of Del Mar's oldest and most loyal fans celebrates birthday No. 93 today. The retired teacher and art aficionado extended his streak for Opening Day attendance to 66 in a row last July 19 … Selected workouts from 95 officially timed Saturday: Fleetwood (3f, :36.60), Majestic Heat (3f, :36.00), Freedom Journey (4f, :46.60), It Tiz Well (4f, :47.40), Unique Bella (4f, :47.20), Stellar Wind (5f, 1:02.00) and Avenge (6f, :1:13.00).
---
DEL MAR STATISTICS
Jockey Standings
(Current Through Friday, September 1, 2017 Inclusive)
| | | | | | | | |
| --- | --- | --- | --- | --- | --- | --- | --- |
| Jockey | Mts | 1st | 2nd | 3rd | Win% | In-money% | Money Won |
| Evin Roman | 216 | 28 | 38 | 23 | 13% | 41% | $1,235,745 |
| Flavien Prat | 143 | 28 | 26 | 26 | 20% | 56% | $2,124,511 |
| Rafael Bejarano | 156 | 28 | 25 | 20 | 18% | 47% | $1,379,715 |
| Kent Desormeaux | 121 | 23 | 30 | 17 | 19% | 58% | $1,343,753 |
| Joseph Talamo | 128 | 19 | 12 | 13 | 15% | 34% | $886,405 |
| Tyler Baze | 172 | 18 | 28 | 21 | 10% | 39% | $1,094,721 |
| Drayden Van Dyke | 107 | 18 | 8 | 13 | 17% | 36% | $1,006,580 |
| Santiago Gonzalez | 93 | 11 | 10 | 16 | 12% | 40% | $556,706 |
| Gary Stevens | 68 | 11 | 4 | 12 | 16% | 40% | $733,244 |
| Corey Nakatani | 50 | 10 | 14 | 2 | 20% | 52% | $630,330 |
Trainer Standings
(Current Through Friday, September 1, 2017 Inclusive)
| | | | | | | | |
| --- | --- | --- | --- | --- | --- | --- | --- |
| Trainer | Sts | 1st | 2nd | 3rd | Win% | In-money% | Money Won |
| Richard Baltas | 93 | 16 | 18 | 11 | 17% | 48% | $1,073,423 |
| Philip D'Amato | 83 | 15 | 17 | 5 | 18% | 45% | $1,317,387 |
| Peter Miller | 113 | 13 | 22 | 14 | 12% | 43% | $766,872 |
| Doug F. O'Neill | 104 | 13 | 11 | 10 | 13% | 33% | $798,075 |
| Mark Glatt | 59 | 13 | 5 | 10 | 22% | 47% | $664,119 |
| John W. Sadler | 62 | 9 | 9 | 10 | 15% | 45% | $1,017,385 |
| Michael W. McCarthy | 33 | 9 | 6 | 3 | 27% | 55% | $290,995 |
| Bob Baffert | 41 | 8 | 10 | 3 | 20% | 51% | $1,307,282 |
| Simon Callaghan | 38 | 8 | 4 | 3 | 21% | 39% | $483,445 |
| Robert B. Hess, Jr. | 54 | 7 | 7 | 7 | 13% | 39% | $246,000 |
Winning Favorites Report
(Current Through Friday, September 1, 2017 Inclusive)
Winning favorites -- 76 out of 287 -- 26.48%
Winning favorites on dirt -- 51 out of 179 -- 28.49%
Winning favorites on turf -- 25 out of 108 -- 23.15%
Winning odds-on favorites -- 21 out of 45 -- 46.67%
In-the-Money favorites -- 190 out of 287 -- 66.20%
In-the-Money odds-on favorites -- 36 out of 45 -- 80.00%