Friday, September 1st, 2017 ( 1 year ago )
Stable Notes
Sept 1, 2017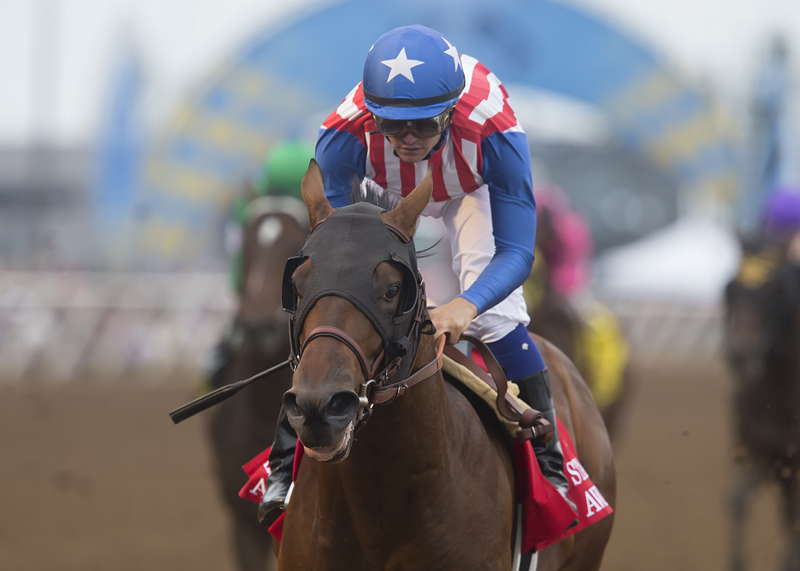 Run Away © Benoit Photo
NINE ENTERED FOR CLOSING DAY $300,000 GRADE I FUTURITY
A field of nine was entered Friday for Monday's $300,000 Grade I Del Mar Futurity, the traditional Closing Day feature as the 78th summer season ends.
Run Away, a 3 ½-length winner of the Futurity-prep Best Pal Stakes on August 12, will put his undefeated (3-for-3) record on the line against the 2-3-4 Best Pal finishers, Dia de Pago, Fleetwood and Master Ruler, and five who made winning career starts here during the meeting.
It will be the first seven-furlong assignment for all eight.
Hall of Fame trainer Bob Baffert will saddle two first-out winners. Soul Streit was a 5 ¼-length winner at five furlongs on August 13. A week later, Zatter scored by 1 ½-lengths at six furlongs.
Baffert has won the Futurity 13 times and two of the last three. Eventual Triple Crown champion American Pharoah signaled things to come in 2015 and Klimt was 4 ¼ lengths clear under the wire a year ago.
"We don't talk about that (past win numbers) because it doesn't mean anything," Baffert cautioned Friday morning. "It's what you've got now.
"It's a tough race. They're all good horses. I think the post position draw is going to mean a lot."
The field from the rail: Soul Streit (Mike Smith), Master Ruler (Evin Roman), Run Away (Flavien Prat), Tatters to Riches (Tyler Baze), Fleetwood (Kent Desormeaux), Bolt d'Oro (Corey Nakatani), Gracida (Victor Espinoza), Dia de Pago (Santiago Gonzalez) and Zatter (Rafael Bejarano).
---
BALTAS, TIED FOR TRAINING LEAD, HAS THREE TO RUN IN MABEE
A win by Watch This Cat ($6.20) in Thursday's seventh race moved trainer Richard Baltas into a tie for the training lead with defending champion Phil D'Amato at 15 wins each heading into the final four days of the meeting.
Baltas has two to saddle in Friday's eight-race card and has 11 representatives entered in Saturday's 11-race program, among them the trio of Hillhouse High, Insta Erma and Goodyearforroses in the Grade II $200,000 John C. Mabee Stakes.
How's he feeling these days?
"I'm feeling great," Baltas said Friday morning. "I'm getting better and better horses all the time, my clients are supporting me and I appreciate that."
Baltas, 56 and in his 26th year as a trainer, has never won a meeting championship.
"There would be a sense of accomplishment, I guess, since it has never happened to me," Baltas said of a possible title. "I'm not focused on that, I'm just trying to win as many races as I can. I've been close before and gotten beat at the end, but I've never been this close with just a few days to go.
"Everything is going well and we've got some good horses to run the next couple days."
Goodyearforroses is the 7-2 morning line favorite in the Mabee with Hillhouse High (12-1) and Insta Erma (20-1) relative long shots.
"They're all doing well," Baltas said. "Hillhouse is coming into it very good and she needed the last race (4th, Grade II $200,000 Yellow Ribbon). Insta Erma we just got through a private purchase. Gary Stevens has been working her in the mornings and he likes what he's seen. Goodyearforroses is just a really good horse."
The field from the rail: Hillhouse High (Rafael Bejarano, 12-1), Kiss Me Now (Martin Garcia, 30-1), Decked Out (Kent Desormeaux, 6-1), Cambodia (Drayden Van Dyke, 9-2), Madame Stripes (Joe Talamo, 8-1), Mrs McDougal (Flavien Prat, 5-1), Lady Valeur (Ricardo Gonzalez, 20-1), Barleysugar (Tyler Baze, 15-1), Pretty Girl (Mike Smith, 8-1), Insta Erma (Gary Stevens, 20-1), Amboseli (Victor Espinoza, 12-1), Frenzified (Santiago Gomzalez, 20-1) and Goodyearforroses (Corey Nakatani, 7-2).
---
D'AMATO WILL BE AN INTERESTED (IN) SPECTATOR FOR DEBUTANTE
Trainer Phil D'Amato has the 5-2 morning line favorite, Spectator, for Saturday's Grade I $300,000 Del Mar Debutante, a designation accorded off an impressive 5 ¼-length win in the stepping stone Grade II Sorrento Stakes on August 5.
D'Amato will be chief among those interested to see how the Rick and Sharon Waller homebred daughter of Jimmy Creed handles the next step in a promising career.
"She won the Sorrento nicely, but she's at a point in time where she's up against some really nice horses that broke their maidens in the right way," D'Amato said Friday. "It's a good solid race."
There was a time of anxiety for the Spectator camp when jockey Jamie Theriot, aboard for her two career starts, both wins, tumbled to the ground when his mount, Secret Shopper, broke down in Wednesday's fourth race.
Theriot was taken to a hospital for observation but was found to have avoided serious injury. The 38-year-old Louisiana native was excused from one mount Thursday but was scheduled to be back riding on Friday.
"I'm just glad he's all right," D'Amato said. "We're 2-for-2 on her and he has helped me develop her every step of the way. He's going to be riding for me today (Friday) and I think we make a good team."
The field from the rail: Gabrielleelizabeth (Evin Roman, 20-1), Moonshine Memories (Flavien Prat, 6-1), Spectator (Jamie Theriot, 5-2), Gas Station Sushi (Corey Nakatani, 7-2), Just a Smidge (Rafael Bejarano, 3-1), Piedi Bianchi (Mario Gutierrez, 12-1), Dancing Belle (Kent Desormeaux, 12-1) and Poetic (Mike Smith, 4-1).
---
OVERFLOW FIELDS FOR BOTH UPCOMING JUVENILE TURF STAKES
High interest was reflected in the entry box for Sunday's $100,000 Del Mar Juvenile Turf and Monday's $100,000 Del Mar Juvenile Fillies Turf.
Success for a 2-year-old in either one-mile race could lead to advancement to counterpart events when the Breeders' Cup comes to Del Mar on November 3-4. The $1 million Breeders' Cup Juvenile Turf and the $1 million Breeders' Cup Juvenile Fillies Turf will both be run on Friday, November 3.
A capacity field of 14 on the Jimmy Durante Turf Course, with two additional also eligible, was drawn Thursday for Sunday's Juvenile Turf. Friday, track oddsmaker Russ Hudak established Encumbered, trained by Simon Callaghan for Reddam Racing, as the 9-2 favorite. Encumbered will break from the No. 13 post under Mario Gutierrez.
The field from the rail: Martin Riggs (Tiago Pereira, 20-1), Pubilius Syrus (Kent Desormeaux, 15-1), Bombardeo (Martin Pedoza, 12-1), Big Buzz (Rafael Bejarano, 6-1), Kazan (Martin Garcia, 12-1), Respect The Hustle (Tyler Baze, 15-1), Cono (Flavien Prat, 8-1), My Boy Jack (Corey Nakatani, 8-1), Linburgh's Kitten (Mike Smith, 6-1), Captain Buzzkill (Chantal Sutherland, 20-1), Armour Plate (Gary Stevens, 12-1), Take The One O One (Joe Talamo, 5-1), Encumbered (Mario Gutierrez, 9-2), and Rockaway (Evin Roman, 20-1). Also eligible are For Him (Edwin Maldonado, 30-1) and An Ocala Ten (Drayden Van Dyke, 20-1).
On Friday, the Juvenile Fillies Turf also attracted a capacity field of 14 with one also eligible. Morning line odds will be released on Saturday.
The field from the rail: Dawn Traveler (TBD), Medaglia Gold (Edwin Maldonado), Unstablenthemornin (Evin Roman), Holy Diver (Modesto Linares), Multiplayer (Tyler Baze), Camino Song (Kent Desormeaux), Klosters (Drayden Van Dyke), Thisoleheartofmine (TBD), Bonneville Flats (Joe Talamo), Terra's Angel (Sasha Risenhoover), Streetwithnoname (TBD), Navajo Dreamer (Rafael Bejarano) and One Fast Broad (Corey Nakatani). Lemon Crush (Chantal Sutherland) is the also eligible.
Trainer Doug O'Neill will saddle Rockaway in the Juvenile Turf and Klosters in the Juvenile Fillies Turf.
"Not the greatest post (No. 14) for Rockaway, but since they've expanded the turf course you've seen horses win from outside," O'Neill said Friday. "It's not the ideal spot, but with a field so large I'm just grateful to be in the gate and have a chance."
Kloster is the latest European find by O'Neill talent scouts Steve Rothblum and Jack Sisterson imported with the Juvenile Fillies in mind for the San Diego-based Great Friends Stable. The formula proved a winning one with Clenor (2013) and She's Complete (2014).
"She's been training great and we think she's going to run a big race," O'Neill said.
---
PRAT EMERGES FROM SUSPENSION WITH ONE-WIN LEAD IN JOCKEY RACE
Flavien Prat's three-day suspension ended Thursday and the defending co-champion from 2016 emerged with a one-win lead (28-27) over last year's co-titlist Rafael Bejarano and apprentice Evin Roman.
Bejarano, seeking to win or share the Del Mar crown for a sixth straight year, won Thursday's seventh race with Watch This Cat ($6.20) to draw even with Roman.
Prat has one scheduled mount on Friday's card before his work load increases over the final three days of the meeting. Roman rides all eight races on the Friday card and Bejarano has six mounts.
---
SIX FEMALE JOCKEYS COULD BE THE MOST EVER HERE
With the additions of newcomers Laura "Midge" Werner, Sasha Risenhoover and Maria Falgione, the number of females on the Del Mar jockey roster is believed to be at an all-time high this summer.
Which is something that Chantal Sutherland, the prominent female rider here for the last six years, readily welcomes.
"It's good, I'm happy that the girls are coming out and trying," Sutherland said. "It's awesome."
Sutherland has three wins from 22 mounts and the apprentice Werner is 3-for-61 to rank 22nd and 25th in the overall standings. Falgione won last Saturday on the first ride of her career. Risenhoover, in off a successful six-year experience in the Midwest, is looking for her first Del Mar win having ridden eight races, Kayla Stra is 0-for-2 and Cassidy Clarisse 0-1.
"I was very happy for Maria that she won her first race," Sutherland said. "I think it's important that girls come here and show people that girls can ride. I want them to do well. I want trainers to see that and I want it to be more normal.
"Maybe we'll even get a bigger jock's room."
---
BUCALO WILL GUEST ON BONUS WEEKEND HANDICAPPING SEMINAR
Longtime racetracker and current Barona Casino supervisor John Bucalo will provide the insights and selections Monday to conclude the summer of Weekend Handicapping seminars.
The usual Saturday-Sunday feature has been extended to accommodate the Labor Day Weekend and Closing Day of the meeting.
The seminar will be held from 12:45-1:30 at the Seaside Terrace near the top of the stretch.
---
CLOSERS – The Daily Racing Form reported that Debutante entrant Gas Station Sushi will be scratched from Saturday's race after spiking a temperature … Selected workout from 74 officially timed Friday: Donworth (6f, 1:11.80)… A field of 9-12 was anticipated for Monday's 24th running of the $75,000-added CERF Stakes. Close of entries and the draw was scheduled later Friday.
---
DEL MAR STATISTICS
Jockey Standings
(Current Through Thursday, August 31, 2017 Inclusive)
| | | | | | | | |
| --- | --- | --- | --- | --- | --- | --- | --- |
| Jockey | Mts | 1st | 2nd | 3rd | Win% | In-money% | Money Won |
| Flavien Prat | 143 | 28 | 26 | 26 | 20% | 56% | $2,124,511 |
| Evin Roman | 209 | 27 | 37 | 21 | 13% | 41% | $1,186,670 |
| Rafael Bejarano | 152 | 27 | 23 | 20 | 18% | 46% | $1,320,115 |
| Kent Desormeaux | 114 | 22 | 29 | 16 | 19% | 59% | $1,266,503 |
| Joseph Talamo | 124 | 19 | 12 | 12 | 15% | 35% | $872,275 |
| Tyler Baze | 169 | 18 | 28 | 21 | 11% | 40% | $1,091,936 |
| Drayden Van Dyke | 102 | 17 | 6 | 13 | 17% | 35% | $945,490 |
| Santiago Gonzalez | 91 | 11 | 10 | 16 | 12% | 41% | $555,881 |
| Corey Nakatani | 47 | 10 | 14 | 1 | 21% | 53% | $622,105 |
| Martin Pedroza | 94 | 10 | 8 | 8 | 11% | 28% | $391,234 |
Trainer Standings
(Current Through Thursday, August 31, 2017 Inclusive)
| | | | | | | | |
| --- | --- | --- | --- | --- | --- | --- | --- |
| Trainer | Sts | 1st | 2nd | 3rd | Win% | In-money% | Money Won |
| Richard Baltas | 91 | 15 | 17 | 11 | 16% | 47% | $1,024,223 |
| Philip D'Amato | 80 | 15 | 17 | 4 | 19% | 45% | $1,306,242 |
| Peter Miller | 112 | 13 | 22 | 14 | 12% | 44% | $766,527 |
| Doug F. O'Neill | 100 | 13 | 10 | 10 | 13% | 33% | $787,440 |
| Mark Glatt | 59 | 13 | 5 | 10 | 22% | 47% | $664,119 |
| John W. Sadler | 60 | 9 | 9 | 9 | 15% | 45% | $1,008,745 |
| Bob Baffert | 39 | 8 | 10 | 3 | 21% | 54% | $1,306,592 |
| Michael W. McCarthy | 31 | 8 | 6 | 3 | 26% | 55% | $253,755 |
| Robert B. Hess, Jr. | 50 | 7 | 7 | 6 | 14% | 40% | $238,095 |
| Simon Callaghan | 35 | 7 | 4 | 2 | 20% | 37% | $462,940 |
Winning Favorites Report
(Current Through Thursday, August 31, 2017 Inclusive)
Winning favorites -- 75 out of 279 -- 26.88%
Winning favorites on dirt -- 50 out of 174 -- 28.74%
Winning favorites on turf -- 25 out of 105 -- 23.81%
Winning odds-on favorites -- 21 out of 45 -- 46.67%
In-the-Money favorites -- 186 out of 279 -- 66.67%
In-the-Money odds-on favorites -- 36 out of 45 -- 80.00%