Friday, October 30th, 2020 ( 3 months ago )
Stable Notes
October 30, 2020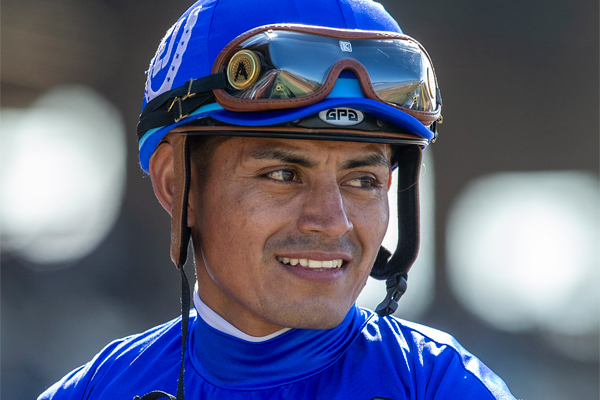 Abel Cedillo © Benoit Photo
CEDILLO READY TO DEFEND CROSBY TITLE; 'CUP WILL KEEP PRAT AWAY
Abel Cedillo relocated from the Northern to Southern California racing circuit for the Del Mar summer meeting of 2019 and proved he belonged by winning 25 races and finishing third in the rider standings behind Flavien Prat and Drayden Van Dyke.
Cedillo, a 31-year-old native of Guatemala, then polished his credentials by winning the Bing Crosby Season meeting, edging Van Dyke, 13-12. Cedillo's back, represented by veteran agent Tom Knust, and booked to ride all but one of the 18 races on the opening weekend cards when the meeting commences on Saturday.
"I feel great and I'm happy to be back (for the meeting)," Cedillo said Thursday by telephone. "I came down (to Southern California) to ride good horses and big races and that's what I've been doing, so I'm very happy about everything."
Cedillo won 30 races at the 2020 summer meeting as Prat edged newcomer Umberto Rispoli, 50-49, for the riding title. But Cedillo had the honor of being chosen by trainer Bob Baffert to ride one of the world's best horses, Maximum Security, when Luis Saez tested positive for COVID-19. And Cedillo came through with victories in the San Diego Handicap and TVG Pacific Classic.
Saez returned as Maximum Security finished second to stablemate Improbable in the Awesome Again Stakes at Santa Anita on September 26 and will be aboard for the $6 million Longines Breeders' Cup Classic a week from Saturday. Cedillo will be here, working on that title defense.
Cedillo and Van Dyke were tied going into the final day of the 2019 Bing Crosby meeting. Cedillo won the first race, aboard Wound Tight for trainer Bob Hess, Jr., and the best Van Dyke could do on the day was two close runner-up finishes.
"I didn't come (south) thinking about winning meets, so it was great that it happened," Cedillo said.
Prat has won the last two summer meet riding championships and three of the last four. But the 28-year-old Frenchman's only fall crown here came in 2017 which was, possibly not coincidentally, when Del Mar hosted the Breeders' Cup.
His chances of prevailing this year look severely compromised from the outset because of conflicts with the Breeders' Cup which starts its two-day run a week from today at Keeneland.
Prat was in Lexington, Ky., this morning planning to work two horses for trainer Simon Callaghan that he'll ride in Cup events: Harvest Moon in the $2 million Distaff and Madone in the $1 million Juvenile Fillies Turf. Harvest Moon won the Torrey Pines Stakes here last summer and Madone the Del Mar Juvenile Fillies Turf. Heavy rain in Kentucky resulted in postponement of those works until tomorrow, at which time Prat also will work 2019 TVG Pacific Classic winner Higher Power for trainer John Sadler.
Even if today's works had gone as scheduled, COVID protocols precluded Prat from returning to ride the opening weekend of the Bing Crosby meeting. So he will be replaced on eight scheduled mounts Saturday and remain in Kentucky through the Breeders' Cup the following weekend.
Thus, Prat will miss the first third of the 15-day Crosby season.
Agent Derek Lawson has Prat scheduled to ride seven of the 14 Breeders' Cup races and is working on one more possibility. Prat's best chance would appear to be Eddie Read Stakes winner United for Hall of Fame trainer Richard Mandella in the $4 million Longines Breeders' Cup Turf.
Rispoli and Juan Hernandez are the other Del Mar-based jockeys with Breeders' Cup calls. They'll ride here over the weekend – Rispoli has 16 scheduled mounts in 18 races and Hernandez 15 – before heading to the Bluegrass State.
---
BALTAS GEARS UP FOR CROSBY TRAINING TITLE DEFENSE AND BEYOND
The 2019 Bing Crosby meeting was a highly successful one for trainer Richard Baltas and his stable crew.
Baltas secured the training title by a comfortable 11-7 win margin over Bob Hess, Jr., in the 15-day meeting. He saddled Bob and Jackie to win the Let It Ride Stakes early in the meeting and followed with Oscar Dominguez in the Grade II, $200,000 Hollywood Turf Cup and Next Shares in the Grade II, $200,000 Seabiscuit Handicap during the closing-weekend "Turf Festival." And Baltas' charges accounted for $696,983 in purse earnings for the month, or about a third more than earnings runner-up Peter Miller's $483,168.
Baltas is back with a 20-horse stable at the track, with others at Santa Anita and San Luis Rey Downs, and hopeful of something like a 2019 repeat.
"I think I will be well-represented," Baltas said this morning by phone from Santa Anita. "I had a lot of seconds and thirds at Santa Anita, and if enough of those horses come back to win I'll be in good shape.
"It all goes in cycles and depends on how the horses are doing whether a barn is clicking or not. Training championships are fine, but I'm not going to make extra claims or run them back quickly to try and win one. I'm just going see that they're ready and put them in spots where they've got a chance to win."
Baltas finished fourth in the trainer standings for the Santa Anita fall meeting that ended last Sunday. He had eight wins, 13 seconds and 15 thirds from 60 starters. It followed a fifth-place finish in the Del Mar summer season with stats of: 94 12-13-14 and $735,930. Summer stakes victories in the Wickerr (Bob and Jackie), Smiling Tiger (Vertical Threat) and Yellow Ribbon (Bodhicitta) boosted his Del Mar total to 17 starting in 2014.
He'll send out Colonial Creed in the opening-day Kathryn Crosby Stakes hoping to add to that mark. The 4-year-old daughter of Jimmy Creed has three wins in 12 lifetime starts and earnings of $180,801. She returned from a four-month layoff to finish third, beaten 1 ¾ lengths by Cordiality in the Swingtime Stakes at Santa Anita on October 3.
"She's been training excellently and if she gets the right trip, she can be tough in her second out off a layoff," Baltas said. "I'm not too happy with the (outside) draw, but there's only eight in, so it's not like she's stuck wide in a field of 13 or something."
The field from the rail with jockeys and morning line odds in parenthesis: Ellie Arroway (Victor Espinoza, 8-1); Never Be Enough (Tiago Pereira, 5-1); Proud Emma (No Rider, 8-1); She's Our Charm (Juan Hernandez, 5-1); Muchly (Umberto Rispoli, 5-1); Cordiality (Drayden Van Dyke, 7-2); Qahira (Abel Cedillo, 5-1) and Colonial Creed (Mario Gutierrez, 4-1).
Early next week Baltas will travel to Kentucky where he has three horses pre-entered for the Breeders' Cup. Lady Prancelot (Filly & Mare Turf) is at Keeneland and will work tomorrow. Venetian Harbor recently raced in Kentucky and is set for the Filly & Mare Sprint. Tetragonal, on the also eligible list for the Juvenile Fillies Turf, works at Santa Anita tomorrow before shipping east.
---
MARGOT'S BOY FAVORED IN FIELD OF 10 FOR SUNDAY'S LET IT RIDE
Alfred Pais homebred Margot's Boy was a tabbed a narrow 3-1 favorite in a competitive field of 10 on oddsmaker Jon White's morning line for Sunday's featured $75,000 Let It Ride Stakes at one mile on turf for 3-year-olds.
A son of Clubhouse Ride out of the English-bred mare Margot Machance trained by Craig Lewis, Margot's Boy has three wins from nine career starts and earnings of $172,020. He shortens up from 1 1/8-mile assignments in the Grade II, $200,000 Del Mar Derby on September 6 (2nd) and Grade II, $200,000 Twilight Derby (7th) on October 18 at Santa Anita.
The field from the rail with jockeys and morning line odds in parenthesis: Goalie (Juan Hernandez, 12-1); Lane Way (Drayden Van Dyke, 4-1); Strongconstitution (Abel Cedillo, 4-1); Rookie Mistake (Mario Gutierrez, 12-1); Heywoods Beach (Umberto Rispoli, 7-2); Dominant Soul (Edwin Maldonado, 8-1); Margot's Boy (Tiago Pereira); I'm Leaving You (Victor Espinoza, 30-1); Lure Him In (Tyler Baze, 12-1), and Jammers Justice (Eswan Flores, 15-1).
---
CLOSERS – Trainer Mark Glatt, with 997 career wins, gets his first opportunity here to edge closer to 1,000 with two entries on the Sunday card. Glatt is scheduled to saddle Majestic Mountain (6-1 morning line) in the fifth race and Policy (5-1) in the seventh … Craig Lewis got his 1,000th career training win when Warren's Showtime took the Grade III, $100,000 Autumn Miss Stakes at Santa Anita on October 17.