Monday, October 30th, 2017 ( 1 year ago )
Stable Notes
Oct 30, 2017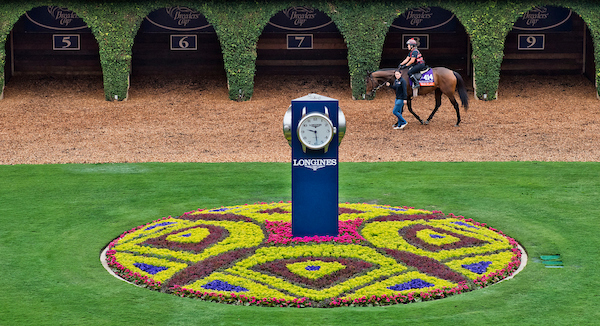 Del Mar Paddock © Eclipse Sportswire
DAWN OF 2 B.C. (BING CROSBY MEET, BREEDERS' CUP) HAS 'EM BUZZING
The Bing Crosby Fall season at Del Mar opens Wednesday. Friday and Saturday the Breeders' Cup World Championships, 13 races with $28 million in purses, will be hosted by Del Mar for the first time.
And, understandably, the enthusiasm of San Diego County resident horsemen for a meeting in its fourth season and an event that has been sought for decades is starting to rev up.
Daily Racing Form columnist Jay Hovdey, a Carlsbad resident: "We have the racing world at our doorstep and a showcase for Del Mar. I've always thought that Del Mar was the best kept secret in horse racing and now the secret's out."
Bloodstock agent Gayle Van Leer, a La Jolla resident: "There's energy and excitement in the air. The plant looks fantastic with the (purple) Breeders' Cup banners all around and I love what they're doing with the flowers. I got here at 6 o'clock this morning and the painters were already out putting fresh coats on the walls."
Van Leer has a rooting interest in Breeders' Cup Mile pre-entrants Mr. Roary and Om and Classic pre-entrant Win the Space. She was the purchasing agent for all three.
Trainer Art Sherman (California Chrome) a Rancho Bernardo resident: "There's great excitement around here. It's the first time in three years that I haven't had a horse in the Breeders' Cup, but I've got a lot of friends who do, so I'm happy being around them. I've got five 2-year-olds to run during the meeting, my stable is mostly young horses now. I hope they'll turn out OK."
California Chrome is now doing Southern Hemisphere stud duty in Chile, but Sherman intends to go see him in Kentucky when he returns next year.
Trainer Peter Miller, a Carlsbad resident: "I think it's great, very exciting. I'm obviously a little bit biased, but I think Del Mar is the most beautiful track there is. And since I live 10 minutes from here, it's very convenient for me."
Miller is the reigning champion and has won two of the three previous Bing Crosby meet training titles. His 16 wins in 2016 were double the totals for co-runners up Doug O'Neill and Richard Baltas.
Miller has four Breeders' Cup horses, two each in short-distance events. His representatives are Roy H and Calculator in the Sprint, Stormy Liberal and Richard's Boy in the Turf Sprint.
---
COMING IN HOT, CHAMPIONS OF SANTA ANITA
Nineteen-year-old apprentice Evin Roman continued his sensational ways by securing his fourth Southern California riding title of the year at the Santa Anita fall meeting which concluded Sunday.
Roman recorded 19 wins at the 19-day meeting, four more than runner-up Kent Desormeaux. Hall of Famer Desormeaux topped the rider colony for stakes victories with six.
"With this jockey, I love every meeting," Tony Matos, Roman's agent, said Monday morning. "It's unbelievable what he's been able to accomplish."
The only meeting Roman hasn't won in Southern California since last spring was the Del Mar summer meeting, when he finished second to Flavien Prat.
Monday morning Roman worked his lone Breeders' Cup mount, Golden Dragon in the Juvenile for trainer Mikhail Yanakov.
The Santa Anita training title was shared by Peter Miller and Richard Baltas, with 10 wins each. The stakes wealth was spread four ways with Miller, Mark Glatt, Ricard Mandella and Keith Desormeaux saddling two added-money winners each.
Ruis Racing of San Diego natives Mick and Wendy Ruis took top owner honors for money won ($271,900) with Del Mar Futurity winner Bolt D'Oro's impressive performance winning the Frontrunner Stakes the key. The Ruises were among a quartet of owners to tie for most victories with four.
---
MASTER MERION 5-2 FAVORITE FOR OPENING DAY LET IT RIDE STAKES
Master Merion, a Kentucky-bred son of Quality Road bringing a three-race winning streak for trainer Wesley Ward into the featured $75,000 Let It Ride Stakes on the Opening Day program Wednesday, has been tabbed the 5-2 morning line favorite by oddsmaker Russ Hudak in a field of eight.
Trainer Vladimir Cerin's Van Cortlandt and Emerald Downs shipper Monydontspenitself, a newcomer to the Mark Glatt stable, are the only other entrants coming in off victories in the one mile turf test for 3-year-olds.
Van Cortlandt, also a Quality Road progeny, won a 1 1/8 mile turf allowance at Santa Anita on October 15 under Stewart Elliott.
"The horse is improving and I thought we'd give it a shot," Cerin said Monday morning. "Wesley Ward looks like he's got a tough one in there."
The field from the rail: Van Cortland (Stewart Elliott, 10-1), Holiday Stone (Flavien Prat, 3-1), Kitten's Cat (Julien Leparoux, 7-2), Dangerfield (Kyle Frey, 15-1), Harbour Master (Kent Desormeaux, 7-2), Master Merion (John Velazquez, 5-2), Monydontspenitself (Rafael Bejarano, 10-1) and Curly's Waterfront (Edwin Maldonado, 20-1).
---
TEN ENTERED FOR THURSDAY'S FEATURED LURE STAKES
A field of 10 was entered Sunday afternoon for Thursday's $75,000-added Lure Stakes for 3-year-olds at a mile on the turf.
The field from the rail: Ample Sufficiency (Gary Stevens), Moonlight Drive (Rafael Bejarano), Forever Juanito (Joe Talamo), Dimension (Javier Castellano), Twentytwentyvision (Flavien Prat), Tequila Joe (Joel Rosario), Cistron (Tyler Baze), Eckersley (Drayden Van Dyke), He Will (Mike Smith) and A Red Tie Day (Corey Nakatani).
---
CLOSERS – The 13 Breeders' Cup races spread over the Friday and Saturday programs were to be drawn at ceremonies at the specially built "Barn at the Beach" at Powerhouse Park overlooking the Pacific Ocean starting at 3 p.m. Monday afternoon. The Del Mar racing office is also tasked with drawing seven undercard races over those two days and preliminary indications from stakes coordinator Chris Merz are that there will be sizeable fields in all. A rundown of the undercard races by day with the "probable" starter numbers in parentheses. Friday $200,000 Grade II Marathon Stakes (9), $200,000 Damascus Stakes (7), $200,000 Golden State Juvenile Fillies (9), $150,000 Grade III Senator Ken Maddy Stakes (12). Saturday -- $200,000 Golden State Juvenile (9), $200,000 Quatar Juvenile Turf Sprint Stakes (14), $200,000 Grade II Goldikova Stakes (14) … Selected works from 22 on dirt and two on turf officially timed Monday morning: Dirt – Mind Your Biscuits (3f, :36.40), Gun Runner (4f, :49.40), Hogy (4f, :50 flat), Iron Alex (4f, :48.40), Win the Space (4f, :49.60), Calculator (5f, :59.80), Gettysburg (5f, :59.80); Turf – Ballagh Rocks (4f, :49.60), Mr. Roary (4f, :49.20).