Friday, October 27th, 2017 ( 1 year ago )
Stable Notes
Oct 27, 2017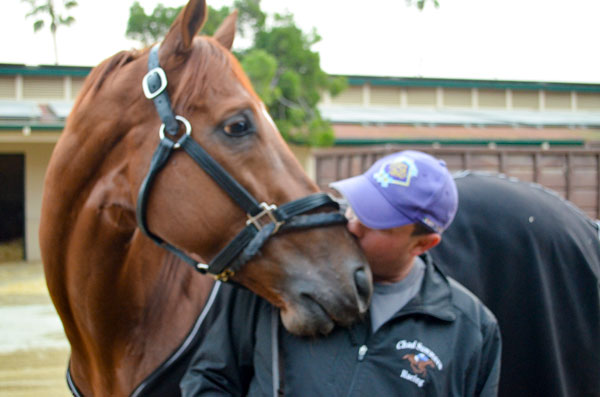 Chad Summers and Mind Your Biscuits
SUMMERS SAVORS THE DEL MAR FALL AND MIND YOUR BISCUITS
Chad Summers was in the vanguard of East Coast-based trainers to arrive at Del Mar for the Breeders' Cup World Championships.
The 32-year-old, who took out his license and took over training of Mind Your Biscuits in February – and is part owner of the sprinter who has earnings of more than $2.2 million – arrived Tuesday. His Breeders' Cup horses, Mind Your Biscuits (Sprint) and Paquita Coqueta (preferred also eligible for the Filly & Mare Turf, but also nominated for the Grade III Senator Ken Maddy Stakes on Friday) shipped from Newark, N.J., on a flight that included two Breeders' Cup horses from Luis Carvajal Jr. and two with his good friend and rival Jorge Navarro.
"They had a nice walk day on Wednesday and went back to the track Thursday and today," Summers said.
"(Paquita Coqueta) has run at Del Mar before when Richard Mandella trained her. For the owners, obviously we'd love to run in the Breeders' Cup, but there's nothing wrong with a Grade III, either. So we'll see what happens.
"I'm glad to be out here with her and with the big horse, Mind Your Biscuits. Drefong (defending Sprint champion and likely favorite) has beat us three times, but we're in a best of seven series, I guess."
A lifetime fan of racing, Summers was disappointed when he grew too big to be a jockey but pursued other avenues in the sport – among them journalism and broadcasting and ownership before switching to training.
Under Summers' guidance, Mind Your Biscuits, a 4-year-old son of Posse, won the $2 million Golden Shaheen in March and the Belmont Sprint Championship in July, but was sixth of 10 in the Forego at Saratoga in late July.
Summers is experiencing Del Mar for the first time.
"It's nice," Summers said "A short stretch, a lot shorter than we're used to back home at Belmont Park. My rider said it's a lot like Santa Anita and Mind Your Biscuits loves that track."
Mind Your Biscuits was third in the Breeders' Cup Sprint, beaten a length and quarter, but was moved up to second by the disqualification of Masochistic. He won the Malibu Stakes in December by a half-length over Navarro's Sharp Azteca.
"He (Mind Your Biscuits) is a New York bred, but maybe he's California dreamin'," Summers said. "He loves it here, he was bouncing all over it this morning. We'll do a lot of paddock schooling in the Wrigley Field Ivy over there and let him get used to it.
"We're always thrilled to go to a new venue. I've always gone to Saratoga and it's good to be 'Where the Turf meets the Surf. We've seen the turf, maybe some afternoon we'll go look at the surf."
No work is planned for Paquita Coqueta. "She'll do a lot of jogging and some galloping. She's ready for a five furlong turf race. She goes :43, :42 and change for the half. The key with her is you want to keep her bottled up without exploding. It's like shaking a coke bottle.
"Mind Your Biscuits will blow out either a quarter or three-eighths Monday or Tuesday. We'll see how he gallops the next couple days. He's showed good energy since we got here, which I'm happy about, and we'll just kind of play it by ear."
---
BAL A BALI OUT OF MILE, RETIRED TO STUD
Brazilian champion Bal a Bali, who notched Grade I victories in the Frank Kilroe and Shoemaker Miles earlier this year at Santa Anita, has been retired to stud and will not run in the $2 million Breeders' Cup Mile on turf, November 4, trainer Richard Mandella announced Friday.
"We've been trying to get him back to top form, which he needs to be to compete against these horses, and I just don't feel that he's there," Mandella said. "I didn't feel it would be right to run him when he's not 100 percent.
"He's fine (physically) but we just weren't able to get him to where he needs to be and we feel this is the right thing to do."
The decision was finalized Thursday afternoon and the lifetime earner of more than $1.2 million with 15 wins from 26 lifetime starts will be retired to Calumet Farm in Kentucky.
---
FOX REACQUAINTS HERSELF WITH DEL MAR; ROMANS ON HIS WAY
Tammy Fox, wife and exercise rider for trainer Dale Romans, has been reacquainting herself with Del Mar the past few days after accompanying Breeders' Cup Juvenile pre-entrants Free Drop Billy and Hollywood Star.
"They came in on Sunday, shipped well and have been going over the track well," Fox said. "They'll work on Saturday."
Dale Romans is scheduled to arrive tonight (Friday) from Kentucky. "He'll come in to watch the works and then he'll just stay here," Fox said.
Fox's estimation is that this is the fourth trip to Del Mar for herself and the second for Romans. The most memorable, for both, was for the 2012 Pacific Classic where Fox did her usual exercise rider duties and Romans saddled Dullahan to win the 2012 Pacific Classic.
"I like it here," Fox said. "I like the weather. It's a pretty good surface. I like the grandstand. I like everything about it. Back home (Kentucky) it's 30-something degrees. I like the heat rather than the cold."
Fox said she wasn't much bothered Tuesday and Wednesday when temperatures soared into the 90s on the coast and to 100-plus degree levels a few miles inland.
"I'm a Louisiana girl," she said. "I can handle it."
---
BREEDERS' CUP WORKOUT REPORT
Breeders' Cup horses from the barns of trainer Doug O'Neill and Bob Hess, Jr., topped the workout lists Friday morning.
With O'Neill's chief assistant Leandro Mora observing, Pavel (Classic) and Mopotism (Distaff) worked in company. Pavel broke off two lengths behind but made up ground in the stretch and was clocked in :49.60 to Mopotism's :49.80 by Del Mar clocker John Malone.
Piedi Bianchi (Juvenile Fillies) was clocked in :49.20 for a half-mile.
Hess' American Pastime broke eight lengths behind Bardstown and passed his workmate smartly while going a half-mile in :45.80 with interim splits of :12.20, and :23.60 before galloping out five furlongs in :58.40. Bardstown was timed in :47.40 for the half mile.
---
SCRATCHED FROM THE QEII, WUHEIDA PREPS FOR U.S. DEBUT
Godolphin Racing's Wuheida, who was scratched from the Queen Elizabeth II Stakes at Keeneland two days before the race due to a hoof injury, has made the journey from Kentucky and is being prepared here for the Breeders' Cup Filly & Mare Turf.
Trained by Charlie Appleby in Europe, the 3-year-old English-bred filly won the Group I Prix Marcel Boussac at Chantilly, France in October of 2016 and recorded on-the-board finishes in two of four Group I events in Great Britain, Germany, Ireland and France this year before being shipped for the planned, but ill-fated U.S. debut at Keeneland.
Travelling lad Tim Denniff and exercise rider Kirsty Milczarek are with the filly.
---
CLOSERS – Hall of Fame trainer Bill Mott and son Riley arrived from New York late Thursday and will supervise workouts for three Breeders' Cup pre-entrants over the next few days. Mott and son led one of their horses to the track Friday morning and the topic of conversation soon went to the 1996 Pacific Classic, in which Mott superstar Cigar was beaten by Richard Mandella's Dare and Go. Mott good naturedly-recalled details of the event, one of the biggest moments in Del Mar history. It probably won't be the last time the subject will come up while he's here. Mott did win the Pacific Classic 12 years later with Go Between and notched his 10th Del Mar stakes victory in 2016 with Harmonize in the Del Mar Oaks … Jockey Flavien Prat is scheduled to be at Del Mar on Saturday morning to work Avenge and Paradise Woods for trainer Richard Mandella and return on Sunday to work Hunt for Mandella and Run Away for Simon Callaghan,.